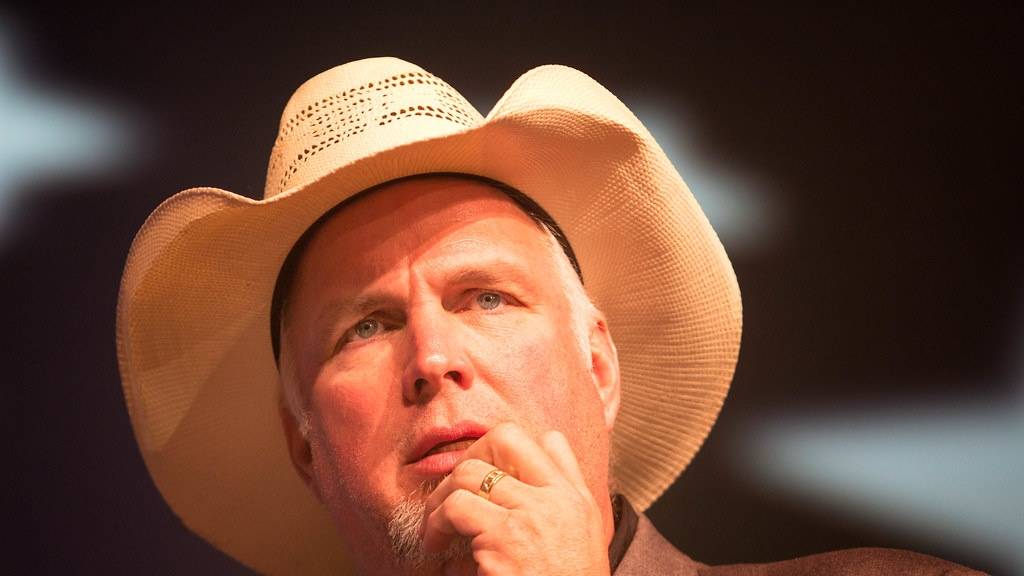 When most people think of country music, one name comes to mind: Garth Brooks. This superstar has been topping the charts for over two decades and shows no signs of slowing down. His story is one of hard work and determination, and his success is a testament to his dedication to his craft. In this blog post, we'll take a closer look at Garth Brooks' life and career, from his humble beginnings to his current status as one of the biggest stars in country music.
Here are the most known Music, Love, Life, Fire quotes from Garth Brooks, and much more.
Summary
About Garth Brooks
Born:
February 7, 1962
Alma Mater:
Oklahoma State University
Occupation:
Singer, Songwriter
Genres:
Country, Country Pop, Country Rock
Instruments:
Vocals, Guitar, Piano
Years Active:
1985-2003, 2005-Present
Labels:
Capitol Nashville, Liberty, Pearl, Big Machine, Rca Nashville And More.
Associated Acts:
Ty England, Chris Ledoux, Steve Wariner, Trisha Yearwood
Website:
garthbrooks.com
GARTH BROOKS QUOTES ON LIFE
Life is only therapy. — Garth Brooks
Life is like therapy–real expensive and no guarantees. — Garth Brooks
True country music is honesty, sincerity, and real life to the hilt. — Garth Brooks
I've lost loved ones in my life who never knew how much I loved them. Now I live with the regret that my true feelings for them never were revealed. — Garth Brooks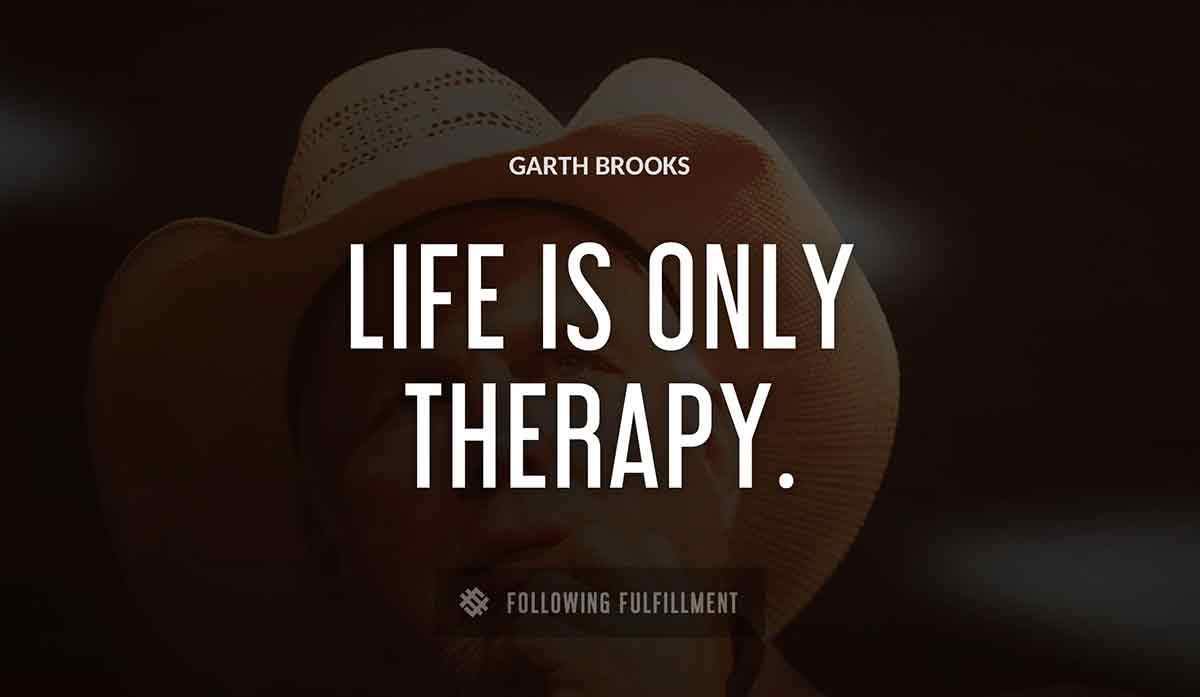 And now, I'm glad I didn't know the way it all would end, the way it all would go. Our lives are better left to chance, I could've missed the pain, but I'd have had to miss the Dance. — Garth Brooks
You see in all my life I've never found what I couldn't resist, what I couldn't turn down. I could walk away from anyone I ever knew, but I can't walk away from you. — Garth Brooks
Too much credit is given to the end result. The true lesson is in the struggle that takes place between the dream and reality. That struggle is a thing called life! — Garth Brooks
GARTH BROOKS QUOTES ABOUT MUSIC
As a kid, before I could play music, I remember baseball being the one thing that could always make me happy. — Garth Brooks
James Taylor and God are the reasons I play music. — Garth Brooks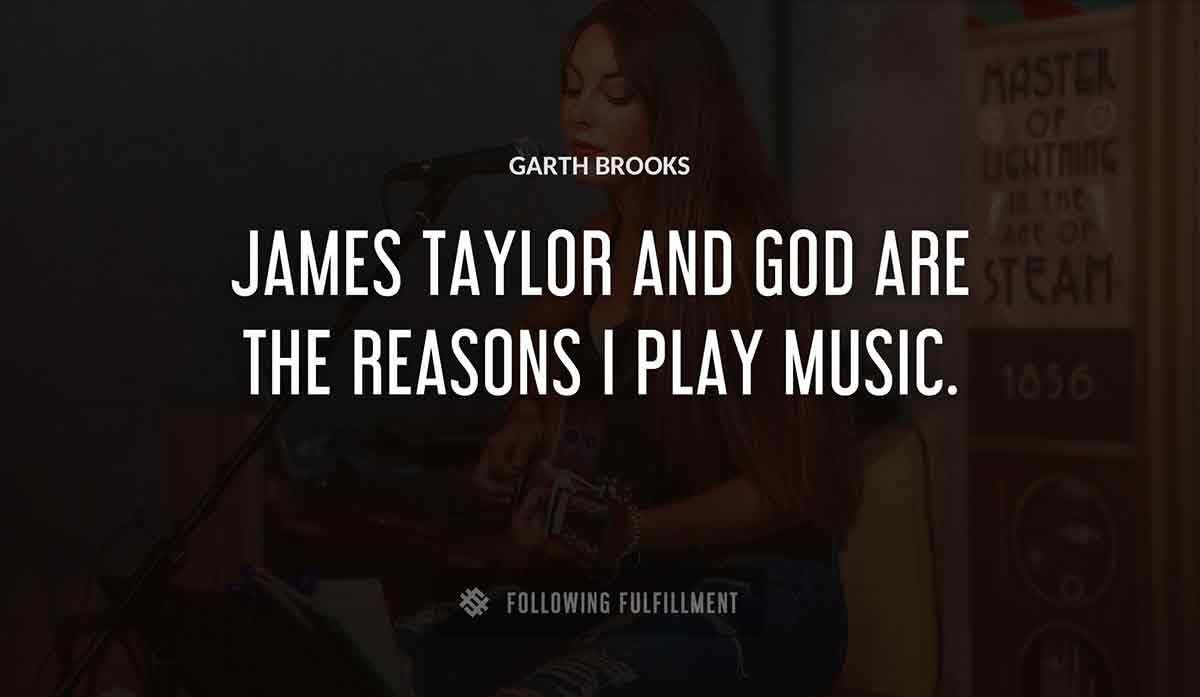 I love being a part of country music. I love going out and… doing things for the first time for country music. I always enjoy that. — Garth Brooks
I spend all my time right now trying to combat music retail and copyright. — Garth Brooks
Music keeps you eternally young. It just does. — Garth Brooks
When I went to see Kansas and Queen and Styx, I don't even remember the music. But I know what I saw. — Garth Brooks
If God came down here with the box that had the reason for living in it, I'd like to find just 2 words: The Music. That would be neat. — Garth Brooks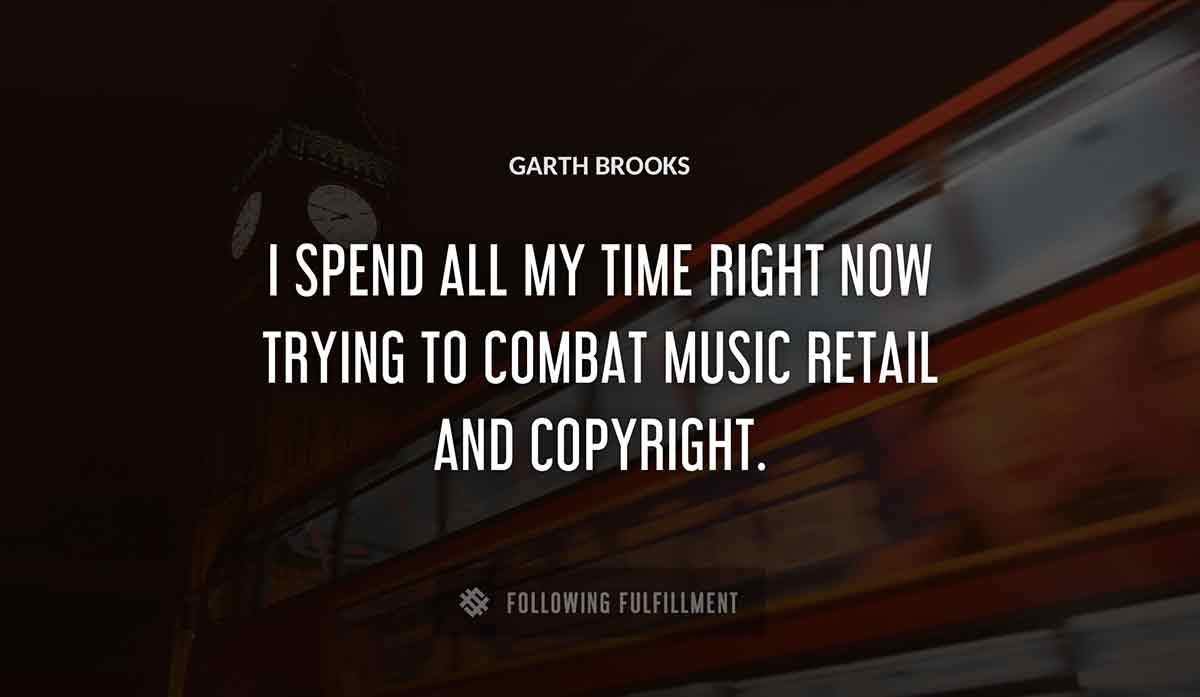 I feel very lucky to get to fly the flag of RCA Records and Sony Music. — Garth Brooks
I wouldn't mind producing a movie with a music storyline, but acting in one is too close to home. — Garth Brooks
I understand that music is a business, but for people who have control of their stuff, like little Taylor and other artists, I think you'll find them standing up for their music every chance they get. — Garth Brooks
My biggest problem with the retirement thing was I'd be leaving the part of this business that I enjoy the most… the entertaining part, being on stage and seeing how the music affects people. — Garth Brooks
While I'm playing baseball, I'm still writing songs and having tapes sent to me. I'm sure I'll spend a lot of time in the whirlpool resting these tired bones, so I'll be thinking of music then. — Garth Brooks
I don't think the label makes the artist or the artist makes the label. It's the music that makes everything work or not. — Garth Brooks
What I love about 'Midnight Train' is that it's a song about a journey, but the music actually takes you on that journey. It feels like you're moving through the whole song. — Garth Brooks
GARTH BROOKS QUOTES ABOUT LOVE
Be with someone who is kind. I think that's it. Just to love one another was the thing I would want to do. It's a thing that you can't stop doing. — Garth Brooks
Redundant Thematics
In Garth Brooks Statements
heart
music
love
baseball
world
time
home
fire
life
A fan's love for an artist is so deep, I know I will go whatever depths it takes to learn about people that I'm in love with. — Garth Brooks
This heart still believes that love and mercy still exist. — Garth Brooks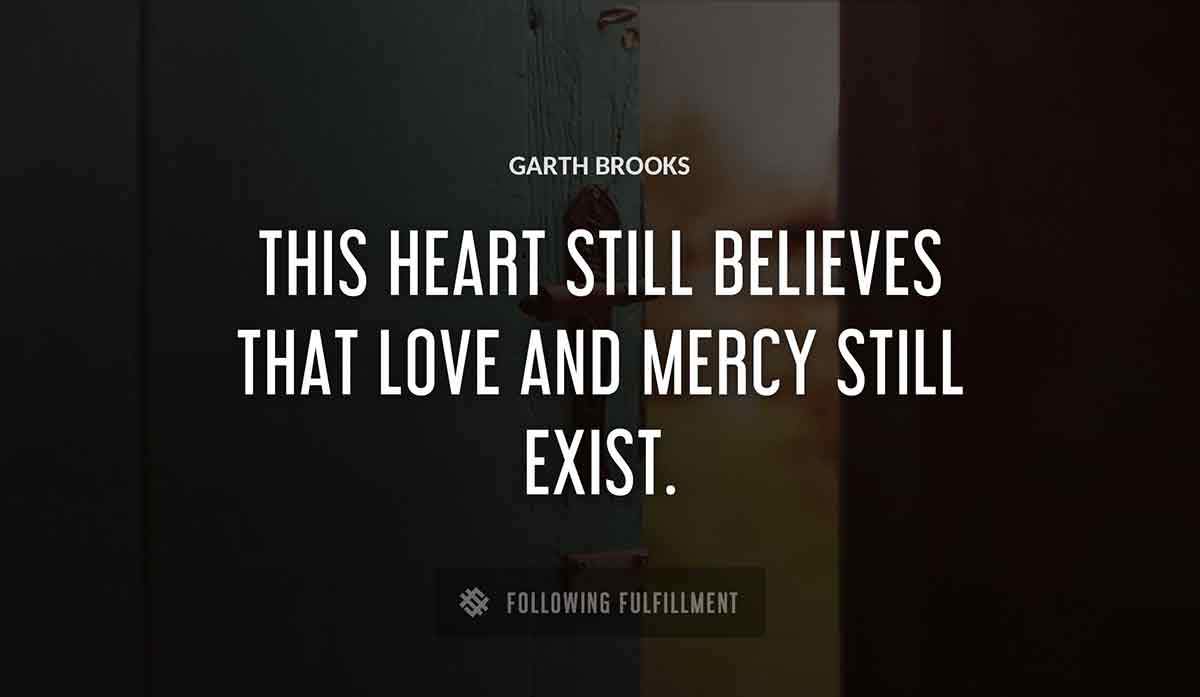 I'd love to play a villain in a movie, the kind of bad guy you would never think of me being able to play. Like most people, I have a darker side I'd like to explore onscreen. — Garth Brooks
Failure isn't failure if a lesson from it's learned. I guess love would not be love without a risk of being burned. — Garth Brooks
They call them fools, who are unable to resist the slightest chance love might exist. — Garth Brooks
I got an offer in 1992 to buy a major–league team. I turned down the offer because I don't want my love of the game to involve business. — Garth Brooks
The blues will be blue, and the jealousies green, but when love picks its color it demands to be seen. — Garth Brooks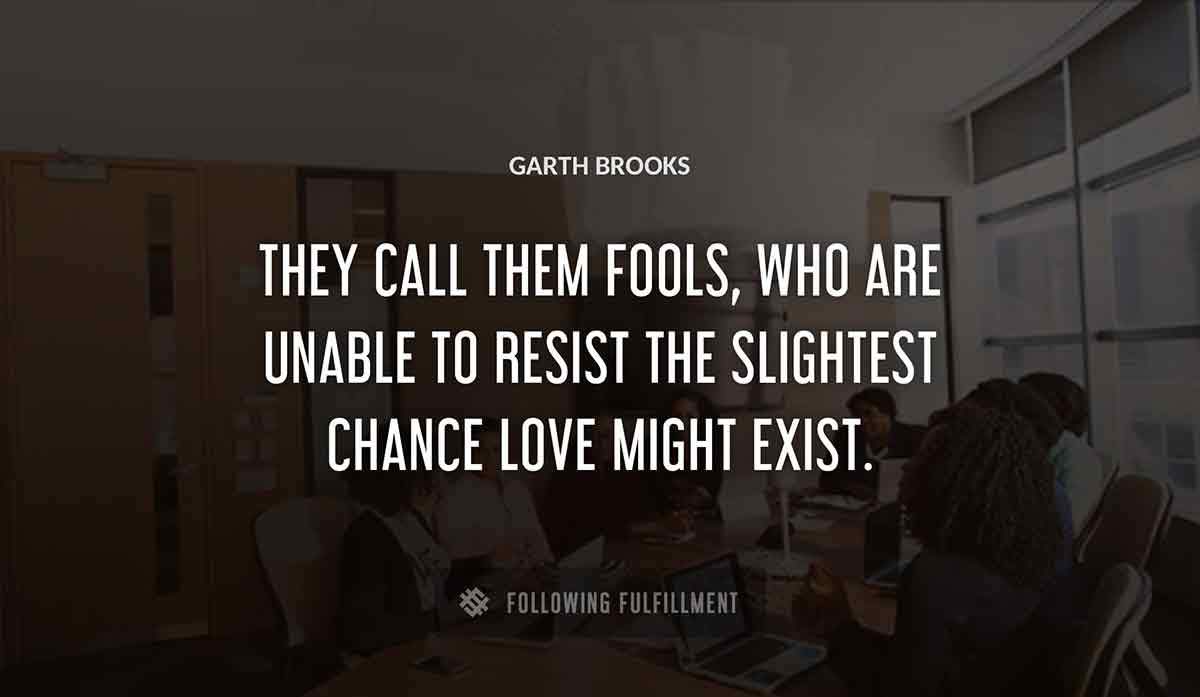 People loving people. That's the enemy of everything that's evil — Garth Brooks
When we all can worship from our own kind of pew, then we shall be free. — Garth Brooks
GARTH BROOKS QUOTES ON FIRE
You know me, I've got to find some way to get a fresh fire. — Garth Brooks
Life is not tried it is merely survived if you're standing outside the fire. — Garth Brooks
But you've got to be tough when consumed by desire, cause it's not enough just to stand outside the fire. — Garth Brooks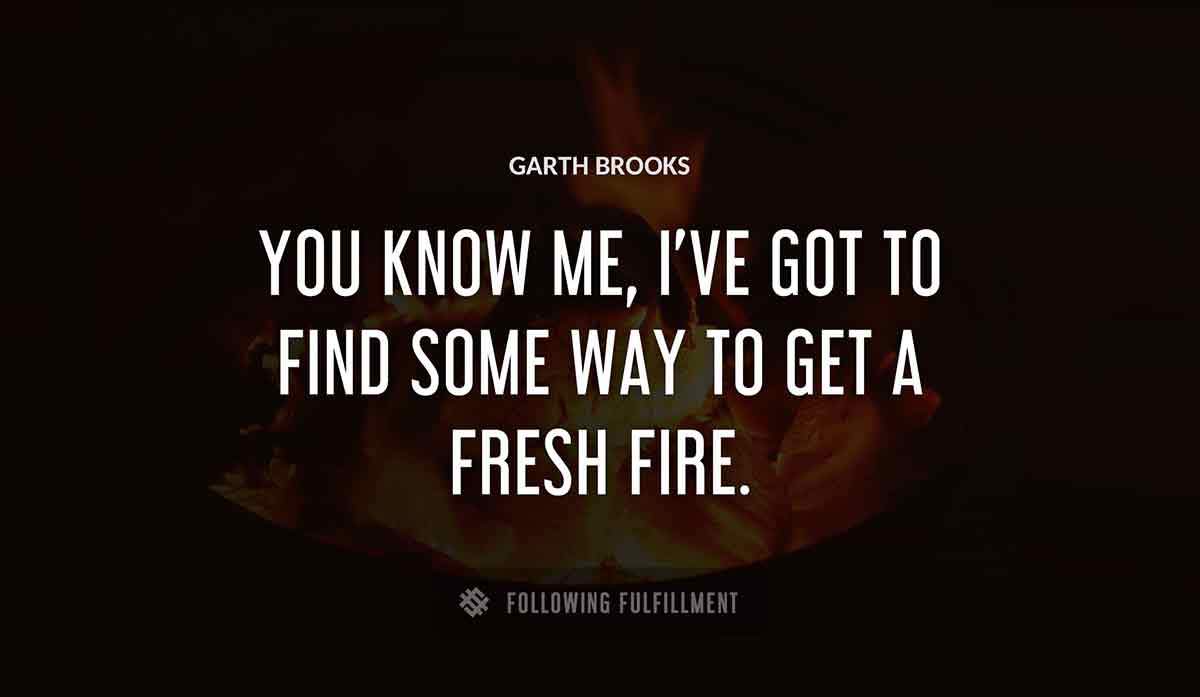 That old star that you been wishin' on is shining mighty bright, but it's the fire inside your heart that's gonna lead you to the light. — Garth Brooks
She's sun and rain, she's fire and ice, a little crazy, but it's nice. And when she gets mad, you best leave her alone, cause she'll rage like a river then she'll beg you to forgive her. — Garth Brooks