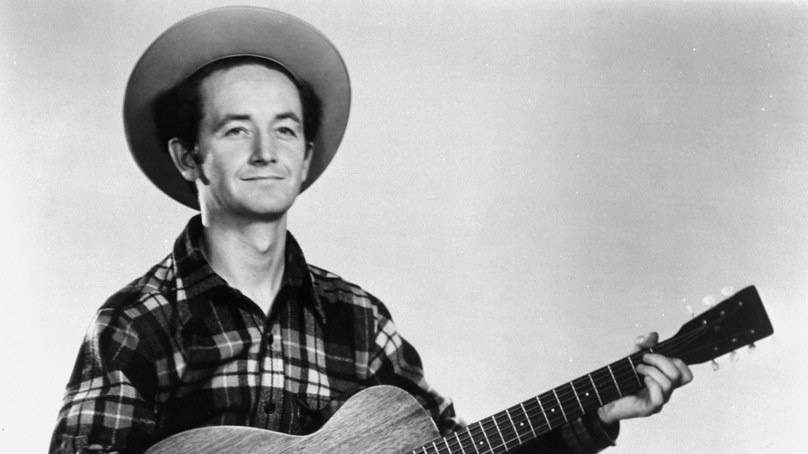 Woody Guthrie was an American folk singer-songwriter and musician who became a legend. His music most notably includes the songs This Land is Your Land and Pastures of Plenty. He wrote about topics such as injustice, unionism, poverty, socialism, and communism. His songwriting often included lyrics that were humorous or tongue in cheek. Much of his life's work reflects ethics from these philosophies. Woody Guthrie inspired generations to come with his songs about equality for all people no matter what race or class they are born into.

Discover the most known words from Woody Guthrie.
We are glad to present you the strongest quotes from Woody Guthrie, and much more.
Summary
About Woody Guthrie
Born:
July 14, 1912
Died:
October 3, 1967
Genres:
American Folk Music
Occupation:
Singer-Songwriter, Musician
Instruments:
Vocals, Guitar, Harmonica, Mandolin, Fiddle And More.
Years Active:
1930-1956
Associated Acts:
Almanac Singers
Allegiance:
United States
Years Of Service:
1943-1945
Battles/Wars:
World War Ii
Awards:
Merchant Marine Atlantic War Zone Medal Merchant Marine World War Ii Victory Medal American Campaign Medal World War Ii Victory Medal
Inspiring Phrases From Woody Guthrie
If we fix it so's you can't make money on war, we'll all forget what we're killing folks for. — Woody Guthrie
All about a human being is, it's a great big hoping machine. — Woody Guthrie
This machine kills fascists. — Woody Guthrie
I like to write about wherever I happen to be. — Woody Guthrie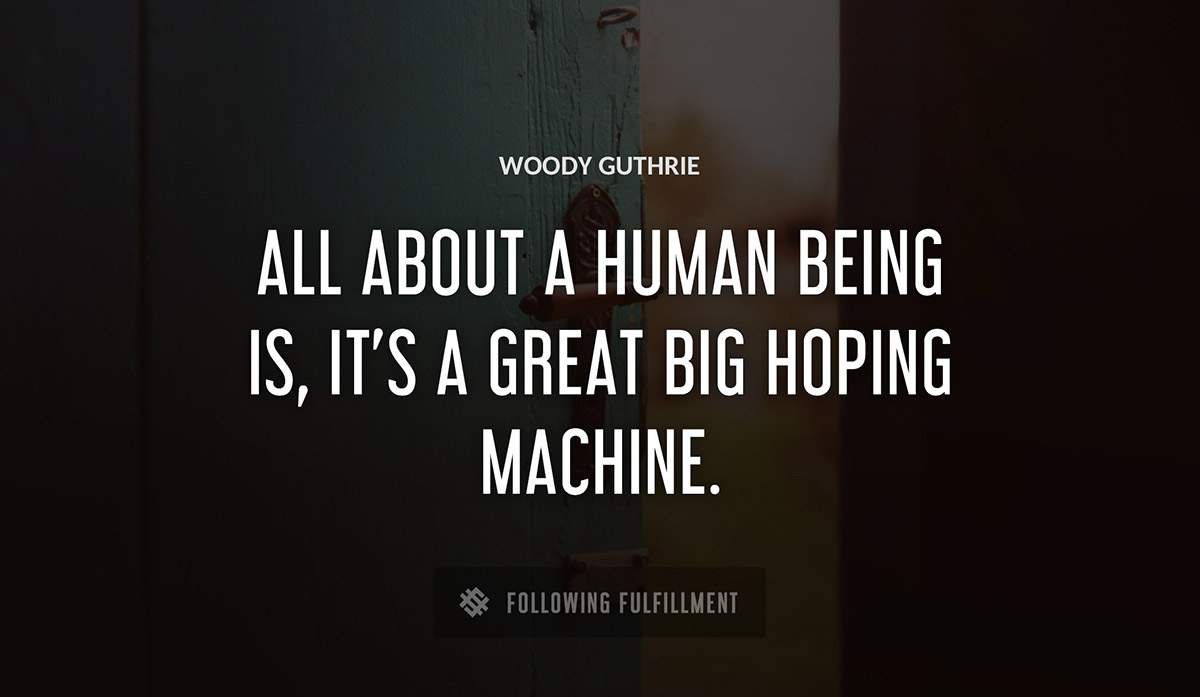 Nobody living can ever stop me. As I go walking my freedom highway. Nobody living can make me turn back. This land was made for you and me. — Woody Guthrie
Now as I look around, it's mighty plain to see, This world is such a great and a funny place to be. Oh, the gamblin' man is rich, an' the workin' man is poor, And I ain't got no home in this world anymore. — Woody Guthrie
This land is your land, this land is my land, From California to the New York Island. From the redwood forest to the Gulf Stream waters This land was made for you and me. — Woody Guthrie
Various Statements From Woody Guthrie
I have decided long ago that my songs and ballads would not get the hugs and kisses of the capitalistic experts. — Woody Guthrie
One bright sunny morning in the shadow of the steeple, by the Relief Office, I saw my people–As they stood hungry, I stood there wondering if God blessed America for me. — Woody Guthrie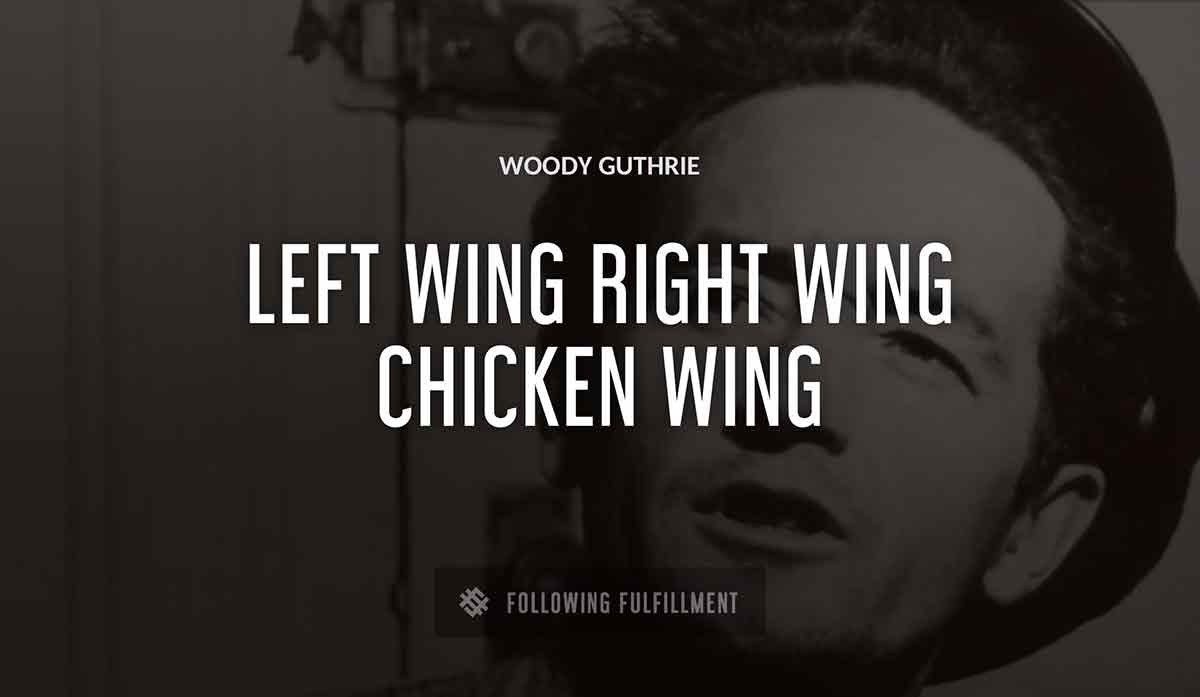 A song ain't nothing but a conversation fixed up to where you can talk it over and over without getting tired of it. — Woody Guthrie
One day we'll all find out that all of our songs was just little notes in a great big song! — Woody Guthrie
I got started in Oklahoma. That's where I was born. Population down there is one–third Indians, one–third Negroes and one–third white people. — Woody Guthrie
Left wing. Right wing. Chicken wing. — Woody Guthrie
The words are the important thing. Don't worry about tunes. Take a tune, sing high when they sing low, sing fast when they sing slow, and you've got a new tune. — Woody Guthrie
More Phrases From Woody Guthrie
Was a great high wall there that tried to stop me. Was a great big sign there said private Property but on the back side it didn't say nothing. That side was made for you and me. — Woody Guthrie
I ain't a communist necessarily, but I been in the red all my life. — Woody Guthrie
As I went walking That ribbon of highway I saw above me The endless skyway I saw below me The lonesome valley This land was made for you and me. — Woody Guthrie
If you want to learn something, just steal it. — Woody Guthrie
The note of hope is the only note that can help us or save us from falling to the bottom of the heap of evolution, because, largely, about all a human being is, anyway, is just a hoping machine. — Woody Guthrie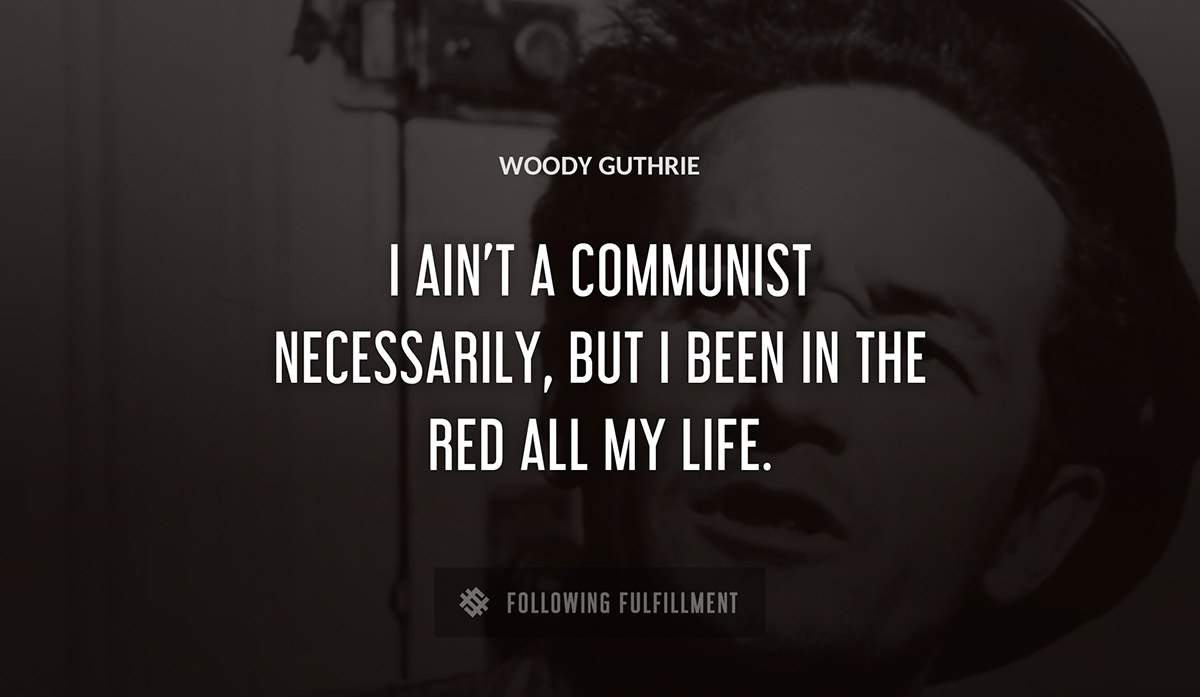 The world is filled with people who are no longer needed––and who try to make slaves of all of us––and they have their music and we have ours. — Woody Guthrie
Left wing, chicken wing, it don't make no difference to me. — Woody Guthrie
Redundant Thematics
In Woody Guthrie Statements
Deeper Quotes From Woody Guthrie
Some men rob you with a six–gun––others rob you with a fountain pen. — Woody Guthrie
Life's pretty tough . . . you're lucky if you live through it. — Woody Guthrie
You can't write a good song about a whorehouse unless you've been in one. — Woody Guthrie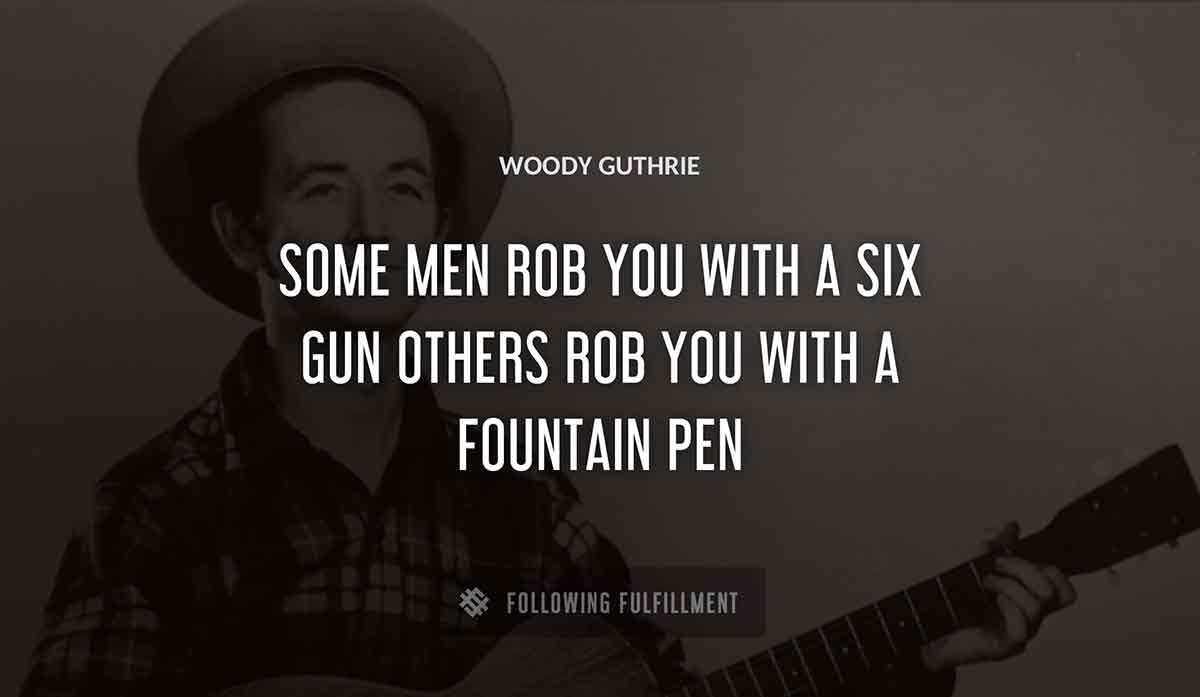 I love a good man outside the law, just as much as I hate a bad man inside the law. — Woody Guthrie
All you can write is what you see. — Woody Guthrie
Now as through this world I ramble, I see lots of funny men, Some rob you with a six gun, And some with a fountain pen. — Woody Guthrie
Love is the only medicine I believe in. — Woody Guthrie
Amazing Thoughts From Woody Guthrie
Let me be known as just the man that told you something you already knew. — Woody Guthrie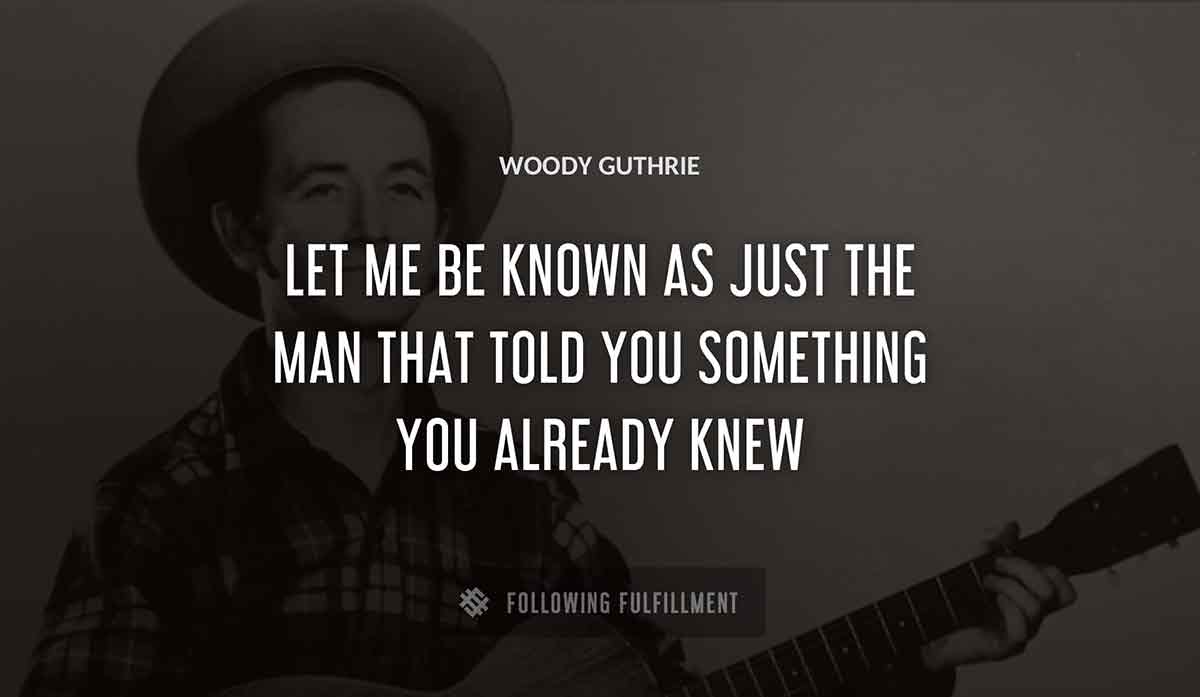 If you walk across my camera I will flash the world your story. — Woody Guthrie
If you play more than two chords, you're showing off. — Woody Guthrie
I worked in your orchards of peaches and prunes. I slept on the ground in the light of the moon. On the edge of the city you'll see us and then, we come with the dust and we go with the wind. — Woody Guthrie
The best way to get to know any bunch of people is to go and listen to their music. — Woody Guthrie
Take it easy, but take it. — Woody Guthrie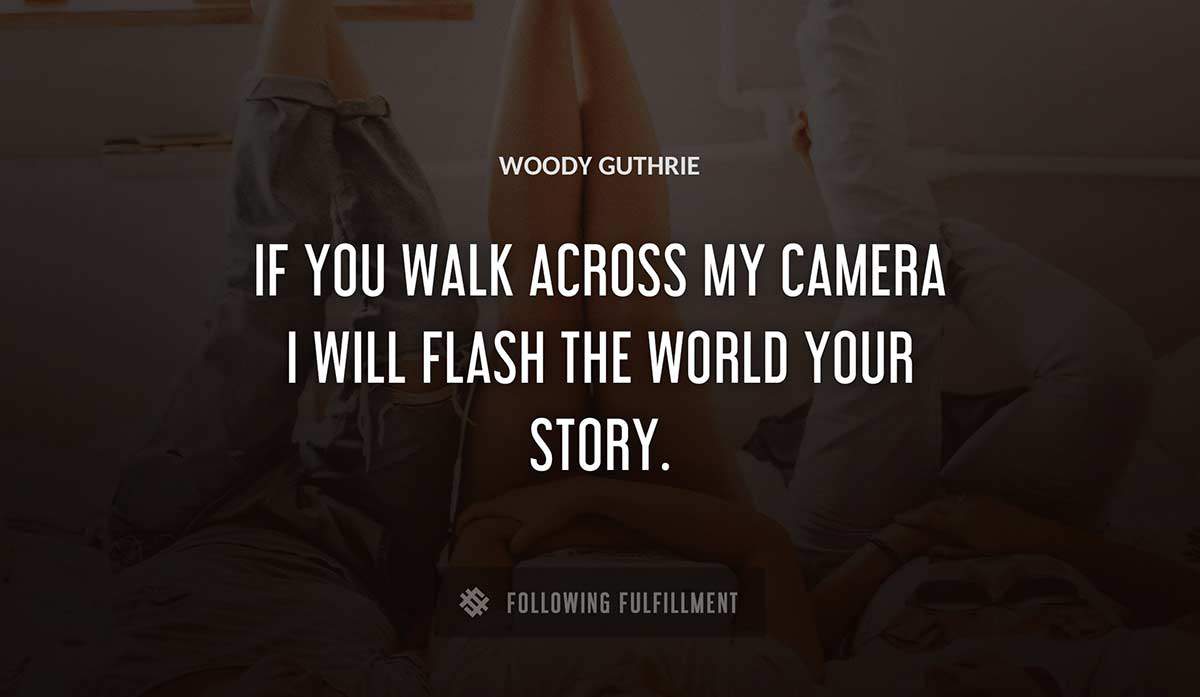 Life has a habit of not staying hitched. You got to ride it like you find it. — Woody Guthrie