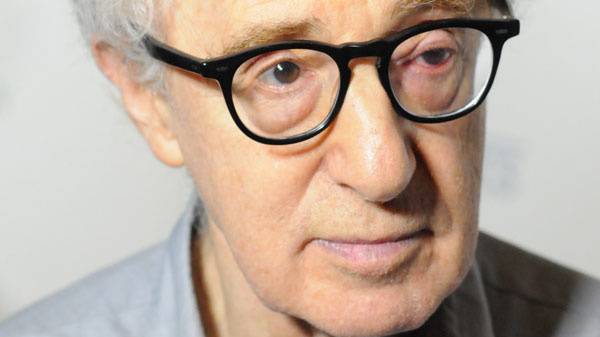 Woody Allen is one of the most iconic figures in Hollywood. He has been an actor, a director, and writer for decades now, and his work has touched so many lives. His films have ranged from comedies to dramas to suspenseful thrillers. As he's aged as a person, his movies have changed with him- becoming more personal and introspective.
Discover the deepest statements from Woody Allen.
We are glad to present you the most inspiring Films, Time, Believing, Work, Love, Life quotes from Woody Allen, and much more.
Summary
About Woody Allen
Born:
December 1, 1935
Occupation:
Film Director, Writer, Actor, Comedian
Years Active:
1956-Present
Known For:
Annie Hall And More.
Website:
woodyallen.com
WOODY ALLEN QUOTES ON LIFE
The meaning of life is that nobody knows the meaning of life. — Woody Allen
The best things in life are censored. — Woody Allen
My one regret in life is that i'm not someone else. — Woody Allen
I didn't believe in reincarnation in my past life, and I still don't. — Woody Allen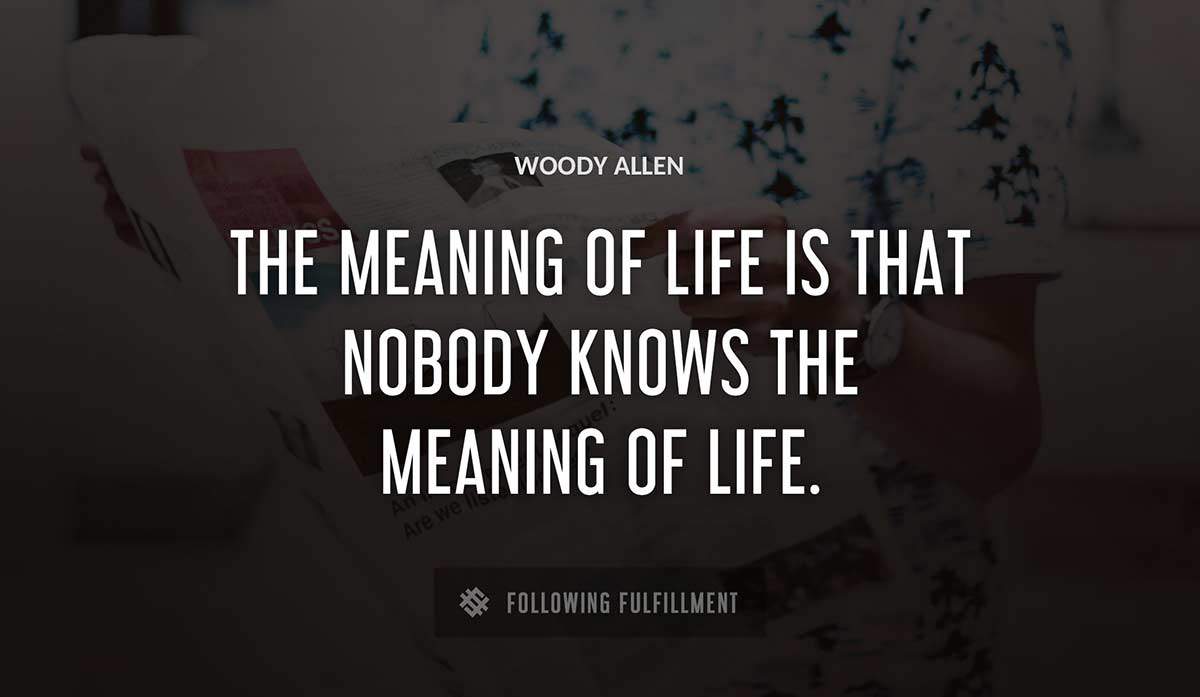 They confuse everything I do with my life. — Woody Allen
Talent is luck. The important thing in life is courage. — Woody Allen
Marriage? That's for life! It's like cement! — Woody Allen
Life is for the living. — Woody Allen
Does art imitate life, or Does life imitate tv? — Woody Allen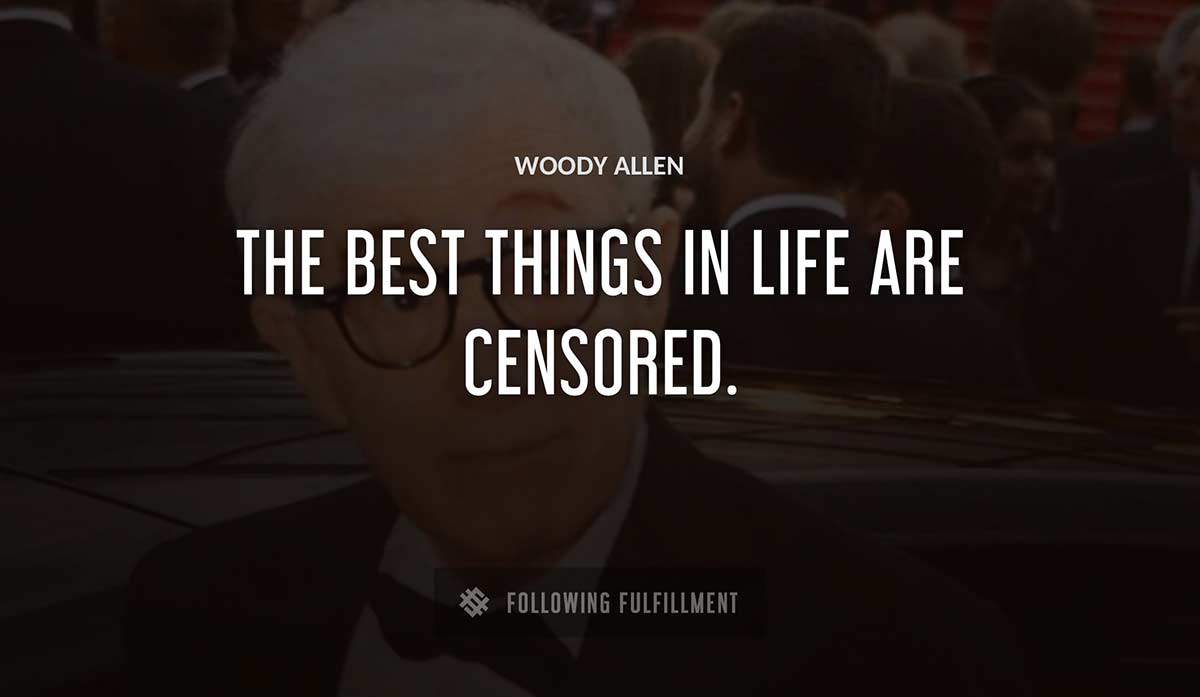 Heaven knows, we all make mistakes. That's life–and chess. — Woody Allen
If I had my life to live over, I wish I could be a great pianist or something. — Woody Allen
Life doesn't imitate art, it imitates bad television. — Woody Allen
Ninety percent of life is just showing up. — Woody Allen
Showing up is 80 percent of life. — Woody Allen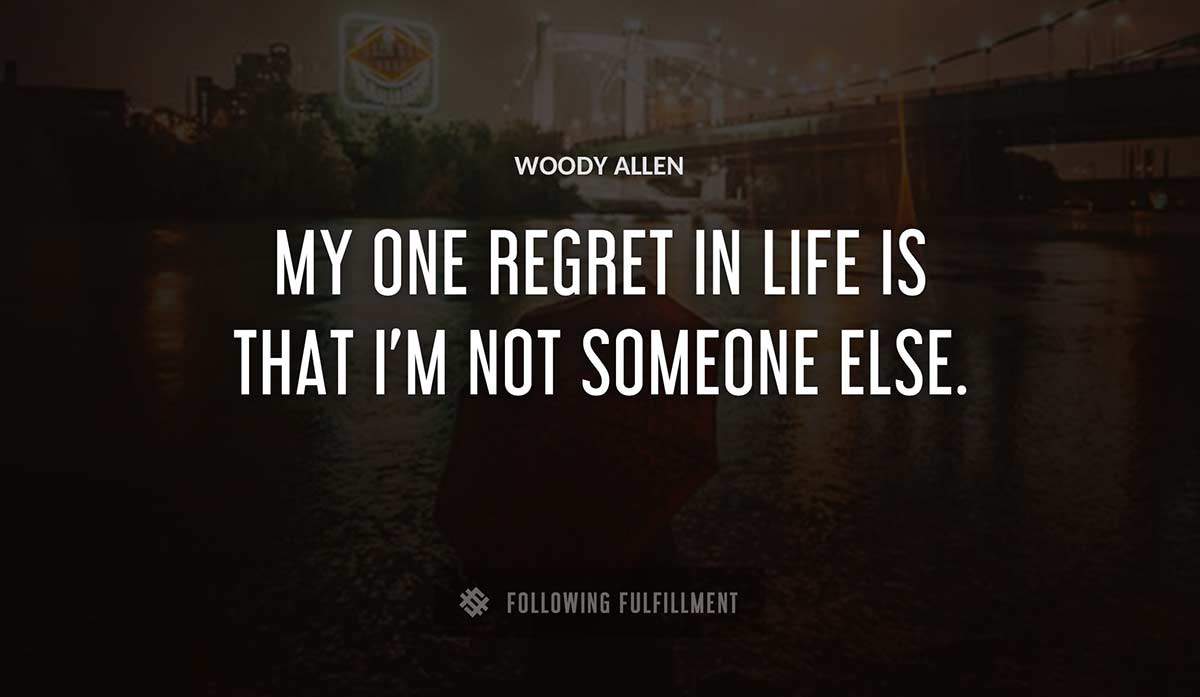 Life is divided into the horrible and the miserable. — Woody Allen
Life is hard for insects. And don't think mice are having any fun either. — Woody Allen
Seventy percent of success in life is showing up. — Woody Allen
I'm trying to arrange my life so I don't have to be present. — Woody Allen
I believe people ought to mate for life…like pigeons or Catholics. — Woody Allen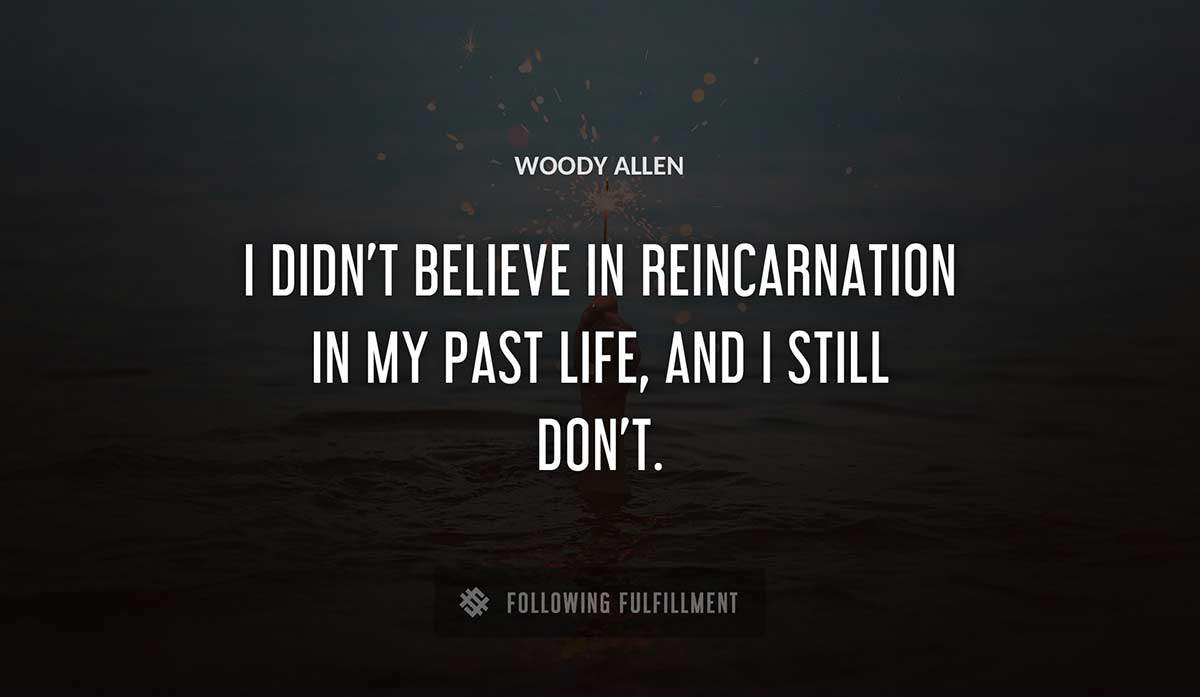 Life is like a concentration camp… you can't leave without dying. — Woody Allen
I recently turned 60. Practically a third of my life is over. — Woody Allen
WOODY ALLEN QUOTES ABOUT LOVE
Maybe the poets are right. Maybe love is the only answer. — Woody Allen
I love nature, I just don't want to get any of it on me. — Woody Allen
I was nauseous and tingly all over. I was either in love or I had smallpox. — Woody Allen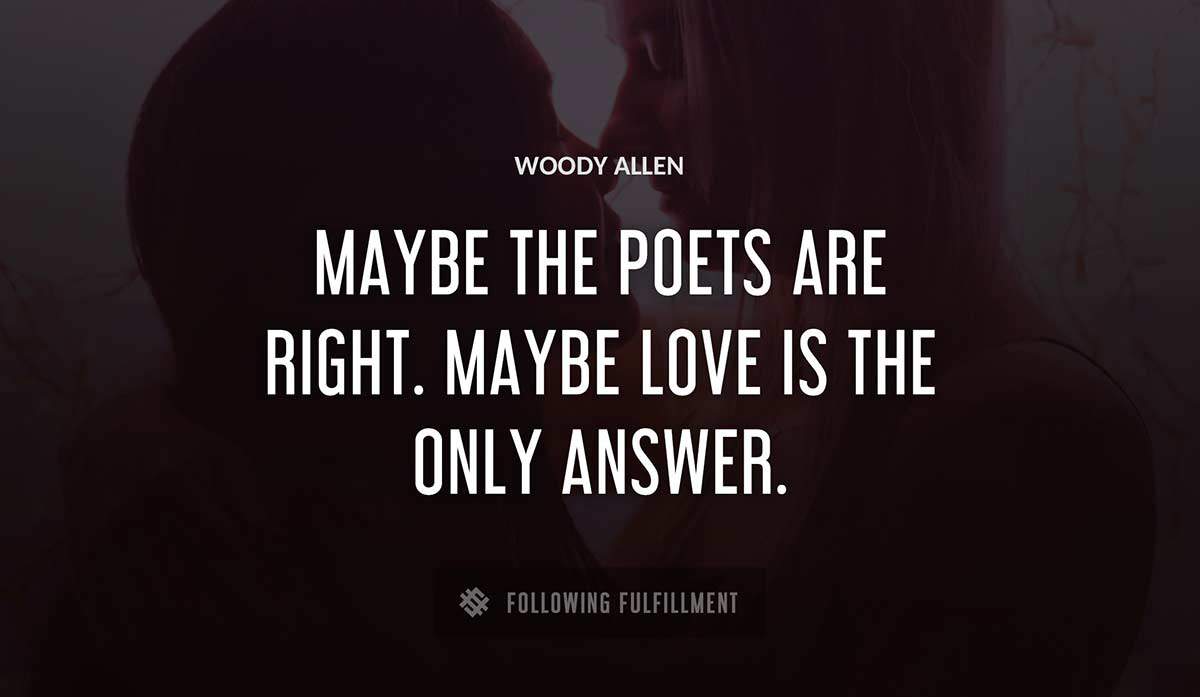 I love baseball. You know, it doesn't have to mean anything. It's just very beautiful to watch. — Woody Allen
The only love that lasts is unrequited love. — Woody Allen
The heart wants what it wants. There's no logic to these things. You meet someone and you fall in love and that's that. — Woody Allen
Therefore, to be unhappy one must love, or love to suffer, or suffer from too much happiness. I hope you're getting this down. — Woody Allen
Inertia accounts for two–thirds of marriages. But love accounts for the other third. — Woody Allen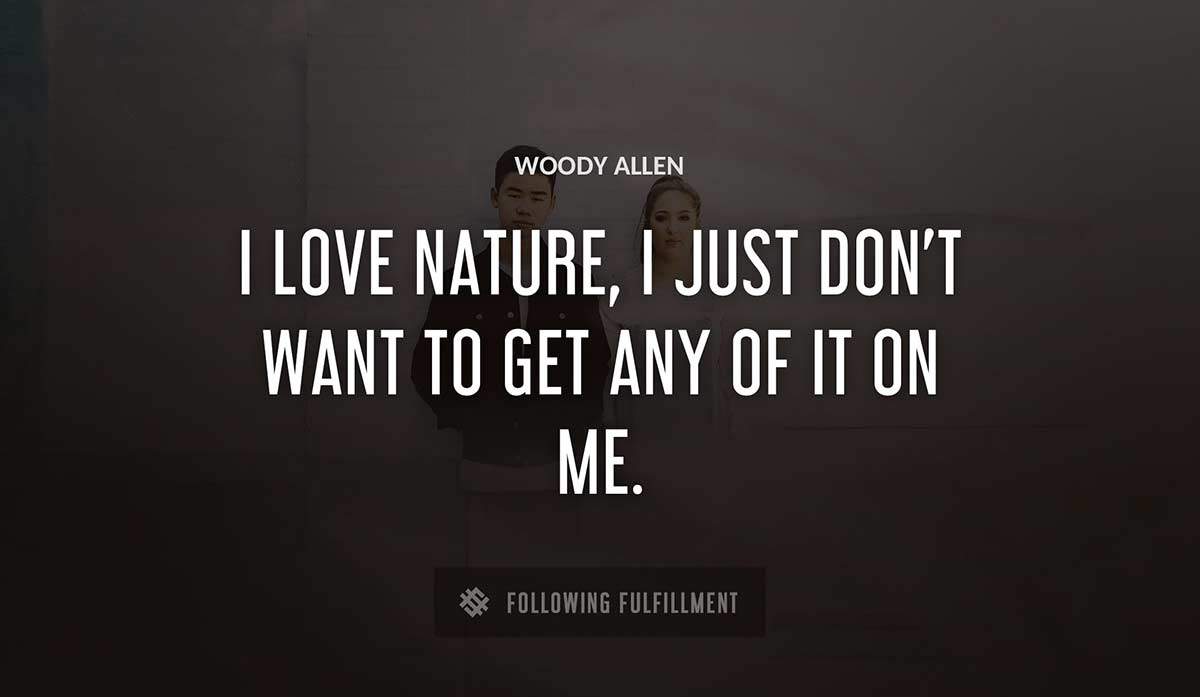 Don't knock masturbation. It's sex with someone I love. — Woody Allen
You use sex to express every emotion except love. — Woody Allen
Sex without love is an empty experience, but as empty experiences go, it's one of the best. — Woody Allen
Sex without love is a meaningless experience, but as far as meaningless experiences go its pretty damn good. — Woody Allen
Sex alleviates tension. Love causes it. — Woody Allen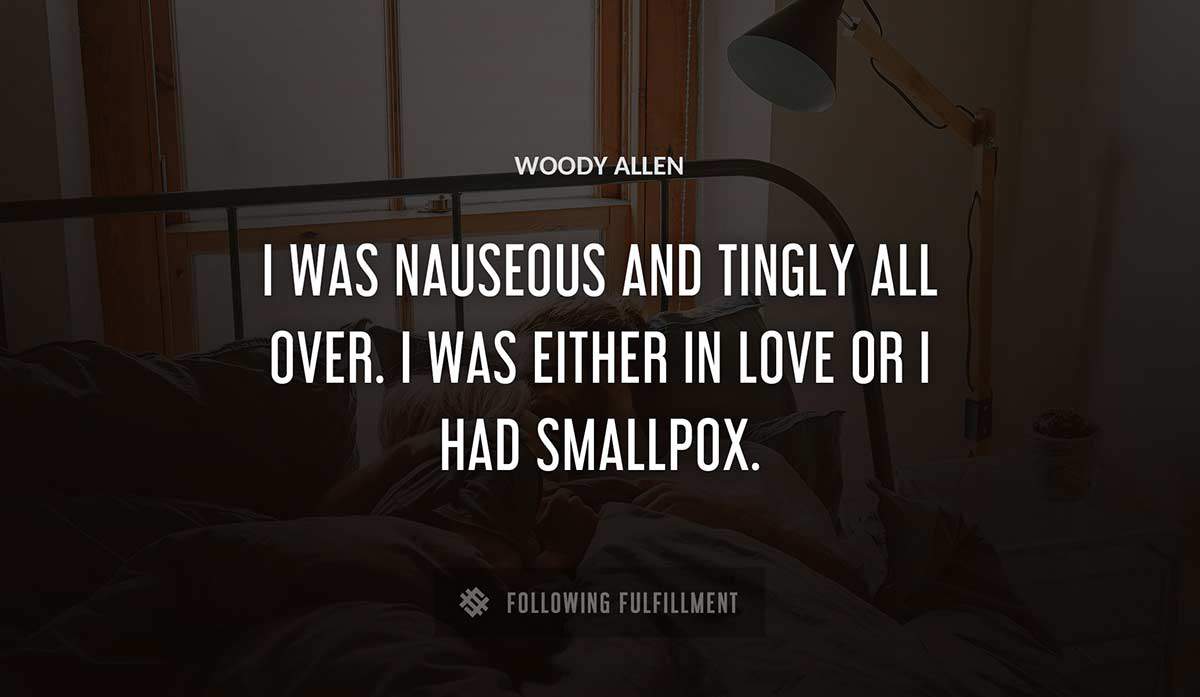 The most important words in the English language are not 'I love you' but 'it's benign.' — Woody Allen
I sold my memoirs of my love life to Parker Brothers and they are going to make a game out of it. — Woody Allen
I love the rain–it washes memories off the sidewalk of life. — Woody Allen
No matter what the shrinks, or the pundits, or the self–help books tell you, when it comes to love, it's luck. — Woody Allen
What was the scandal? I fell in love with this girl, married her. We have been married for almost 15 years now. — Woody Allen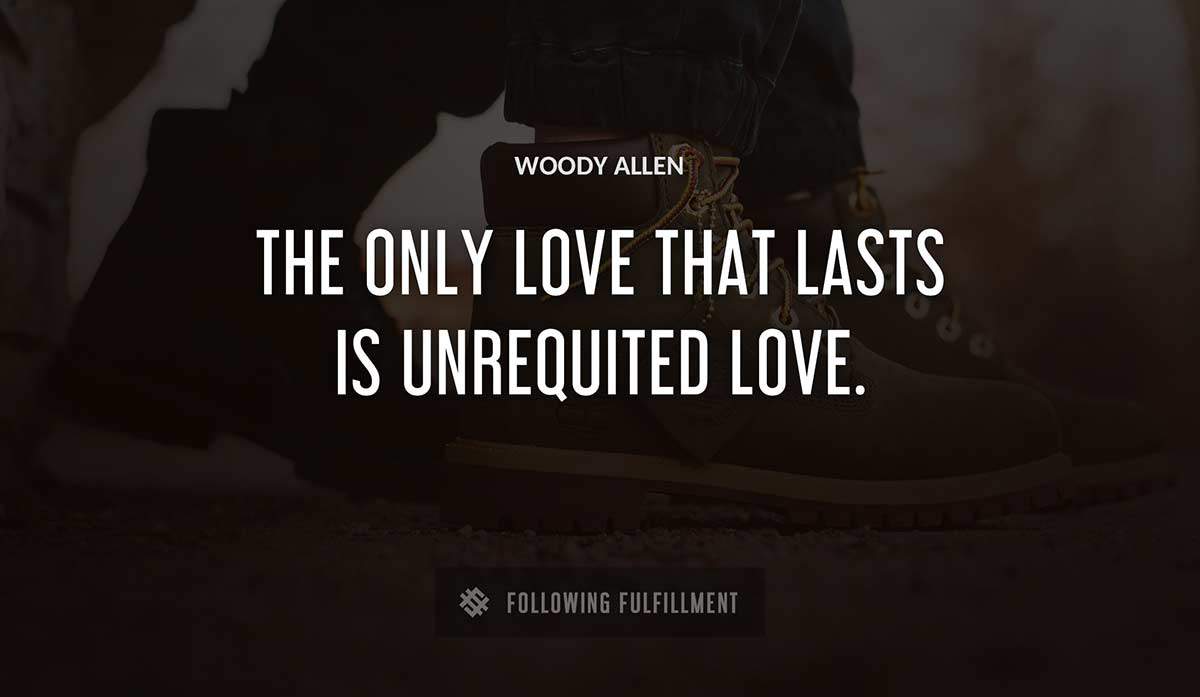 The difference between sex and love is that sex relieves tension and love causes it. — Woody Allen
Love is the answer, but while you are waiting for the answer, sex raises some pretty good questions. — Woody Allen
Men learn to love the woman they are attracted to. Women learn to become attracted to the man they fall in love with. — Woody Allen
Dying is like making love, except you don't get naseous afterwards. — Woody Allen
WOODY ALLEN QUOTES ABOUT BELIEVING
I don't believe in God. Just try getting a plumber on the weekend. — Woody Allen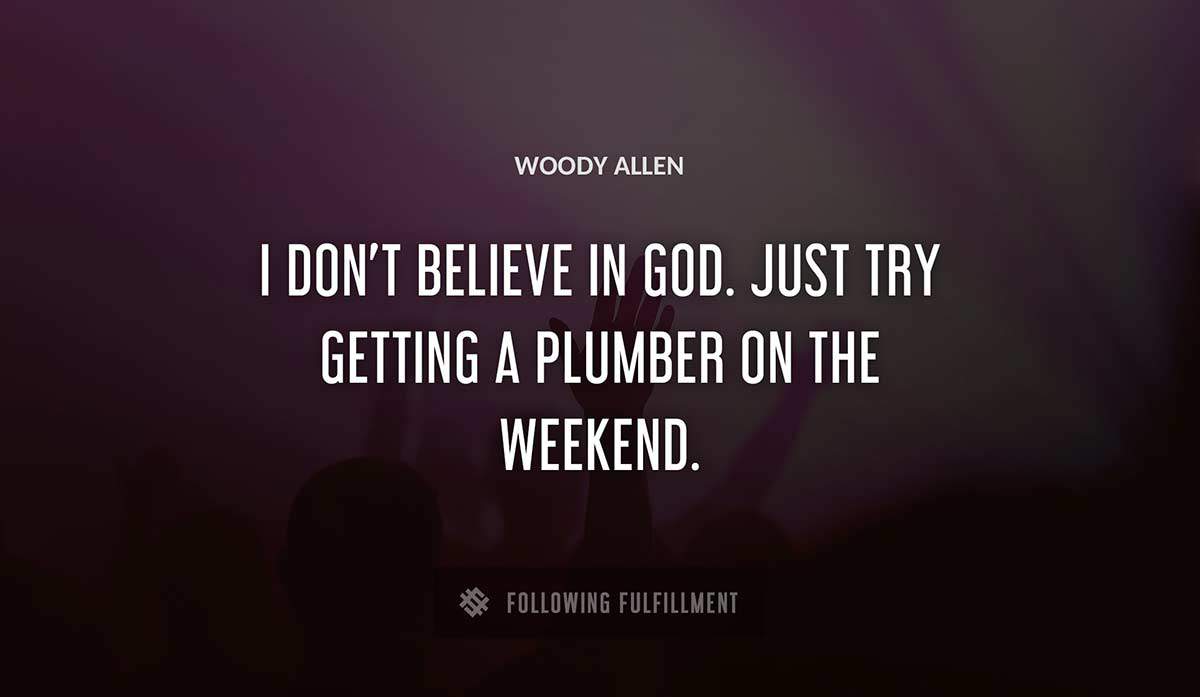 I belIeve there Is somethIng out there watchIng over us. unfortunately, It's the government. — Woody Allen
I'm 80 and i can't believe it ! I'm so youthful, agile, nimble, spry, mentally alert that it's astonishing. — Woody Allen
I believe that sex is a beautiful thing between two people. Between five, it's fantastic. — Woody Allen
Skeptic that I was as an adolescent, I had recently come to believe in a Supreme Being after thumbing through a Victoria's Secret catalogue. — Woody Allen
I can't even make a leap of faith to believe in my own existence. — Woody Allen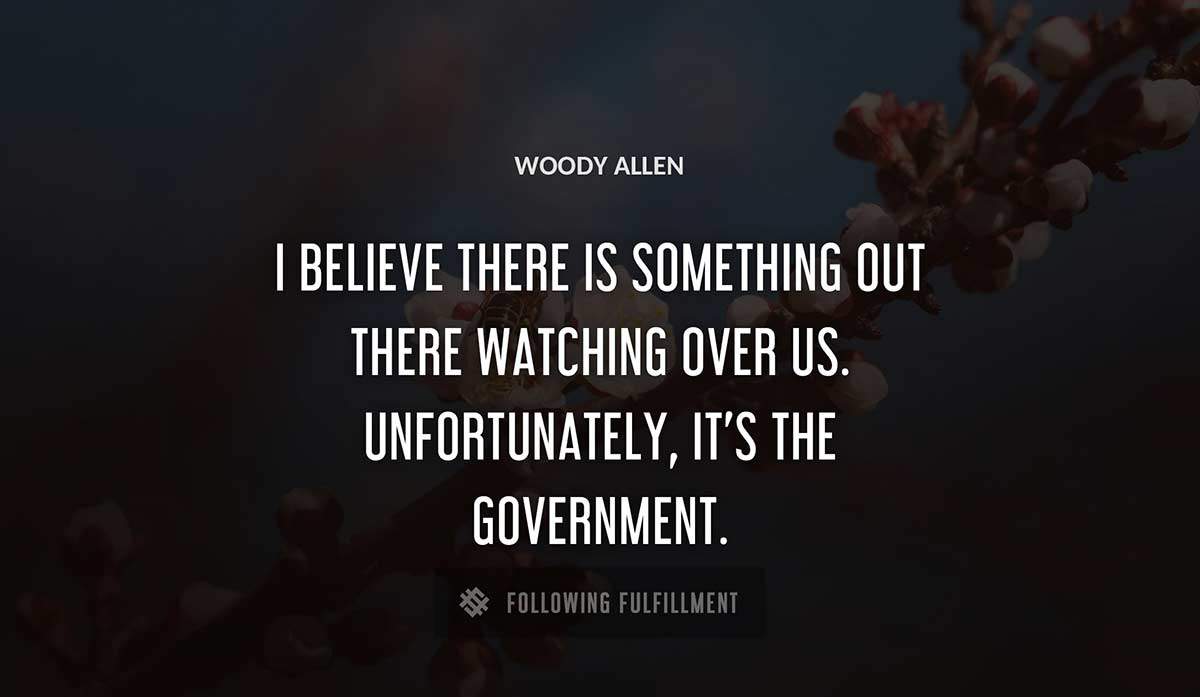 Can you believe that? She says I'm not leader enough for her. Who was she looking for… Hitler? — Woody Allen
I believe in sex and death–two experiences that come once in a lifetime. — Woody Allen
I don't believe in competition for artistic things. I just like the atmosphere of the Cannes festival. I don't want to win anything or lose anything. — Woody Allen
How can I believe in God when just last week I got my tongue caught in the roller of an electric typewriter? — Woody Allen
I do believe that reality is dreadful and that you are forced to choose it in the end or go crazy, but that it kills you. — Woody Allen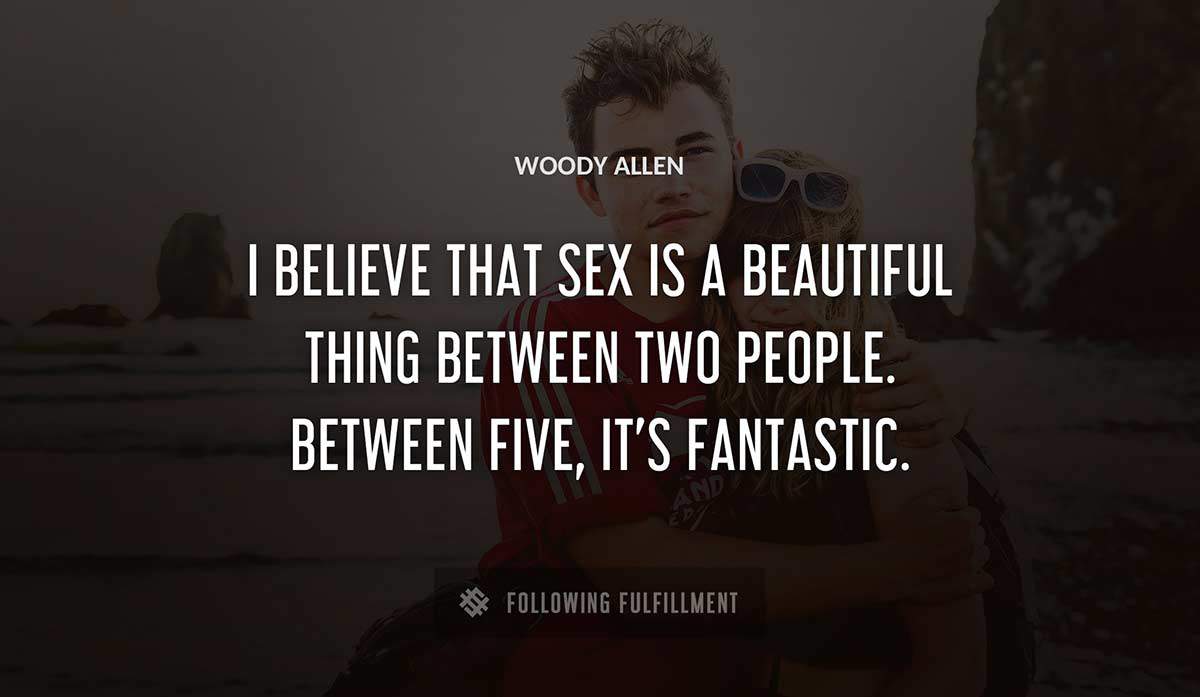 Do I believe in God? I did until Mother's accident. She fell on some meat loaf and it penetrated her spleen. — Woody Allen
WOODY ALLEN QUOTES ABOUT TIME
What kind of government is this? it's getting more like california all the time. — Woody Allen
You always think another time would have been ideal for you . . . the reality is there was no novocaine when you went to the dentist. — Woody Allen
There's no rhyme or reason to anything that I do. It's whatever seems right at the time. — Woody Allen
Some people think about sex all the time; some people think of sex some of the time; and some people never think about sex: they become lawyers. — Woody Allen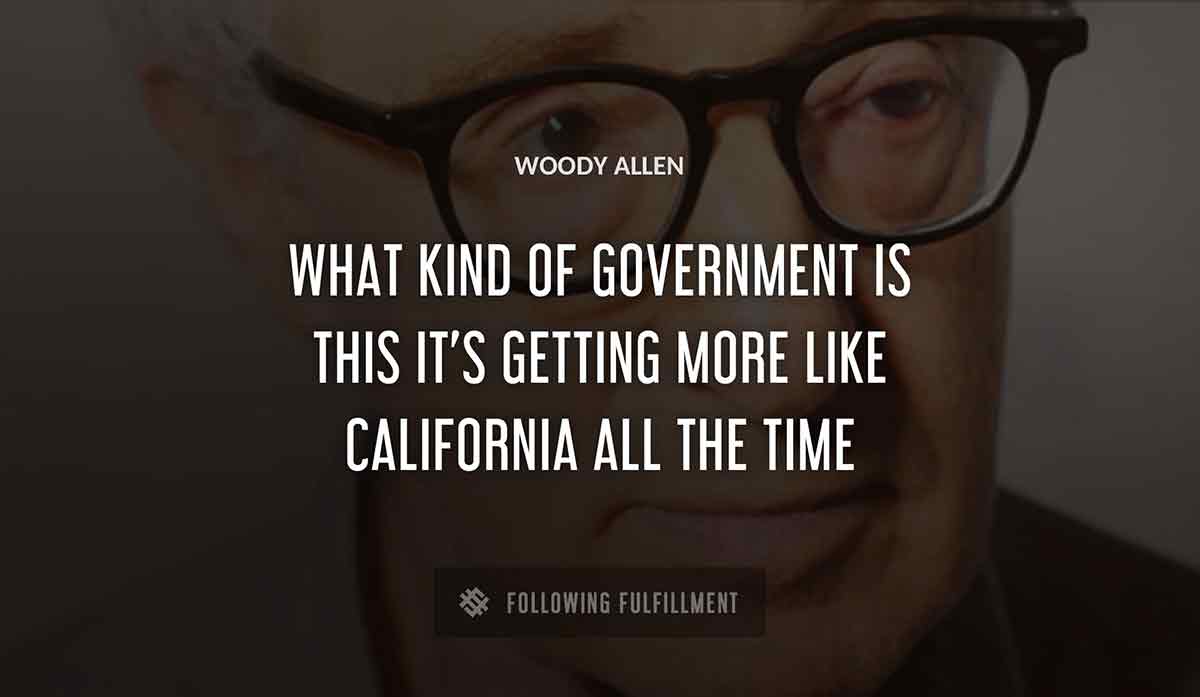 Most of the time I don't have much fun. The rest of the time I don't have any fun at all. — Woody Allen
Redundant Thematics
In Woody Allen Statements
year
feel
time
work
film
love
believe
life
The audience goes to sleep really quickly! If you have a slight pause at the wrong time, that's it! — Woody Allen
I've always had an easy time directing actors because I always hire ones that are great before I get my hands on them. — Woody Allen
In order to be successful, all you've got to do is show up 80 percent of the time. — Woody Allen
Time is nature's way of keeping everything from happening at once. — Woody Allen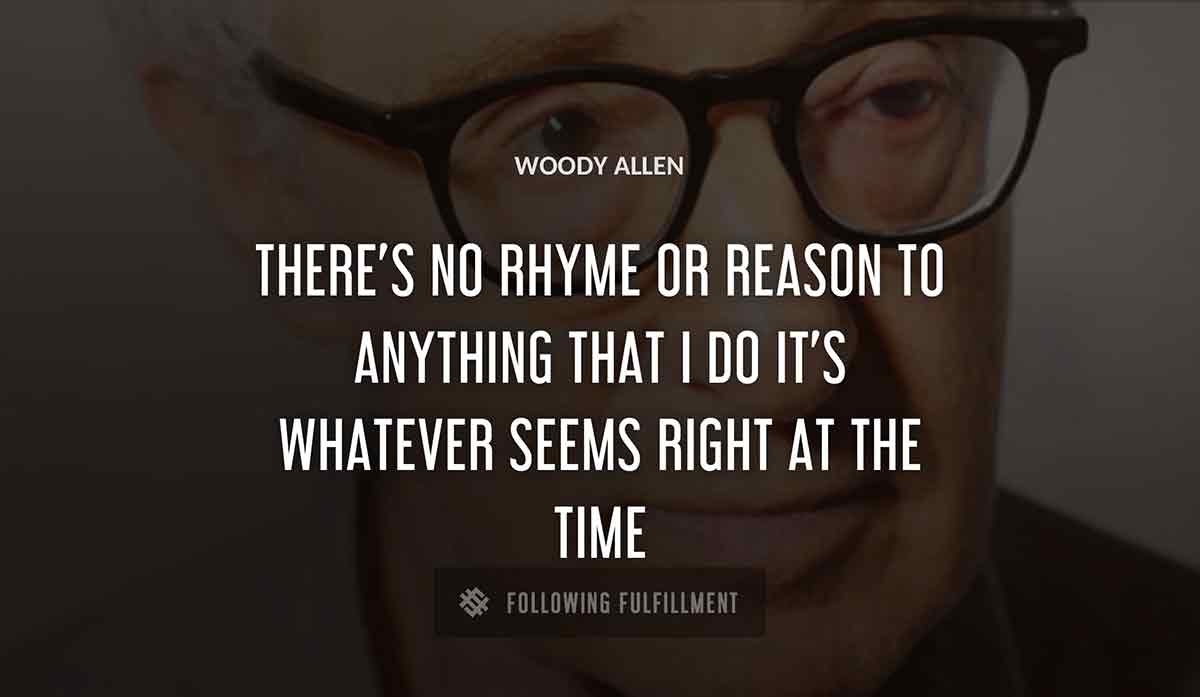 Every time you make a movie it's a new and different experience. You learn very little from the past. So, I'm a little bit better than I was when I first started. — Woody Allen
My mother never had time for me. When you're the middle child in a family of five million, you don't get any attention. — Woody Allen
The study of economy usually shows us that the best time for purchase was last year. — Woody Allen
I did not marry the first girl that I fell in love with, because there was a tremendous religious conflict, at the time. She was an atheist, and I was an agnostic. — Woody Allen
I wish I was writing something much more heavy each time I did a film, and that the comedies just occasionally come out. But unfortunately you're stuck with what you're born with. — Woody Allen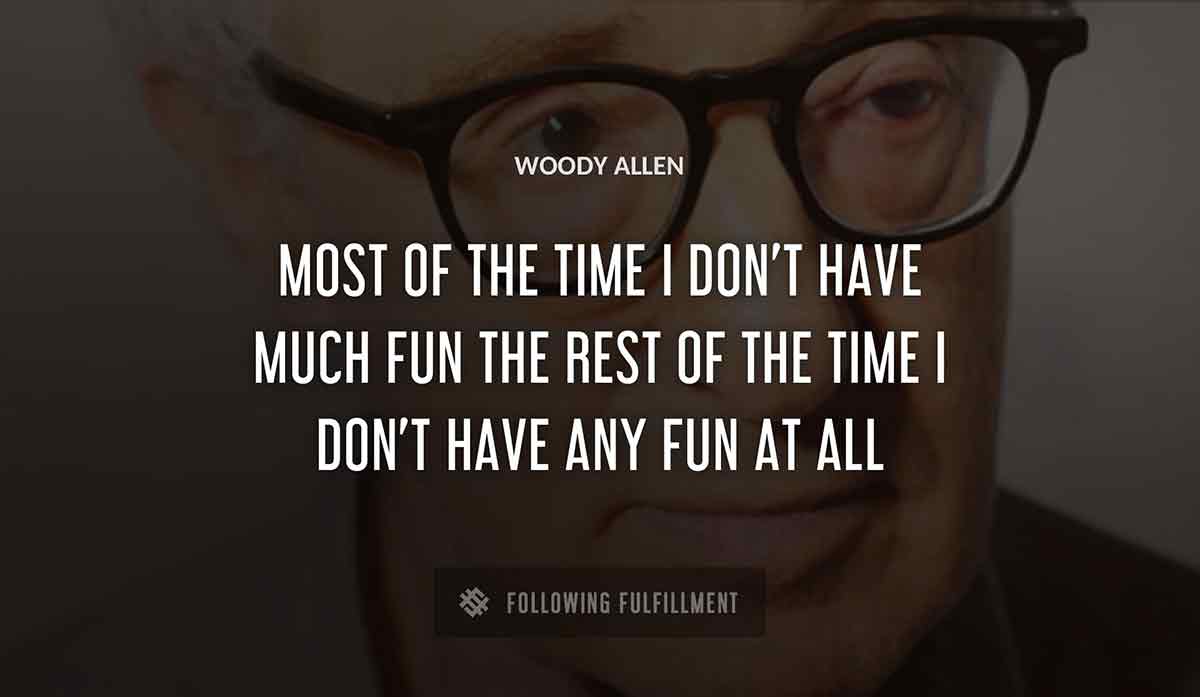 What I do know about physics is that to a man standing on the shore, time passes quicker than to a man on a boat–especially if the man on the boat is with his wife. — Woody Allen
More than any other time in history, mankind faces a crossroads. One path leads to despair and utter hopelessness. The other, to total extinction. Let us pray we have the wisdom to choose correctly. — Woody Allen
In life, one is entitled to a side dish of either coleslaw or potato salad, and the choice must be made in terror, with the knowledge that not only is our time on earth limited but most kitchens close at ten. — Woody Allen
People ask me whether I think that one day I might wake up one morning and run dry, but I've had the opposite feeling–that I would die before I had time to write all the ideas in my drawer. — Woody Allen
The process of making films is so technically demanding that it's a distraction. You don't spend your time thinking about the philosophical content, which is often very depressing. — Woody Allen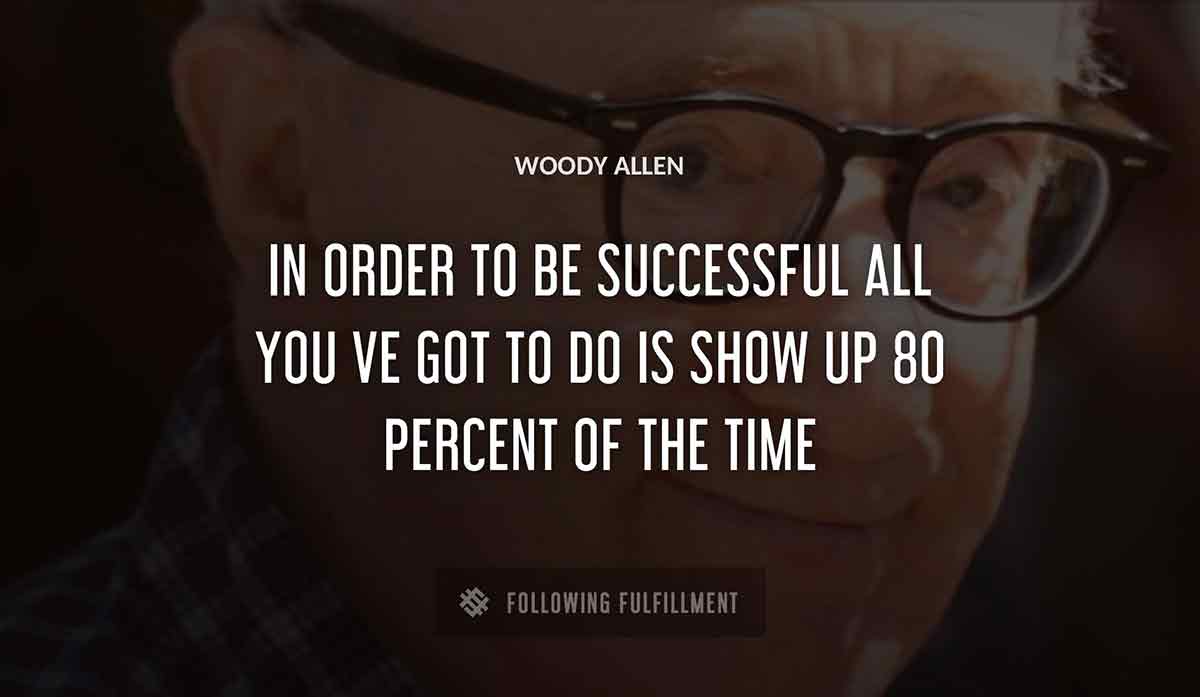 WOODY ALLEN QUOTES REGARDING WORK
How the hell do I know why there were Nazis? I don't know how the can–opener works. — Woody Alle n
When you work from city to city or country to country, you work the same way; the working method is the same. — Woody Allen
Many people who get a lot of money are willing to work with me for no money. This is true. — Woody Allen
I don't want to achIeve ImmortalIty through my work. I want to achIeve It through not dyIng. — Woody Allen
I don't wanna live on in my work. I wanna live on in my apartment. — Woody Allen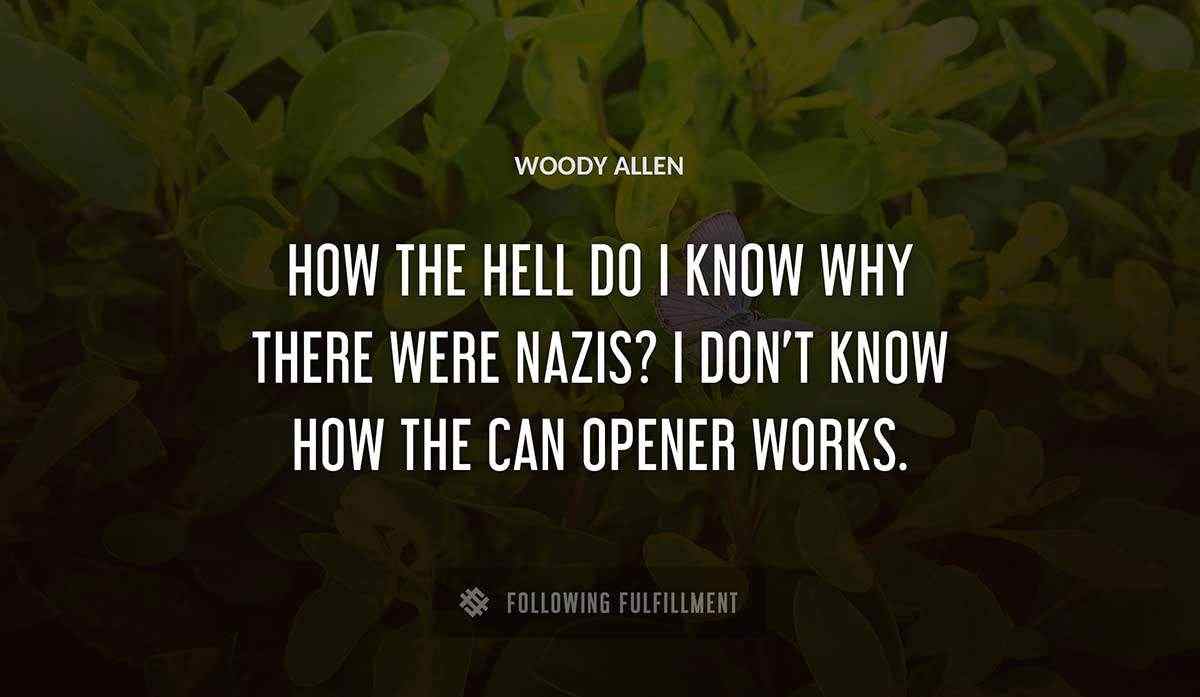 Some people want to achieve immortality through their works or their descendants. I prefer to achieve immortality by not dying. — Woody Allen
You're a genius! And the proof is that both common people and intellectuals find your work completely incoherent. — Woody Allen
I don't want to live forever through my work. I want to live forever by not dying. — Woody Allen
Our love, our love will last forever. It's forever but it just doesn't work. That's why it will always be romantic because it can not be complete. — Woody Allen
In real life, Keaton believes in God. But she also believes that the radio works because there are tiny people inside it. — Woody Allen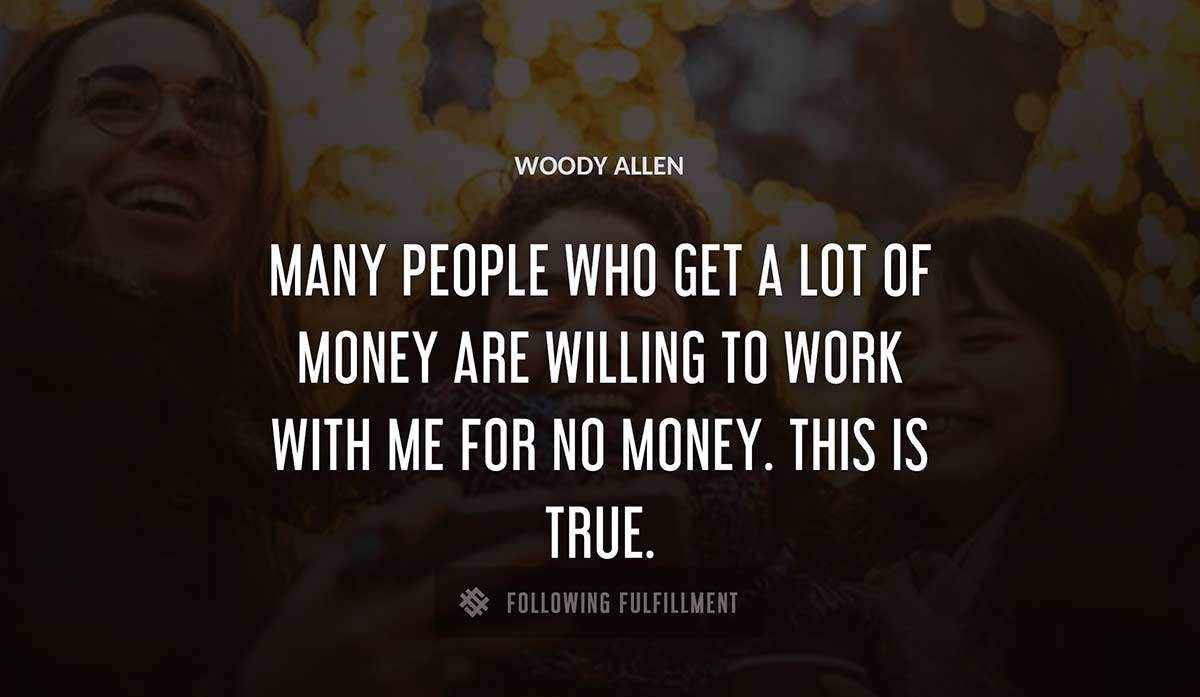 How does gravity work? And if it were to cease suddenly, would certain restaurants still require a jacket? — Woody Allen
When I first started, there were writers that I looked up to that I felt very influenced by and very respectful toward their work and their opinion of my work. — Woody Allen
People make films for different reasons. For money. Or, they make them because something in them demands artistic expression. I do it because I enjoy the work. — Woody Allen
When you start putting a higher value on works of art than people, you're forfeiting your humanity. — Woody Allen
I work all the time because it's a great distraction and it keeps me from sitting home and obsessing morbidly. — Woody Allen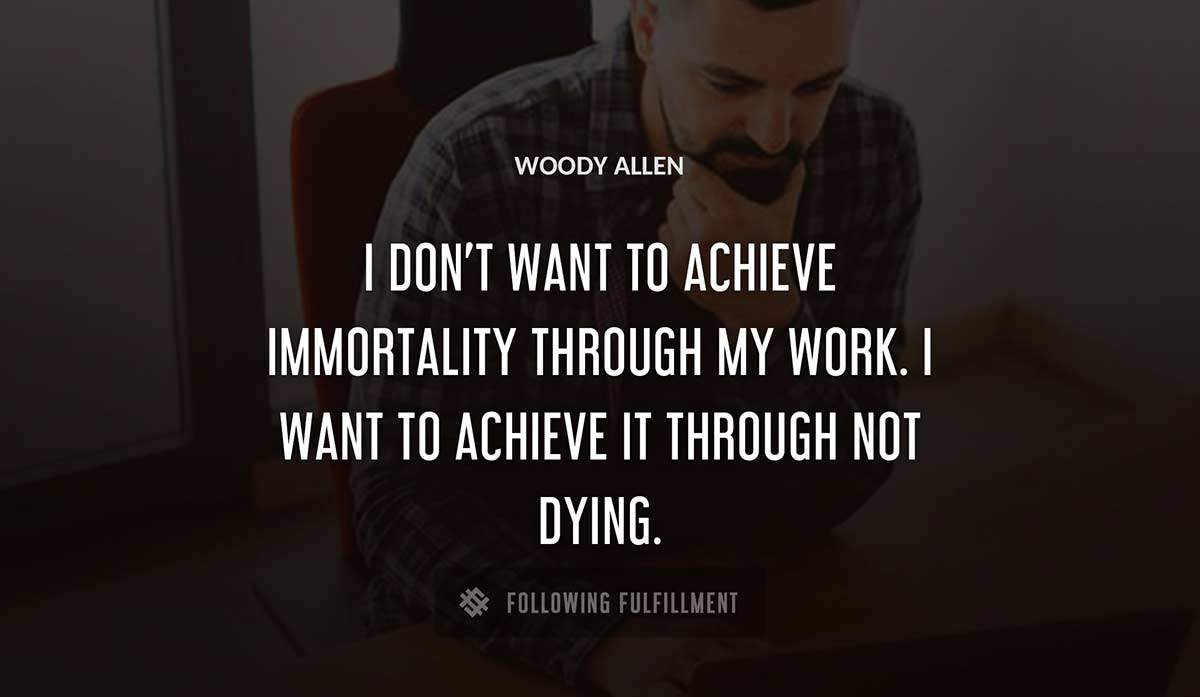 It's important to control yourself because life gets too complicated if you don't, but the impulse is often there for people. Some say society should be more open. That doesn't work either. — Woody Allen
I spend a lot of time idly. I go to sporting events, play my clarinet. I practise. But if you work every day, a certain amount on a steady basis, the work accumulates. — Woody Allen
WOODY ALLEN QUOTES ON FILMS
If my films don't show a profit, I know I'm doing something right. — Woody Allen
Sometimes the critics will like a film, and the public doesn't come. Sometimes the critics won't like the film, and the public will come. It's completely spontaneous. It's a hazard. — Woody Allen
You look up after many years and you find that a film has become a classic because it's meaningful to people and alive, decade after decade. — Woody Allen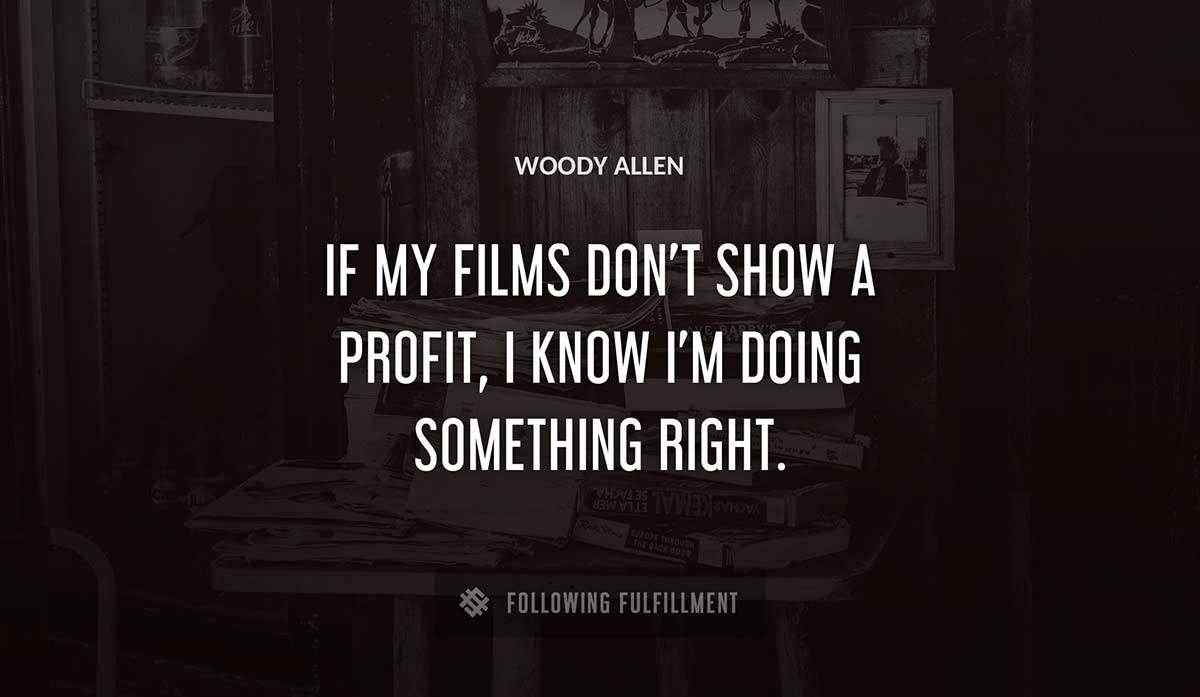 People think I'm an artist because my films lose money. — Woody Allen
I never wanted to or expected to make a film outside of New York. New York became very, very expensive. The same $18 million spent in Barcelona or Rome goes much further there. — Woody Allen
We live in far too permissive a society. Never before has pornography been this rampant. And those films are so badly lit! — Woody Allen
I usually want to crawl into the ground after I make a film, almost invariably. — Woody Allen
My relationship with American audiences is the exact same as it always has been. They never came to see my films, and they don't come now. — Woody Allen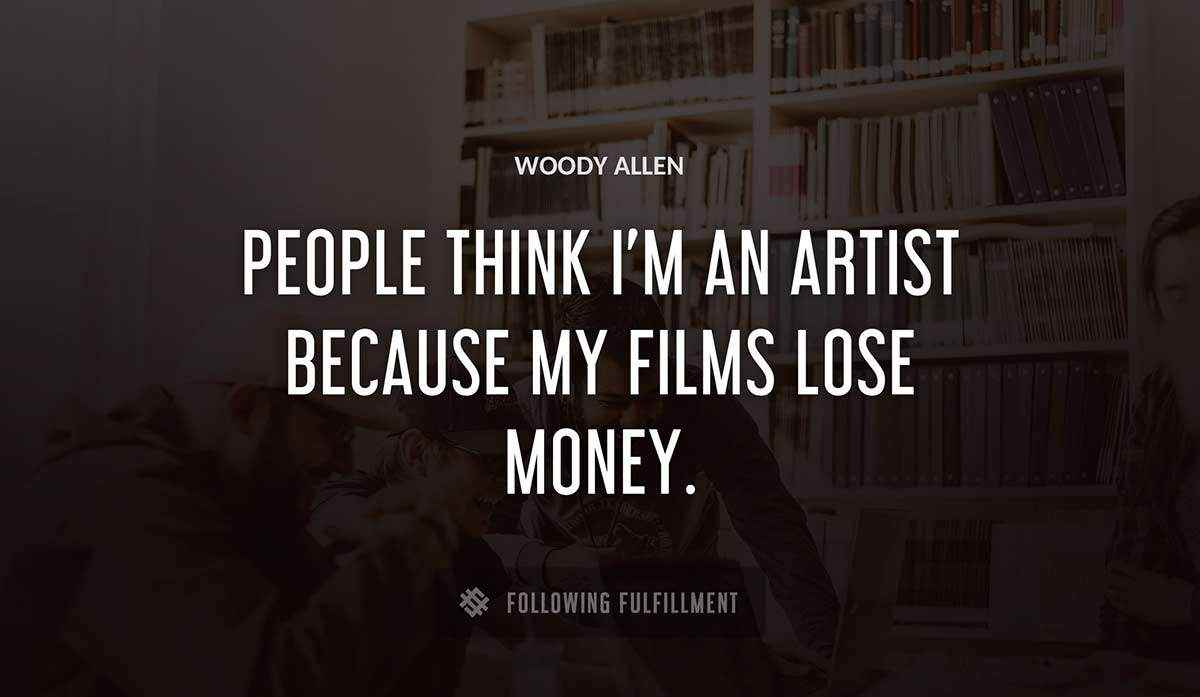 I've been lucky because my films have consistently made a profit, almost all of them have made a profit. Never a huge profit, but nobody gets hurt. And therefore I get a lot of freedom. — Woody Allen
It has become harder and harder in the United States to make films unhampered by outside influences. I've always been able to steer clear of that and keep the business people out of my hair completely. — Woody Allen
New York is my home and I have a particular fondness for it. I think it's a place where you can generate any kind of story wonderfully. But I also would be very happy to make a film in Paris or Rome. — Woody Allen
I prefer the magic to reality, and have since I was 5 years old. Hopefully, I can continue to make films and constantly escape into them. — Woody Allen
I write about what I want to write about, and so the film comes out as a very personal expression even if its subject matter is totally prefabricated. — Woody Allen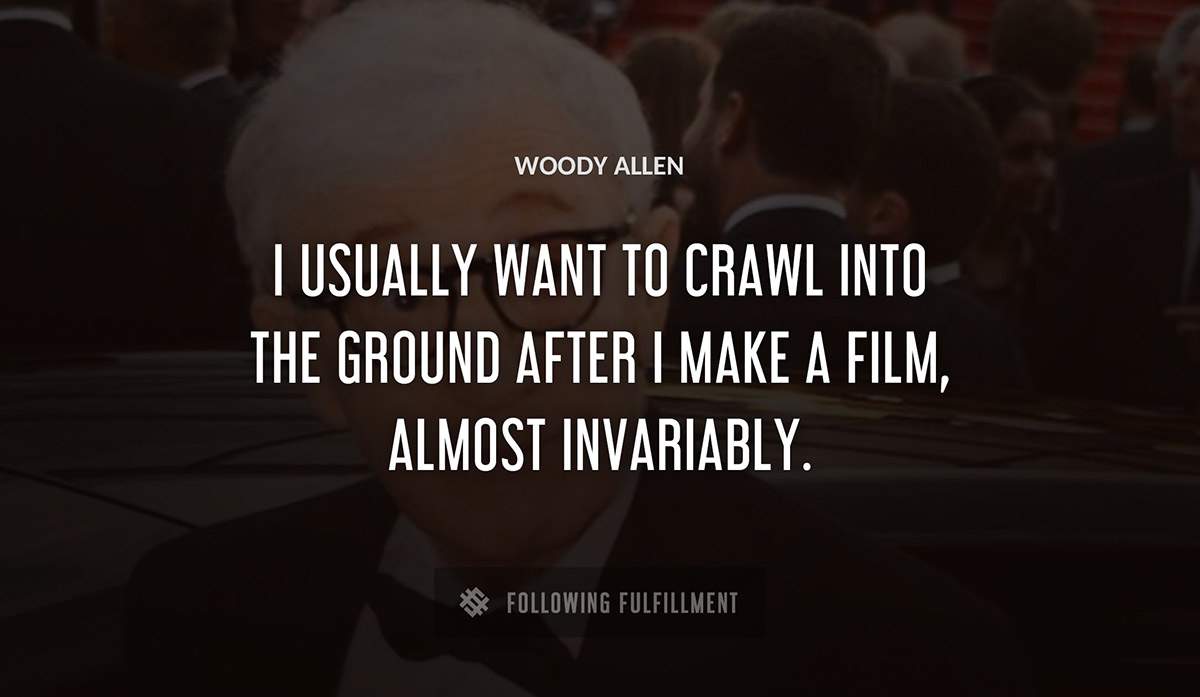 I always thought it would be very funny if I was a blind film director. — Woody Allen
You make films whether they're dramas or comedies about neurotic people. Flawed people. Interesting personality traits. To make them about calm, stable untroubled people isn't interesting. — Woody Allen
A general philosophy of the female characters in my films is they all want something to believe in, and not having anything. — Woody Allen
My films are therapy for my debilitating depression. In institutions people weave baskets. I make films. — Woody Allen
If you don't have fun doing the film, then the results of the film will never give you any fun. — Woody Allen
The French make two mistakes about me. They think I'm an intellectual because I wear these glasses and they think I'm an artist because my films lose money. — Woody Allen
The audience is making the film and not the film–maker. — Woody Allen
Film is more of novelty, because I've done so much theater over many years. I'm in love with making movies. Also, I find it easier to remember three minutes of dialogue than three hours. — Woody Allen
American films, it's a money–making industry. And in France, you can find great respect for cinema as art. — Woody Allen