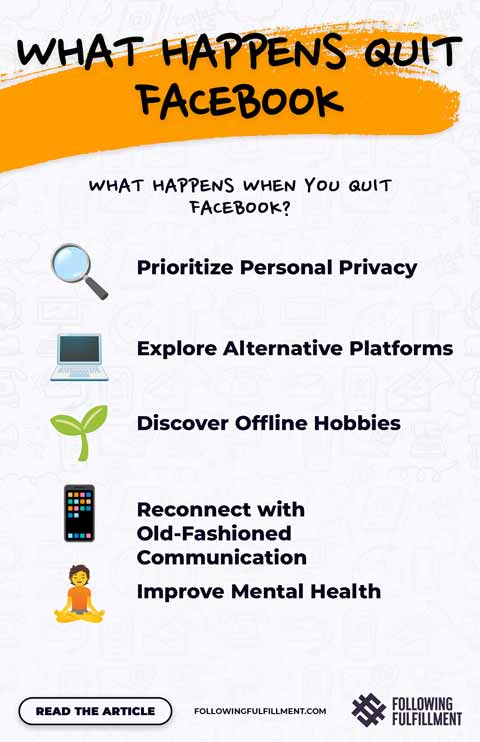 What happens when you quit facebook?
Reasons to Quit Facebook
Are you considering quitting Facebook but not sure if it's the right decision? There are plenty of reasons why people choose to delete their accounts. From privacy concerns to mental health issues, quitting Facebook can have a significant impact on your life. In this section, we'll explore some of the top reasons why people decide to quit Facebook and what you can expect if you choose to do the same.
Why would you quit Facebook?
Are you feeling overwhelmed by the constant notifications, ads, and drama on Facebook? Perhaps you're concerned about your privacy and the amount of personal data the social media giant collects? Whatever the reason, more and more people are choosing to quit Facebook. In this section, we'll explore the various motivations behind this decision and what you can expect when you take the plunge and say goodbye to the world's most popular social network.
Impact on Personal Privacy
When it comes to quitting Facebook, one of the most significant concerns for users is the impact on their personal privacy. Social media has become so ingrained in our daily lives that many people may not even realize how much information they're sharing online. However, when you quit Facebook, you take control of your personal data and can limit the amount of information that is available to third-party advertisers and other entities. In this section, we will explore the impact of quitting Facebook on your personal privacy and the steps you can take to protect your information.
Protecting Your Data and Personal Information
During a digital detox, it's important to take measures to protect your data and personal information. Start by reviewing the privacy settings on your devices and social media accounts. Consider using a password manager to create strong, unique passwords for each account. Avoid using public Wi-Fi and only connect to secure networks. When browsing the internet, use a virtual private network (VPN) to encrypt your data and prevent hackers from accessing your information. Be cautious when sharing personal information online and limit the amount of information you share on social media. Lastly, back up important data and regularly delete unnecessary files to reduce the risk of data breaches or loss. By taking these precautions, you can enjoy your digital detox without compromising your personal information.
Reducing Targeted Advertising and Tracking
One way to promote digital detox is to reduce targeted advertising and tracking. These practices can be invasive and contribute to the constant stream of information and distractions that can be overwhelming. To reduce targeted advertising, users can opt out of data collection and targeted ads through their device settings or by using browser extensions that block ads and trackers. Additionally, using privacy-focused search engines and social media platforms can limit the amount of personal information that is shared and used for targeted advertising. By reducing the amount of targeted advertising and tracking, individuals can have a more peaceful and focused online experience, and reduce the urge to constantly check their devices for notifications and updates.
Preserving Digital Footprint and Online Reputation
In the era of digital detox, it's essential to preserve your digital footprint and online reputation. Your online presence can make or break your career and personal life. To protect your reputation, it's crucial to be mindful of what you post online. Always think twice before sharing or commenting on anything. Be mindful of your language and tone, and avoid posting anything that can be considered offensive or controversial. It's also important to regularly review your social media profiles and delete any posts or photos that are no longer relevant or appropriate. Finally, be aware of your privacy settings and use them wisely. Limit who can view your profile and what information is shared publicly. By taking these steps, you can ensure that your digital footprint and online reputation are positive and professional.