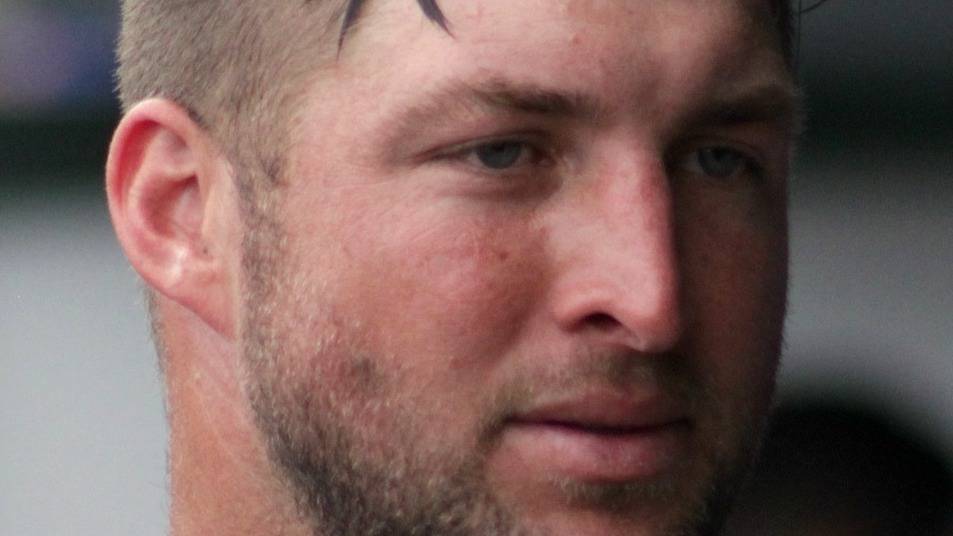 Tim Tebow is a famous college football player and Heisman Trophy winner. He has also been called one of the most influential Christian athletes in America. Tim's story is an inspiration for anyone who has dreams bigger than themselves. From being homeschooled by his mother to being drafted into the NFL, this quotes compilation will give you all the information you need on this inspirational man.

We are glad to present you the best words from Tim Tebow.
Here are the deepest Work, Love, Faith, Life, Believing quotes from Tim Tebow, and much more.
Summary
TIM TEBOW QUOTES ABOUT FAITH
It's OK to be outspoken about your faith. — Tim Tebow
It's attractive when girls have faith. That is a big thing for me. — Tim Tebow
I try to stay centered in my faith and my family and the close people around me. — Tim Tebow
My No. 1 focus was on my foundation, the Tim Tebow Foundation, to bring faith, hope and love to those needing a brighter day in the darkest hour of need. — Tim Tebow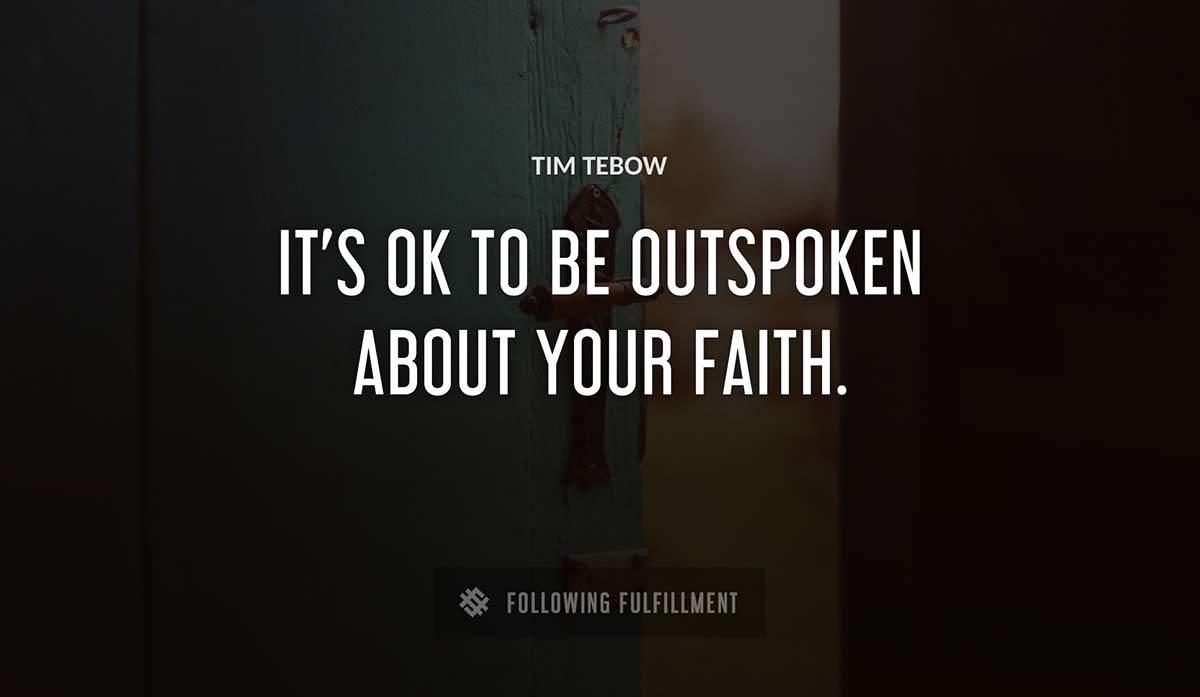 I'm thankful for the ability to share my faith in a lot of different places. It's something that I take as a responsibility and an obligation to handle as best as I can. — Tim Tebow
TIM TEBOW QUOTES ABOUT LOVE
How many people are not as good as they could be at their job because they don't love it? They're not passionate about it. If you don't like something, why are you doing it? — Tim Tebow
Love ice cream. I let myself have that about once a week. Vanilla. — Tim Tebow
Whatever avenue I feel like I can make a difference in, I'd love to do. — Tim Tebow
In the NFL, you know how people love going to fancy restaurants? I am not a fancy–restaurant guy. I am a good–tasting steak–and–potatoes guy. — Tim Tebow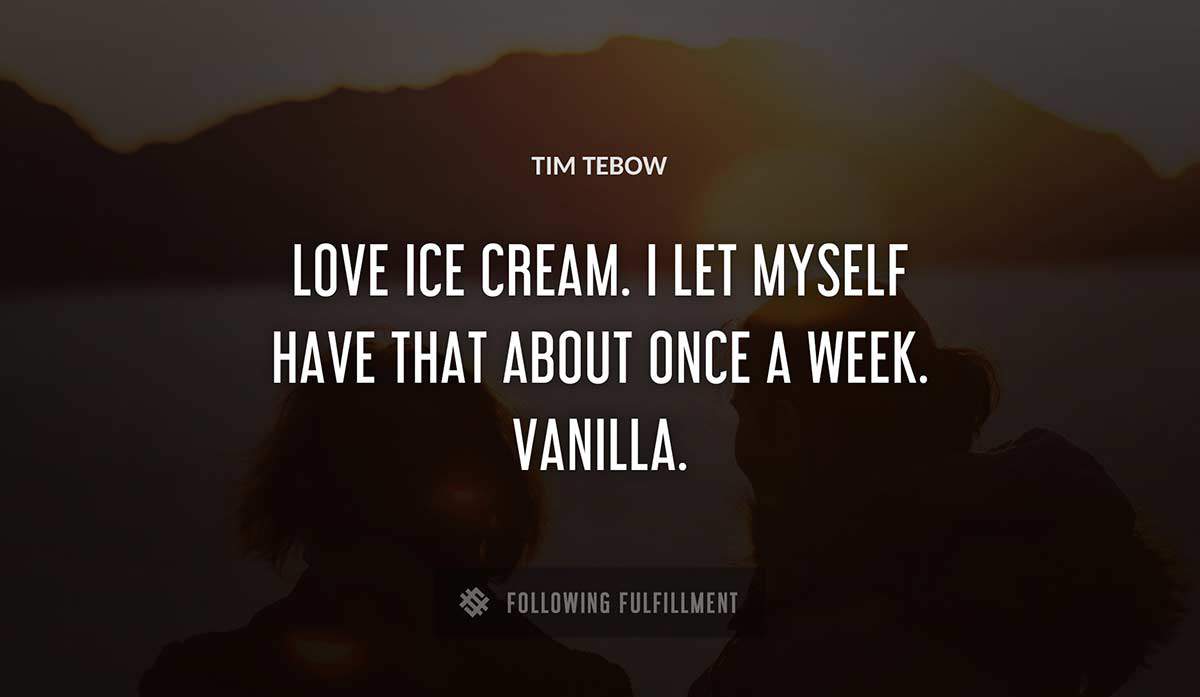 Outside of football and training, I am somewhat of a homebody. Love hangin' out with my siblings and close friends. — Tim Tebow
We were created by Love, in love, and for love. — Tim Tebow
I always love training at crazy times–it's an edge I'm creating over everyone else. — Tim Tebow
Just might love the south african culture… well i am bias because they raised @demileighnp. — Tim Tebow
This is not something that you pick up after 12 years that comes to you that fast, but i feel like i'm adjusting, i'm getting there. This is something that i truly love. — Tim Tebow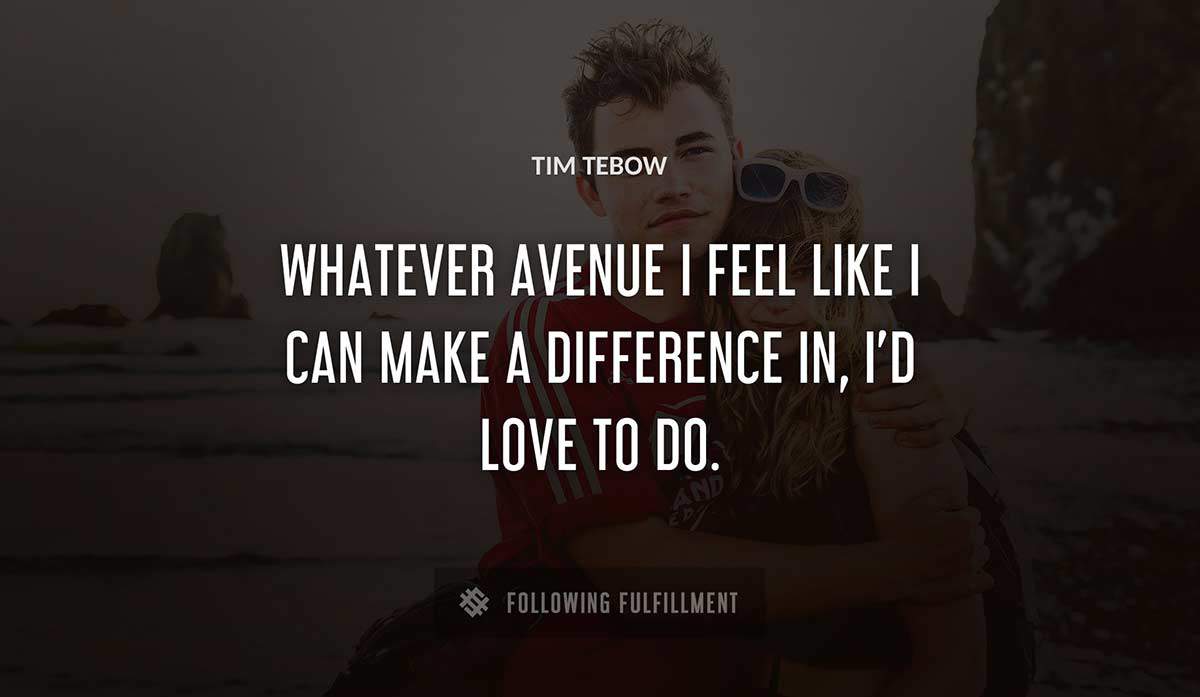 I don't judge my self–worth as a football player. Football is something I love. It's a fun career deal, but it's not what I want to do with my life, because I see football as a game. — Tim Tebow
TIM TEBOW QUOTES ON LIFE
My whole life, my dream has been to be a quarterback. — Tim Tebow
I really try to enjoy life and have joy with what I do. — Tim Tebow
Regardless of whatever I do, I know what my purpose is: to make a difference in people's lives. — Tim Tebow
When who you are is grounded in whose you are, you realize it doesn't matter what life throws your way. — Tim Tebow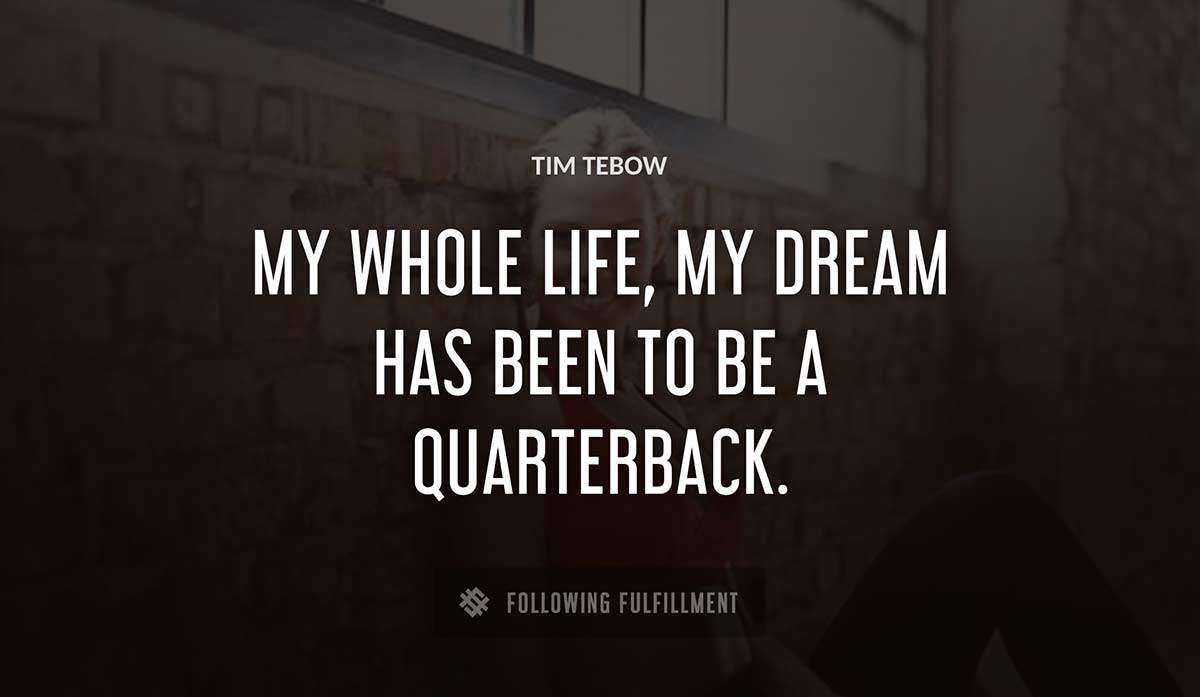 For me, it's a great opportunity on a public platform to get on your knees and humble myself and thank the Lord for all the blessings he's put in my life. — Tim Tebow
I don't have to live the roller coaster other people live with my life. It's hard because people try to have an effect. — Tim Tebow
When we talk about having a life of significance and meaning, it's not about fame or money or resources. It's about people and lives and hearts. That's my biggest passion in life. — Tim Tebow
I don't judge my success in life as a football player. — Tim Tebow
I think sports media really do need to think about the world in more humble terms. Not everything is the game of the century, and not everything is life or death. — Tim Tebow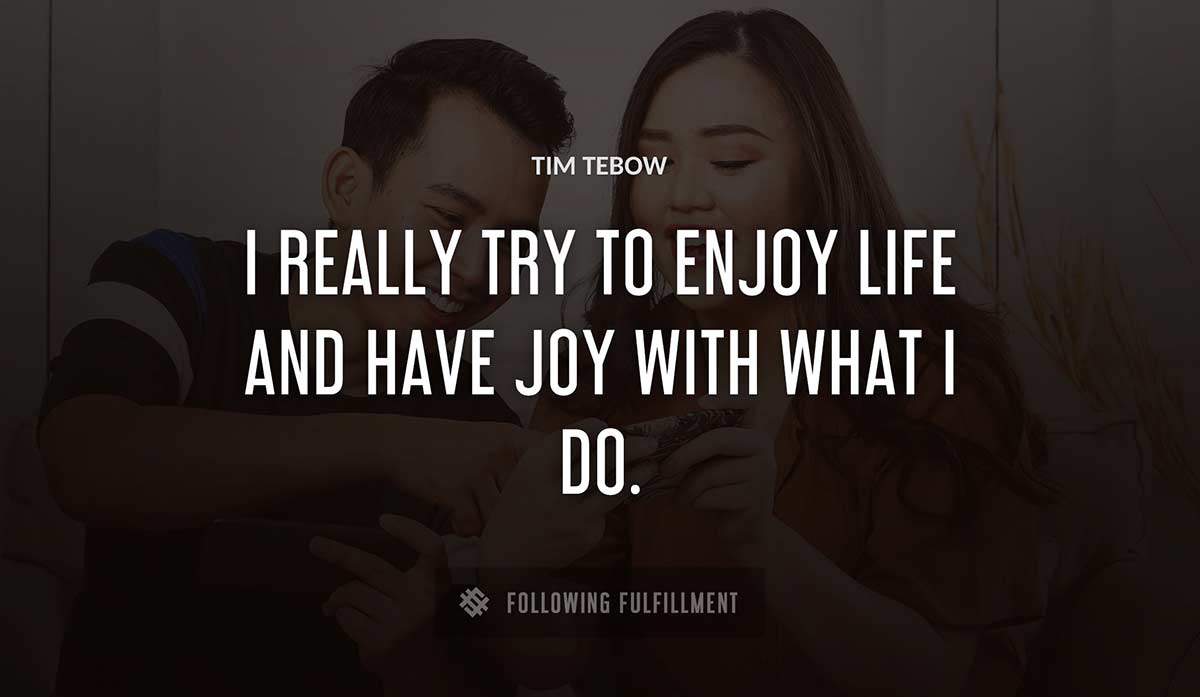 I'm just thankful for everything, all the blessings in my life, trying to stay that way. I think that's the best way to start your day and finish your day. It keeps everything in perspective. — Tim Tebow
I'm not perfect. I'm never going to be. And that's the great thing about living the Christian life and trying to live by faith, is you're trying to get better every day. You're trying to improve. — Tim Tebow
I train about six days a week. I'm training at the same intensity as I did when I was playing football. I've done it for my entire life, and I love it. — Tim Tebow
It's pretty easy for me to say that the most important thing in my life is my relationship with Jesus Christ, followed by my relationship with family. And football's later on down the line. — Tim Tebow
I don't like to talk hypotheticals. I deal with the real life situations. I treat every day as a blessing. — Tim Tebow
I want to make someone's life better because I'm here. If you have that attitude it will change your day and change your life. — Tim Tebow
Redundant Thematics
In Tim Tebow Statements
work
control
love
hold
faith
believe
trying
life
focus
TIM TEBOW QUOTES REGARDING WORK
I'll always use the negativity as more motivation to work even harder and become even stronger. — Tim Tebow
Hard work beats talent when talent doesn't work hard. — Tim Tebow
I can't control the naysayers. I can control my attitude and work ethic and determination and that's what I'm focused on now. — Tim Tebow
I don't try to focus on anything that doesn't affect me personally and how I go out there every single day. I'm just going to continue to work hard and focus on what I can control. — Tim Tebow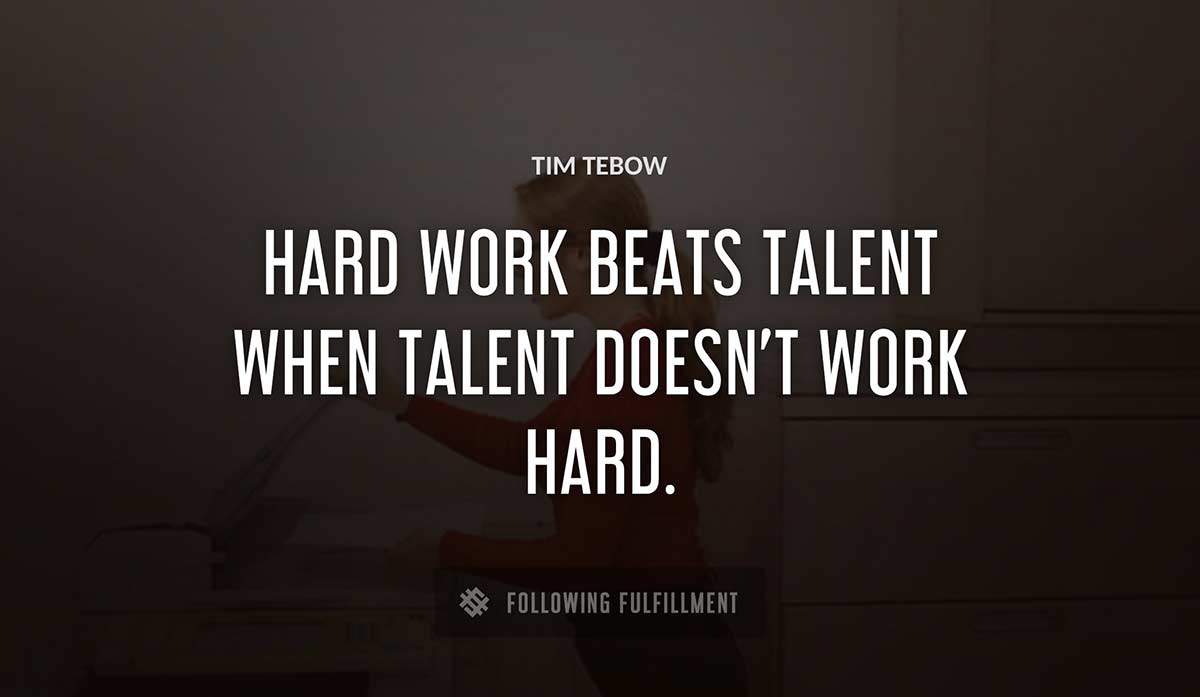 I will continue to work as hard as I can to make this organization proud. Every time I step on the field I will give everything I have and I will leave everything I have on the field every single Sunday. — Tim Tebow
I have so many things to work on, and so many ways that I fail. But that's what grace is all about. And I constantly wake up every morning trying to get better, trying to improve, trying to walk closer to God. — Tim Tebow
I just try to work hard and run the offense as good as possible. I had a lot of guys around me who made a lot of good plays to help me out. — Tim Tebow
The people who can finish and finish at the same pace or stronger than when they started, those are the ones who are going to succeed; those are the ones who are going to be great. — Tim Tebow
We have to humble ourselves and the way you do that is by serving other people. — Tim Tebow
TIM TEBOW QUOTES ABOUT BELIEVING
If someone is there to believe in you, to care about you and support you, amazing things can happen. — Tim Tebow
If you believe, unbelievable things can sometimes be possible. — Tim Tebow
As a competitor and an athlete, you have to believe in yourself. And you have to believe in the people who believe in you. — Tim Tebow
My integrity means more to me than any fame or money. When I say something, I want people to take it to the bank that I mean it and believe in it. — Tim Tebow
I know there are a lot of people who believe in me as a player and a person, and I don't want to let them down. — Tim Tebow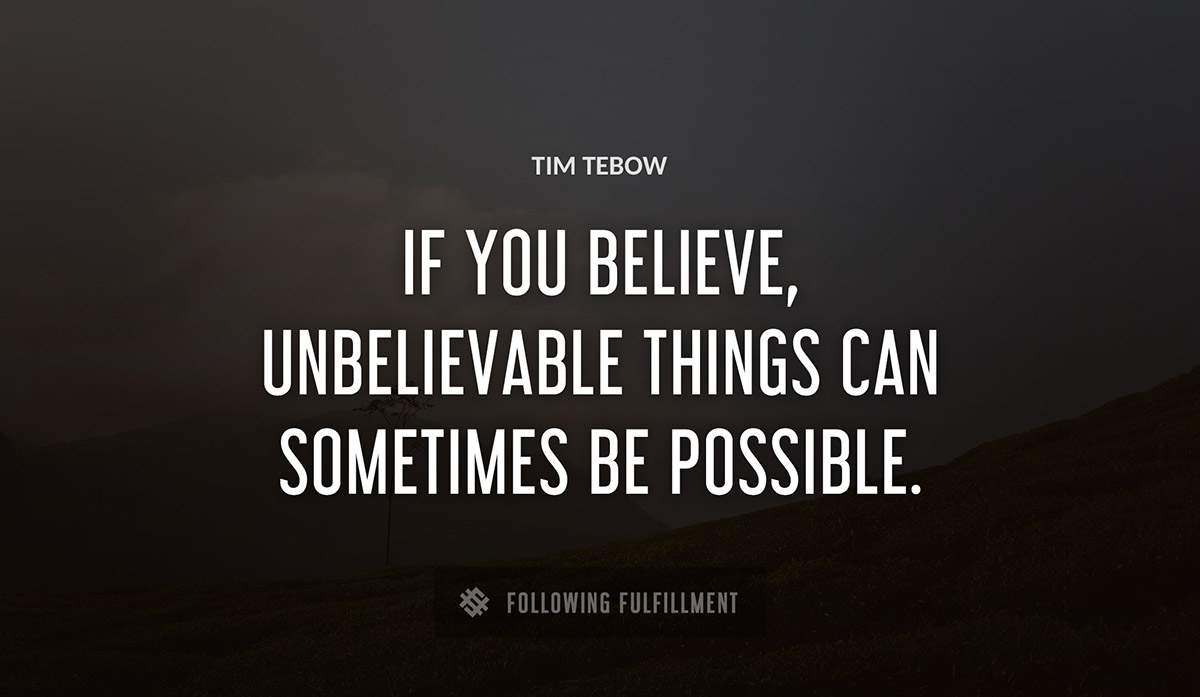 I definitely consider myself extremely blessed to have great partners in endorsing products. It's not about being on billboards. I endorse something because I believe in it. — Tim Tebow
I believe in my God–given athletic ability and the coaches that have been blessed around me. I believe I can do the job as a quarterback in the NFL. — Tim Tebow
If I believe that I became the best quarterback that I could possibly be, the best football player that I could possibly be… That's how I'm going to measure my career as a success or not. — Tim Tebow
I want to support kids that not a lot of people believe in. Give them an opportunity to do good in school, play sports and get scholarships. — Tim Tebow
Just keep believing. This is an opportunity where great things can happen and lets be great right now. — Tim Tebow