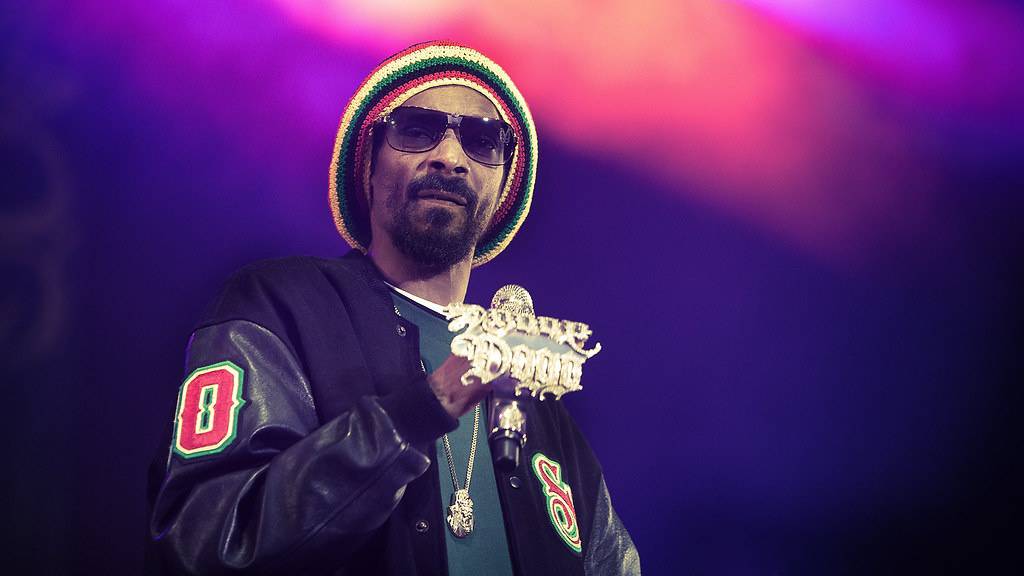 There's no doubt that Snoop Dogg is one of the most successful and well-known rappers in history. But what many people don't know is that he's also an entrepreneur, with a wide range of business ventures under his belt. In this blog post, we'll take a look at some of the most impressive aspects of Snoop Dogg's entrepreneurship career. We'll also explore how he's managed to become such a successful businessman.
Here are the most inspiring Music, Money, Feelings, Love, Time, Black quotes from Snoop Dogg, and much more.
Summary
About Snoop Dogg
Born:
October 20, 1971
Education:
Long Beach Polytechnic High School
Occupation:
Rapper, Singer, Songwriter, Actor, Media Personality, Businessman And More.
Years Active:
1992-Present
Genres:
Hip Hop, Funk, Gangsta Rap, Reggae
Instruments:
Vocals
Labels:
Create, Empire, Doggystyle, Rca Inspiration, E1, I Am Other And More.
Associated Acts:
213, 7 Days Of Funk, Mt. Westmore, Qdt, Tha Eastsidaz, Akon And More.
Website:
snoopdogg.com
SNOOP DOGG QUOTES ABOUT FEELINGS
When you're dead, you don't breathe, you don't see, you don't feel, you don't love. — Snoop Dogg
There's so much that I want to do. I feel like I'm the Magic Johnson of rap. You know, Magic was great on the basketball court, but he's bigger as a businessman. — Snoop Dogg
Reggae is music of love. It has joy and pain, but it feels good. — Snoop Dogg
It makes me feel the way I need to feel. — Snoop Dogg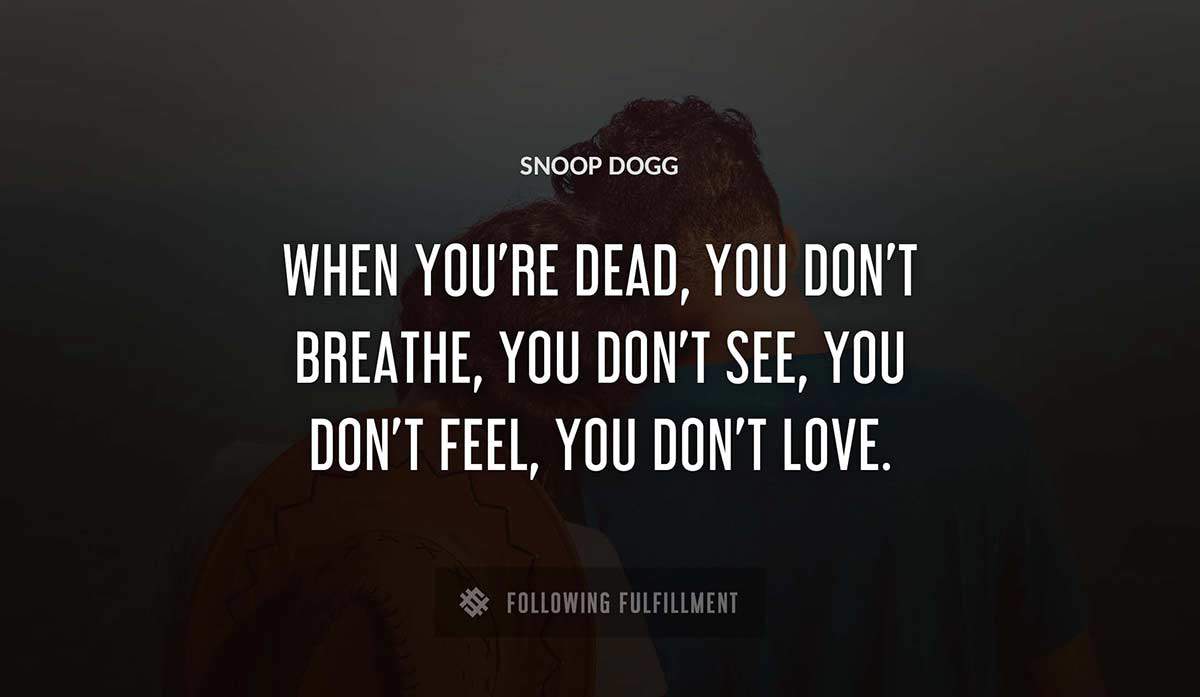 Life is about growing and evolving. I feel like my life has been in stages, and the stages I went through when I was younger allowed me to grow into the man I am today. — Snoop Dogg
Barack Obama makes me feel good to be a black man. — Snoop Dogg
A lot of brands, you can't touch them. When you're dealing with Snoop Dogg, he brings you closer to the brand and it feels like it's a part of you. — Snoop Dogg
It's an unexplainable feeling, an expression. It's a touch, it's a feel. Once you feel it, it's like no other thing in the world. — Snoop Dogg
When the surgeon general Joycelyn Elders said that drugs should be legalized, I saw somebody else who felt what I feel. But she got fired. — Snoop Dogg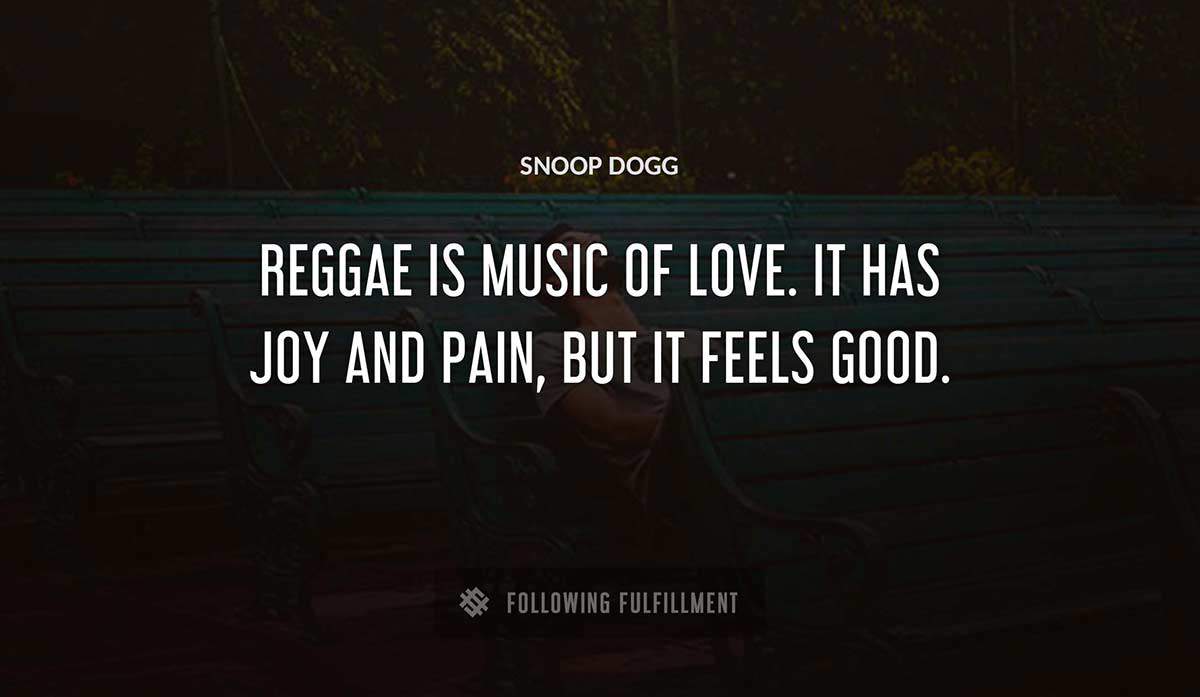 SNOOP DOGG QUOTES ON MONEY
If you stop at general math, you're only going to make general math money. — Snoop Dogg
My mind on my money, my money on my mind. — Snoop Dogg
I went out and got little jobs. I was selling candy as a teenager, selling newspapers. But as I got older, I didn't want to sell that anymore. I wanted to make more money. — Snoop Dogg
Rollin' down the street, smokin' indo, sippin' on gin an juice Lay back with my mind on my money and my money on my mind. — Snoop Dogg
When I turned 16, I thought I was a man. I needed the money. When you don't have it, crazy thoughts go through your mind. — Snoop Dogg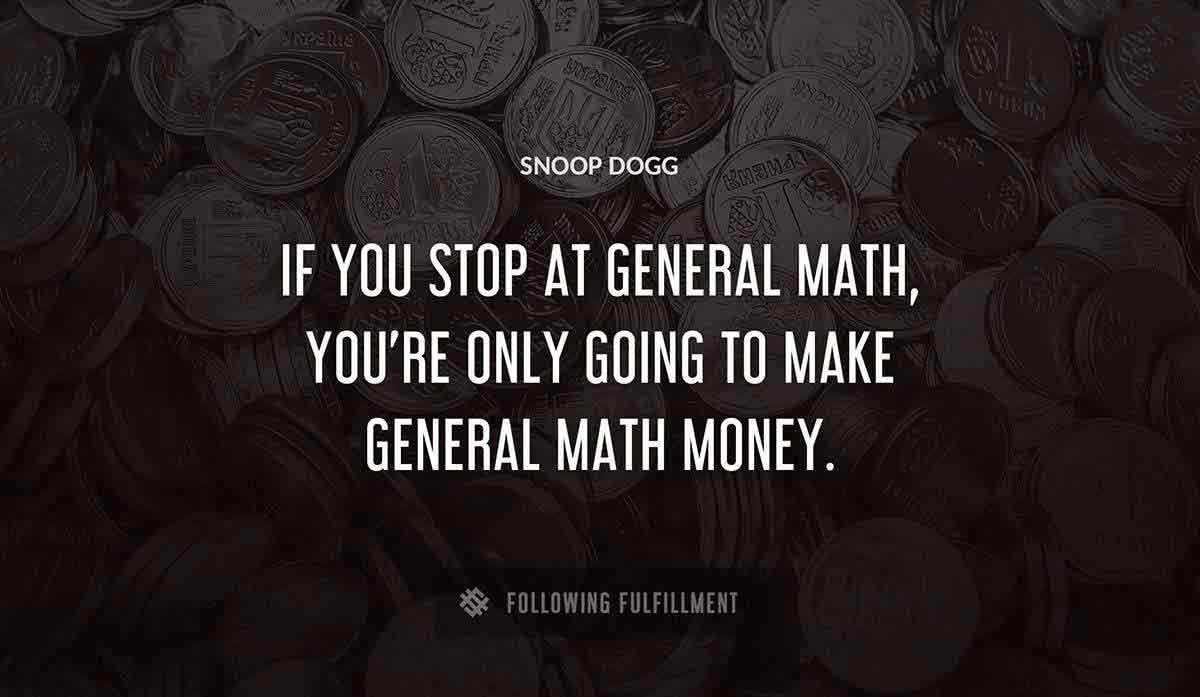 SNOOP DOGG QUOTES ON BLACK
As a black man, I have to respect myself and have nice things. As a man in general. — Snoop Dogg
Black and beautiful, you the one I'm choosin'. Hair long, thin, black and curly like you're Cuban. — Snoop Dogg
Drugs bring in guns. They bring in all these black–on–black crimes. — Snoop Dogg
You got two black folk representing us through the Sixties. One of them was for violence, one was against it, and they both are dead. — Snoop Dogg
That's how we do it in the black community; we give back to the people who made us who we are. We never forget that. — Snoop Dogg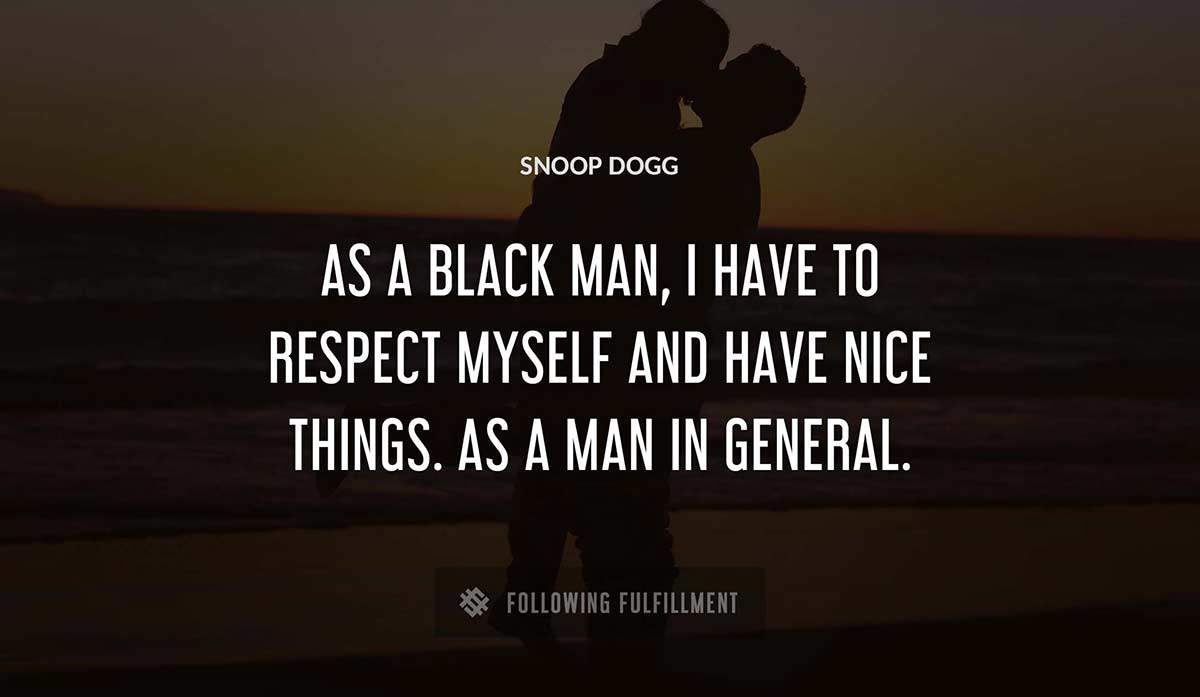 It's hard for a black man to raise a family. — Snoop Dogg
It's old white ladies, old black ladies, old black men, who don't even listen. Everyone else, everyone who understands, likes Snoop Dogg. They like my music. — Snoop Dogg
In the black culture, certain kids are given nicknames that they roll with forever; the nicknames outweigh their real names. I'm one of those scenarios. — Snoop Dogg
Like Ice Cube asks, 'Why are more niggers in the pen than in college?' It's easier to go to the pen than it is to go to college. — Snoop Dogg
SNOOP DOGG QUOTES ABOUT LOVE
She in love with the gangsta, that's what's up. — Snoop Dogg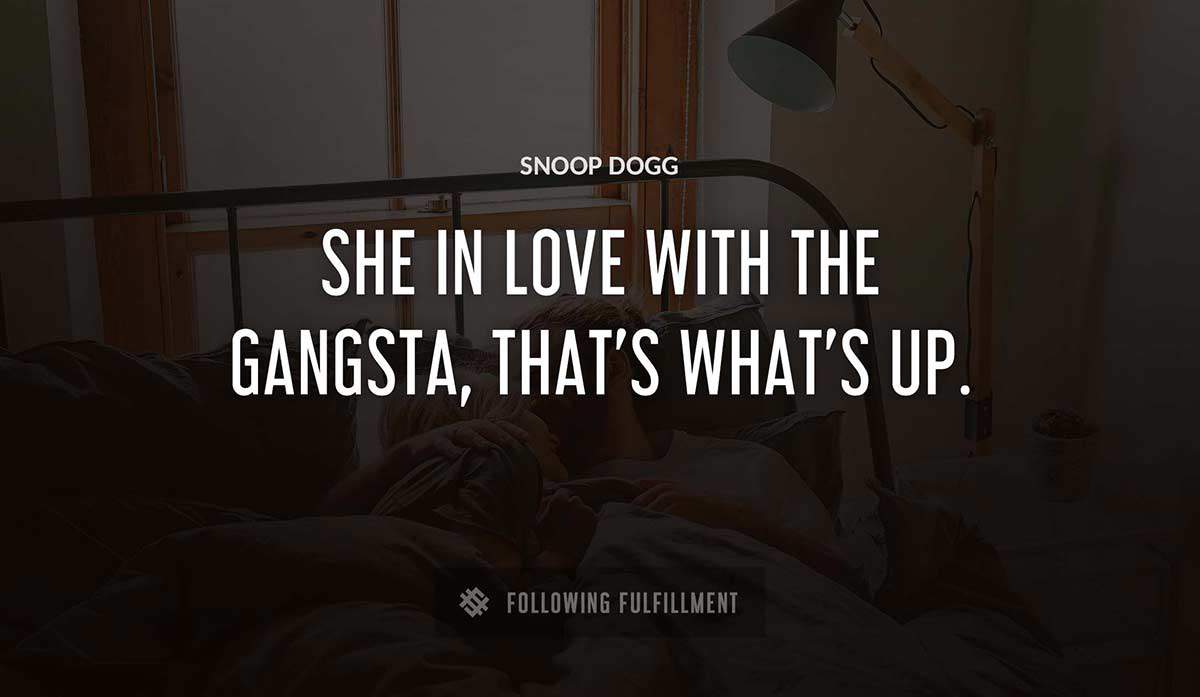 I want to be loved while I'm here, and the only way to get love is to give love. — Snoop Dogg
Don't get upset girl, that's how it goes. I don't love you hoes, I'm out the door. — Snoop Dogg
Love gets unappreciated a lot of times, but you still gotta keep giving it. — Snoop Dogg
Redundant Thematics
In Snoop Dogg Statements
feel
music
peace
love
money
world
time
life
black
Peyton Manning is a true leader. A legend. I love the way he is always in control. You never see him too frustrated, never see him too happy. — Snoop Dogg
SNOOP DOGG QUOTES ABOUT TIME
The fact is, the truth will come out. The truth will come out when it's time. — Snoop Dogg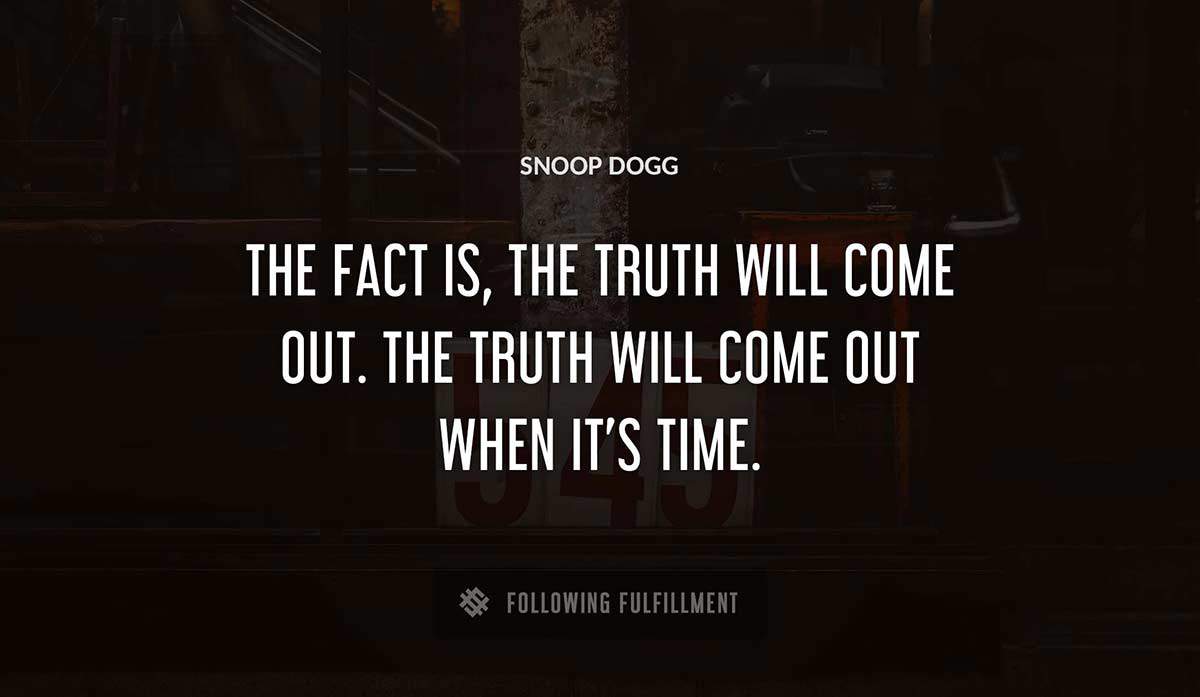 Sometimes a loss is the best thing that can happen. It teaches you what you should have done next time. — Snoop Dogg
I feel lIke marIjuana Is a real peace conversatIon––what I mean by that Is the form of peace In a conversatIon, any tIme you have a couple of people smokIng, they're never hostIle or angry. — Snoop Dogg
It's Christmas time and my rhyme's steady bumpin. Everybody happy, hair still nappy, Gonna steal a gift for my old grandpappy. — Snoop Dogg
I stay busy and projects look for me. I aint goin nowhere no time soon and that's how I continue to evolve. By stayin relevant and makin hits. — Snoop Dogg
My homegirl, martha and i have a special bond that goes back. we're gonna be cooking, drinking and having a good time with our exclusive friends, can't wait for you to see how we roll together! — Snoop Dogg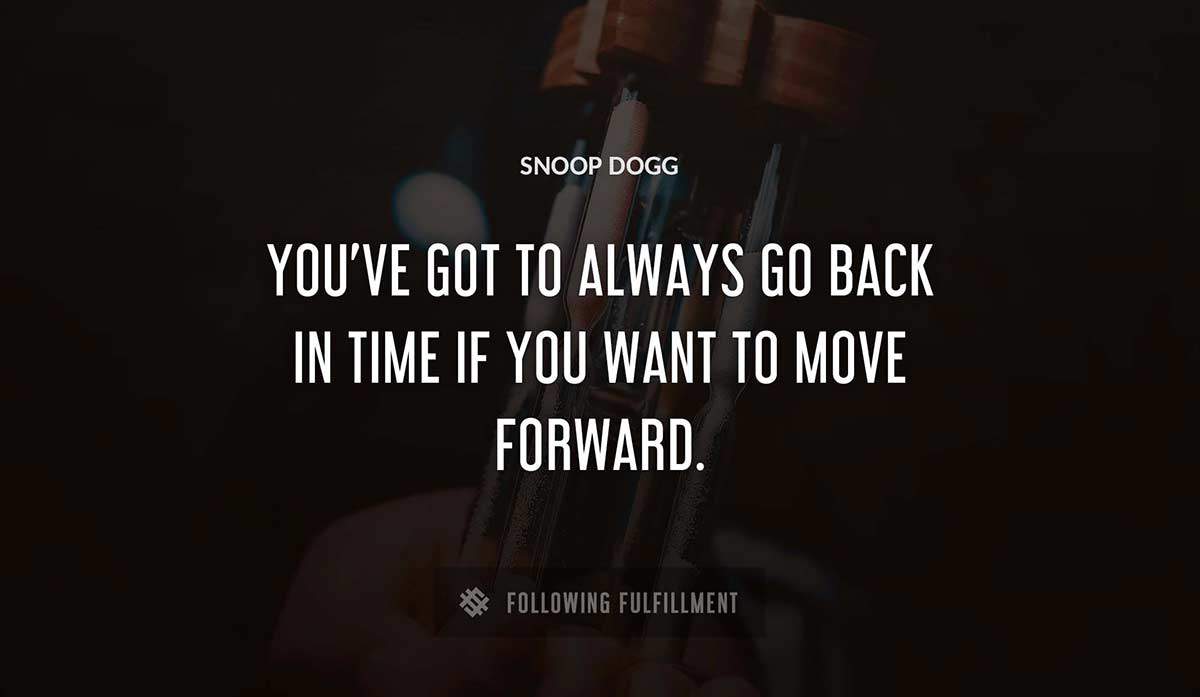 Black folks don't have a chance, so they are in the hood, dealing drugs, in a shoot–out. They do it again and one more time they are out. — Snoop Dogg
That's why I'm so successful because peace is my main thing, it's not about money. It's about making sure everybody is having a good time and loving and living and enjoying life. — Snoop Dogg
Trump says he wants to run for president. Why not? It wouldn't be the first time he pushed a black family out of their home. — Snoop Dogg
You've got to always go back in time if you want to move forward. — Snoop Dogg
It's natural. I freestyle, meaning that I just rap. I might put words on paper, but I just put a beat on my rap, and go off the top of my head. It's something I've been able to do for a long time. — Snoop Dogg
The red carpet is a beautiful situation for people. I think everybody appreciates it and loves it and honors it. Nobody really acts a fool because they know this is a one–time thing. — Snoop Dogg
I move with the time. Whatever's happening in time, I'm in. — Snoop Dogg
SNOOP DOGG QUOTES ABOUT MUSIC
What I try to push and promote is peace through the whole music industry. — Snoop Dogg
I'm just doing what I do best and that's what makes good music, and that's how you can relate to people. — Snoop Dogg
I love making music and I'm falling in love with making records, so it's like having two girlfriends. But I can handle it. — Snoop Dogg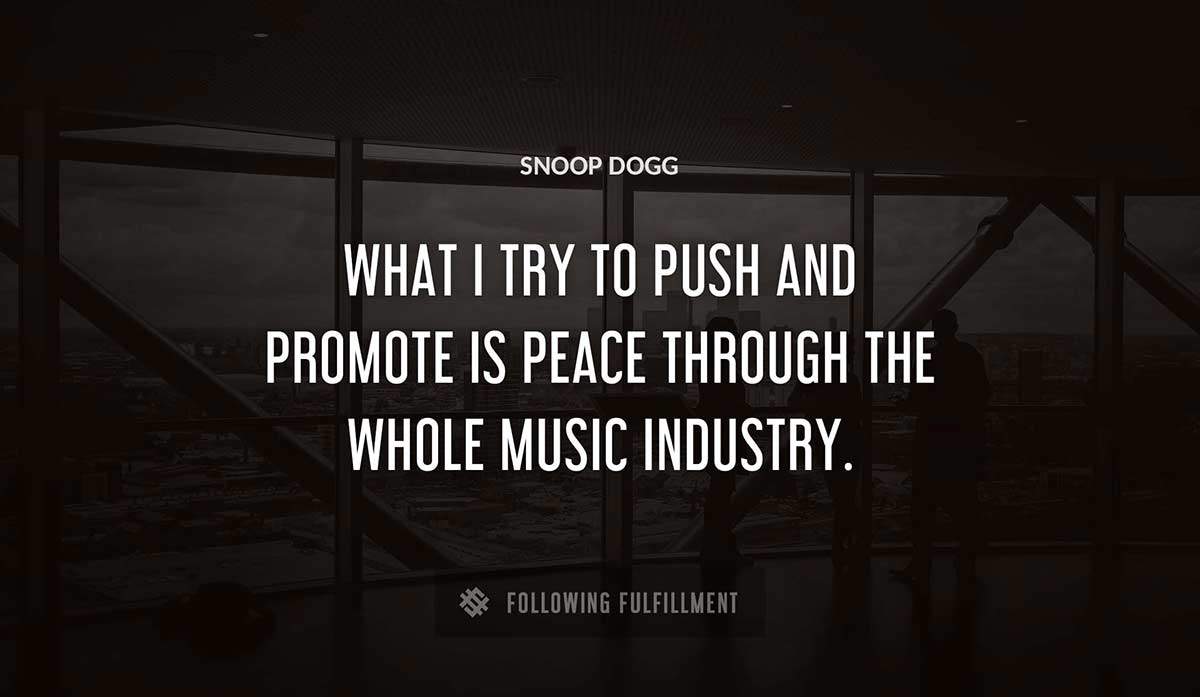 I'm a musician–I'm always making music. Kobe Bryant is always playing ball. Well, Snoop Dogg is always recording. — Snoop Dogg
I just change with the times. I really don't have a say in what's going on. Music was here before me. — Snoop Dogg
SNOOP DOGG Quotes Take Away
Snoop Dogg is one of the most iconic and successful rappers in history, but he didn't get there by accident. He has always been open to new ideas and learning from others, which is evident in his willingness to experiment with different sounds and styles throughout his career. As an entrepreneur, you can learn a lot from Snoop Dogg's approach to business. Be open to new ideas, learn as much as you can, and always be willing to put in the hard work required for success. Are you inspired by these quotes from Snoop Dogg? If so, check out our courses page to find out how we can help you take your business to the next level.