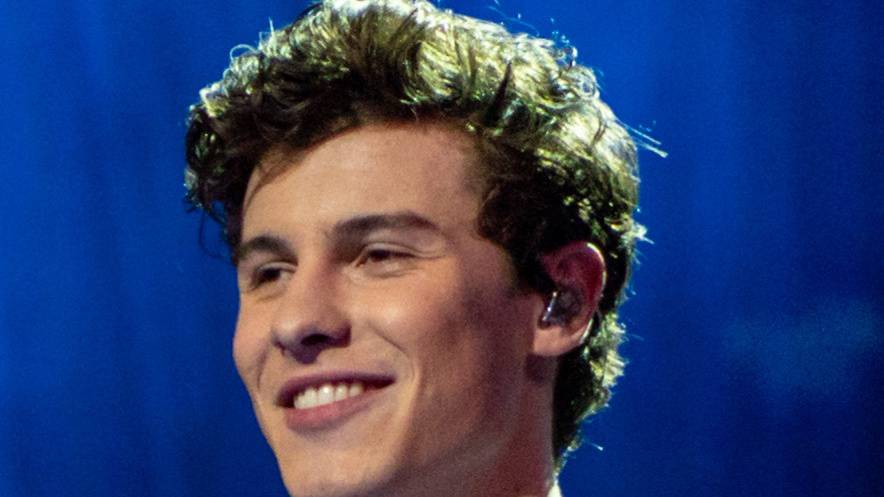 I'm not a fan of the term 'celebrity', I don't like when people refer to me as one. I'm just trying to be an artist and make music. – Shawn Mendes
The story of Shawn Mendes is inspiring for any young person who feels they have something unique to offer, but is unaware or insecure about what that might be. We all face uncertainties in life, but it's important to know your worth and keep going with what you're passionate about no matter how many times you get knocked down.

Here are the best words from Shawn Mendes.
Discover the most known Work, Stage, World, Time quotes from Shawn Mendes, and much more.
Summary
About Shawn Mendes
Born:
August 8, 1998
Occupation:
Singer, Songwriter, Record Producer
Years Active:
2013-Present
Genres:
Pop, Folk-Pop, Pop Rock
Instruments:
Vocals, Guitar, Piano
Labels:
Island, Universal Music Canada
Associated Acts:
Teddy Geiger, Camila Cabello
Website:
shawnmendesofficial.com
SHAWN MENDES QUOTES ABOUT TIME
I'll stop time for you, the second you say you'd like me to. — Shawn Mendes
What I love about my fragrance Signature is that it's subtle and great to wear for any person at any time. — Shawn Mendes
As soon as I get time, I really wanna dig down and do some acting. — Shawn Mendes
I feel like every time I write a song, it feels like the first time I wrote a song. It's just as hard. It doesn't get easier, but that's why I love it: because it's a challenge every time. — Shawn Mendes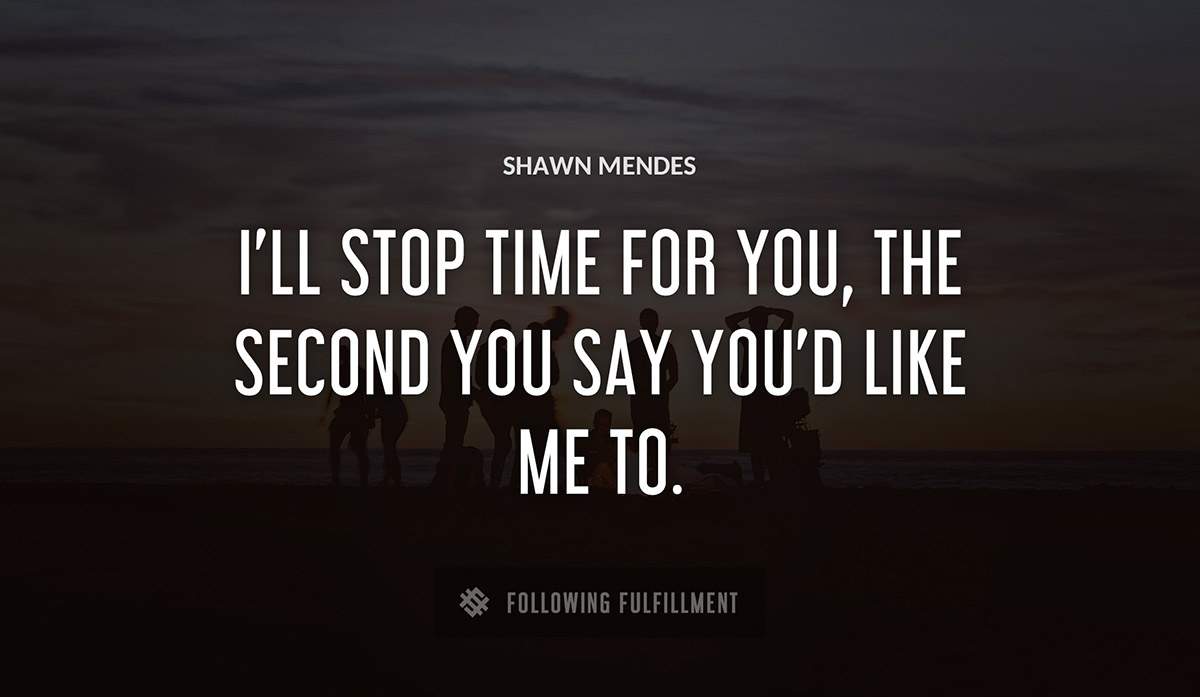 I haven't really found the right person. That sounds like an older person thing to say, but I'm too busy and–not in a bad way–don't want to waste my time. — Shawn Mendes
I think my all time favourite song would be between 'Slow Dancing in a Burning Room' and 'Dreaming with a Broken Heart' by John Mayer. — Shawn Mendes
I can see why people change. You get complimented all the time, driven around in a black SUV–your life is crazy. But that's your career, not you. — Shawn Mendes
The people who are No. 1 are No. 1 for a reason. — Shawn Mendes
There is such a hype and a big build up to me, and it's very hard to meet those expectations. That's been a big stress in my life. — Shawn Mendes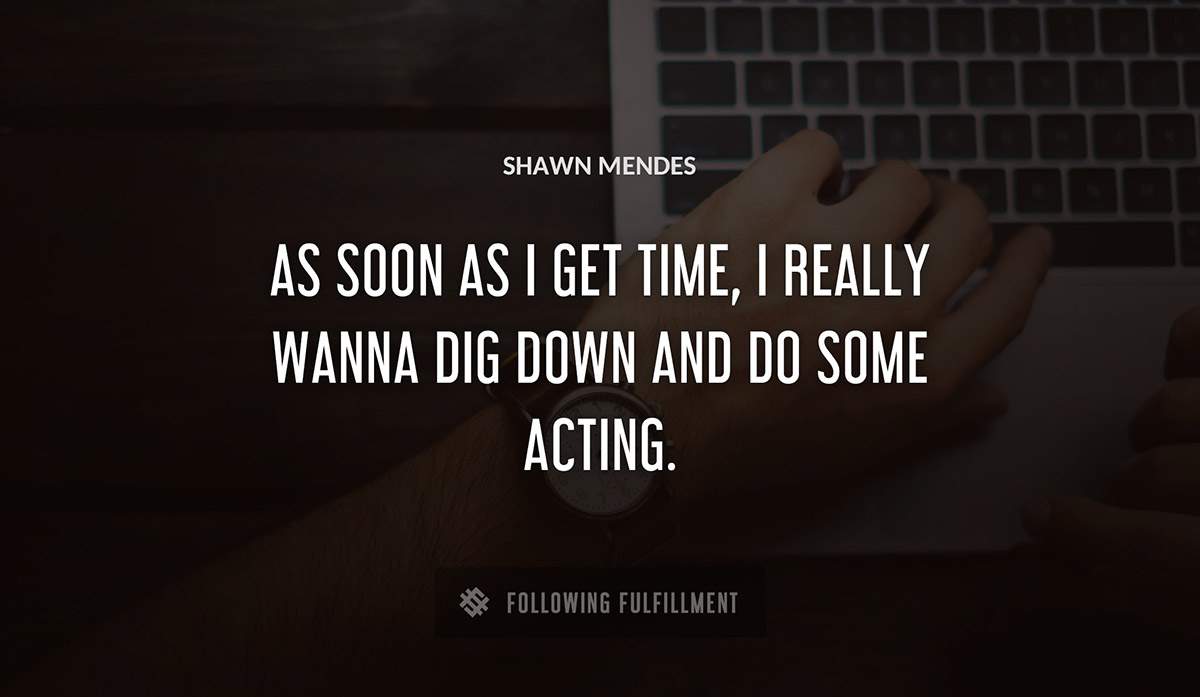 I really think the best fragrances are ones you can wear every day. — Shawn Mendes
SHAWN MENDES QUOTES ON STAGE
I don't want to get on stage and just be another act. — Shawn Mendes
No matter where you play, a stadium or an arena, when you're present on stage, it's going to feel like a theater. — Shawn Mendes
I loved entertainment and acting, performing. I just liked the stage and having the spotlight and stuff. — Shawn Mendes
True friends are never forgotten, they live within our hearts and souls forever and always, dancing on our stage of memories. — Shawn Mendes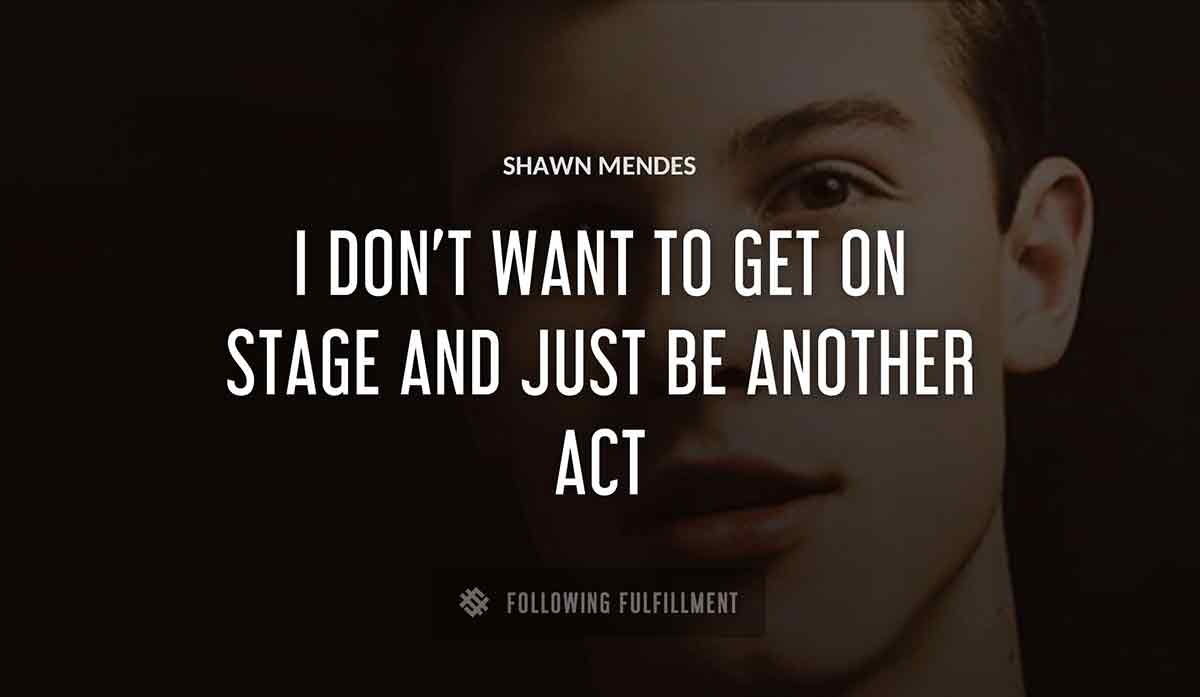 SHAWN MENDES QUOTES ABOUT THE WORLD
You can't get too comfortable and relax, because your world can flip overnight. — Shawn Mendes
I think the world is becoming a place where younger and younger people can do great things, and I just hope I can inspire other young people to do the same. — Shawn Mendes
I'm not the best singer in the world; I'm just good at picking up what I want to sound like. — Shawn Mendes
I have a thing where if I'm not in control, I feel the whole world is about to collapse. — Shawn Mendes
SHAWN MENDES QUOTES REGARDING WORK
It was incredible being on tour with Taylor Swift: she was the epitome of a professional, and she works so hard. For someone as successful as her to work that hard every night–truly inspirational. — Shawn Mendes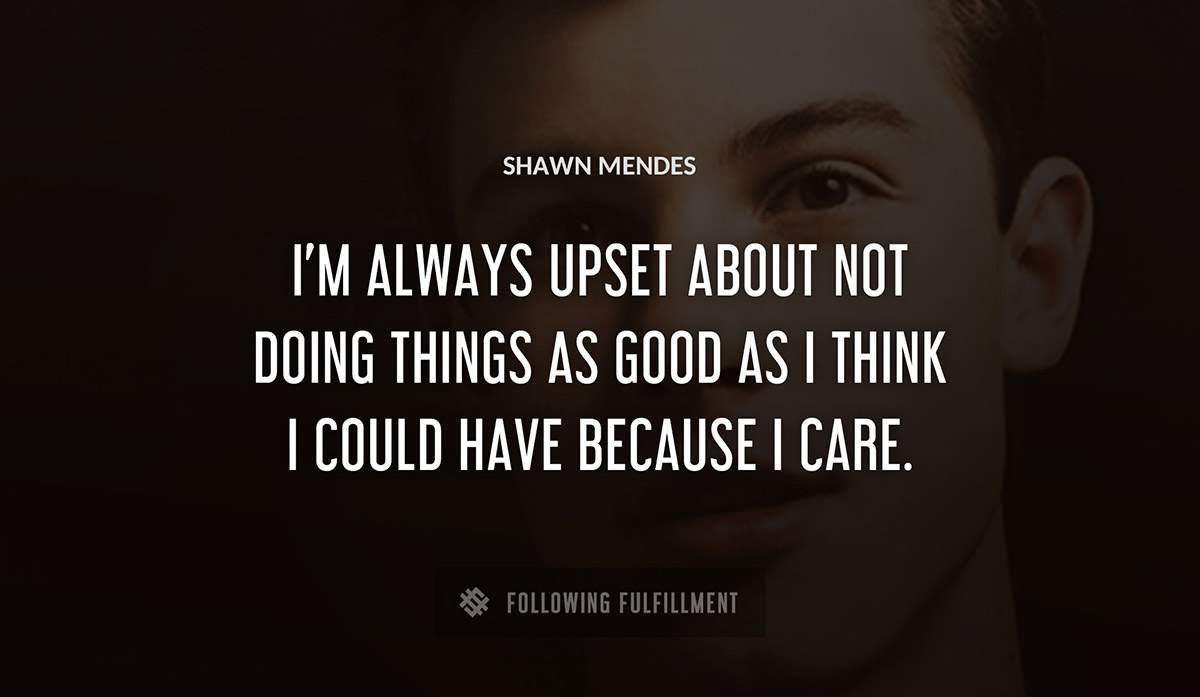 I think anyone can do anything they dream of if they put their mind to it and put in the work. — Shawn Mendes
Honestly, the more things start to get bigger and better, the more I am just inspired to work harder and put my music out there and make better music and keep everything going. — Shawn Mendes
I work so hard to make that sure I'm successful. If you're positive and really excited and enthusiastic about what you're doing, it's going to happen, and it's going to happen big time. — Shawn Mendes
Just the fact that a thousand people in front of me were ready to hear me sing was one of the best feelings I can think of. — Shawn Mendes
Redundant Thematics
In Shawn Mendes Statements
work
stage
music
love
world
time
song
I'm always upset about not doing things as good as I think I could have because I care. — Shawn Mendes
I'm tortured because I care. I'm always upset about not doing things as good as I think I could have because I care. — Shawn Mendes
Inspiring Phrases From Shawn Mendes
It's amazing having so many people care so much about what I'm doing. — Shawn Mendes
I think it's not about what you say; it's about what you don't say. — Shawn Mendes
I'm just growing so quickly, so my songs are quickly changing on me. But it's fine. I love them for what they are and what they were, to me. — Shawn Mendes
Being a sex symbol isn't cool unless you're in love with a girl, and she calls you a sex symbol. — Shawn Mendes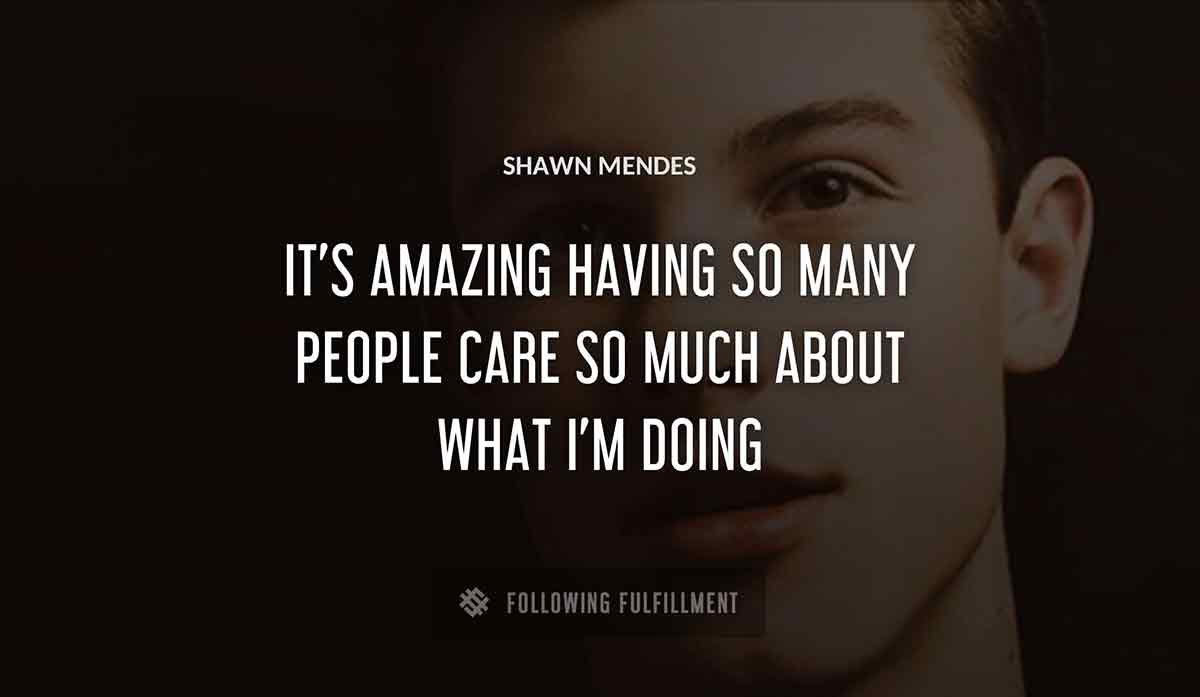 If this is what it's like falling in love, then I don't ever wanna grow up. Maybe I'm just a kid in love. — Shawn Mendes
I wanna love you with the lights on. — Shawn Mendes
I don't want to just be a teenage star. I want to be known by parents, and I want them to go, 'Oh I love that song; he's really good for his age. My daughter loves him, but I love him, too.' — Shawn Mendes
Various Statements From Shawn Mendes
Be my summer in a winter day love. — Shawn Mendes
Love your people! Tell the people you love you REALLY love them. Do it. It's impossible to be too kind or too loving. — Shawn Mendes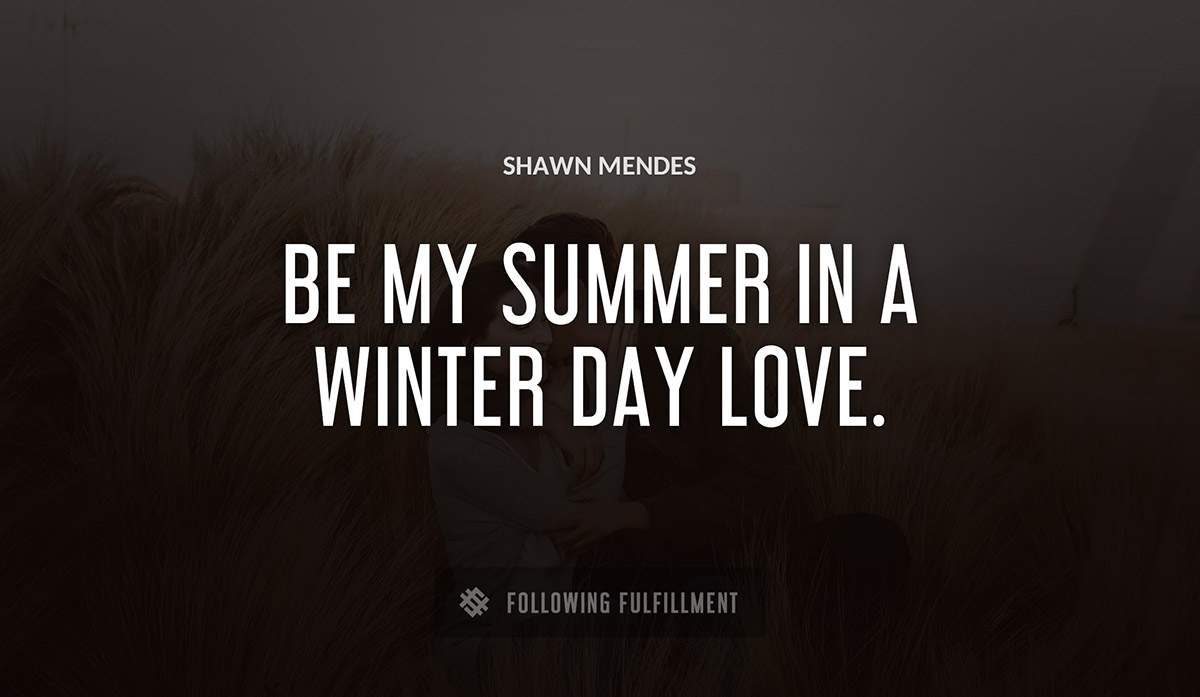 You tell me you were happier with him, but you want me to stay. — Shawn Mendes
I think if you're creating music, and you love the song, holding it back is just doing it an injustice. — Shawn Mendes
With love, there are so many layers to it that you can write all day about it. It's not just heartbreak or falling in love; there's so many different ways to look at it. — Shawn Mendes
Manuka honey is magic. — Shawn Mendes
Maybe I'm just a kid in love. — Shawn Mendes