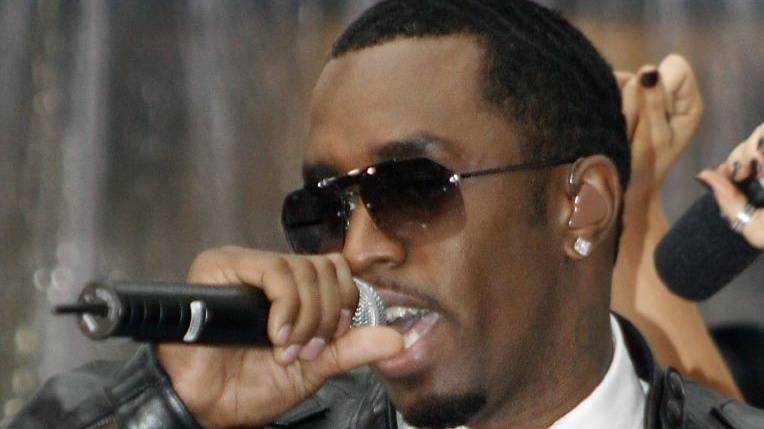 A quotes compilation of Sean Combs would be incomplete without discussing both his professional and personal successes. As an entrepreneur, Combs has founded over a dozen businesses, including record label Bad Boy Records, clothing line Sean John, and vodka brand Ciroc. He has also enjoyed great success as an actor and musician. However, Combs is perhaps best known for his high-profile romances and turbulent personal life. Despite these challenges, he remains one of the most successful entrepreneurs in the world. In this blog post, we will explore the full arc of Sean Combs' career and discuss what makes him so successful as an entrepreneur.
Discover the most inspiring Music, Life, Dreams quotes from Sean Combs, and much more.
Summary
About Sean Combs
Born:
November 4, 1969
Education:
Mount Saint Michael Academy, Howard University
Occupation:
Rapper, Singer, Songwriter, Record Producer, Entrepreneur, Record Executive And More.
Years Active:
1988-Present
Net Worth:
Us$740 Million
Genres:
R&B, Hip Hop
Instruments:
Vocals
Labels:
Arista, Atlantic, Bad Boy, Bmg, Epic, Interscope And More.
Associated Acts:
Mary J. Blige, Dirty Money, Guy Gerber, Lil' Kim, Ma$E, Machine Gun Kelly And More.
Website:
diddy.com
SEAN COMBS QUOTES ABOUT DREAMS
Take the craziest dream you ever had and go after it. Make it a reality. I don't want you to dream, I want you to do. — Puff Daddy
If you dream and you believe, you can do it. — Sean Combs
Don't be afraid to close your eyes and dream but then open your eyes and see. — Sean Combs
I want to convey how beautiful it is to close your eyes and dream. And then to open them and make that dream a reality. — Puff Daddy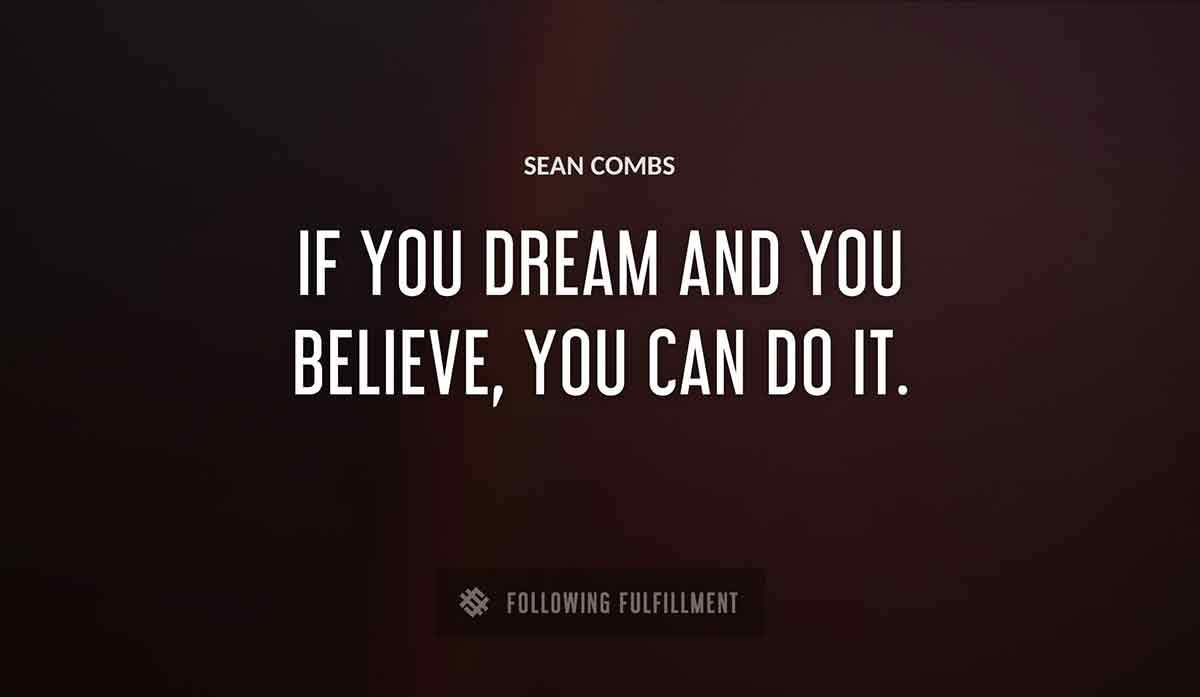 Don't chase the paper, chase the dream. — Puff Daddy
I can't say that I've fully achieved my dream yet. I'm just starting to evolve. — Puff Daddy
SEAN COMBS QUOTES ON LIFE
Never is my life have I ever experienced anything as crazy as this. — Puff Daddy
I don't believe in fear–I live my life without regrets. — Sean Combs
All I've been trying to do all my life is to make great music. — Sean Combs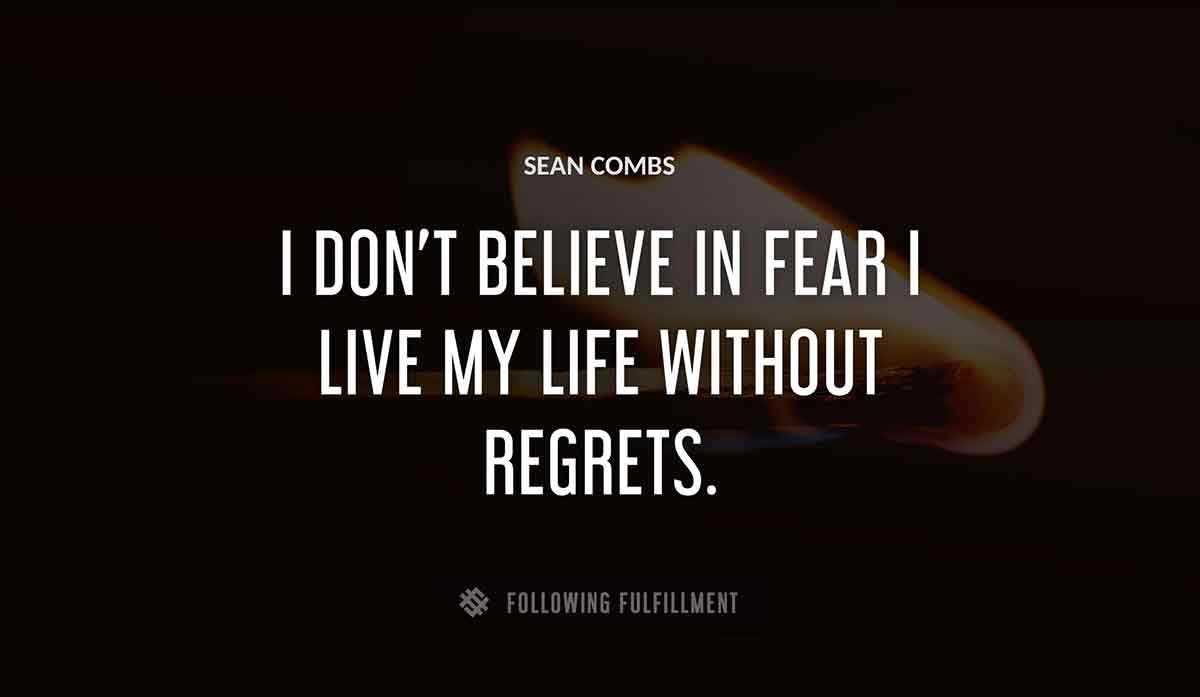 I have so much respect for people in the theater. You can't do 10 or 15 takes. It's all live. It's like life in motion. — Sean Combs
People from all walks of life and all over the world look at me and know my humble beginnings and know that everything I've done has been through hard work. People respect me as a marketer and brand builder. — Sean Combs
SEAN COMBS QUOTES ABOUT MUSIC
Revolt is my new–cable music network. It's distributed through Time Warner and Comcast. And to put it simply, it is the ESPN of music. — Sean Combs
I just feel if you are an artist, you always have something to prove, if you are in music or in films, you have to prove that you can still do your best. — Sean Combs
I'm gonna go down in history as being one of the best music men and businessmen in entertainment … The people that I'm going to be greater than are Steven Spielberg, David Geffen and Clive Davis. — Puff Daddy
I love New York, it's always been my home. It has everything–music, fashion, entertainment, impressive buildings, huge parks, street cafes. And it's very international, with people from all over the world. — Sean Combs
Redundant Thematics
In Sean Combs Statements
music
artist
sleep
crazy
world
dream
life
revolt
vote
diddy
I come from a world of hip–hop, but I love all types of music, and that's what Revolt will reflect. It will be home to electronic dance music, pop, hip–hop. — Sean Combs
Music is the most powerful form of communication in the world. It brings us all together. Even religion separates us, but a hit record unites us across religious beliefs, race, politics. — Puff Daddy
Inspiring Phrases From Sean Combs
I just want to be happy. You know what I'm saying? I just want to be happy, and I want to be able to make somebody else happy. — Puff Daddy
Though I love you like a brother, I would rather be your lover. — Puff Daddy
Lil Wayne is definitely the greatest youngest rapper alive. — Puff Daddy
Fans made me. The fans gave me a chance, and they made me. Beyond that, my career has been trials and tribulations and ups and downs, so I have to have true fans riding with me. — Puff Daddy
SEAN COMBS Quotes Take Away
Sean Combs is not only a successful businessman, but also an inspiring wordsmith. These quotes will motivate you to achieve your own business goals. We hope they provide some insight and inspiration as you continue working on your own entrepreneurial journey.