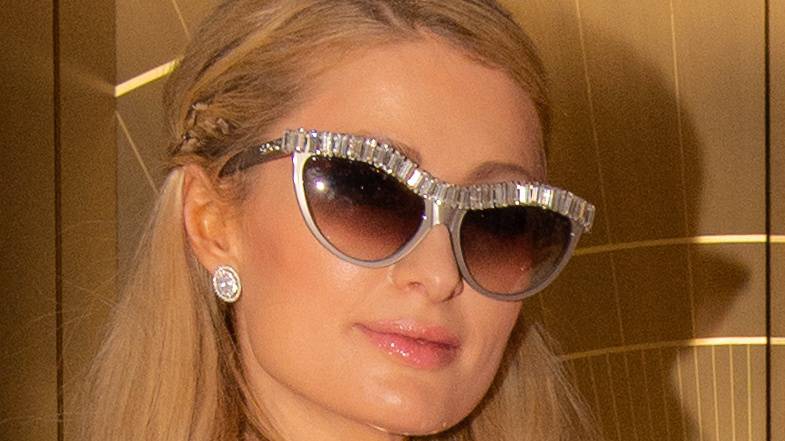 Paris Hilton has been a household name since she was born. She is an entrepreneur, actress, singer, and fashion designer that has captured the attention of millions around the world. Her story is one of success and failure but also what you can do with your time on this planet if you set goals for yourself and work hard to achieve them.
The post goes into detail about her life from birth until present day including topics such as her upbringing in Beverly Hills as well as how she became who she is today through determination and perseverance.
Discover the most known phrases from Paris Hilton.
Here are the best Heiress, Love, Girls, Paris, Guy, Life quotes from Paris Hilton, and much more.
Summary
About Paris Hilton
Born:
February 17, 1981
Occupation:
Media Personality, Socialite, Businesswoman, Model, Singer, Actress And More.
Years Active:
1997-Present
Genres:
R&B, Pop, Dance
Instruments:
Vocals
Labels:
Warner Bros.
Website:
parishilton.com
PARIS HILTON QUOTES ON LIFE
People just–they don't really know me. They see me on 'The Simple Life,' they think that's really who I am. — Paris Hilton
The only people you need in your life are the ones that prove they need you in theirs. — Paris Hilton
My life is, like, really, really fun. — Paris Hilton
Life is too short to blend in. — Paris Hilton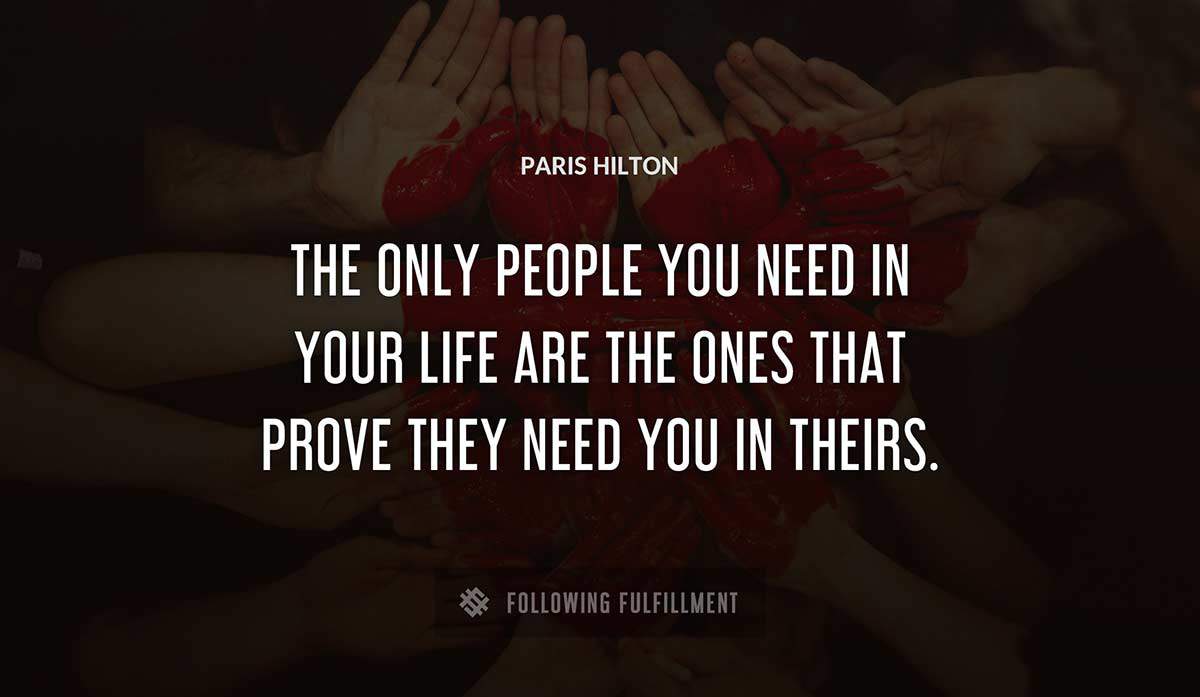 I've just always had a boyfriend my whole life, and I've–now I'm really focusing on myself and I think that's more important right now. — Paris Hilton
There is no sin worse in life than being boring. — Paris Hilton
I've never felt so safe and happy in my life. — Paris Hilton
There is no sin worse in life than being boring and nothing worse than letting other people tell you what to do. — Paris Hilton
I get half a million just to show up at parties. My life is, like, really, really fun. — Paris Hilton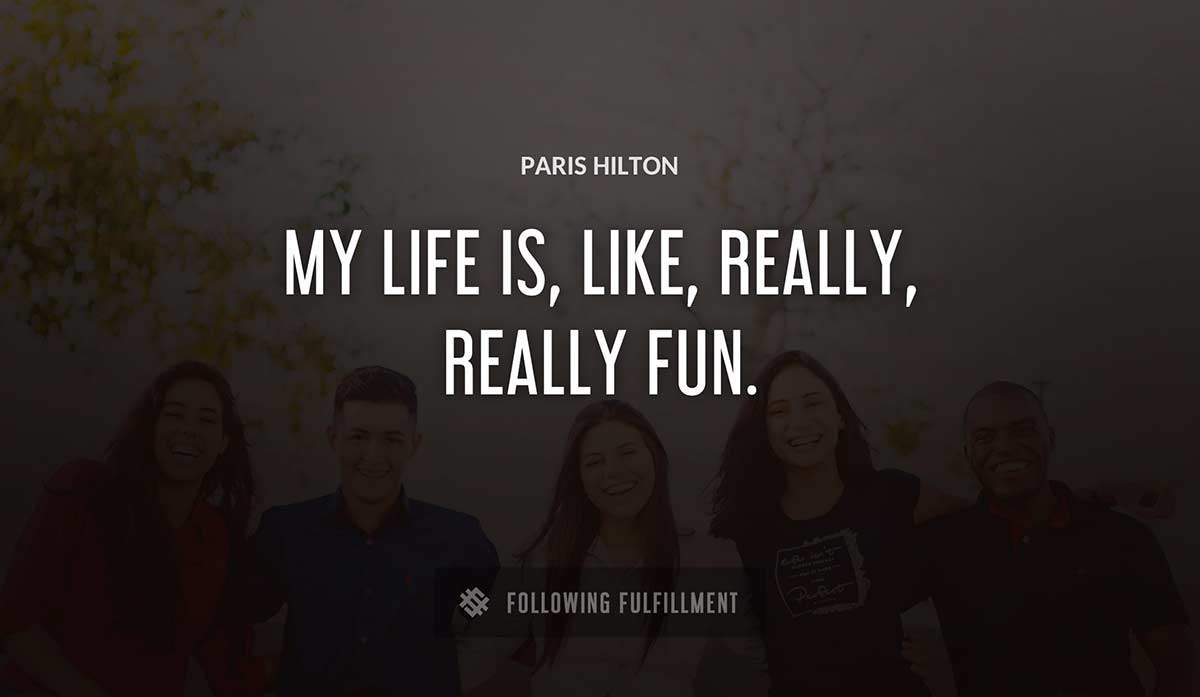 I have so many great things going on in my life that I don't need to pay attention to some writer. — Paris Hilton
I would do the baby voice and it's kind of like this character I made up. But in real life, I'm completely different. I'm very smart. I think a lot of people will assume I'm an airhead. — Paris Hilton
Just going through a lot in my life, becoming more confident in myself, writing my own music and just really getting in the studio and just doing it. — Paris Hilton
All you have to do in life is go out with your friends, party hard, and look twice as good as the bitch standing next to you. — Paris Hilton
A life without orgasms is like a world without flowers. — Paris Hilton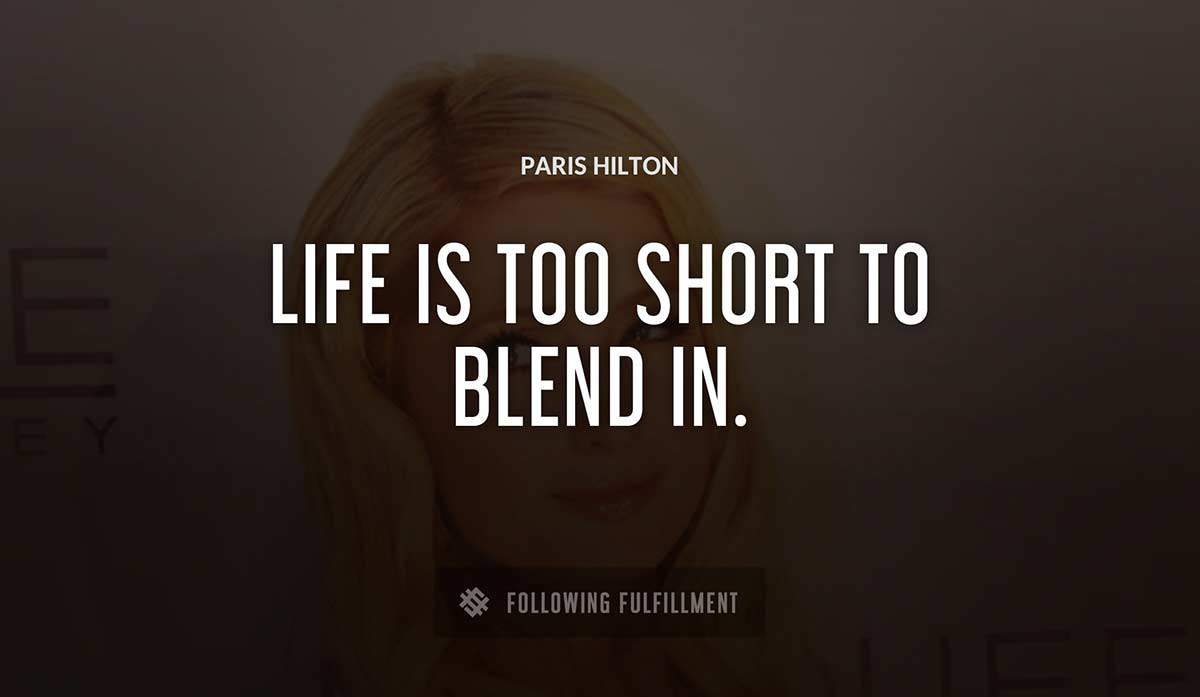 The only rule is don't be boring and dress cute wherever you go. Life is too short to blend in. — Paris Hilton
I'd love to have a family one day. Having kids is the meaning of life and I can't wait to be a mom. — Paris Hilton
So many people have bad intentions, so many girls want to hang out [with me] to be someone. I weed those people out of my life. I call them hungry tigers. — Paris Hilton
Aquarius[es] are social butterflies, humanitarians, geniuses: Einstein was one. — Paris Hilton
You are all so lucky to be living here. If I live in Manila I would definitely live in Azure. — Paris Hilton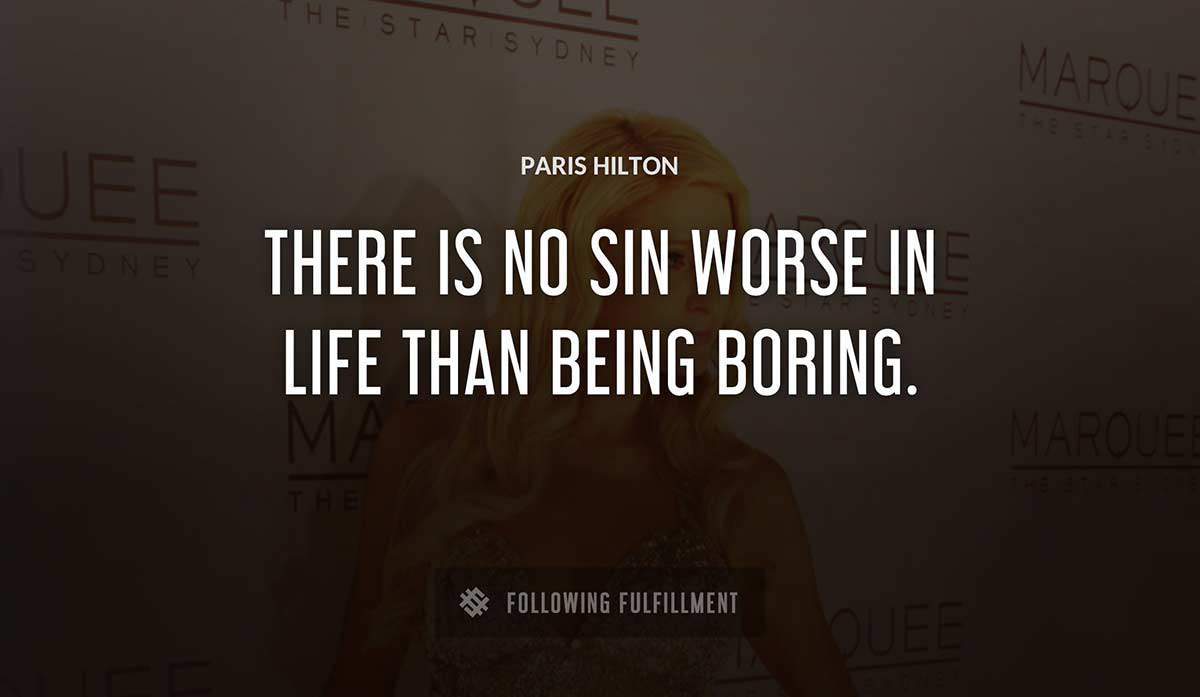 PARIS HILTON QUOTES ON GIRLS
It's sexier when a girl is flirty but she doesn't do anything. — Paris Hilton
A girl can dazzle–just naturally! — Paris Hilton
I think it's important for girls to be confident. Believe in yourself and… everybody's hot. — Paris Hilton
I'd rather not do anything. Guys want you more when you don't. Young girls should know that. — Paris Hilton
A true heiress is never mean to anyone–except a girl who steals your boyfriend. — Paris Hilton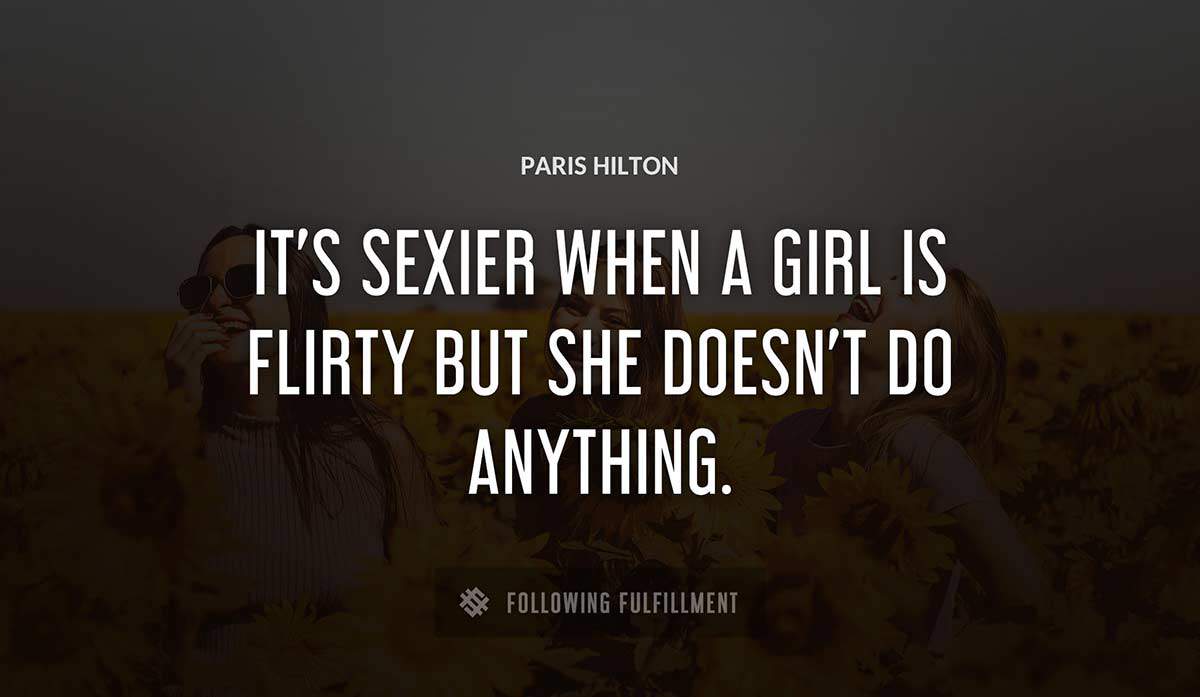 Every girl is beautiful if they have the ability to believe in themselves. — Paris Hilton
The best accessory a girl can have is her best friend. — Paris Hilton
There will come a day A hazy day in May Or a storm in mid–December When you need someone Just to have a little fun Then I could be the perfect girl for you. — Paris Hilton
It's like a kind of Barbie American dream. I have that childlike quality so a lot of little girls especially [like me]. I've always been a kid at heart. I think I always will be. — Paris Hilton
Sometimes girls are just born with glitter in their veins. — Paris Hilton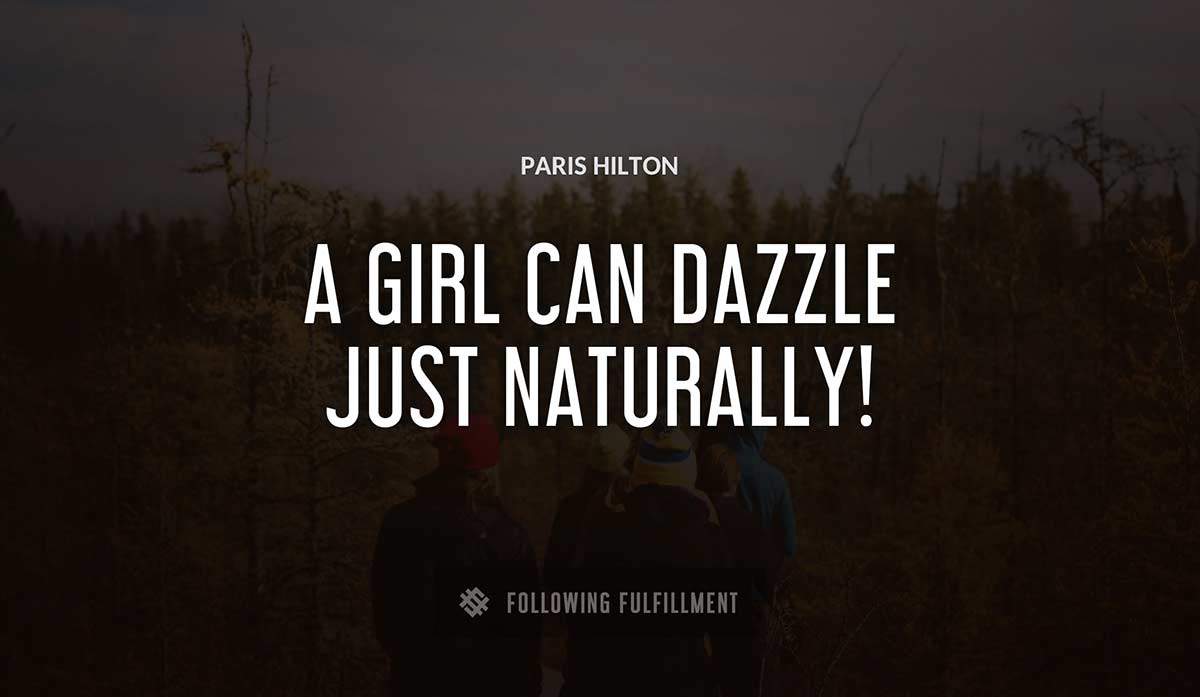 I think I am a good role model, and a lot of mothers come up to me and they're really happy, and I think if any girl follows their dreams then anything can happen to them. — Paris Hilton
Kabbalah helps you confront your fears. If a girl borrowed my clothes and never gave them back, and I saw her wearing them months later, I would confront her. — Paris Hilton
When I have a daughter I have a lot of good advice for her. — Paris Hilton
PARIS HILTON QUOTES ON PARIS
When Paris has to pee, Paris has to pee! — Paris Hilton
I don't want to be known as the granddaughter of the Hiltons. I want to be known as Paris. — Paris Hilton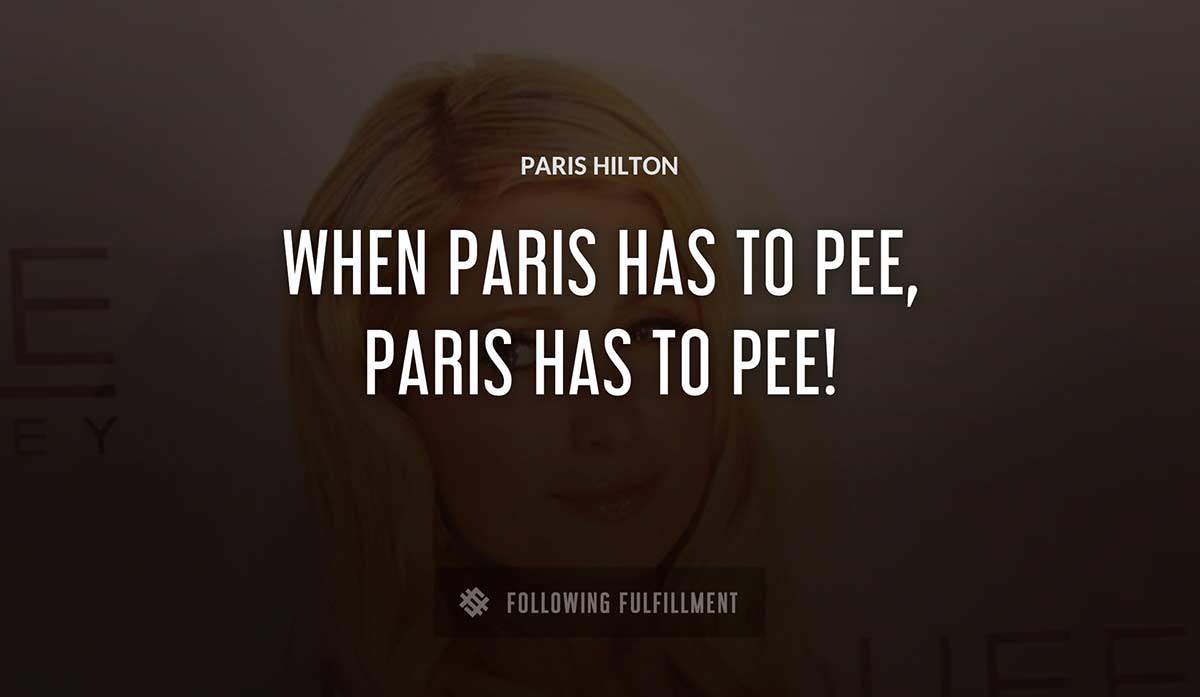 Barbie is my fashion icon. People think I'm Paris Barbie–and it's a compliment. — Paris Hilton
Redundant Thematics
In Paris Hilton Statements
wear
girl
friend
year
heiress
love
paris
guy
life
It's called Paris, not Hilton, just me, because I don't want people to think it's my family's. It's mine. — Paris Hilton
I'd rather sit in bed and watch TV. All of my ex–boyfriends, of course, not Paris, would be like, 'What's the problem? You're so not sexual.' — Paris Hilton
PARIS HILTON QUOTES ON GUY
I hate when a guy brags… or he sweats. — Paris Hilton
I would be so scared if I was a gay guy…you'll, like, die of AIDS. — Paris Hilton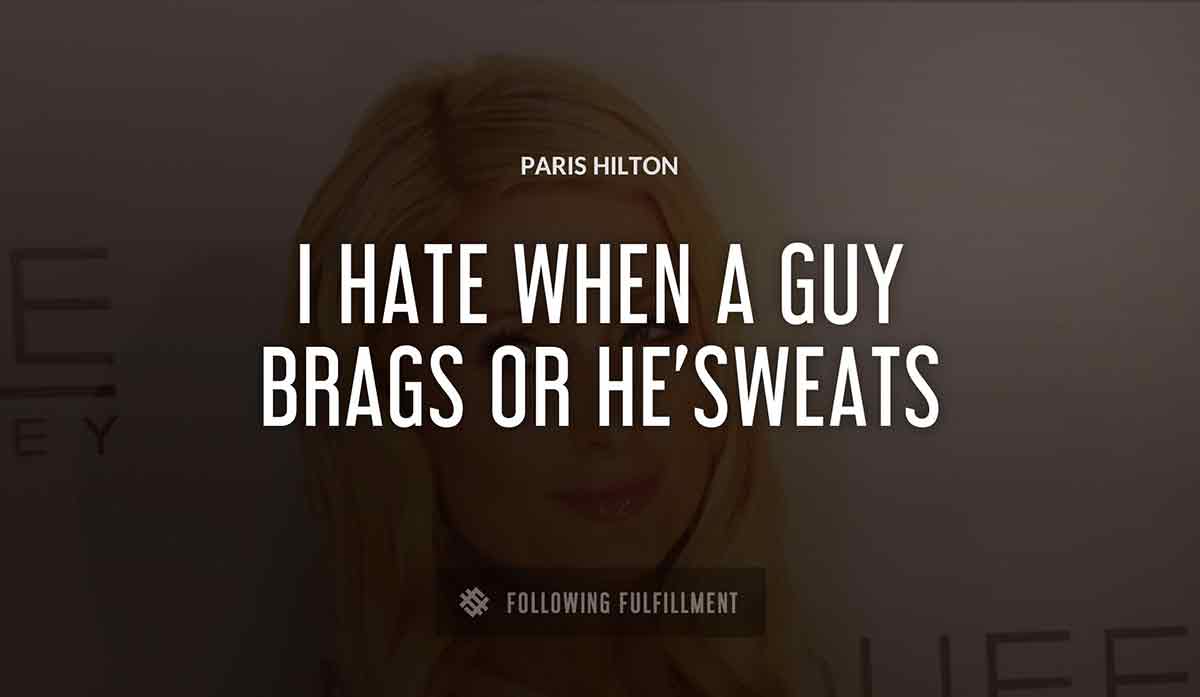 Yes, I've kissed a lot of guys. I like to kiss, but that's it. I don't go home with anyone. I sleep with my animals, like my baby monkey, Brigitte Bardot. — Paris Hilton
I can't stand black guys. I would never touch one. It's gross. — Paris Hilton
I get along with guys; most of my friends are guys. It's easier to trust men sometimes. I only have a few close girlfriends that I trust. — Paris Hilton
PARIS HILTON QUOTES ABOUT LOVE
I LOVE Africa in general, South Africa and West Africa. They are both great countries. — Paris Hilton
I have seen the breakups between people who love each other and rush into getting married too quickly and I do not want to make that mistake. — Paris Hilton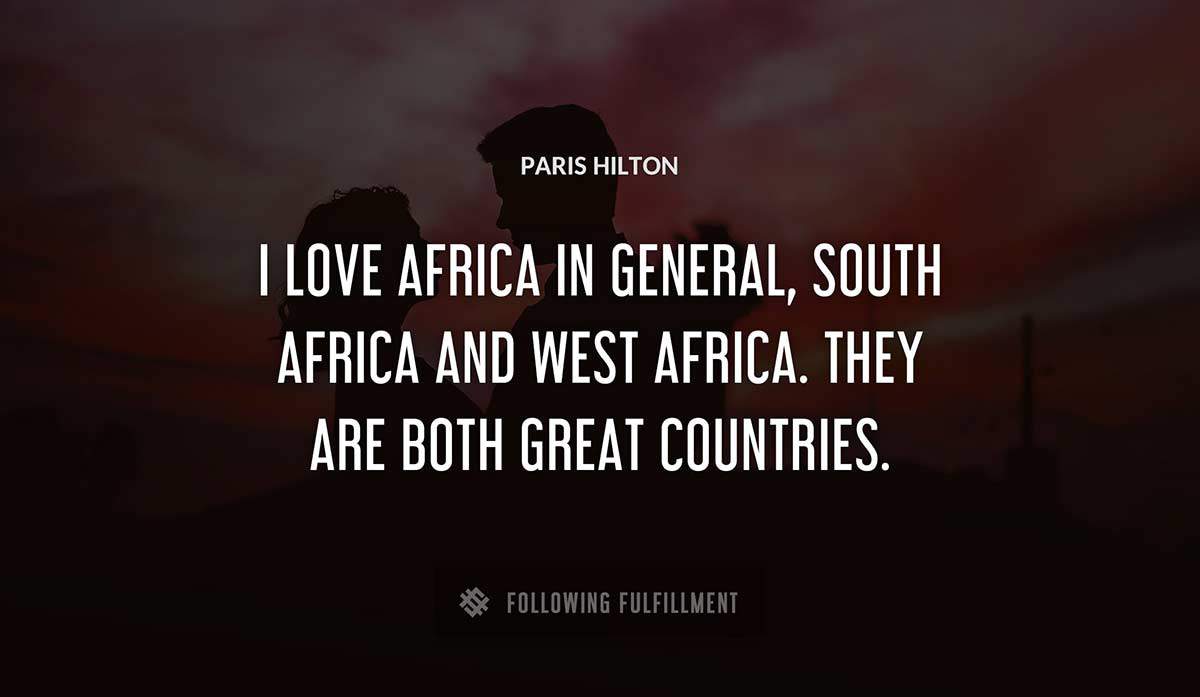 When I was younger, my family would go camping and fishing on our ranches. My dad loves being around all kinds of animals. He's the one who got me to be a really big animal lover. — Paris Hilton
First, I think of myself as a brand, a businesswoman. Musician is something I just do because it's my passion–I love it and it's something I do for fun. I love music and I love to make people dance. — Paris Hilton
In bed watching Family Guy. Love this show.! So hilarious! Stewie is my favorite 🙂 love his accent. — Paris Hilton
I'm just a very creative and outgoing person and I love being around people and being around music. It just gives me energy. — Paris Hilton
My mom told me] to always be loyal and treat someone how you want to be treated. Find someone that you can love and that's going to be your best friend. — Paris Hilton
My mom decorated with lots of antiques. I never like it when I was a little girl–I wanted to live in a modern house. But now I love it. — Paris Hilton
I don't enjoy going out anymore It's such a pain. It's everyone saying, 'Let's do a deal! Can I have a picture?' I'm just, like, 'These people are such losers. I can't believe I used to love doing this. — Paris Hilton
At parties, everyone always thinks I'm drinking, but actually I rarely drink. I live on energy drinks, basically. I love vitamin water. — Paris Hilton
I really don't like going out anymore. I used to love it, but now it's not fun. I'd rather have friends come over and hot have to worry about crazy people taking pictures. — Paris Hilton
People can't believe how hard I work…. I love it. I think it just runs through my veins. My great–grandfather was a bellboy and had a dream to do a hotel chain, so I think I get it from him. — Paris Hilton
I'm not a sexual person, really. I don't really care about sex. — Paris Hilton
I don't care about people who don't care about me. If people are negative or mean, then that's their issue. Screw them. — Paris Hilton
PARIS HILTON QUOTES ON HEIRESS
You don't have to be an heiress to look like one, if you act like one then everyone will just presume you are one. — Paris Hilton
Not every heiress is famous. Or fun. There are a lot of boring heiresses out there. — Paris Hilton
I don't want to be known as the Hilton heiress, because I didn't do anything for that. — Paris Hilton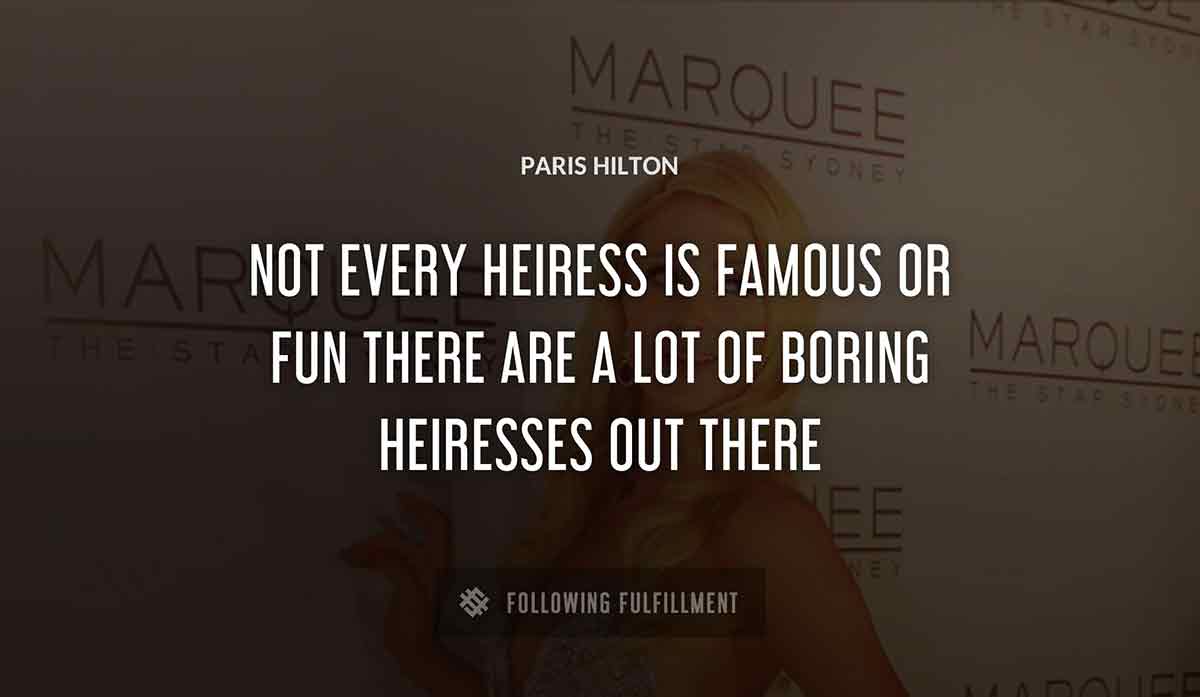 By channeling my inner heiress, I created a new opportunity for young heiresses. — Paris Hilton
It's traditional for an heiress to be raised in a sheltered way. No one thinks that's true of me, but it actually was. — Paris Hilton