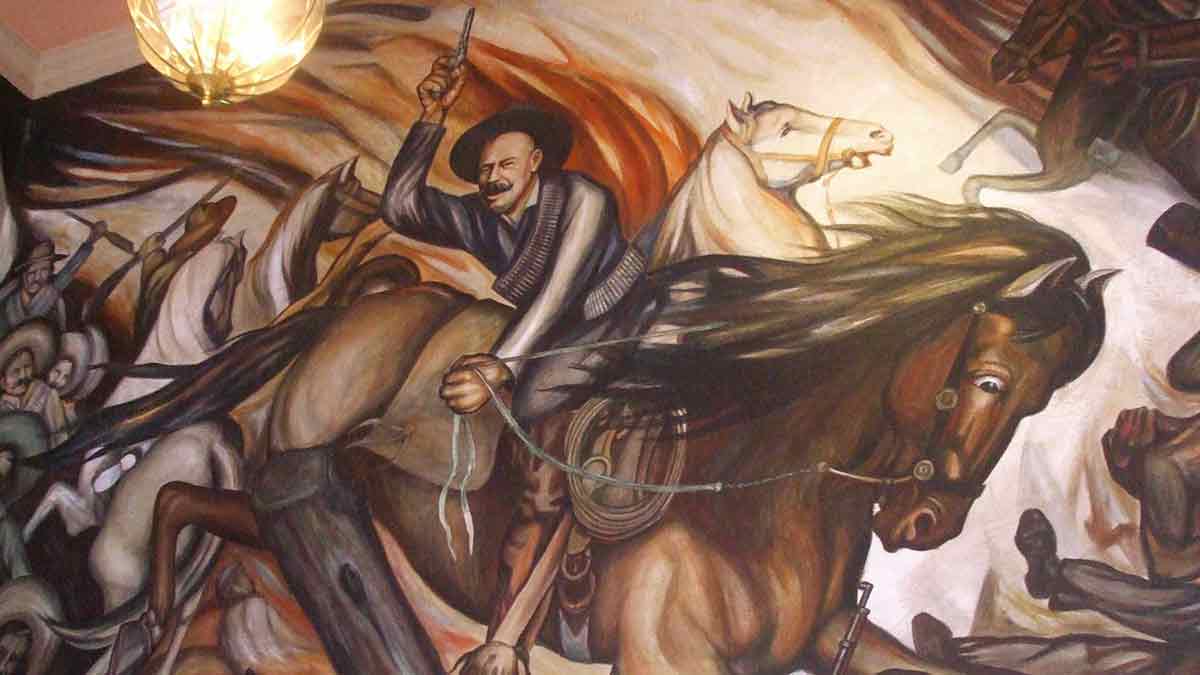 In 1878, a man named Doroteo Arango was born in the state of Durango, Mexico. When he was just 15 years old, he fled his home after killing two men who had sexually assaulted his sister. He reinvented himself as Pancho Villa, and began to amass a following with his speeches calling for justice for the poor and oppressed. In 1911, Villa led a successful revolution that overthrew the Mexican government. For the next decade, he fought against oppressive regimes both in Mexico and abroad. Despite his many successes, he was also known for his ruthlessness and propensity for violence.
Discover the most inspiring quotes from Pancho Villa, and much more.
Summary
Inspiring Phrases From Pancho Villa
I, Pancho Villa, was a loyal man that destiny brought the world to fight for the good of the poor and that I will never betray nor forget my duty. — Pancho Villa
When the new republic is established, there will be no more army in Mexico. — Pancho Villa
Men will not forget that Pancho Villa was loyal to the cause of the people. — Pancho Villa
You Americans don't take off your hats when you come to my headquarters, do you? — Pancho Villa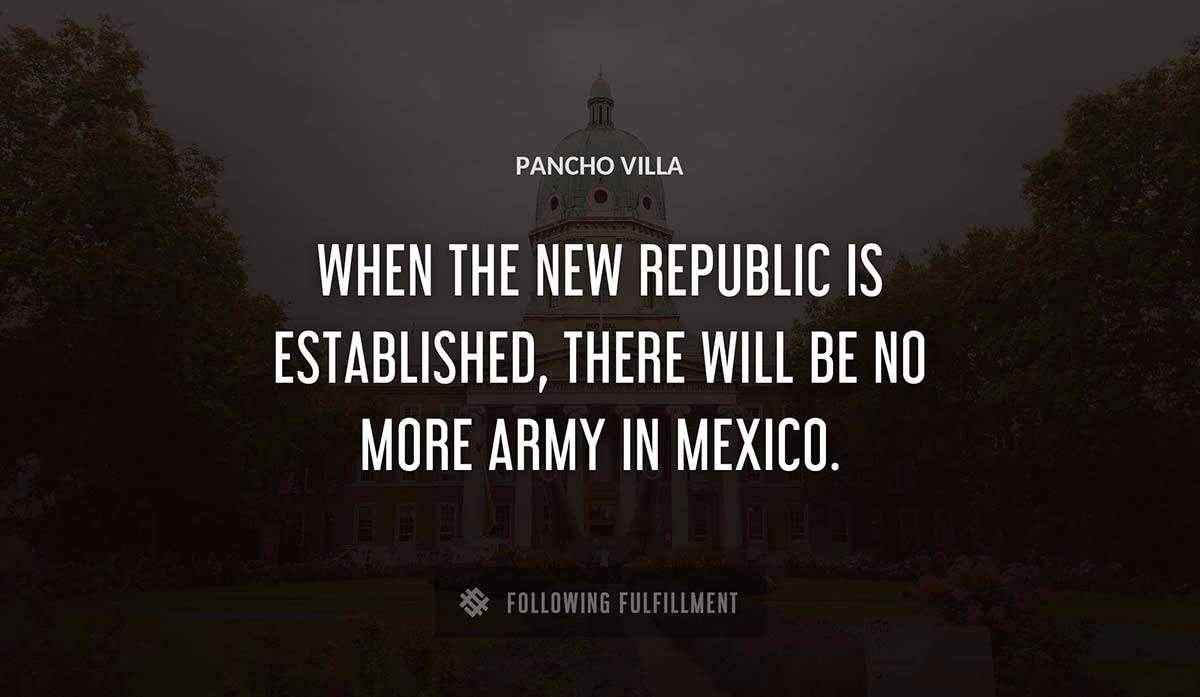 A woman who is unfaithful deserves to be shot. — Pancho Villa
I understood more clearly than ever that the line between a noble revolutionary and a lowdown bandit was the line between war and peace. — James Carlos Blake
Companions of arms and lords. Do not believe that the one who is going to speak to them is a philosopher, I am a man of people, but you will understand that these men when they speak, speak with the heart. — Pancho Villa
Various Statements From Pancho Villa
Dont' let it end like this, tell them I said something. — Pancho Villa
I am not an educated man. I never had an opportunity to learn anything except how to fight. — Pancho Villa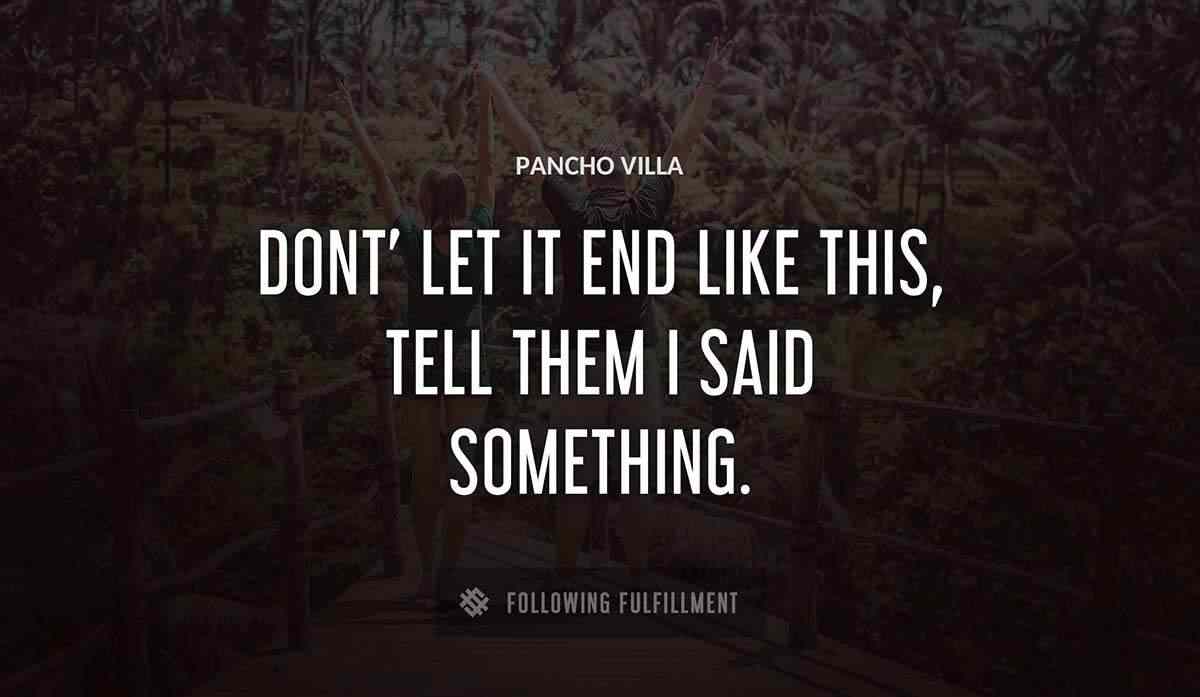 What would be of the world if we were all generals if we were all capitalists or we were all poor? — Pancho Villa
There can be no dictator without his army. — Pancho Villa
Like Villa, I believed that even though some men did not deserve to go on living, they still deserved to be remembered at their best. — James Carlos Blake
It is the Revolution, the magical word, the word that is going to hang everything, that is going to bring us immense delight and a quick death. — Pancho Villa
As we pulled out of Zacatecas, the air was thick with the odors of smoldering ash, bloody dust, putrefying flesh. The rich ripe smells of triumph. — James Carlos Blake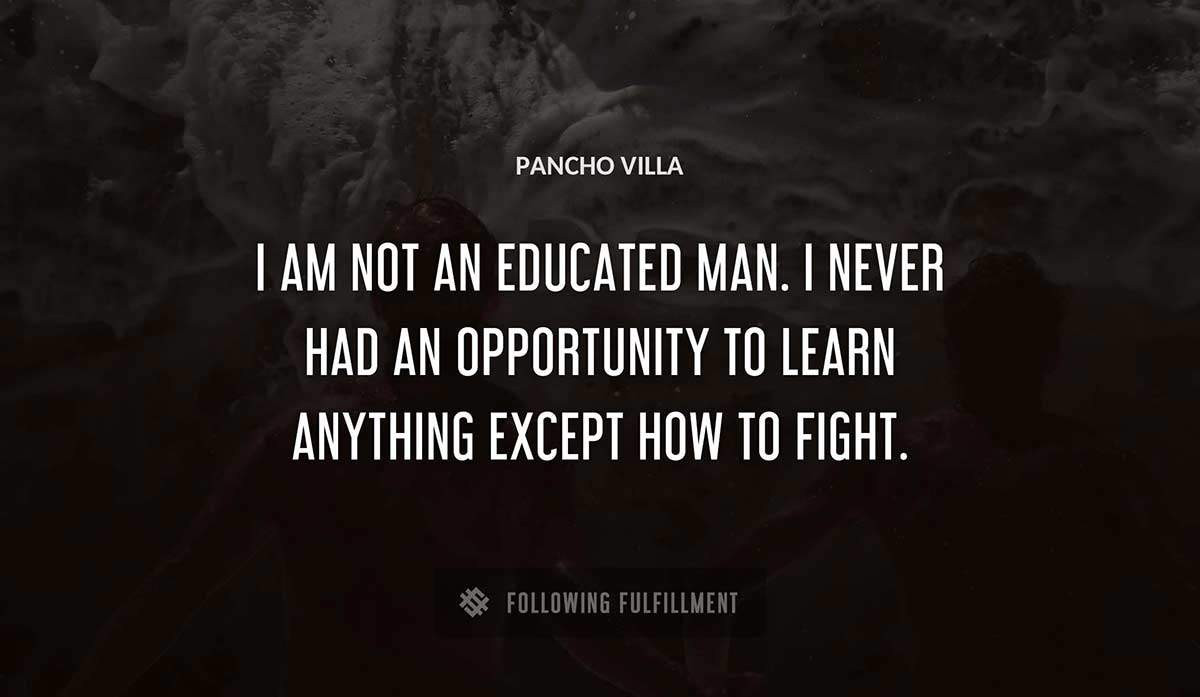 More Phrases From Pancho Villa
Armies are the greatest supports of tyranny. — Pancho Villa
Politicians] spend their time discussing nonsense and stealing money that belongs to the people. — Pancho Villa
What else is there for the rich to do, If not to relieve the poor of their misery? — Pancho Villa
What was Pancho Villa's early life like?
Pancho Villa was the son of a field labourer and was orphaned at an early age.

In revenge for an assault on his sister, he killed one of the owners of the estate on which he worked and was afterward forced to flee to the mountains, where he spent his adolescence as a fugitive

Source
The greatest tragedy that can befall a man is never to know who he really is. — James Carlos Blake
Redundant Thematics
In Pancho Villa Statements
The country must be governed by someone who really loves his people and his land, who shares wealth and progress. I have all that, only that I am ignorant — Pancho Villa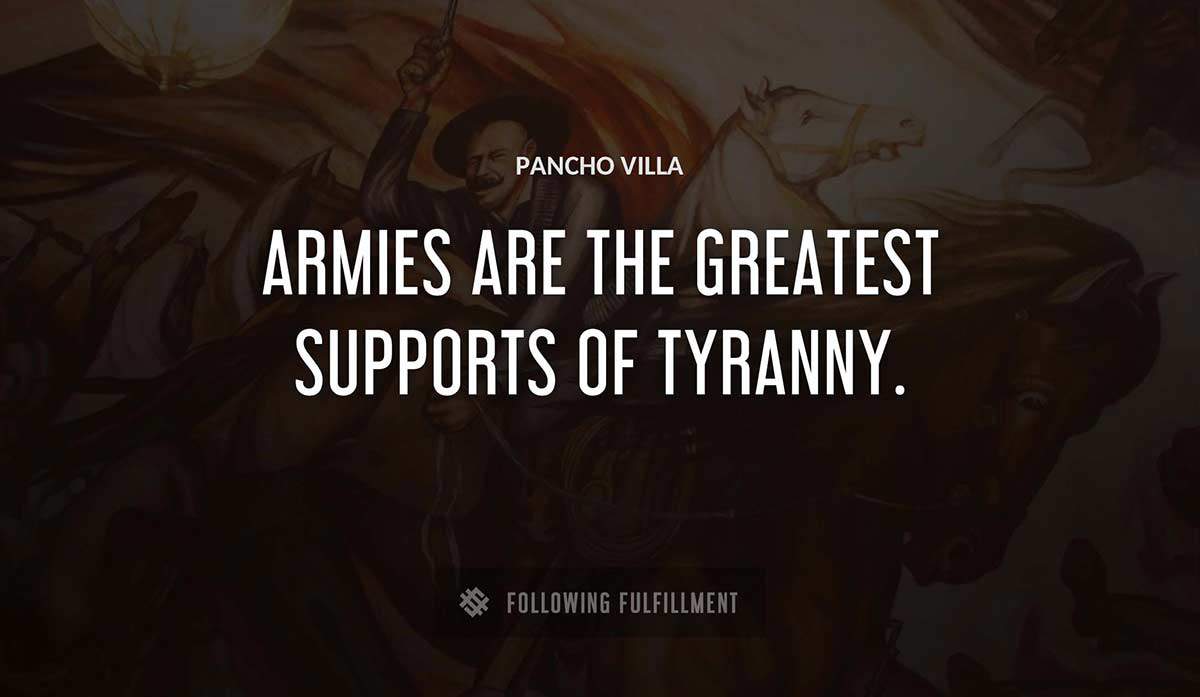 Tell them I said something. Pancho Villa's last words. — Pancho Villa
If I could bring that about today by giving up my life, I would do it gladly. — Pancho Villa
Deeper Quotes From Pancho Villa
My sole ambition is to rid Mexico of the class that has oppressed her. — Pancho Villa
It is just that we all aspire to be more, but also that we all make use of our actions. — Pancho Villa
There are three things a man must do before he dies: plant a tree, father a child, and write a book. — Rick Skwiot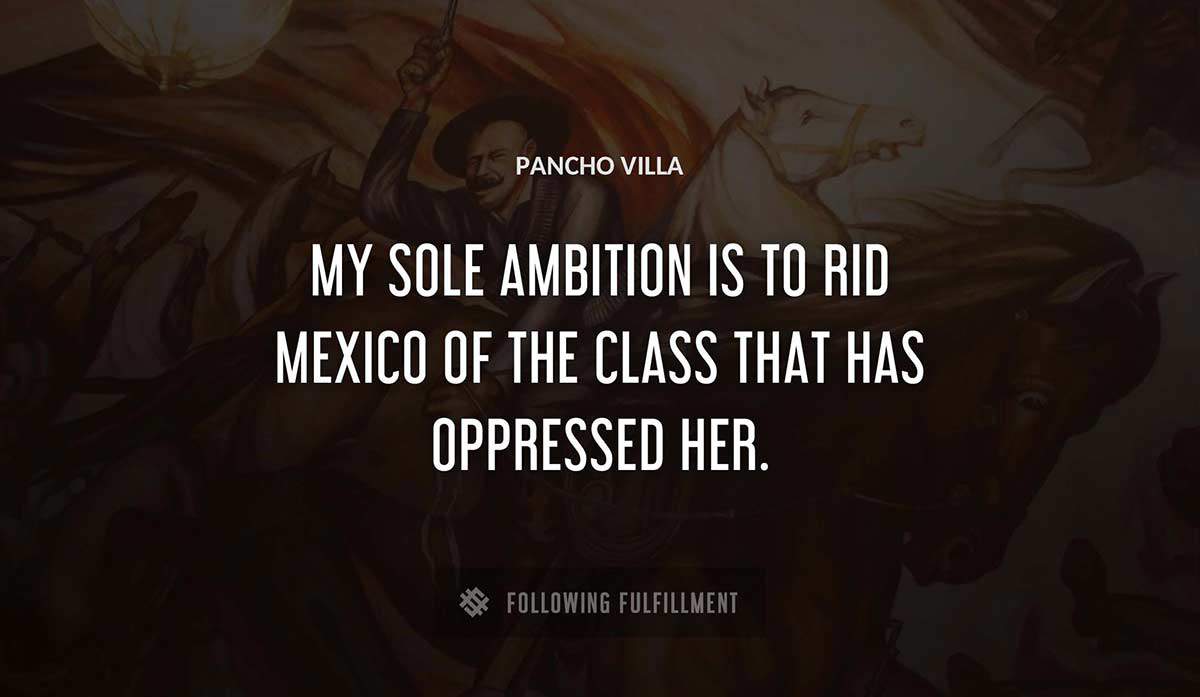 Humble people like me fight for justice and for better luck. — Pancho Villa
You, sir, have destroyed the revolution. It's simple: this bunch of dandies have made a fool of you, and this will eventually cost us our necks, yours included. — Pancho Villa