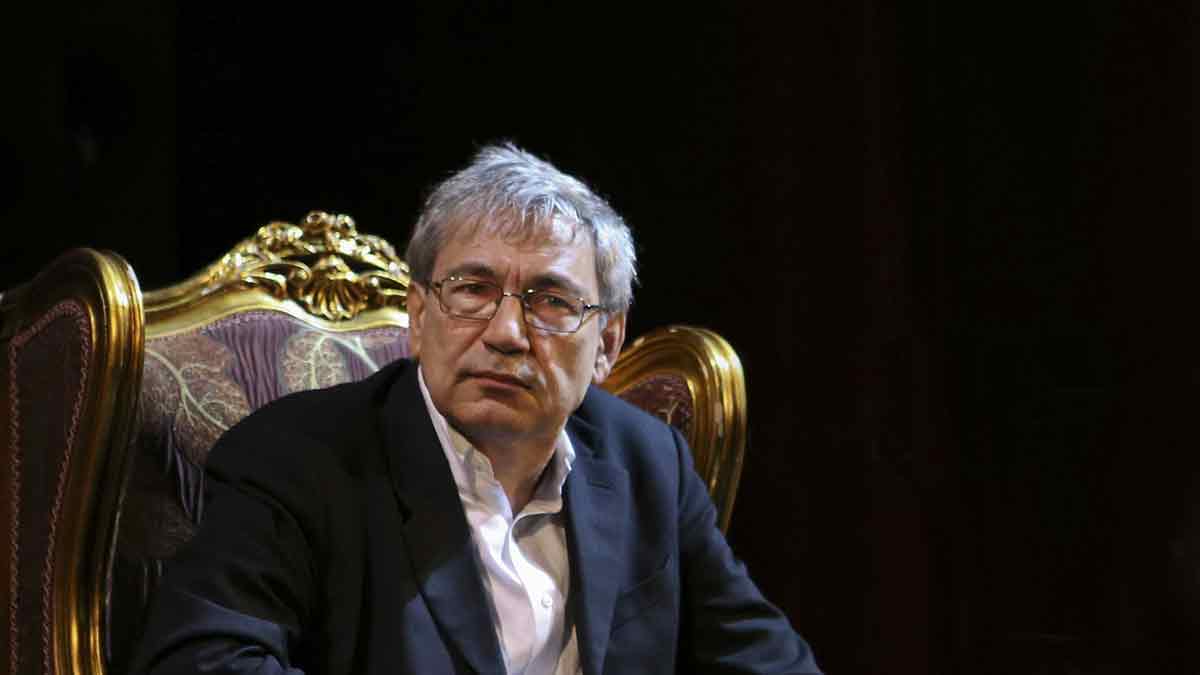 Orhan Pamuk is one of the most celebrated contemporary Turkish authors. A winner of the Nobel Prize in Literature, Pamuk is known for his rich and resonant novels that explore the cultural and political landscape of modern Turkey. In this blog post, we'll take a closer look at Pamuk's life and work, exploring what makes him one of the world's most important writers today.
Here are the most known Work, Culture, Turkish, Feelings, Time, Writing, Life, World quotes from Orhan Pamuk, and much more.
Summary
About Orhan Pamuk
Born:
7 June 1952
Occupation:
Novelist, Screenwriter, Professor Of Comparative Literature And Writing
Nationality:
Turkish
Period:
1974-Present
Genre:
Novel
Literary Movement:
Postmodern Literature
Notable Works:
Cevdet Bey And His Sons, Silent House, The White Castle, The Black Book, The New Life, My Name Is Red And More.
Notable Awards:
International Dublin Literary Award 2003 Nobel Prize In Literature 2006 Sonning Prize 2012
ORHAN PAMUK QUOTES ON LIFE
Life is short, and we should respect every moment of it. — Orhan Pamuk
Whatever anybody says, the most important thing in life is to be happy. — Orhan Pamuk
My unhappiness protects me from life. — Orhan Pamuk
The urbanized life has lead to the destruction of the legends. — Orhan Pamuk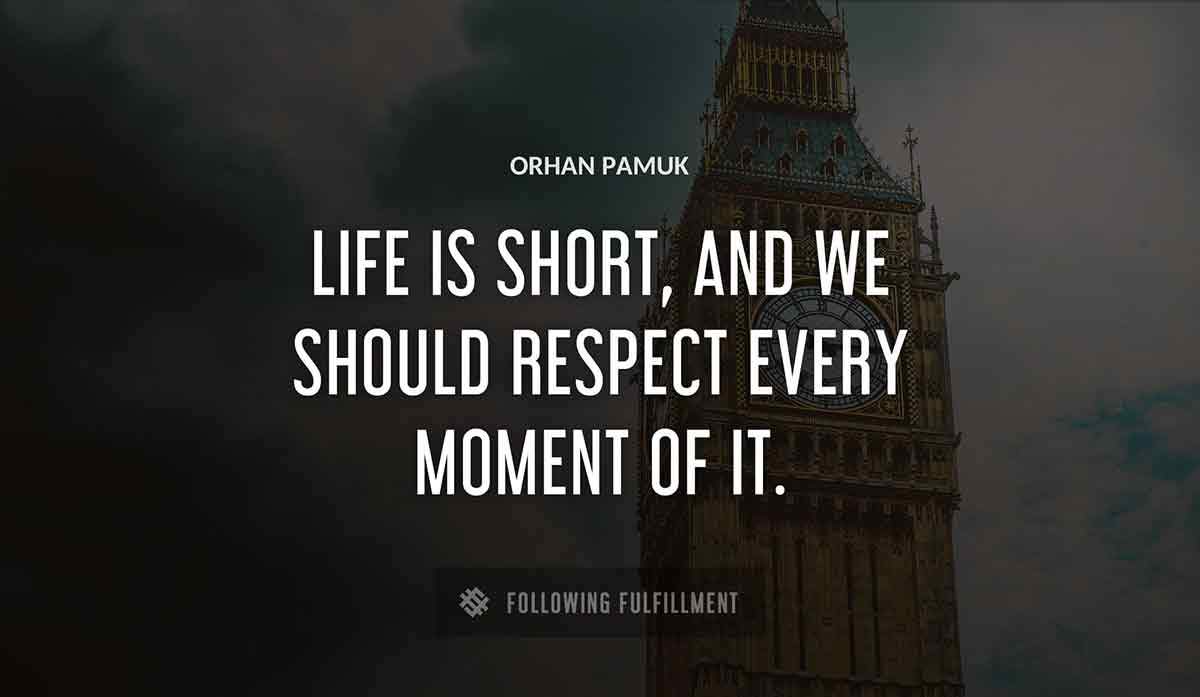 Let everyone know, I lived a very happy life. — Orhan Pamuk
At the age of 60, I am less experimental and more mature. I want most of all to convey my understanding of life. — Orhan Pamuk
The snow reminded me of the beauty and mystery of creation, of the essential joy that is life. — Orhan Pamuk
A museum should not just be a place for fancy paintings but should be a place where we can communicate our lives through our everyday objects. — Orhan Pamuk
For the traveler we see leaning on his neighbor is an honest and well–meaning man and full of melancholy, like those Chekhov characters so laden with virtues that they never know success in life. — Orhan Pamuk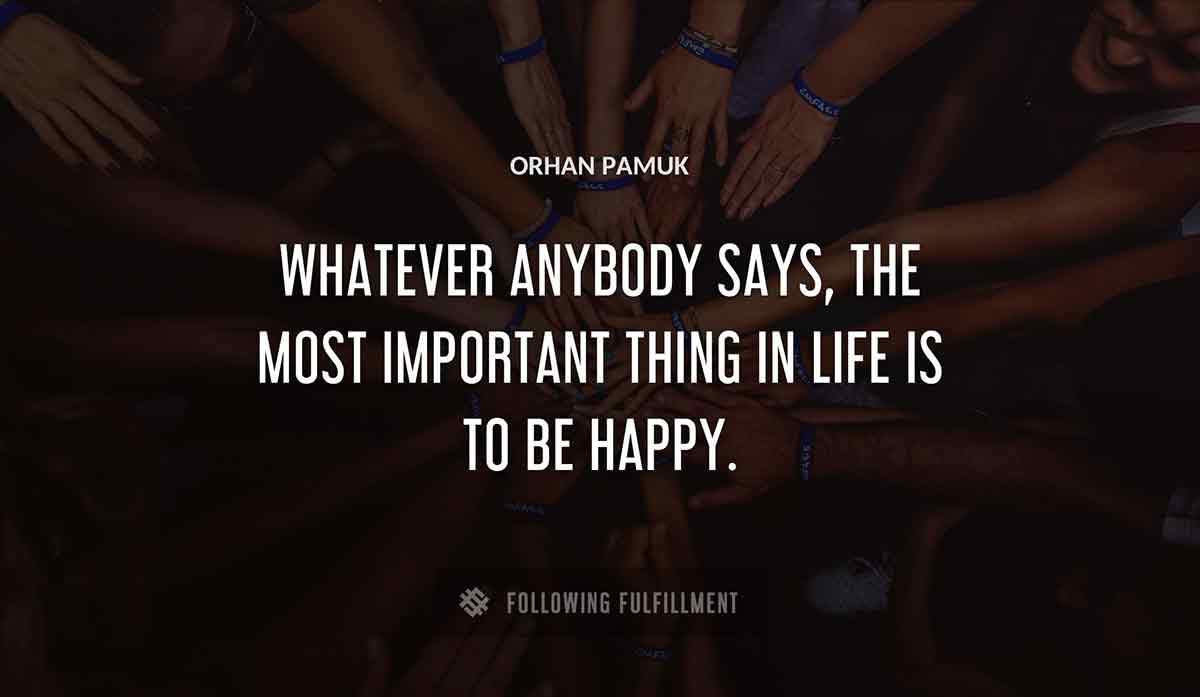 I have the legacy of my father and his nocturnal automatic waking up. But I like those periods. I immediately have a different vision of humanity and my life. — Orhan Pamuk
In a brutal country like ours, where human life is 'cheap', it's stupid to destroy yourself for the sake of your beliefs. Beliefs? High ideas? Only people in rich countries can enjoy such luxuries. — Orhan Pamuk
I was at the end of my tether when my first book was published. For eight years I didn't make a penny, I worked so hard, didn't drink, didn't enjoy life. — Orhan Pamuk
A nation could change its way of life, its history, its technology, its art, literature, and culture, but it would never have a real chance to change its gestures. — Orhan Pamuk
ORHAN PAMUK QUOTES ON WRITING
I think less than people think I do about politics. I care about writing. — Orhan Pamuk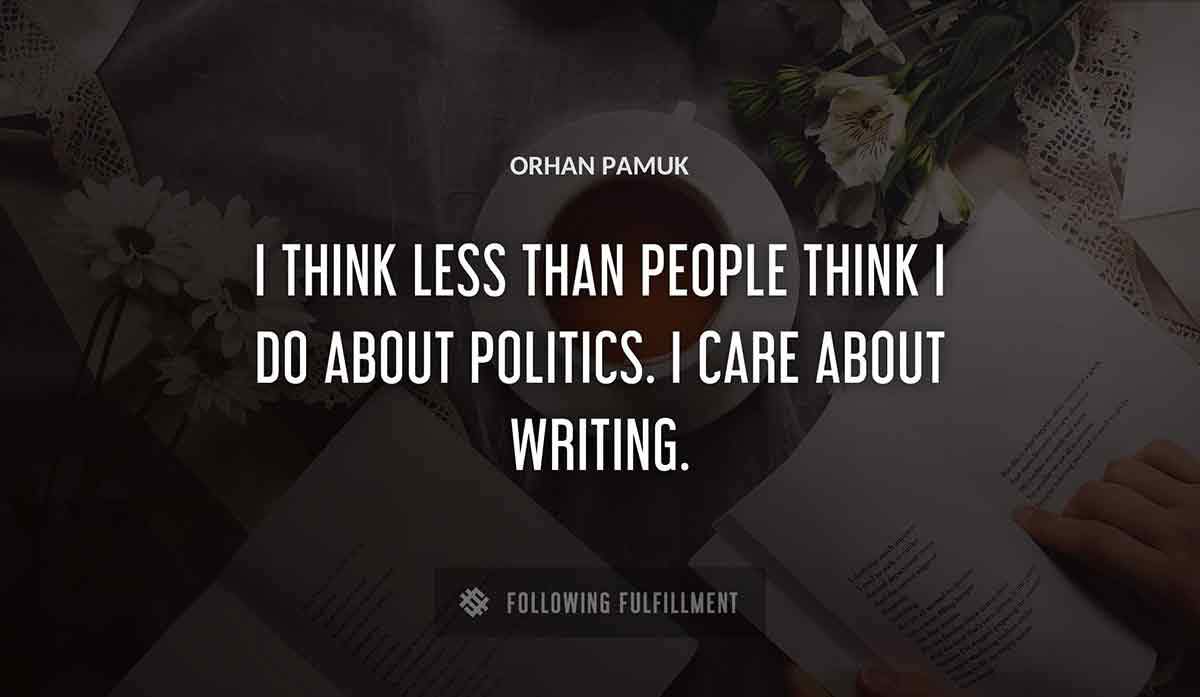 Writing my own diary is the best form of remembrance, but only for my own use. I need these notes; it's like an impulse. — Orhan Pamuk
N]othing is as surprising as life. Except for writing. Except for writing. Yes, of course, except for writing, the only consolation. — Orhan Pamuk
Nothing can be as astounding as life. Except for writing. Yes, of course, except for writing, the sole consolation. — Orhan Pamuk
Painting taught literature to describe. — Orhan Pamuk
ORHAN PAMUK QUOTES ABOUT THE WORLD
I write a world where everyone is partly right. — Orhan Pamuk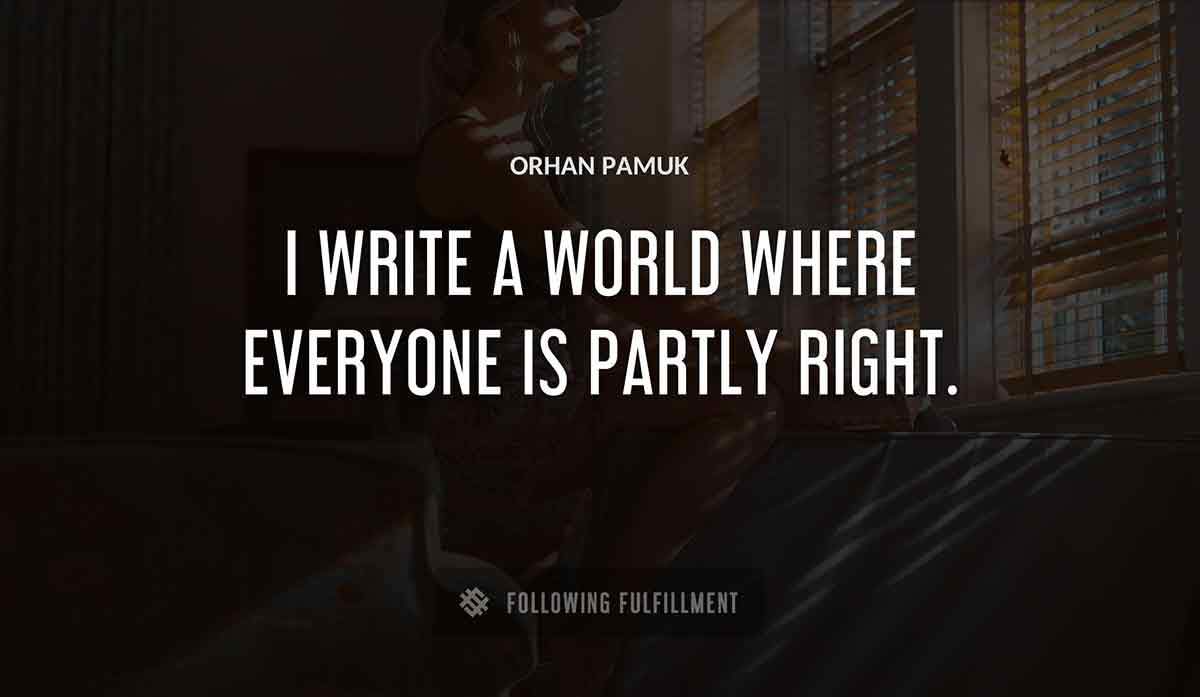 For if a lover's face survives emblazoned on your heart, the world is still your home. — Orhan Pamuk
True literature is more than just a story someone has told. It must provide the reader with the essence of the world on a moral, philosophical and emotional level. — Orhan Pamuk
How different from the cosy world of Rüya's detective novels, where authors never vexed a hero with more signs than he needed. — Orhan Pamuk
The beauty and mystery of this world only emerges through affection, attention, interest and compassion . . . open your eyes wide and actually see this world by attending to its colors, details and irony. — Orhan Pamuk
Happiness is holding someone in your arms and knowing you hold the whole world. — Orhan Pamuk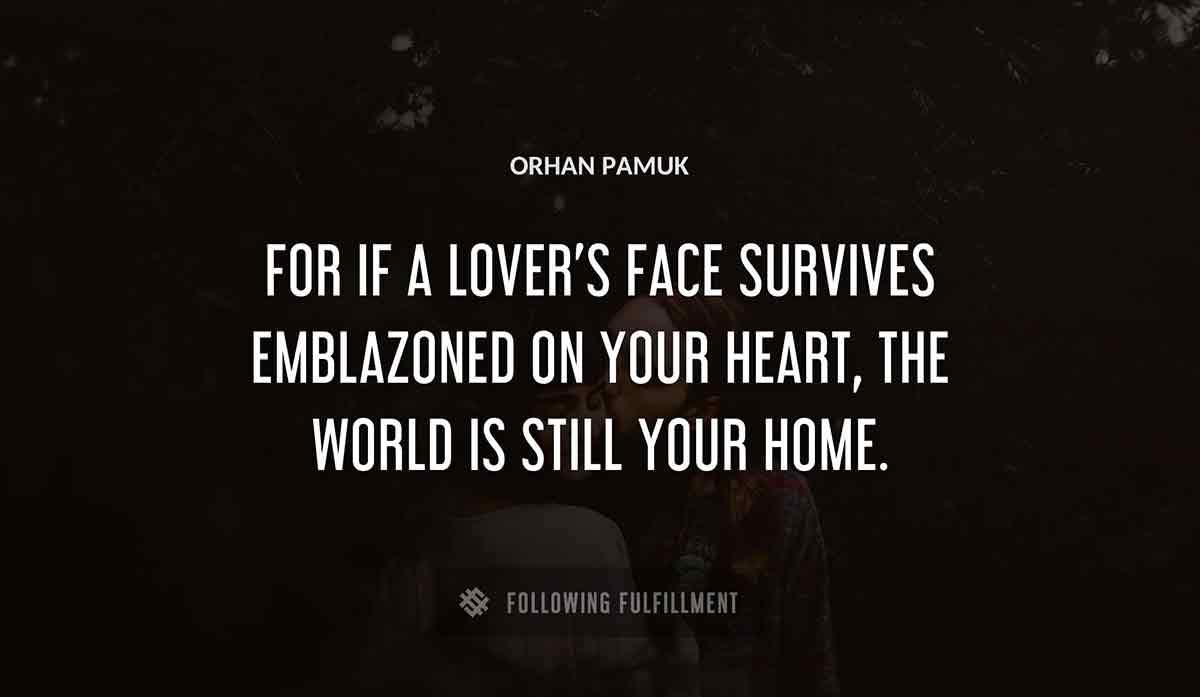 A writer in someone who spends years patiently trying to discover the second being inside him, and the world that makes him who he is. — Orhan Pamuk
My decision to view the world through novels, as it were, which is a typically European way of looking at things, became a heavy burden for me. But I took it on consciously, even though it was torture for me. — Orhan Pamuk
ORHAN PAMUK QUOTES REGARDING WORK
It's very gratifying to me to see my works bringing people closer to my country. — Orhan Pamuk
I need the pain of loneliness to make my imagination work. — Orhan Pamuk
More than anything I am a novelist. But for me, an author's job is not only to create linguistically accomplished works. As an author I also want to stimulate discussion. — Orhan Pamuk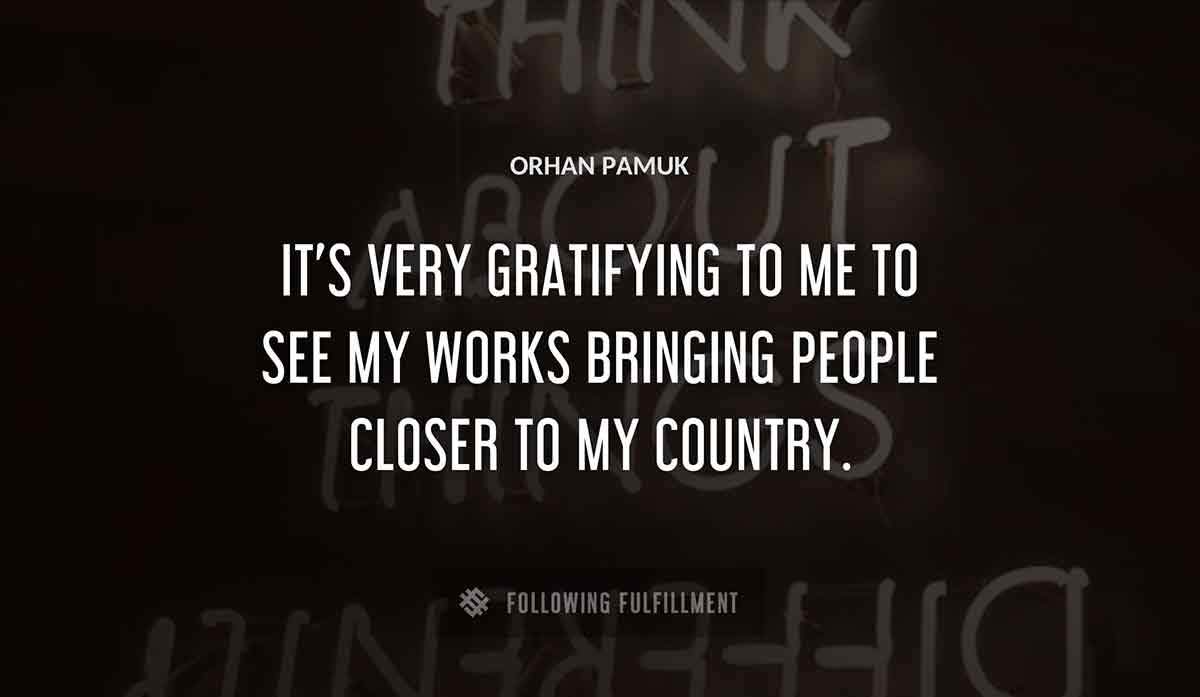 All great masters, in their work, seek that profound void within color and outside time. — Orhan Pamuk
I work seven days a week, from 9 in the morning till 8 at night. I have the titles of the next eight novels I want to write. I feel myself pitiable, degraded on a day that I don't write. — Orhan Pamuk
Turks have a dismissive phrase: he works like a clerk. I have turned this insult around: I am proud to say that I work like a clerk. — Orhan Pamuk
Being a fiction writer makes you someone who works with irresponsibility. — Orhan Pamuk
Redundant Thematics
In Orhan Pamuk Statements
work
culture
turkish
love
world
time
writing
novel
life
make
I think novelists should be disciplined and self–imposed working hours. I work a lot, but I don't feel that I'm working. I always feel that there is a child in me, healthy, and I'm playing. — Orhan Pamuk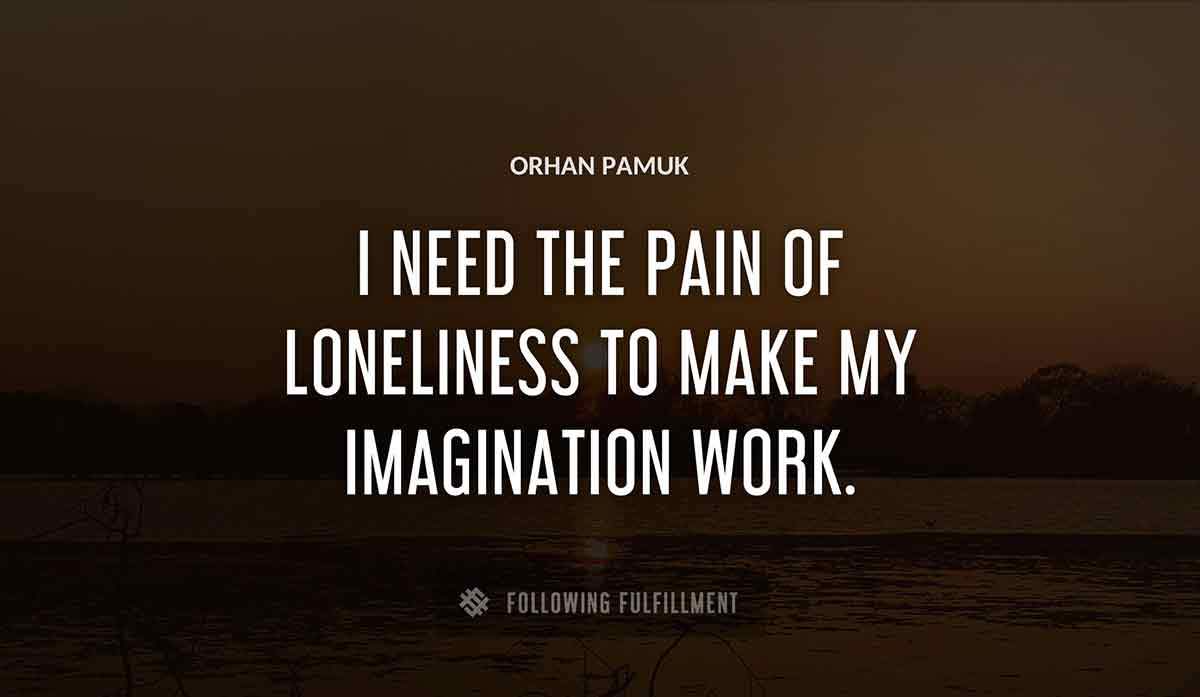 The fictive structure, my work, my imagination, my books are about the details, the huge construction about culture, Islamic culture or modern Turkey. They're all intertwined. — Orhan Pamuk
In the mornings I used to say goodbye to my wife like someone going to work. I'd leave the house, walk around a few blocks, and come back like a person arriving at the office. — Orhan Pamuk
Snow reminds Ka of God! But I'm not sure it would be accurate. What brings me close to God is the silence of snow. — Orhan Pamuk
ORHAN PAMUK QUOTES ABOUT TIME
We live but for a short time, we see but very little, and we know almost nothing; so, at least, let's do some dreaming. Have yourself a very good Sunday, my dear readers. — Orhan Pamuk
Clocks and calendars do not exist to remind us of the Time we've forgotten but to regulate our relations with others and indeed all of society, and this is how we use them. — Orhan Pamuk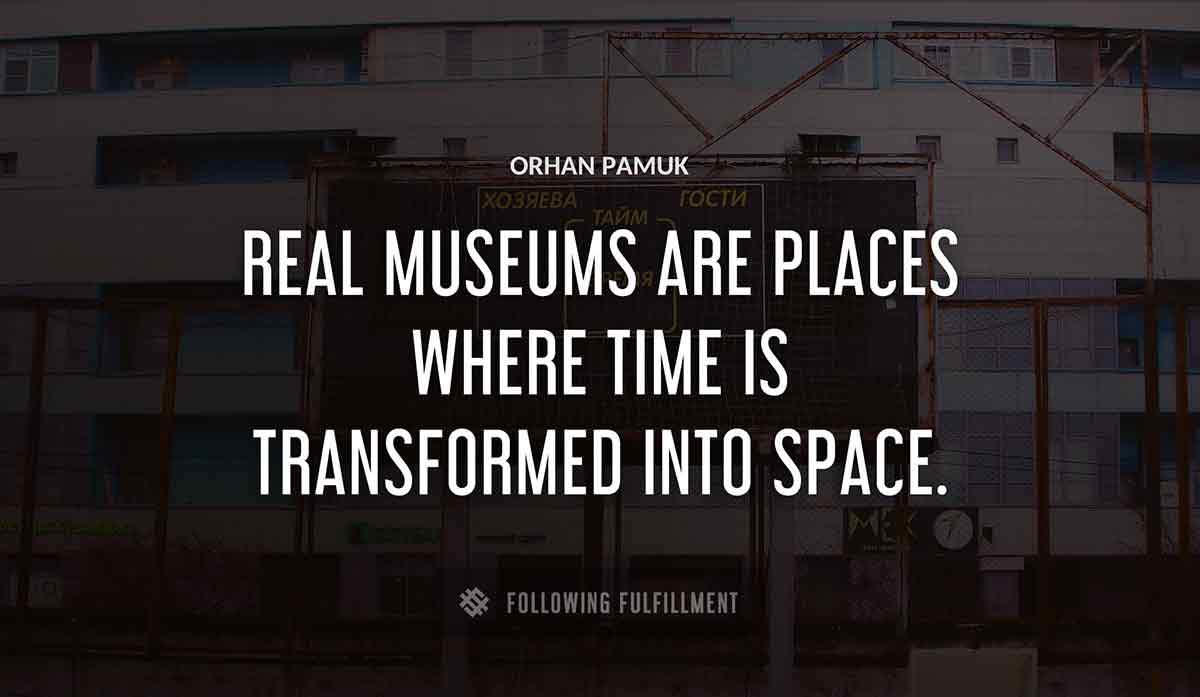 Life can't be all that bad,' i'd think from time to time. 'Whatever happens, i can always take a long walk along the Bosphorus. — Orhan Pamuk
Before my birth there was infinite time, and after my death, inexhaustible time. I never thought of it before: I'd been living luminously between two eternities of darkness. — Orhan Pamuk
I need a moment of time for myself every day, like a child playing with his things. When I travel, I routinely find a quiet place, open my diary and write something in it. — Orhan Pamuk
Real museums are places where Time is transformed into Space. — Orhan Pamuk
In poetically well built museums, formed from the heart's compulsions, we are consoled not by finding in them old objects that we love, but by losing all sense of Time. — Orhan Pamuk
My diary has its own kind of magic. It gives me the feeling of having accomplished something. On days when I don't have time for this, I feel tortured. — Orhan Pamuk
ORHAN PAMUK QUOTES ABOUT FEELINGS
National consciousness is truly a miraculous thing. When I am not in Turkey I feel even more Turkish than in Istanbul. But when I'm home my European side becomes more apparent. — Orhan Pamuk

I sometimes feel nervous because I give stupid answers to certain pointless questions. It happens in Turkish as much as in English. I speak bad Turkish and utter stupid sentences. — Orhan Pamuk

I do not believe in a personal connection to God; that's where it gets transcendental. — Orhan Pamuk

There's a lot of pride involved in my refusal to believe in god. — Orhan Pamuk

< figure>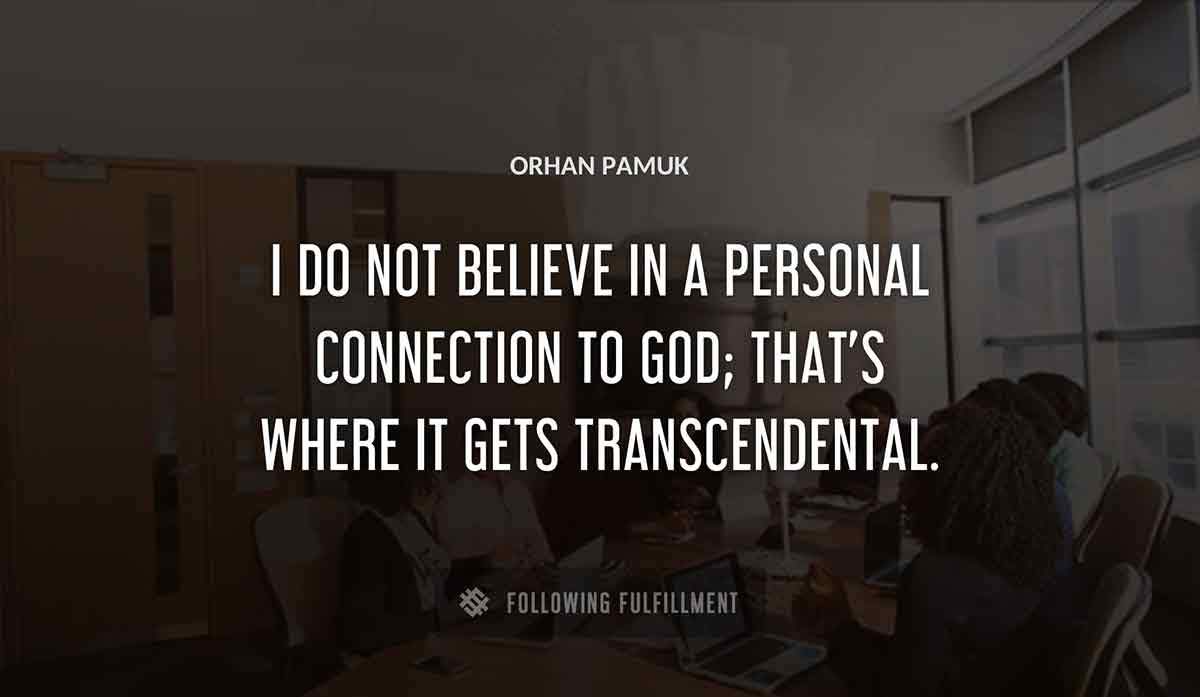 ORHAN PAMUK QUOTES ON TURKISH
I am proud to be a Turk, and to write in Turkish about Turkey–and to have been translated into about 40 languages. But I don't want to politicize things by dramatizing them. — Orhan Pamuk
The fueling of anti–Turkish sentiment in Europe is resulting in an anti–European, indiscriminate nationalism in Turkey. — Orhan Pamuk
Turkish football serves the cause of nationalism, but not of the nation. — Orhan Pamuk
I hope the leaders of the eu when they are shakIng hands wIth turkIsh leaders … would also occasIonally talk about free speech. — Orhan Pamuk
These political movements flourish on the margins of Turkish society because of poverty and because of the people's feeling that they are not being represented. — Orhan Pamuk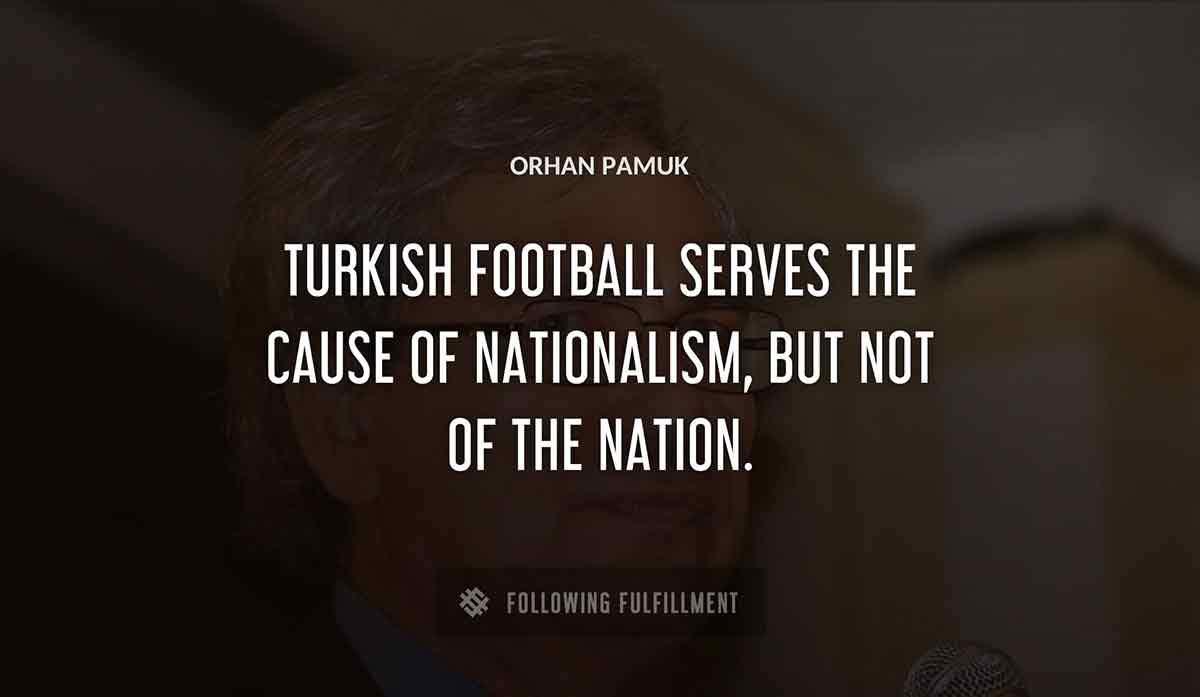 ORHAN PAMUK QUOTES ON CULTURE
It is not my intention to explain Turkey, its culture and its problems. My literature has a universal concern: I want to bring people and their emotions closer to my readers, not explain Turkish politics. — Orhan Pamuk
I consider myself a person who comes from a Muslim culture. In any case, I would not say that I'm an atheist. So I'm a Muslim who associates historical and cultural identification with this religion. — Orhan Pamuk
Museums are western inventions where the rich and the powerful or the government and the state tend to exhibit the signs and symbol and images of their culture. — Orhan Pamuk
I identify with my culture, but I am happy to be living on a tolerant, intellectual island where I can deal with Dostoyevsky and Sartre, both great influences for me. — Orhan Pamuk
Istanbul is a vast place. There are very conservative neighbourhoods, there are places that are upper class, Westernised, consuming Western culture. — Orhan Pamuk
ORHAN PAMUK Quotes Take Away
Pamuk's words offer a different perspective on life and art, one that we can all learn from. If you are looking for more inspiration, or want to explore the creative process in more depth, be sure to check out our upcoming courses. We have classes on writing and art, as well as ones that focus on how to find your creative voice and make time for creativity in your busy life. Whatever your goals may be, we hope that Orhan Pamuk's words will help you achieve them.