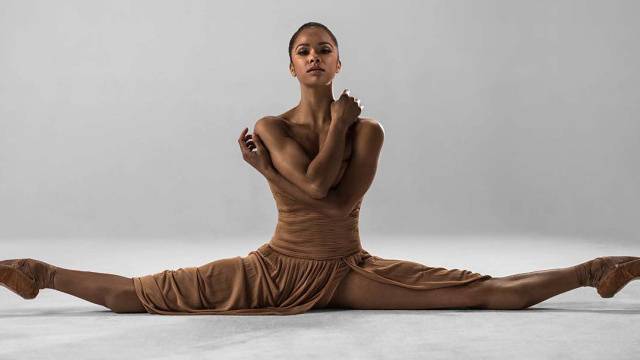 Misty Copeland is a dancer who has broken many barriers for her race and gender. She was the first African-American woman to be promoted to principal dancer at American Ballet Theatre, she's collaborated with Beyoncé on her Formation Tour, and she's even been featured in ads during the 2016 Olympic Games. Her memoir entitled Life in Motion tells the story of how this young girl from a rough neighborhood became one of America's most prominent ballerinas. It also shares how this trailblazer found inner strength through dance and hopes that others will too.
Discover the most interesting sentences from Misty Copeland.
Here are the most interesting Stage, Love, Feelings, Women, Time, Life, Ballet, Dancer quotes from Misty Copeland, and much more.
Summary
About Misty Copeland
Born:
September 10, 1982
Education:
San Pedro High School
Occupation:
Ballet Dancer
Years Active:
1995-Present
Website:
mistycopeland.com
MISTY COPELAND QUOTES ABOUT TIME
It's time to write our own story. — Misty Copeland
Every time I step onto the stage, it's not only provide to the audience that I'm capable but to myself. — Misty Copeland
Going on stage and doing ballet, for the first time, was even more verification of, 'This is what I'm meant to do. This is what I'm going to do. I'm going to make it somehow. — Misty Copeland
I just try to approach every opportunity on stage, as if it's my first time and my last time. — Misty Copeland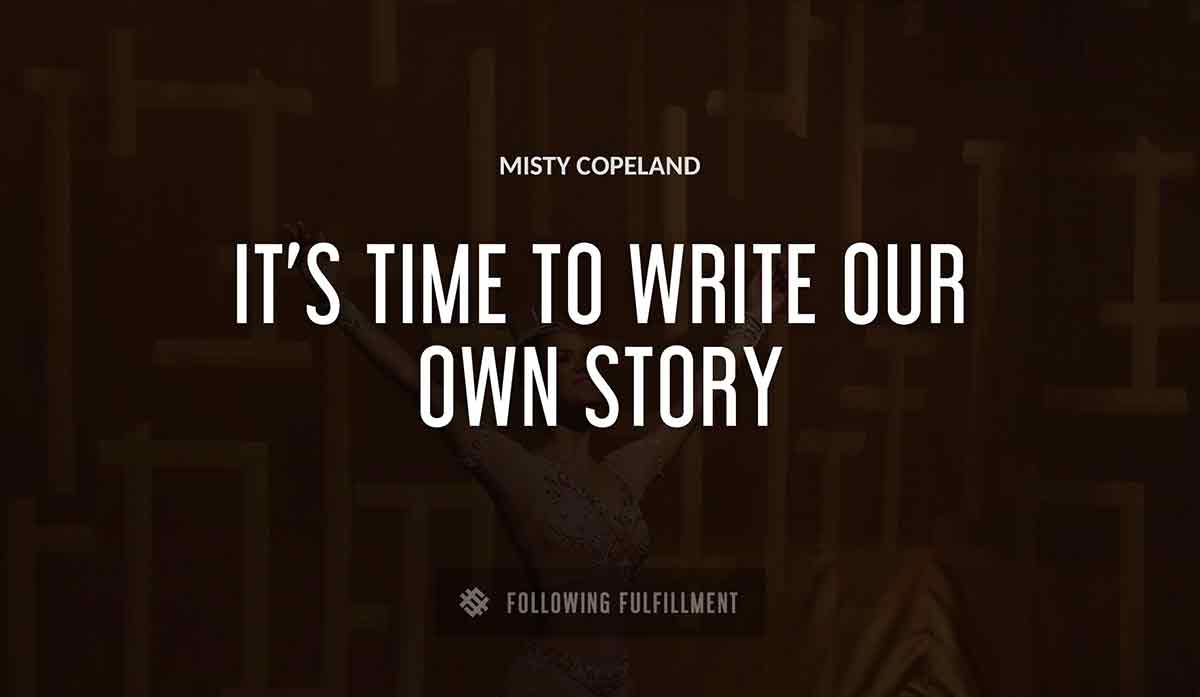 Every time I dance, I'm trying to prove myself to myself. — Misty Copeland
I know that most of the time I have to work overtime to do everything that I want to. — Misty Copeland
I remind myself everyday just how lucky I am to do what I love! I feel so fortunate and I'm just trying to take my life one day at a time. — Misty Copeland
I didn't care how much work it would take, and I didn't see the time invested as a waste or like I was missing out on anything. Ballet became my ultimate passion. — Misty Copeland
My career came together very quickly. I only trained for four years before I became a professional, so I didn't have a lot of time to sit back and be inspired before I took my first ballet class. — Misty Copeland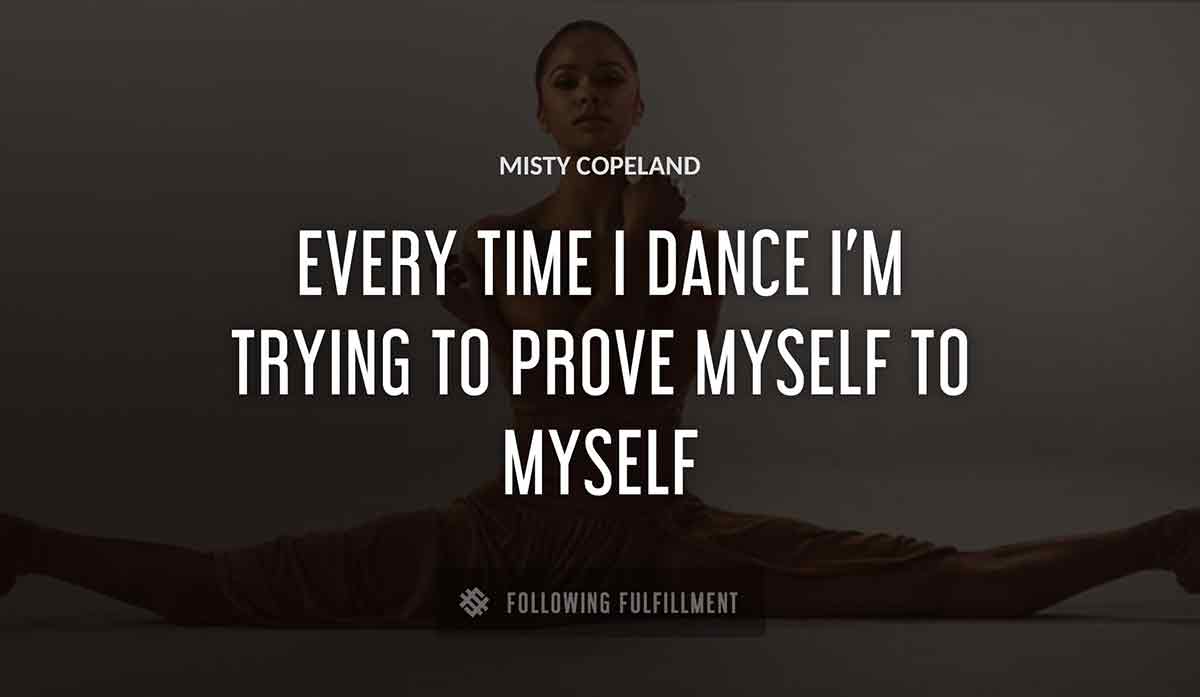 MISTY COPELAND QUOTES ON WOMEN
That it's possible to do positive things and I think that's how we're going to set an example to be respected as women in the world. — Misty Copeland
It's difficult to exist as a woman, especially I think as a powerful woman. You want to stand strong and you want to be considered and equal. — Misty Copeland
The woman represents ballet. She is most important, powerful and vital to it. Therefore, she is not 'less than' a man. If anything she is 'more than' in this field. — Misty Copeland
I believe that I definitely developed into a refined and graceful woman due to ballet. It has shaped me in every way. — Misty Copeland
I do think Under Armour is setting a new example for what a ballerina is, and that you can be feminine and an athlete and represent what a woman is at the same time. — Misty Copeland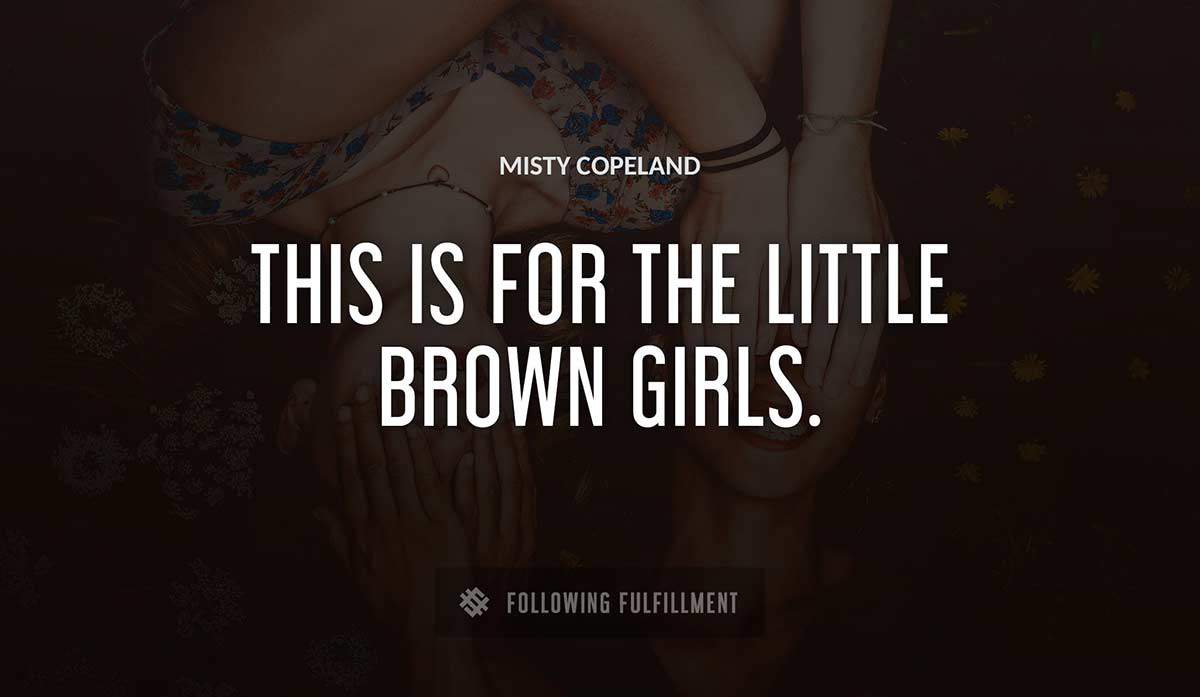 Being one of the few African American women to make it to this level in a classical ballet company, the level of American Ballet Theatre, takes a lot of perseverance. — Misty Copeland
Once I became a professional, maybe 19 or 20, I really started to try to figure out who I was, as a woman and as an individual. — Misty Copeland
This is for the little brown girls. — Misty Copeland
MISTY COPELAND QUOTES ON LIFE
I know I will never let myself be complacent in life. — Misty Copeland
I know that I'll forever be involved in ballet. This is where my life was meant to be, and I don't see myself straying completely away, ever. — Misty Copeland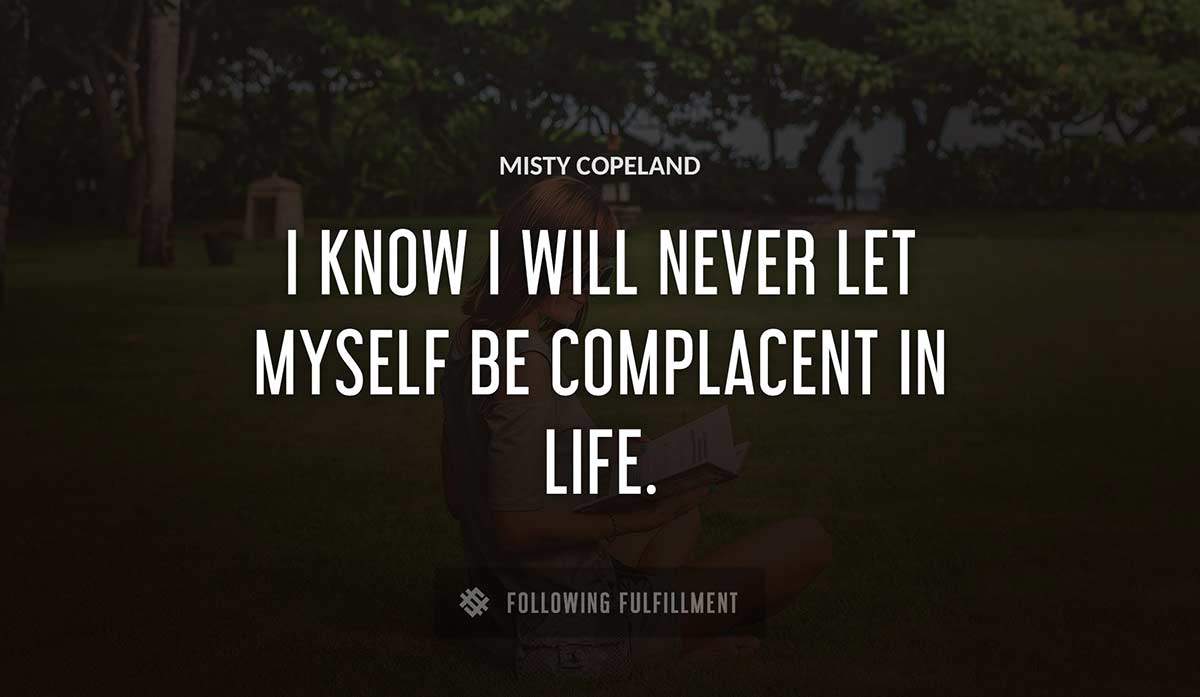 I think that training is the key, definitely, and I devoted my life to it. — Misty Copeland
Before dance came into my life, I don't remember having any major goals or dreams of wanting to be anything. — Misty Copeland
Different mentors throughout my life have supported and guided me to remember that I do have the strength, courage and talent to do whatever I want to do. — Misty Copeland
Ballet found me. I was discovered by a teacher in middle school. I always danced, my whole life. I never had any training, never was exposed to seeing dance, but I always had something inside of me. — Misty Copeland
I don't feel like my life is that of a superstar! Every day I wake up, I take the train, I go to my ballet class. My everyday life is pretty normal. — Misty Copeland
MISTY COPELAND QUOTES ON DANCER
My goal has always been to be a principal dancer with ABT. — Misty Copeland
My curves became an integral part of who I am as a dancer, not something I needed to lose to become one. — Misty Copeland
I will push myself in different ventures that I believe will make me a better artist, dancer and person. — Misty Copeland
Ballet was exactly what I was searching for, but my environment definitely made me the dancer and the person that I am today. And the Hip–Hop culture was a big part of it. — Misty Copeland
I was on a path. I was going to become a principal dancer. I never let my mind rest. — Misty Copeland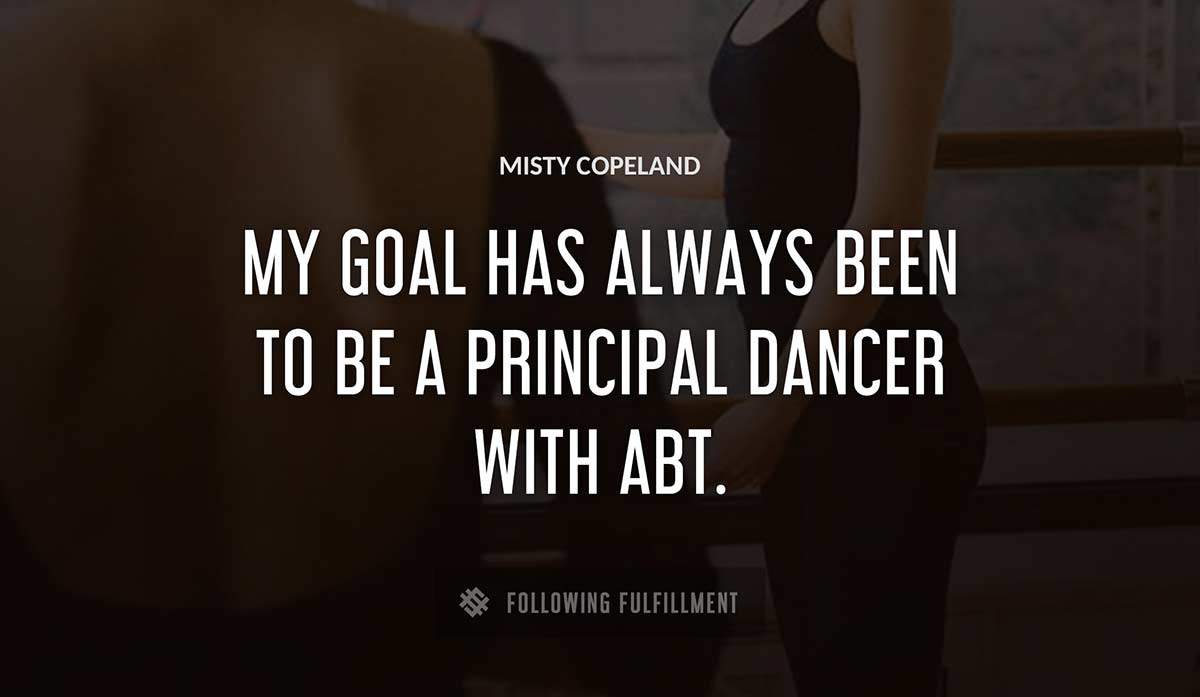 I know that I'm talented, and I know that I'm not in American Ballet Theater because I'm black–I'm here because I'm a gifted dancer. — Misty Copeland
I will never be the best dancer or artist. I will be growing until the day I retire. — Misty Copeland
I'm a classical ballet dancer, and at the end of the day I want to be with American Ballet Theater, performing classical ballets. — Misty Copeland
My body is very different from most of the dancers I dance with. My hair is different than most I dance with. But I didn't let that stop me. Black girls rock and can be ballerinas. — Misty Copeland
I think all dancers are control freaks a bit. We just want to be in control of ourselves and our bodies. That's just what the ballet structure, I think, kind of puts inside of you. — Misty Copeland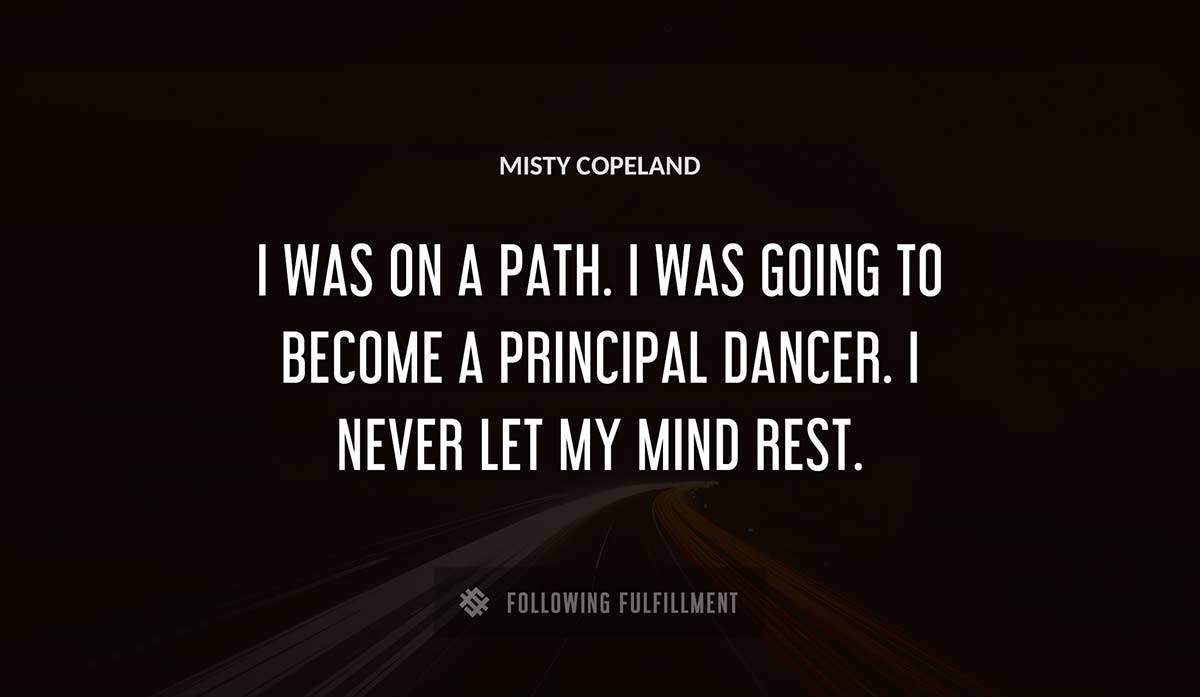 What makes people and companies and artistic directors and choreographers interested in working with dancers is the ability to kind of let go of everything you think you know and be a blank canvas. — Misty Copeland
MISTY COPELAND QUOTES ABOUT FEELINGS
I want to bring awareness to the lack of diversity in ballet, and feel like that's a large part of my purpose. — Misty Copeland
I feel like with 'On the Town,' it was the perfect production and the perfect opportunity. — Misty Copeland
It's weird for minorities even just to buy tickets to the ballet. We feel like it's not a part of our lives and we're not a part of that world. — Misty Copeland
Redundant Thematics
In Misty Copeland Statements
feel
stage
world
time
life
ballet
dancer
ballerina
felt
I feel like I represent every young dancer, and even non–dancer, who felt they were not accepted by the ballet world. I'd like to think that they can see themselves in me. — Misty Copeland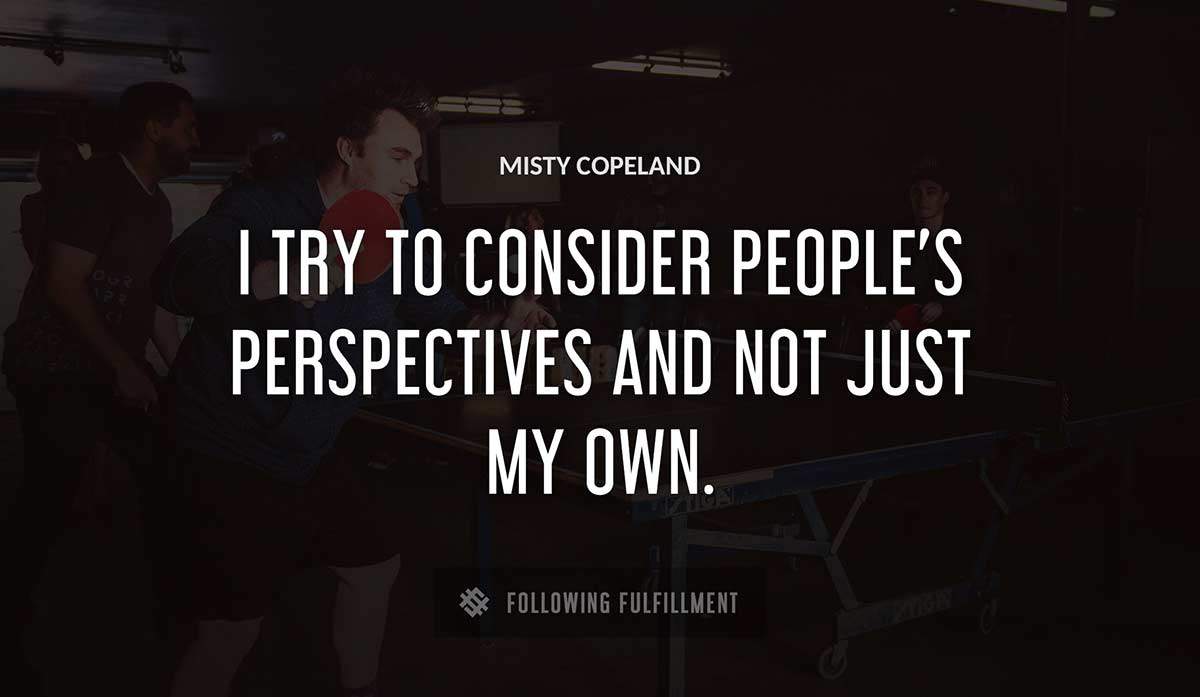 When I was younger, my feet would hurt a lot, but you build up calluses and strength and you don't feel as much pain there. — Misty Copeland
I think that having a platform and having a voice to be seen by people beyond the classical ballet world has really been my power, I feel. — Misty Copeland
I wake up every morning, and I go to ballet class no matter what's going on the night before. That's my priority, and that's what makes me feel sane and not removed from the realities of my world. — Misty Copeland
Be strong, be fearless, be beautiful. And believe that anything is possible when you have the right people there to support you. — Misty Copeland
I try to consider people's perspectives and not just my own. — Misty Copeland
MISTY COPELAND QUOTES ON BALLET
Ballet was so structured. I'd been craving something that could guide me. — Misty Copeland
Ballet was this thing that just felt so innate in me, like I was meant to be doing this. — Misty Copeland
Finding ballet was like finding this missing piece of myself. — Misty Copeland
At least in my performances, the audience has become so diverse in a way that I don't think ballet has ever experienced. — Misty Copeland
Hopefully, I'll be a part of ABT, in some way, forever. I think I'll always be a part of ballet and try to push diversity, for as long as I live. — Misty Copeland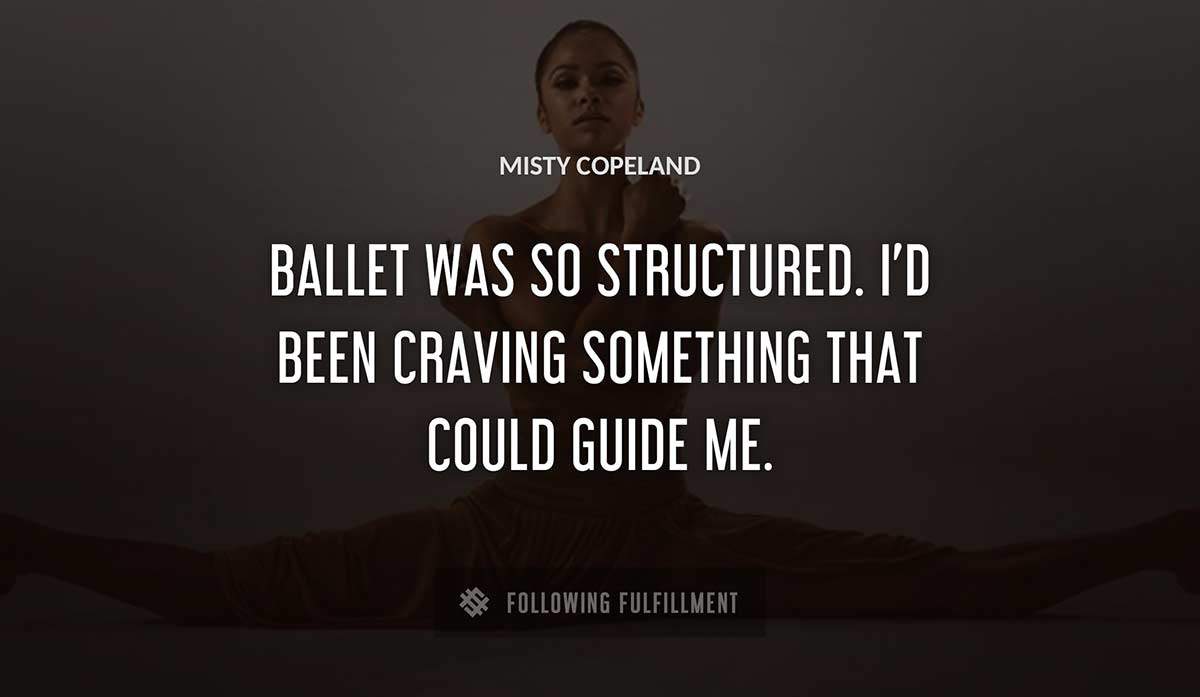 In a ballet company, you're trying to create unison and uniform when you're in a cour de ballet. — Misty Copeland
I never thought of myself as special or particularly good at anything. But once I started ballet, suddenly I had a new identity: prodigy. — Misty Copeland
I learned how to communicate and articulate myself from ballet. It's just insane to me, when they don't think of that as a part of our education. — Misty Copeland
I wanted to open the dialogue about race in ballet and bring more people in. It's just beautiful to see the interest that has exploded for such an incredible art form that I will forever be grateful to! — Misty Copeland
It's hard to be the one that stands out when, you know, in a ballet company, you're trying to create unison and uniform when you're in a corps de ballet. — Misty Copeland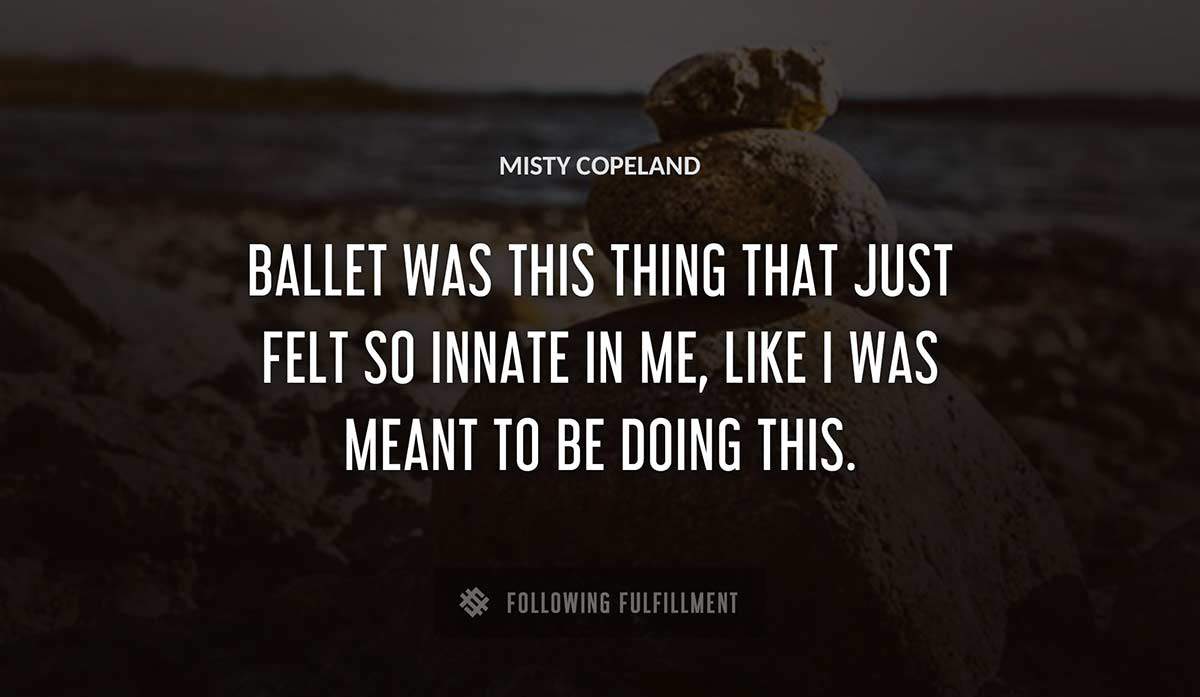 Don't hold onto the barre like 'I might die.' It's just ballet. — Misty Copeland
I ended up training only for four years before I was accepted into American Ballet Theater in New York City. — Misty Copeland
My first ballet class was on a basketball court. I'm in my gym clothes and my socks trying to do this thing called ballet. I didn't know anything about it. — Misty Copeland
Most ballerinas take their first ballet class when they are 5 or 6 years old. I was 13 when I took mine on the basketball court of the San Pedro Boys & Girls Club in California. — Misty Copeland
MISTY COPELAND QUOTES ON STAGE
I never experienced getting nervous on stage. I think I was most comfortable there. — Misty Copeland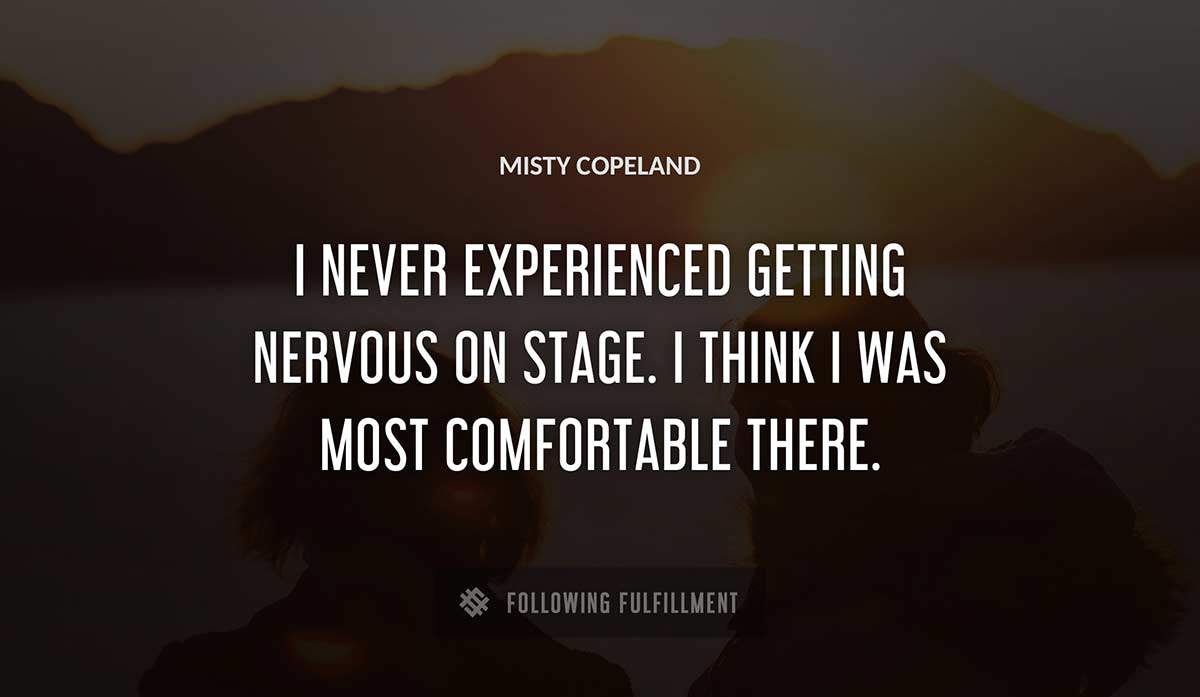 MISTY COPELAND QUOTES ABOUT LOVE
I think I'm pretty laid back. I like cooking, being at home, and going to concerts. And I love to shop! — Misty Copeland
I believe I am yet to dance my favorite role, but I am pretty open to adapting to different characters. I would love to be Odette in Swan Lake one day. I think that would be the ultimate role. — Misty Copeland
I don't want to be anything else other than a ballerina. I love what I do outside of my work, but at the end of the day, I have to sacrifice. — Misty Copeland
I was 17 when I moved to NYC . I'm now 32. But I do know I can't see myself living anywhere else. I love the food, the fashion, art, the intelligence of this city and the people that live in it. — Misty Copeland