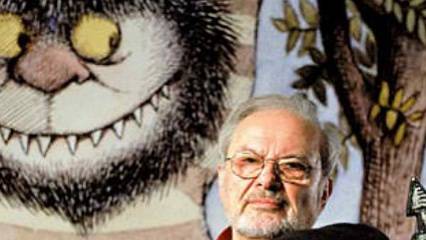 Maurice Sendak is a children's book author who has sold over 83 million copies worldwide. He has written and illustrated many popular books including Where the Wild Things Are. His books have been translated into more than 30 languages, with his most famous being sung in Japanese. Maurice was born on June 10, 1928 and passed away on May 8th 2012 at the age of 83.

Here are the most inspiring statements from Maurice Sendak.
Here are the strongest Wild, Books, Parent, Childrenhood, Life, Children quotes from Maurice Sendak, and much more.
Summary
About Maurice Sendak
Born:
June 10, 1928
Died:
May 8, 2012
Occupation:
Artist, Illustrator, Writer
Nationality:
American
Alma Mater:
Art Students League Of New York
Period:
1944-2012
Genre:
Children's Literature, Picture Books
Notable Works:
Kenny's Window, Where The Wild Things Are, In The Night Kitchen, Seven Little Monsters, Outside Over There And More.
MAURICE SENDAK QUOTES ON WILD
Let the wild rumpus start! — Maurice Sendak
I wanted my wild things to be frightening. — Maurice Sendak
Inside all of us is… hope. Inside all of us is… fear. Inside all of us is… adventure. Inside all of us is a wild thing. — Maurice Sendak
And Max, the king of all wild things, was lonely and wanted to be where someone loved him best of all. — Maurice Sendak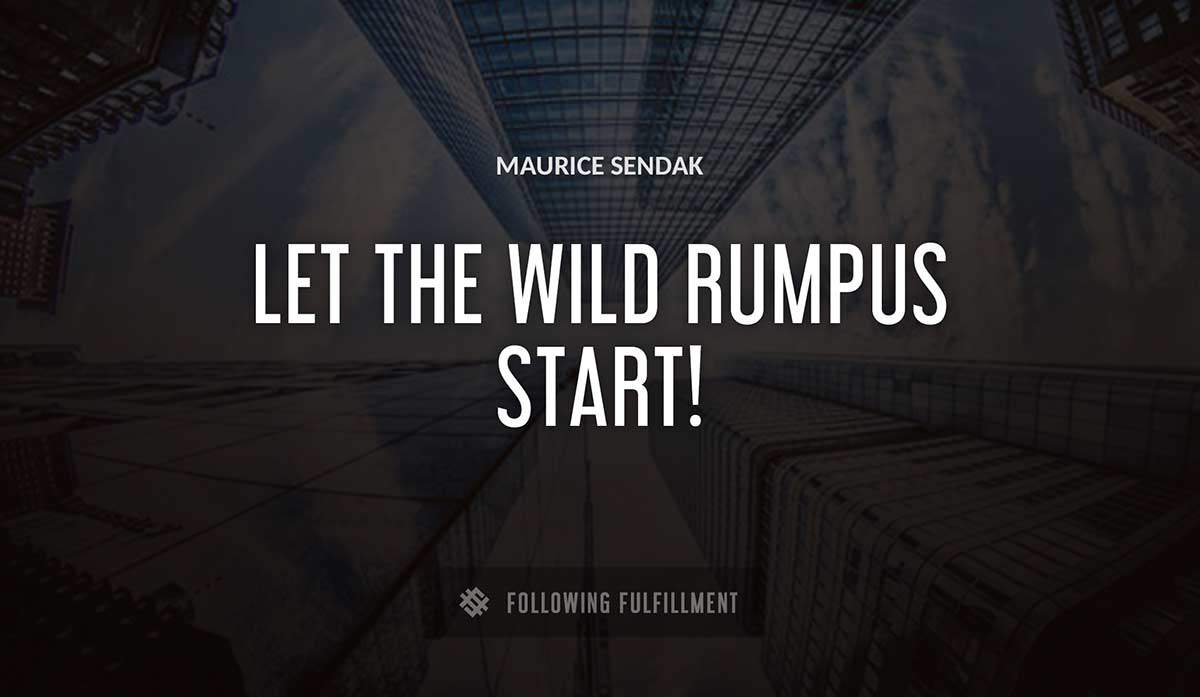 And now,' cried Max, 'let the wild rumpus start! — Maurice Sendak
And the wild things roared their terrible roars and gnashed their terrible teeth and rolled their terrible eyes and showed their terrible claws. — Maurice Sendak
I'm totally crazy, I know that. — Maurice Sendak
MAURICE SENDAK QUOTES ON BOOKS
I don't know how to write a children's book. — Maurice Sendak
I hate those e–books. They can not be the future… they may well be… I will be dead. — Maurice Sendak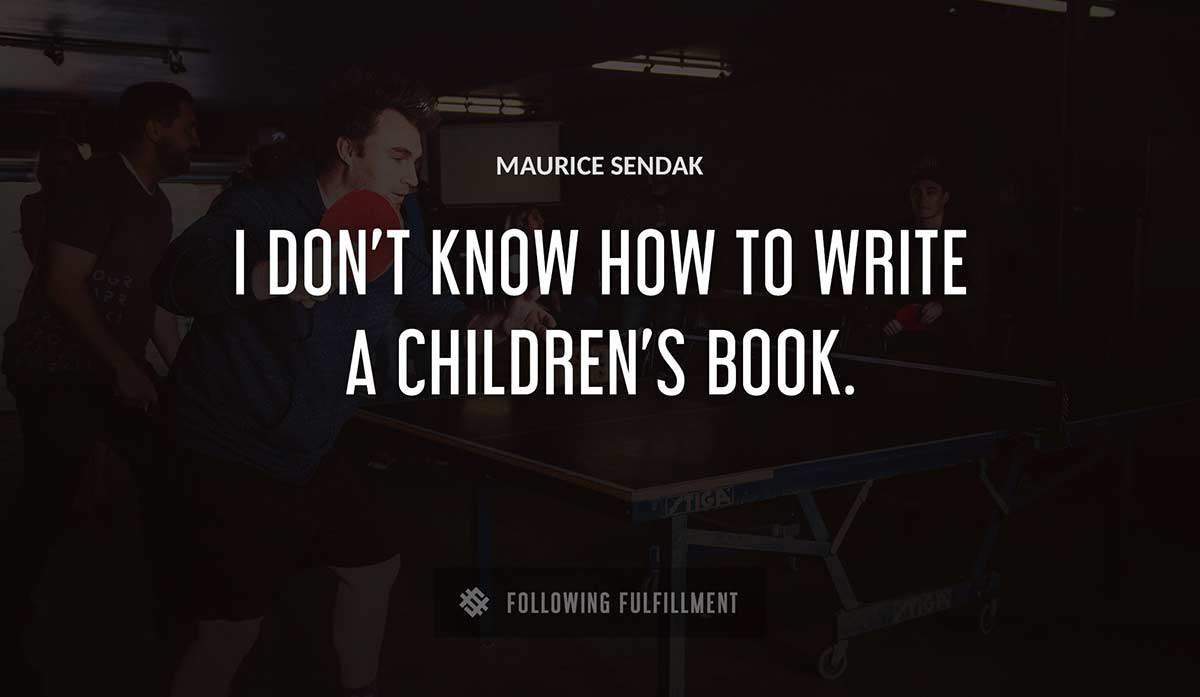 I wanted to be acknowledged as an artist, not just some kiddie–book artist. — Maurice Sendak
There's so much more to a book than just the reading. — Maurice Sendak
I do not remember any proper children's books in my childhood. I was not exposed to them. — Maurice Sendak
I write books that seem more suitable for children, and that's OK with me. They are a better audience and tougher critics. Kids tell you what they think, not what they think they should think. — Maurice Sendak
You cannot write for children They're much too complicated. You can only write books that are of interest to them. — Maurice Sendak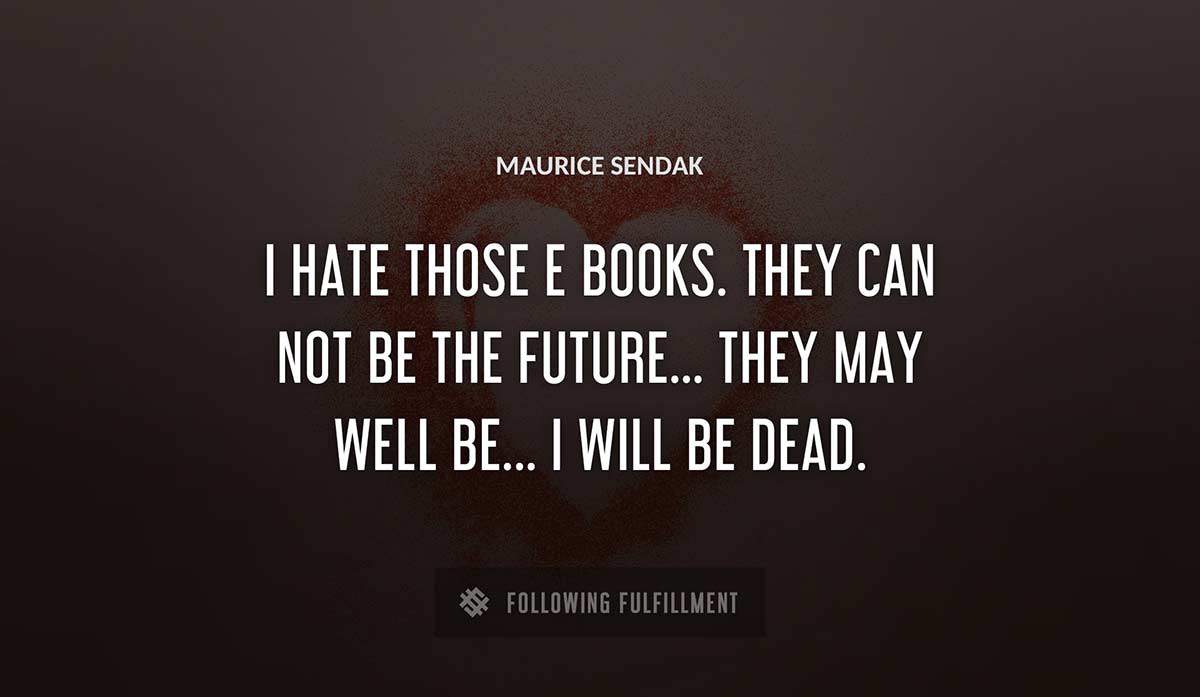 I had been reading a fabulous book [The Man Verdi, by Frank Walker] about [Giuseppe] Verdi, whom I adore. — Maurice Sendak
Kids books Grownup books That's just marketing. Books are books. — Maurice Sendak
A book is really like a lover. It arranges itself in your life in a way that is beautiful. — Maurice Sendak
I never set out to write books for children. I don't have a feeling that I'm gonna save children or my life is devoted. — Maurice Sendak
There are certain pieces of music that are always attached to certain books. — Maurice Sendak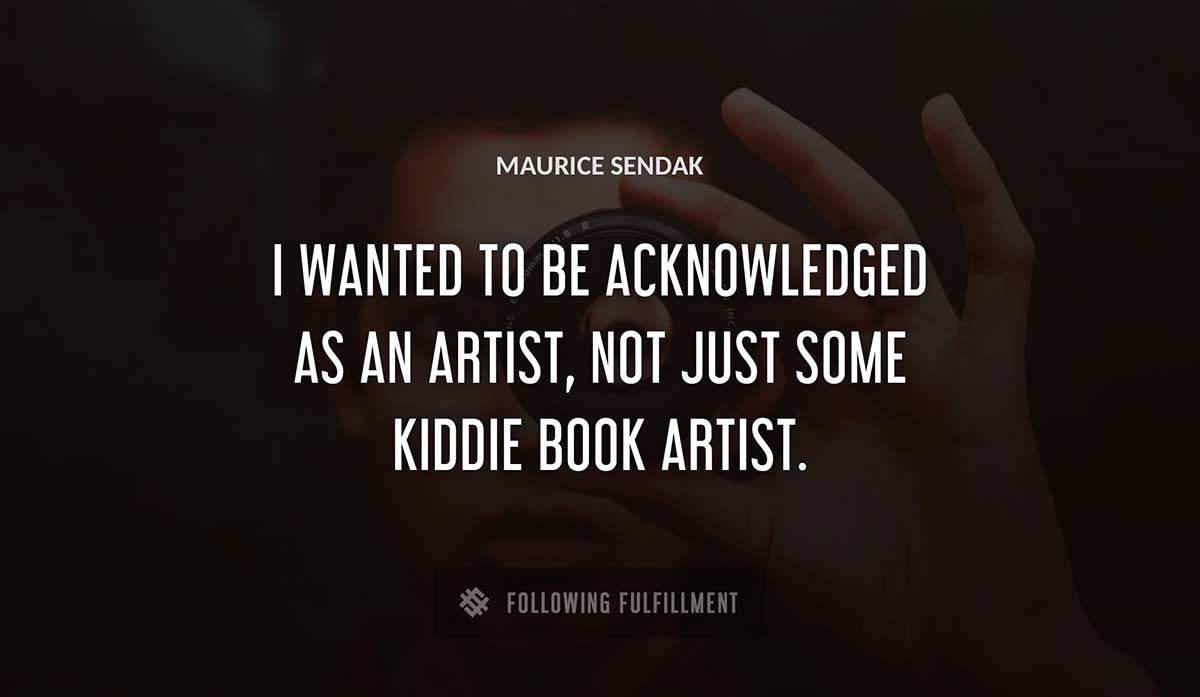 I think there is something barbaric in children, and it's missing in lots of books for them because we don't like to think of it. We want them to be happy [but] childhood is a very tough time. — Maurice Sendak
I have to accept my role. I will never kill myself like Vincent Van Gogh. Nor will I paint beautiful water lilies like Monet. I can't do that. I'm in the idiot role of being a kiddie book person. — Maurice Sendak
Bumble–ardy looks like a happy book. That's the funniest thing about it. But this was survival. I was working very hard to survive. — Maurice Sendak
I hate [ebooks]. It's like making believe there's another kind of sex. There isn't another kind of sex. There isn't another kind of book! A book is a book is a book. — Maurice Sendak
I never spent less than two years on the text of one of my picture books, even though each of them is approximately 380 words long. Only when the text is finished … do I begin the pictures. — Maurice Sendak
MAURICE SENDAK QUOTES ON LIFE
There must be more to life than having everything! — Maurice Sendak
I know that if there's a purpose for life, it was for me to hear Mozart. — Maurice Sendak
My life in Brooklyn was in constant danger because of my bad health. — Maurice Sendak
Kids lead a very private life. — Maurice Sendak
I wish you all good things. Live your life, live your life, live your life. — Maurice Sendak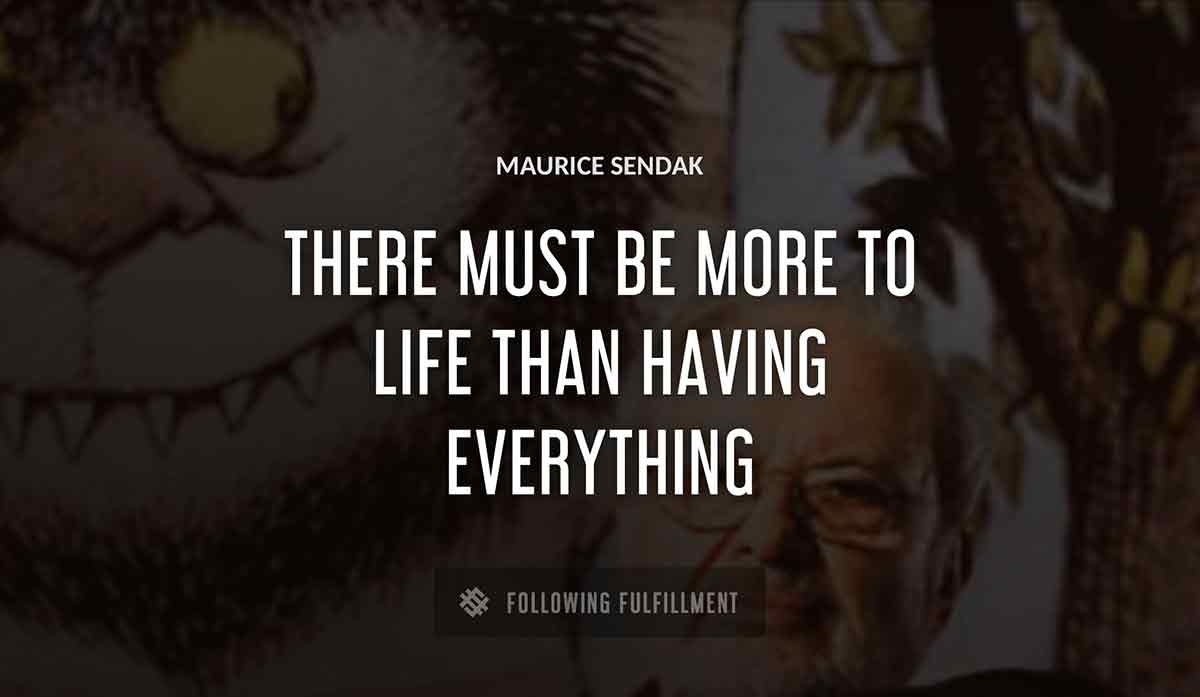 Truthfullness to life–both fantasy life and factual life–is the basis of all great art. — Maurice Sendak
If children are different from us, they are more spontaneous. Grown–up lives have become overlaid with dross. — Maurice Sendak
I never can satisfy some need in me to achieve something of incredible hight. For my sake. It puzzles me deeply. And it sours my life. So there is a permanent dissatisfaction. — Maurice Sendak
Life has only gotten better personally for me as I've gotten older. I mean, being young was such a gross waste of time. I was just such a miserable, miserable person. — Maurice Sendak
That's what art is. You don't make up stories. You live your life. — Maurice Sendak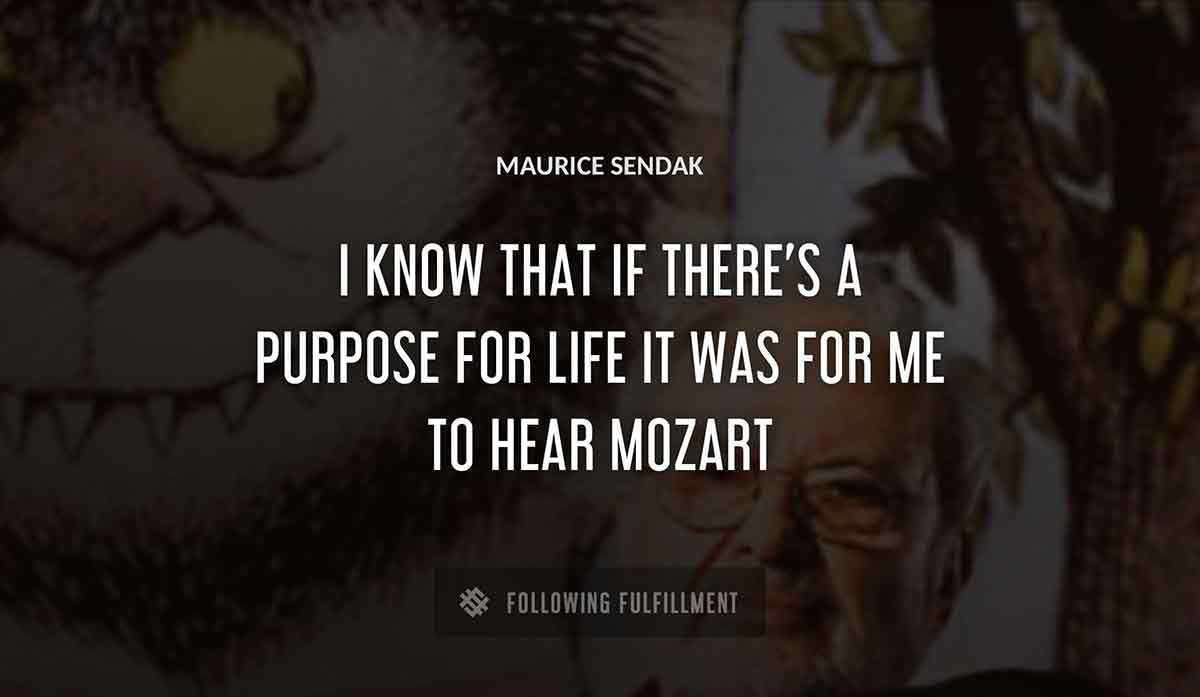 When Mozart is playing in my room, I am in conjunction with something I can't explain… I don't need to. I know that if there's a purpose for life, it was for me to hear Mozart. — Maurice Sendak
I feel it in me like a woman having a baby, all that life churning inside me. I feel it every day; it moves, stretches, yawns. It's getting ready to be born. It knows exactly what it is. — Maurice Sendak
I don't believe in an afterlife but I still fully expect to see my brother again. — Maurice Sendak
MAURICE SENDAK QUOTES ON PARENT
All I wanted was to be straight so my parents could be happy. They never, never, never knew. — Maurice Sendak
Kids never get pissed at their parents. Unheard of. — Maurice Sendak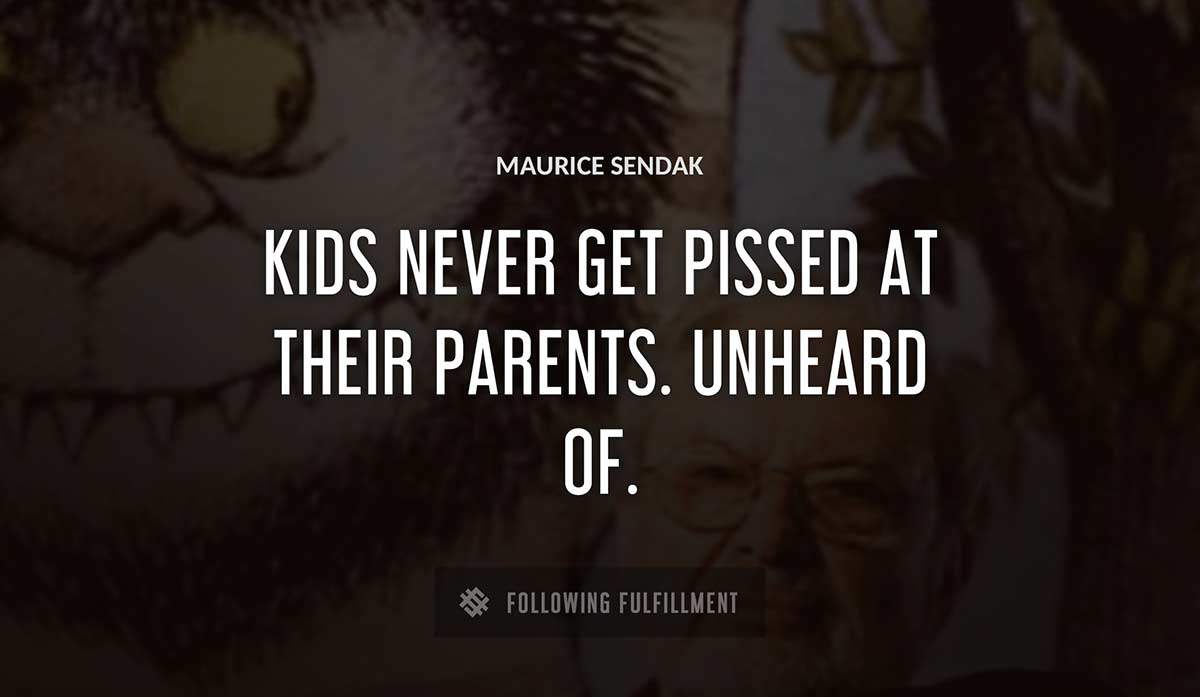 As a kid, all I thought about was death. But you can't tell your parents that. — Maurice Sendak
Redundant Thematics
In Maurice Sendak Statements
childhood
wild
child
parent
world
life
book
kid
I think people should be given a test much like driver's tests as to whether they're capable of being parents! — Maurice Sendak
That always seemed to be the most critical test that a child was confronted with–loss of parents, loss of direction, loss of love. Can you live without a mother and a father? — Maurice Sendak
We're supposed to be civilized. We're supposed to go to work every day. We're supposed to be nice to our friends and send Christmas cards to our parents. — Maurice Sendak
MAURICE SENDAK QUOTES ABOUT CHILDRENHOOD
Childhood is a tricky business. Usually something goes wrong. — Maurice Sendak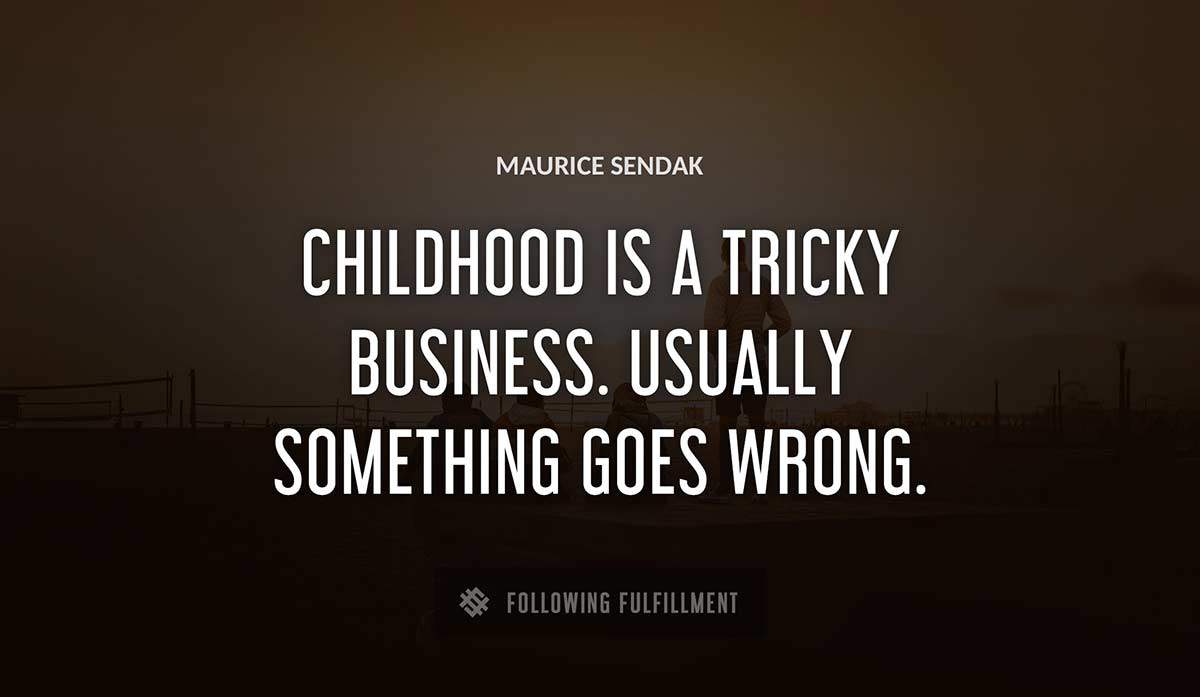 I had a brother who was my savior, made my childhood bearable. — Maurice Sendak
Why is my needle stuck in childhood? I don't know why. I guess it's because that's where my heart is. — Maurice Sendak
William Blake really is important, my cornerstone. Nobody ever told me before he did that childhood was such a damned serious business. — Maurice Sendak
Childhood is cannibals and psychotics vomiting in your mouth! — Maurice Sendak
I remember my own childhood vividly…I knew terrible things. But I knew I mustn't let adults know I knew. It would scare them — Maurice Sendak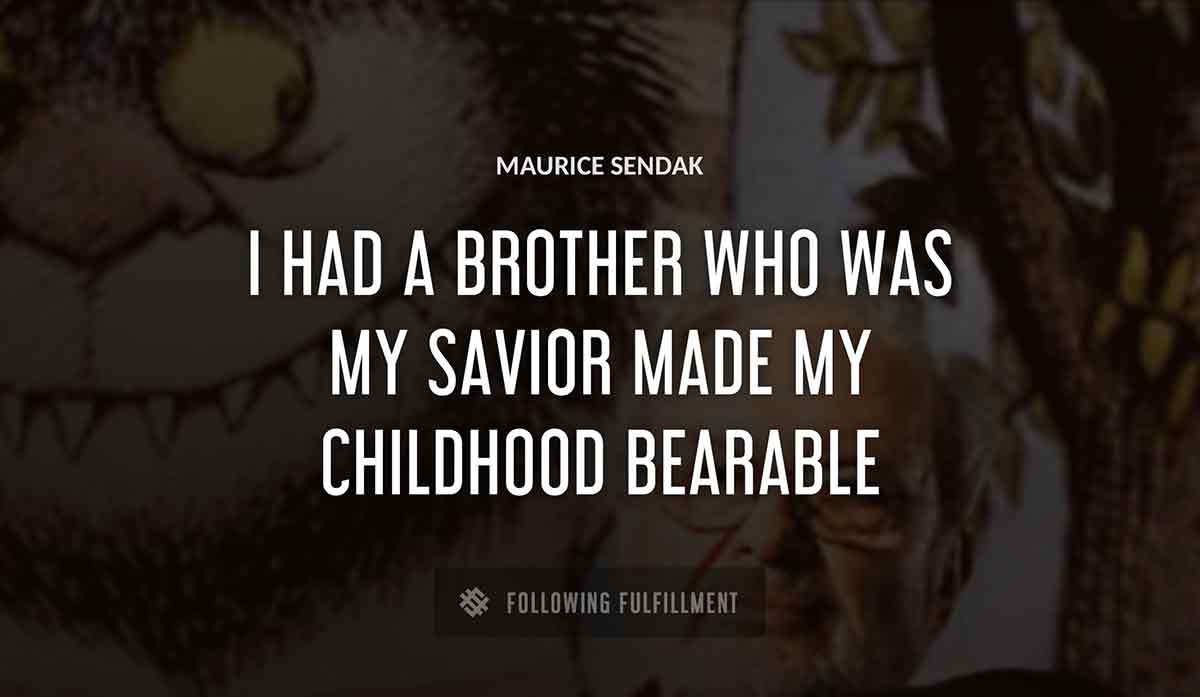 The magic of childhood is the strangeness of childhood–the uniqueness that makes us see things that other people don't see. — Maurice Sendak
MAURICE SENDAK QUOTES ABOUT CHILDREN
I don't write for children. I write, and somebody says, 'That's for children.' — Maurice Sendak
We've educated children to think spontaneity is inappropriate. — Maurice Sendak
There's something in this country that is so opposed to understanding the complexity of children. — Maurice Sendak
I don't believe in things literally for children. That's a reduction. — Maurice Sendak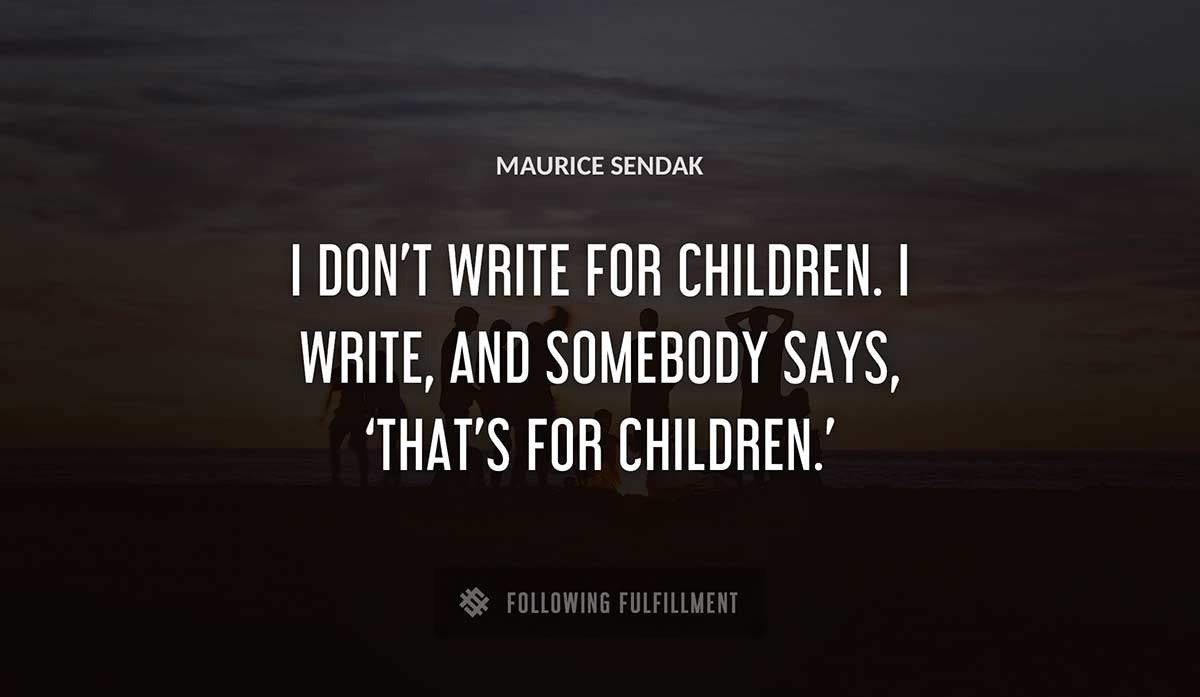 How do you write for children? I really have never figured that out. So I decided to just ignore it — Maurice Sendak
I adored Mickey Mouse when I was a child. He was the emblem of happiness and funniness. — Maurice Sendak
Bumble–ardy is a very wicked little child as far as I'm concerned. He's not to be trusted. — Maurice Sendak
And it is through fantasy that children achieve catharsis. It is the best means they have for taming Wild Things. — Maurice Sendak
To be a healthy person, you have to be sympathetic to the child you once were and maintain the continuity between you as a child and you as an adult. — Maurice Sendak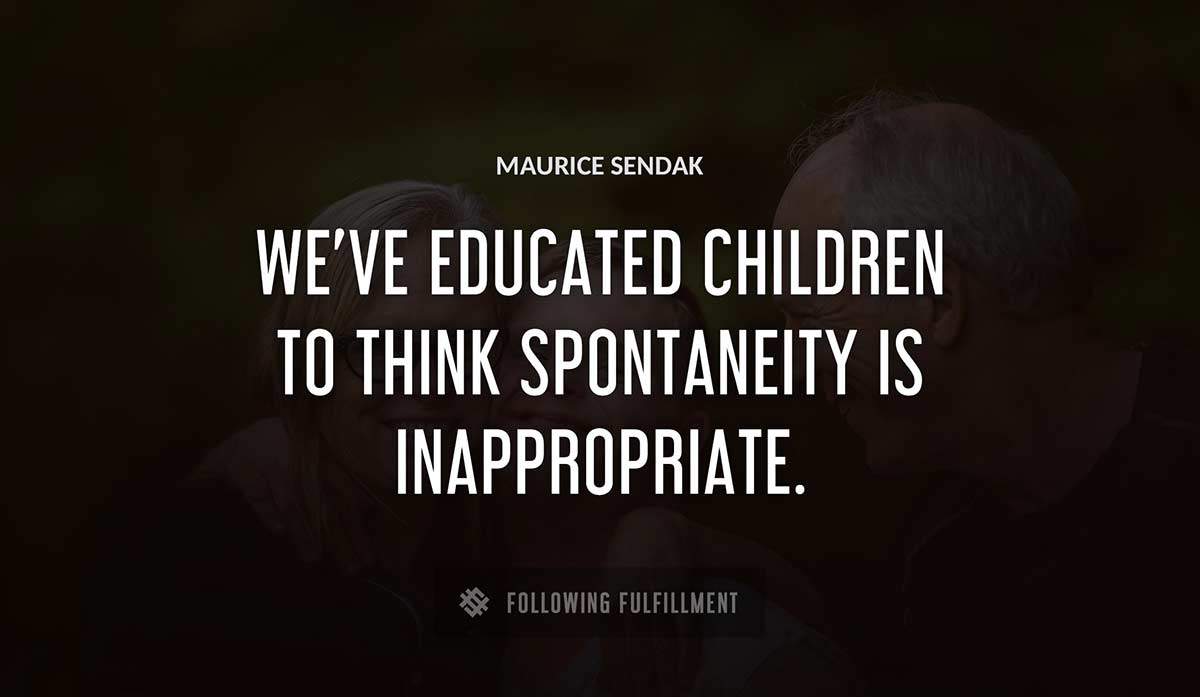 Do parents sit down and tell their kids everything? I don't know. I don't know. I've convinced myself–I hope I'm right–that children despair of you if you don't tell them the truth. — Maurice Sendak
Children surviving childhood is my obsessive theme and my life's concern. — Maurice Sendak
Children are the best living audience in the world because they are so thoroughly honest. — Maurice Sendak
I refuse to lie to children. I refuse to cater to the bullshit of innocence. — Maurice Sendak
I only have one subject. The question I am obsessed with is: How do children survive? — Maurice Sendak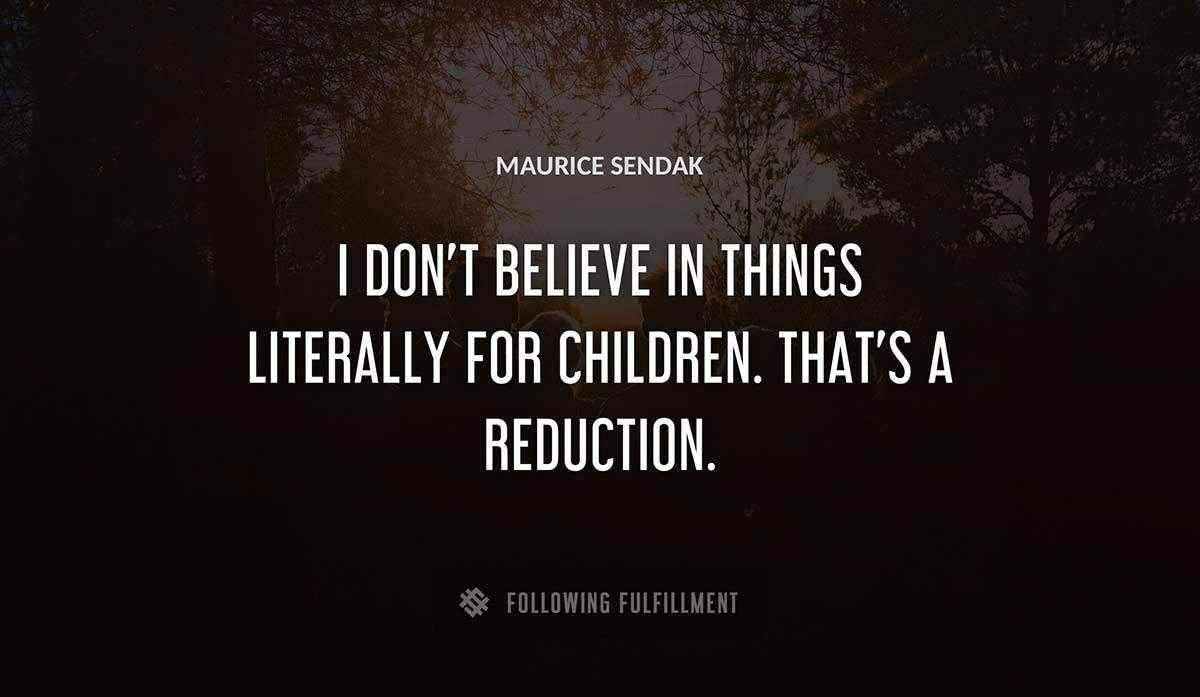 I was a very sickly child. My parents were immigrants. They were not decorous. They were not discreet. They always thought I was gonna die. — Maurice Sendak
When you hide another story in a story, that's the story I am telling the children. — Maurice Sendak
I mean, being a child was being a child, was being a creature without power, without pocket money, without escape routes of any kind. So I didn't want to be a child. — Maurice Sendak
Mothers and children are human beings, and they will sometimes do the wrong thing. — Maurice Sendak
In plain terms, a child is a complicated creature who can drive you crazy. There's a cruelty to childhood, there's an anger. — Maurice Sendak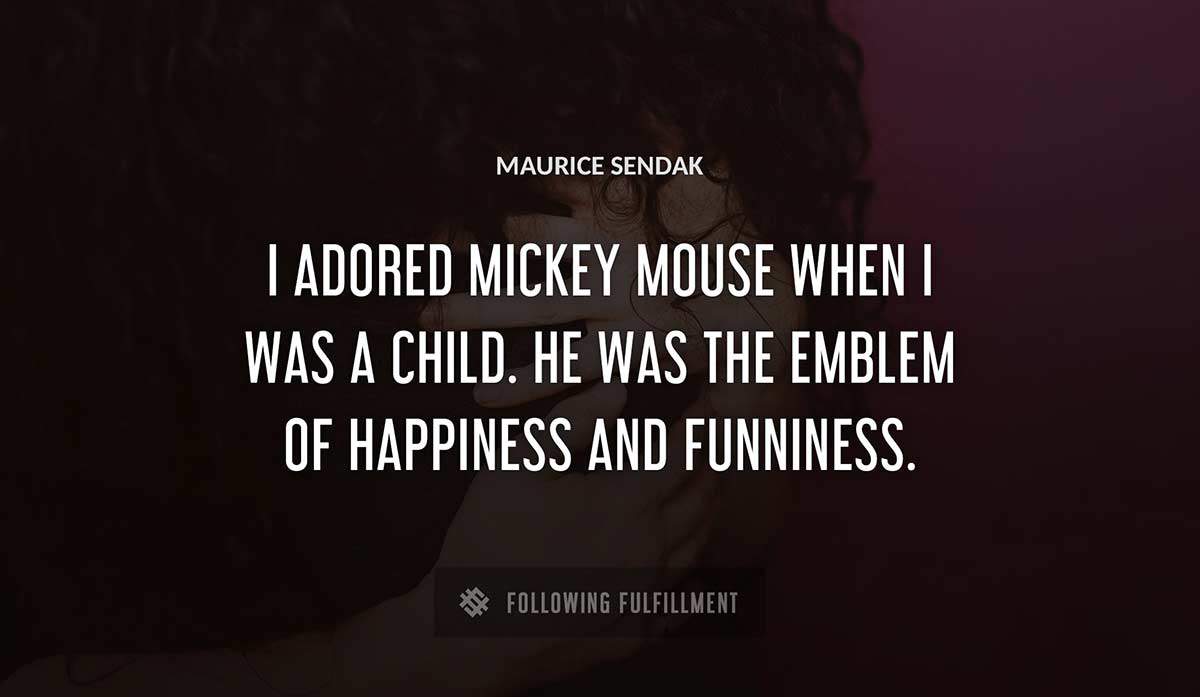 Parents shouldn't assume children are made out of sugar candy and will break and collapse instantly. Kids don't. We do. — Maurice Sendak
Children do live in fantasy and reality; they move back and forth very easily in a way we no longer remember how to do. — Maurice Sendak
I want to write something so simple, so short and so silly… and I want it to be for my brother. — Maurice Sendak
Kids tell you what they think, not what they think they should think. — Maurice Sendak