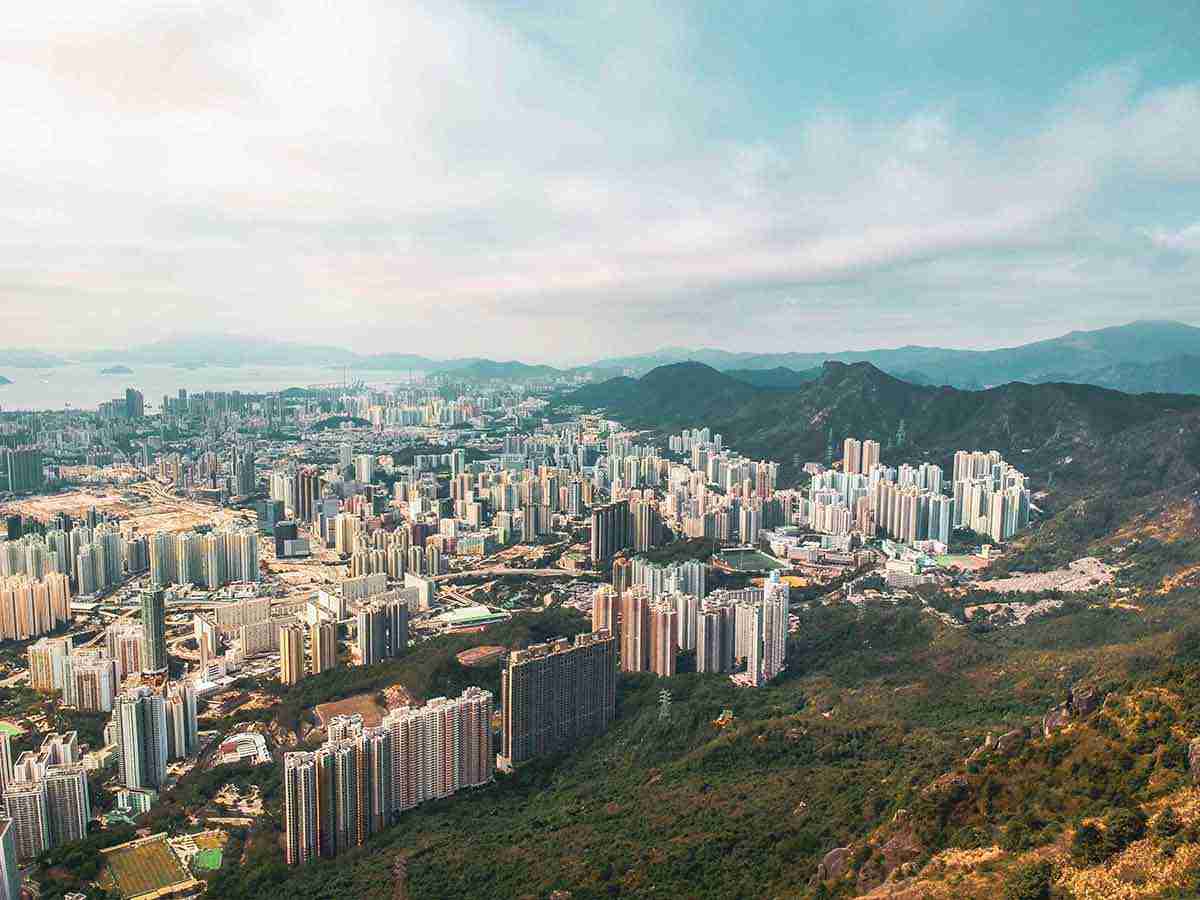 Some people are born to be stars. Loretta Lynn is one of those people. She was born in Butcher Holler, Kentucky, a poor coal mining town in the heart of Appalachia. From a young age, she knew she wanted to be a singer. She started singing at church and then at local bars and clubs. Her unique sound and rebellious spirit won her fans all over the world. Today, Loretta is a country music legend with dozens of hit songs to her name. She's still going strong after more than 50 years in the music industry, proving that you're never too old to follow your dreams.
We are glad to present you the best Music, Love, Time quotes from Loretta Lynn, and much more.
Summary
About Loretta Lynn
Born:
April 14, 1932
Genres:
Country, Honky-Tonk, Americana, Gospel
Occupation:
Singer-Songwriter
Instruments:
Vocals, Guitar
Years Active:
1960-Present
Labels:
Zero, Decca, Mca, Columbia, Third Man, Audium And More.
Associated Acts:
Patsy Cline, Crystal Gayle, The Lynns, Willie Nelson, Dolly Parton, Barbara Mandrell And More.
Website:
lorettalynn.com
LORETTA LYNN QUOTES ABOUT LOVE
I love people and I love to sing, and that's what keeps me going. — Loretta Lynn
I'd love to travel to the Holy Land. — Loretta Lynn
I'd love to work more with the American Indians, my people. — Loretta Lynn
I never knew where babies came from until it happened to me. — Loretta Lynn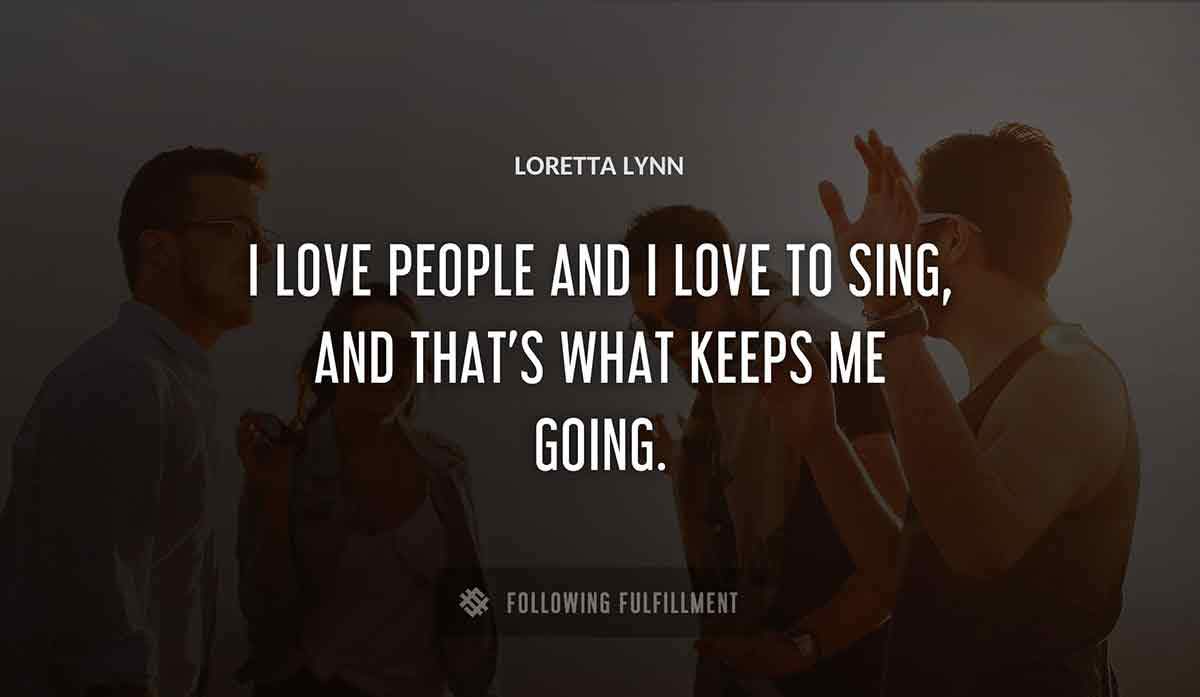 LORETTA LYNN QUOTES ABOUT MUSIC
A woman's two cents worth is worth two cents in the music business. — Loretta Lynn
All music is based on country music. And that's why so many different kinds of people relate to it. There are more country music fans in New Jersey than there are down South. — Loretta Lynn
I think Charley Pride has been one of the best things to happen to country music, to prove it belongs to everybody. — Loretta Lynn
When I'd tell people I like country music they'd get this look on their faces. People were kind of ashamed of country. — Loretta Lynn
I don't like to talk about things where you're going to gt one side or the other unhappy. My music has no politics. — Loretta Lynn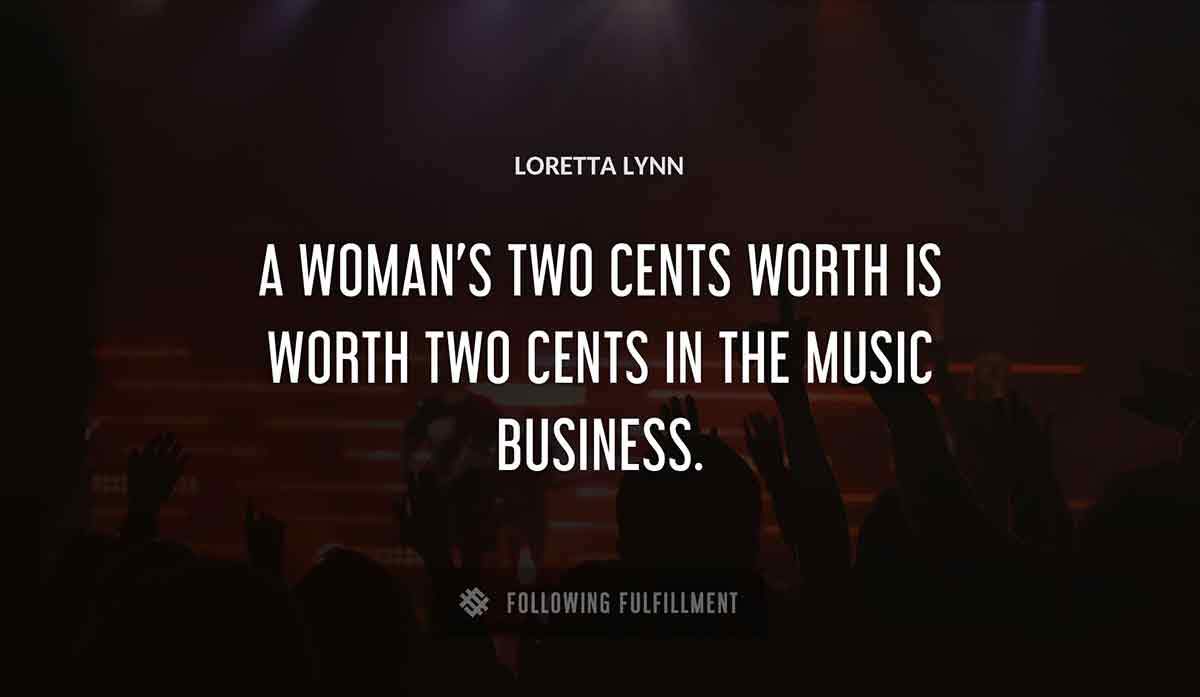 I know there's some kind of history to mountain music–like it came from Ireland or England or Scotland and we kept up the tradition. — Loretta Lynn
Me and my partner, Conway Twitty, cleaned up at the 1972 Country Music Association Awards. — Loretta Lynn
I was the first woman ever named Entertainer of the Year in country music. — Loretta Lynn
I've seen country music go uptown, like we say, and I'm proud I was there when it happened. — Loretta Lynn
When I first came to Nashville, people hardly gave country music any respect. We lived in old cars and dirty hotels, and we ate when we could. — Loretta Lynn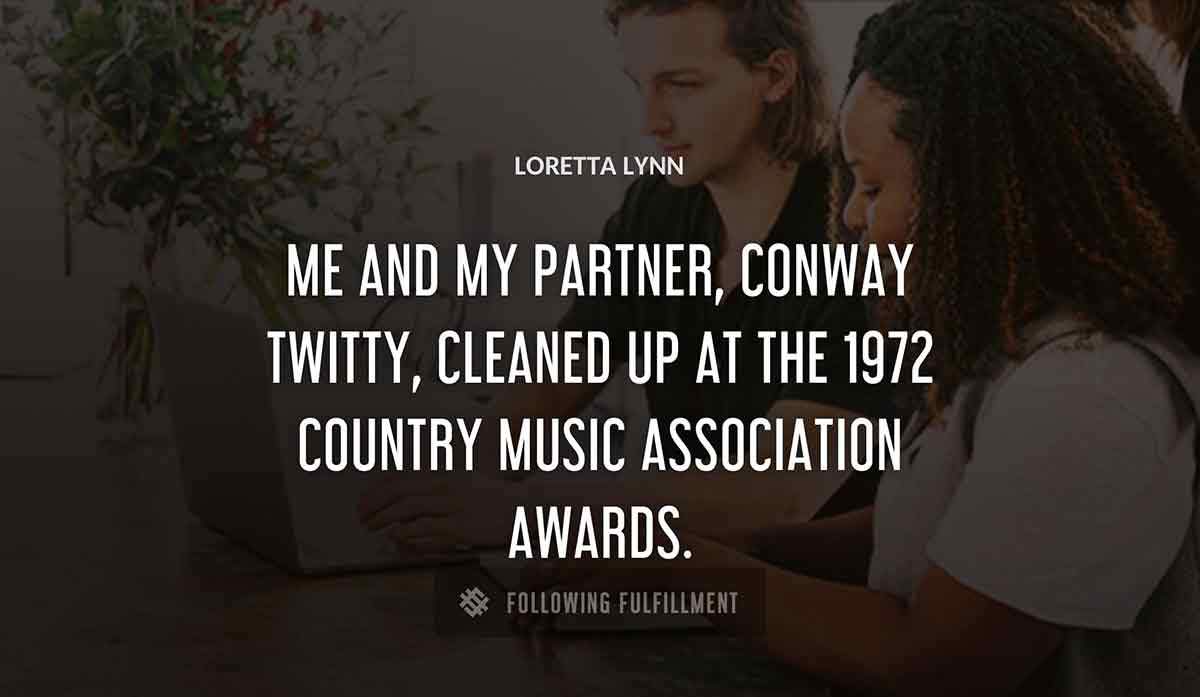 LORETTA LYNN QUOTES ABOUT TIME
I was married when I wasn't quite 14 and had four babies by the time I was 18. — Loretta Lynn
I've been around a long time, and life still has a whole lot of surprises for me. — Loretta Lynn
I've been married to the same man for all this time. The way we fight sometimes, you can tell. — Loretta Lynn
I'm proud of being part Cherokee, and I think it's time all us Indians felt the same way. — Loretta Lynn
There's more women stars in Nashville all the time. They're proving they can do the job the same as a man. — Loretta Lynn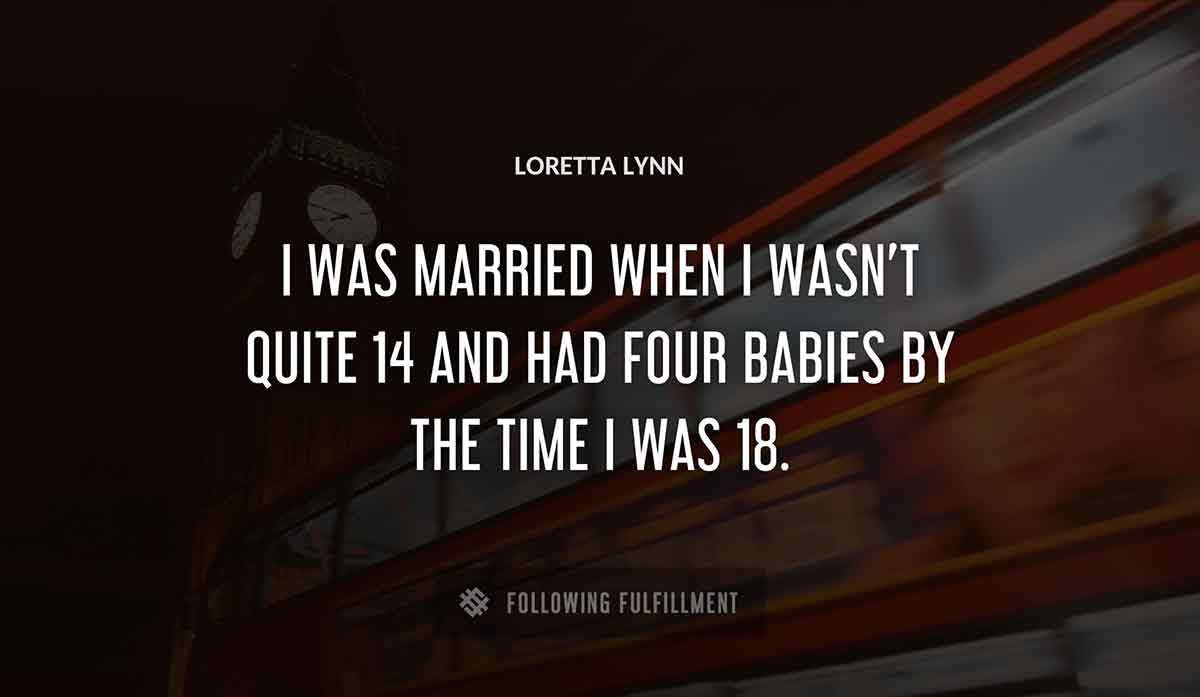 Mommy smoked but she didn't want us to. She saw smoke coming out of the barn one time, so we got whipped. — Loretta Lynn
Doolittle looked just like a little toy soldier the first time I ever saw him. — Loretta Lynn
Being on stage is the best part of my career. I just say whatever comes into my head. It's the only time I feel grown–up and in control of things. — Loretta Lynn
Redundant Thematics
In Loretta Lynn Statements
Inspiring Phrases From Loretta Lynn
I didn't know how babies were made until I was pregnant with my fourth child. — Loretta Lynn
You have to be different, great or first. — Loretta Lynn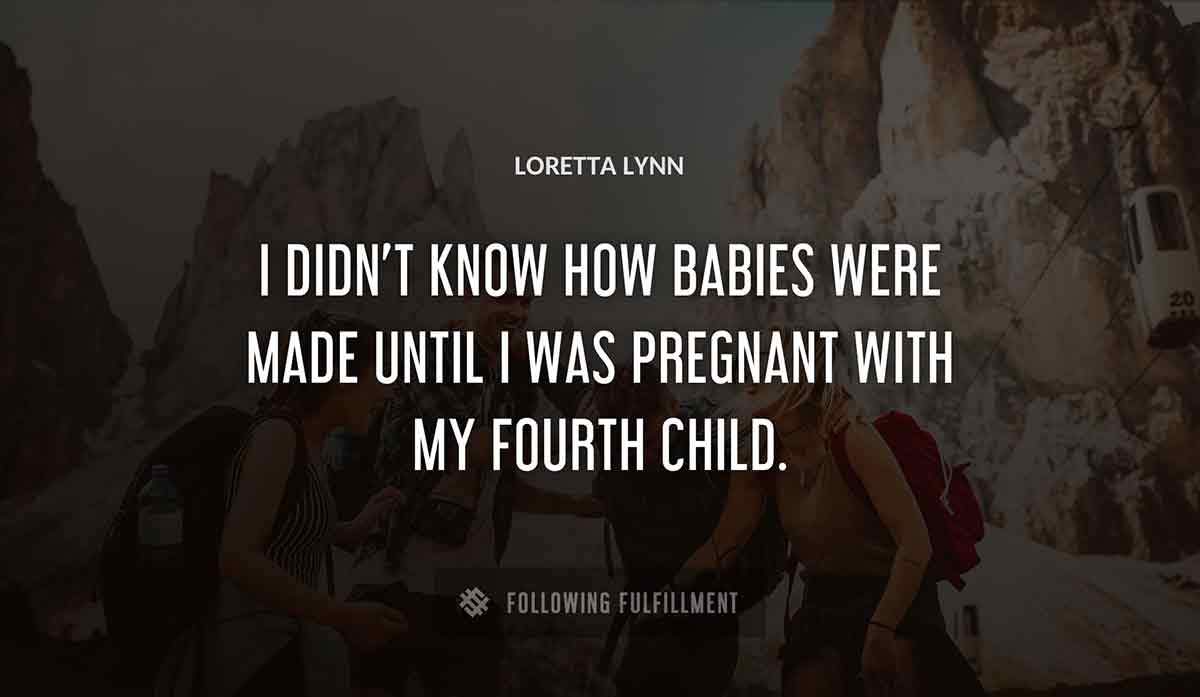 My attitude toward men who mess around is simple: If you find 'em, kill 'em. — Loretta Lynn
You have to be first, different, or great. If you're one of them, you may make it. — Loretta Lynn
You either have to be first, best or different. — Loretta Lynn
I know what it's like to be pregnant and nervous and poor. — Loretta Lynn
I've always been full of nervous energy, but I'm not really as happy as I seem. — Loretta Lynn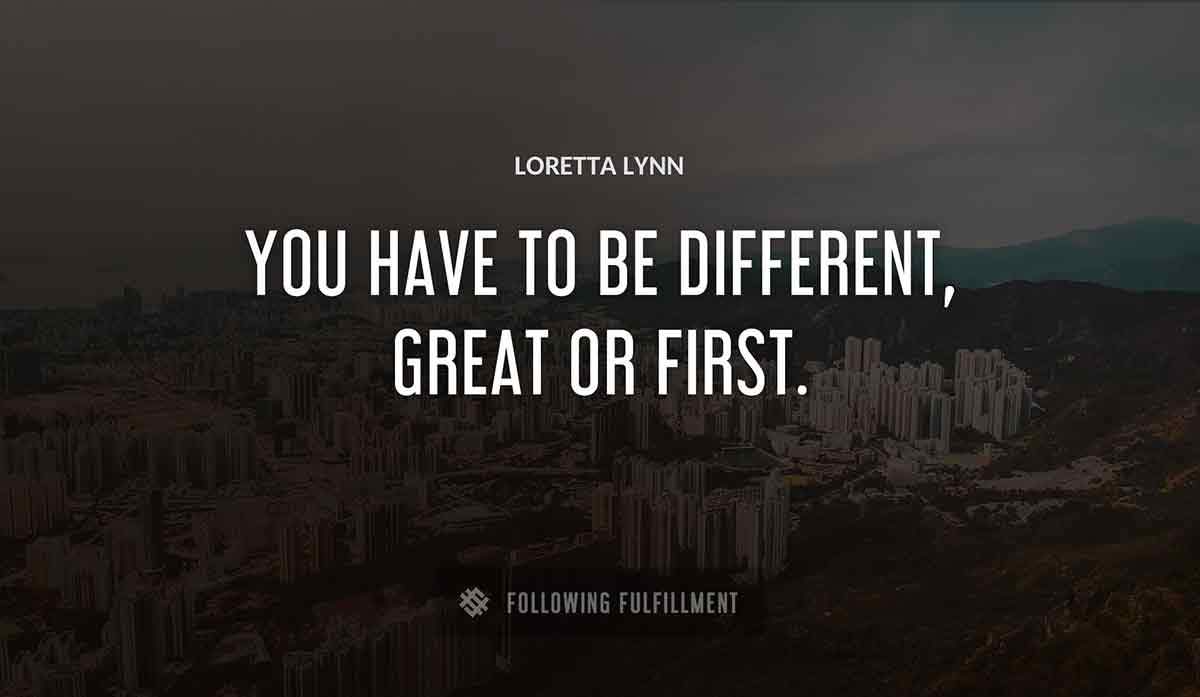 Various Statements From Loretta Lynn
A lot of people say I'd miss show business if I quit. I'd miss some of it. Now it's the only life I know. — Loretta Lynn
We still lend our old house out to relatives. They keep a guest book for my fans to sign. — Loretta Lynn
Do the best you can with yourself and hope for the best. — Loretta Lynn
I ain't got much education, but I got some sense. — Loretta Lynn
Write about the truth. If you write about the truth, somebody's living that. Not just somebody, there's a lot of people. — Loretta Lynn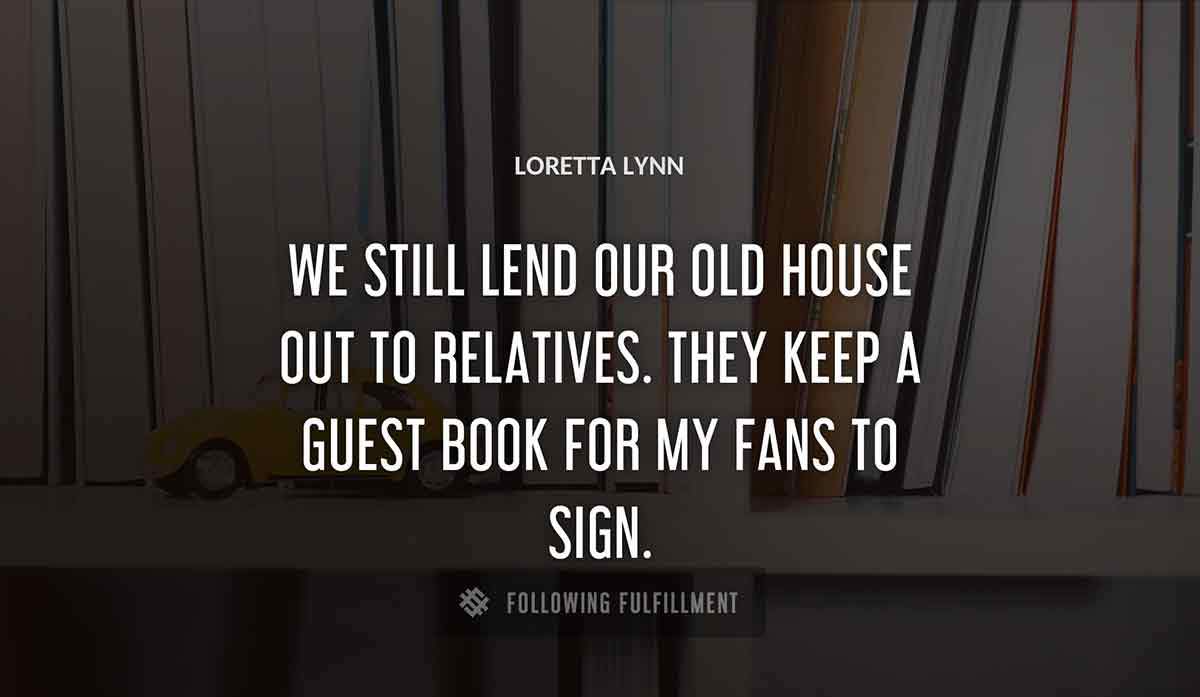 I'm trying to lead a good Christian life, so there ain't too much spicy to tell about me. — Loretta Lynn
My life has run from misery to happiness. — Loretta Lynn
LORETTA LYNN Quotes Take Away
Loretta Lynn is an inspiration to many, and her words remind us that anything is possible with hard work and determination. We hope these quotes have inspired you as much as they've inspired us, and we encourage you to check out our courses if you want to learn more about how to achieve success in your life.