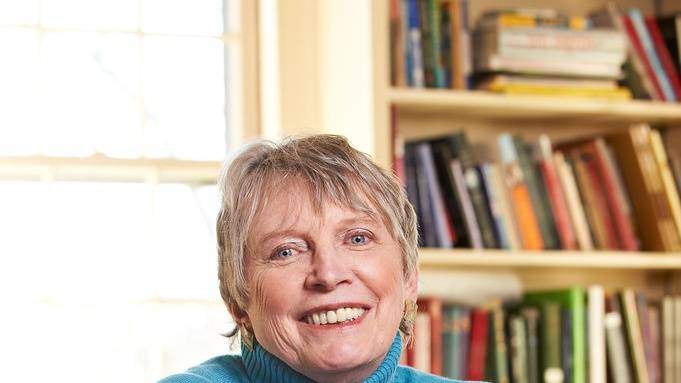 Author Lois Lowry is one of the most highly acclaimed and beloved writers for children and young adults in the world. She has written over thirty books, twenty-one of which have been New York Times bestsellers. In 1994, she was awarded the prestigious Newbery Medal for her masterwork The Giver. Lowry's novels are often praised for their compelling storytelling and thought-provoking themes. Many deal with difficult subjects such as death, loss, and grief, but they never preach or condescend. Rather, they invite readers to explore these ideas themselves and come to their own conclusions. Lowry's work has been translated into more than thirty languages, and she is constantly in demand as a speaker all over the world.
Discover the strongest Time, Memory, Life, World, Pain quotes from Lois Lowry, and much more.
Summary
LOIS LOWRY QUOTES ON MEMORY
It's just that… without the memories it's all meaningless. — Lois Lowry
Memories are forever. — Lois Lowry
Memory is the happiness of being alone. — Lois Lowry
If you were to be lost in the river, Jonas, your memories would not be lost with you. Memories are forever. — Lois Lowry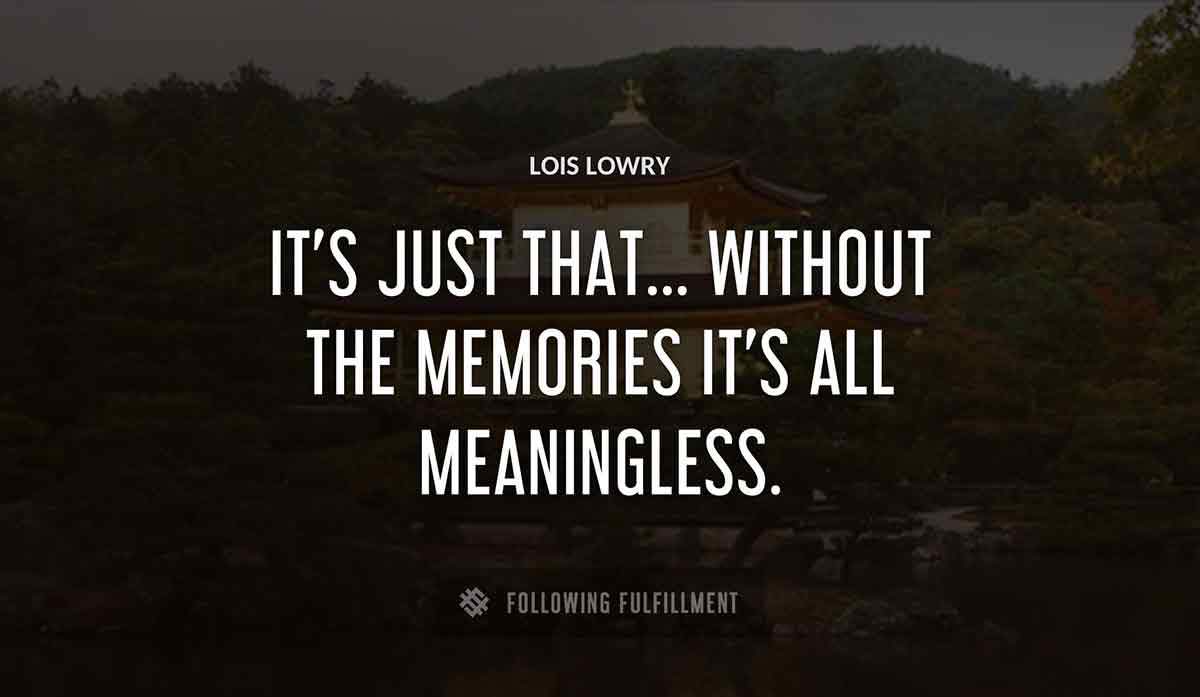 I've always been fascinated by memory and dreams because they are both completely our own. No one else has the same memories. No one has the same dreams. — Lois Lowry
And here in this room, I re–experience the memories again and again it is how wisdom comes and how we shape our future. — Lois Lowry
LOIS LOWRY QUOTES ABOUT THE WORLD
But there's a whole world waiting, still, and there are good things in it. — Lois Lowry
I don't know what she is now. A stranger, mostly. It's as if she has become a part of a different world, one that doesn't include me anymore. — Lois Lowry
There is something about that moment, when literature becomes accessible, and a door of the world opens. — Lois Lowry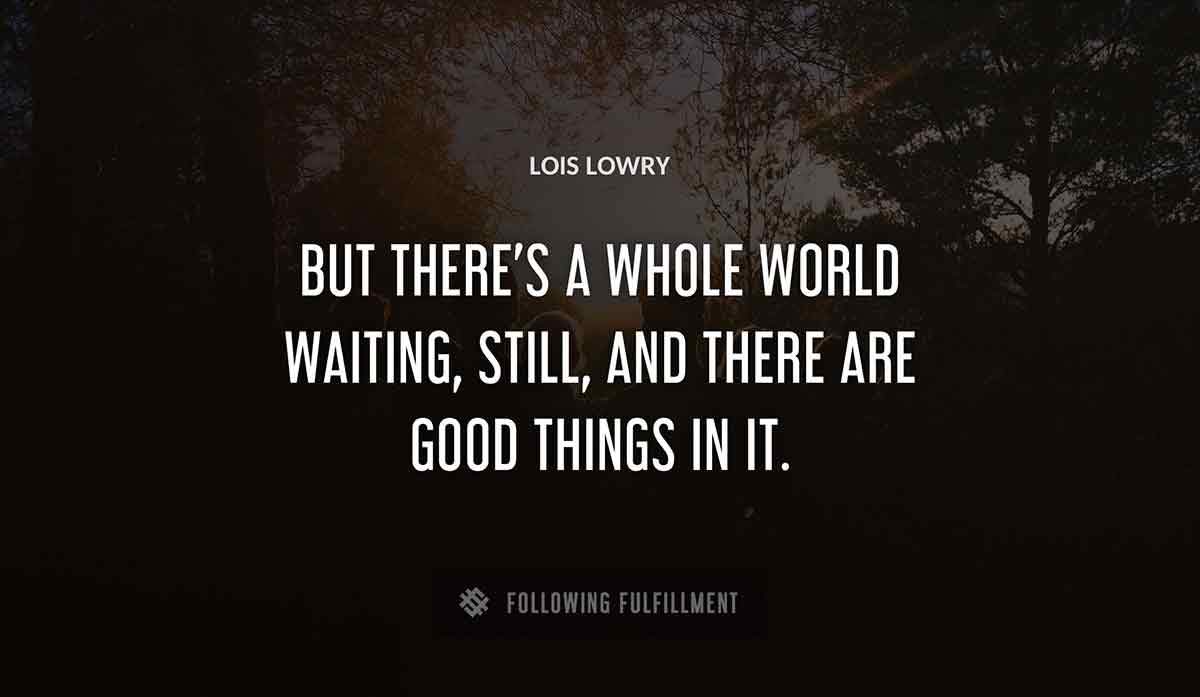 Mama was crying, and the rain made it seem as if the whole world was crying. — Lois Lowry
A whole world can lie before someone, if love is there when one wakes. — Lois Lowry
And they are beginning to realize that the world they live in is a place where the right thing is often hard, sometimes dangerous, and frequently unpopular. — Lois Lowry
Ellen had said that her mother was afraid of the ocean, that it was too cold and too big. The sky was, too, thought Annemarie. The whole world was: too cold, too big. And too cruel. — Lois Lowry
When I was a kid in the '50s, during the Eisenhower years, everything seemed to be working fine. I don't recall as a teenager ever worrying about the state of the future world. — Lois Lowry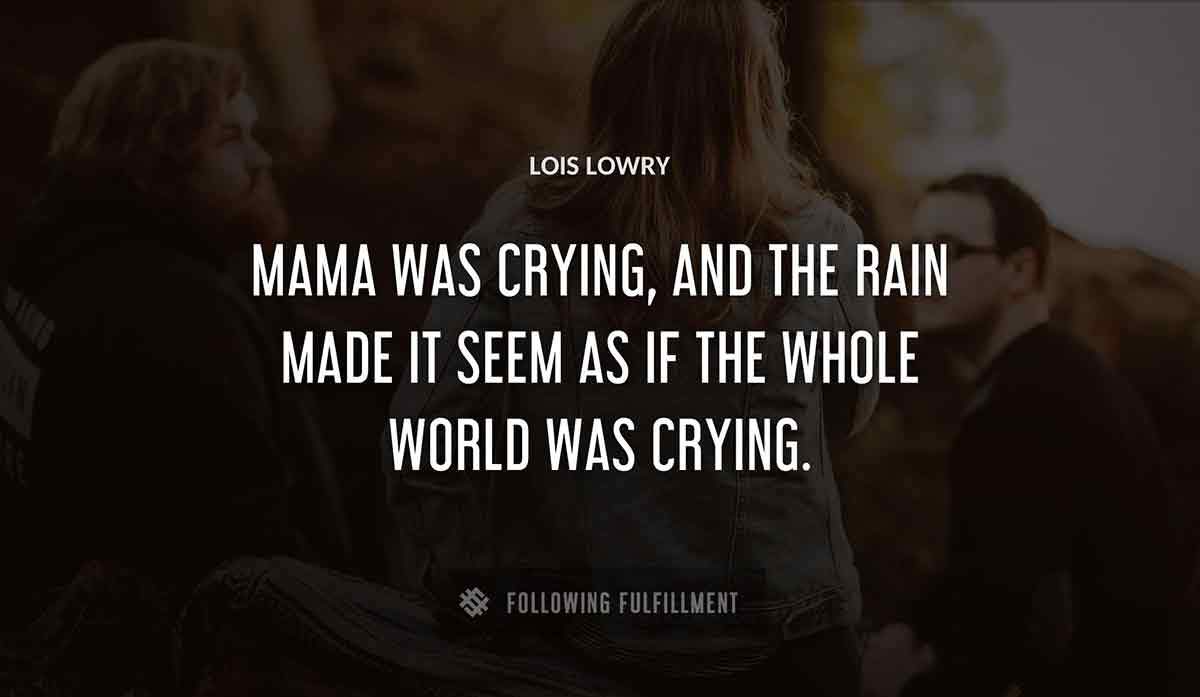 I believe without a single shadow of a doubt that it is necessary for young people to learn to make choices. Learning to make right choices is the only way they will survive in an increasingly frightening world. — Lois Lowry
The whole world had changed. Only the fairy tales remained the same. — Lois Lowry
Kids deserve the right to think that they can change the world. — Lois Lowry
LOIS LOWRY QUOTES ON PAIN
Be proud of your pain, for you are stronger than those with none. — Lois Lowry
Take pride in your pain,' her mother had always told her. 'You are stronger than those who have none. — Lois Lowry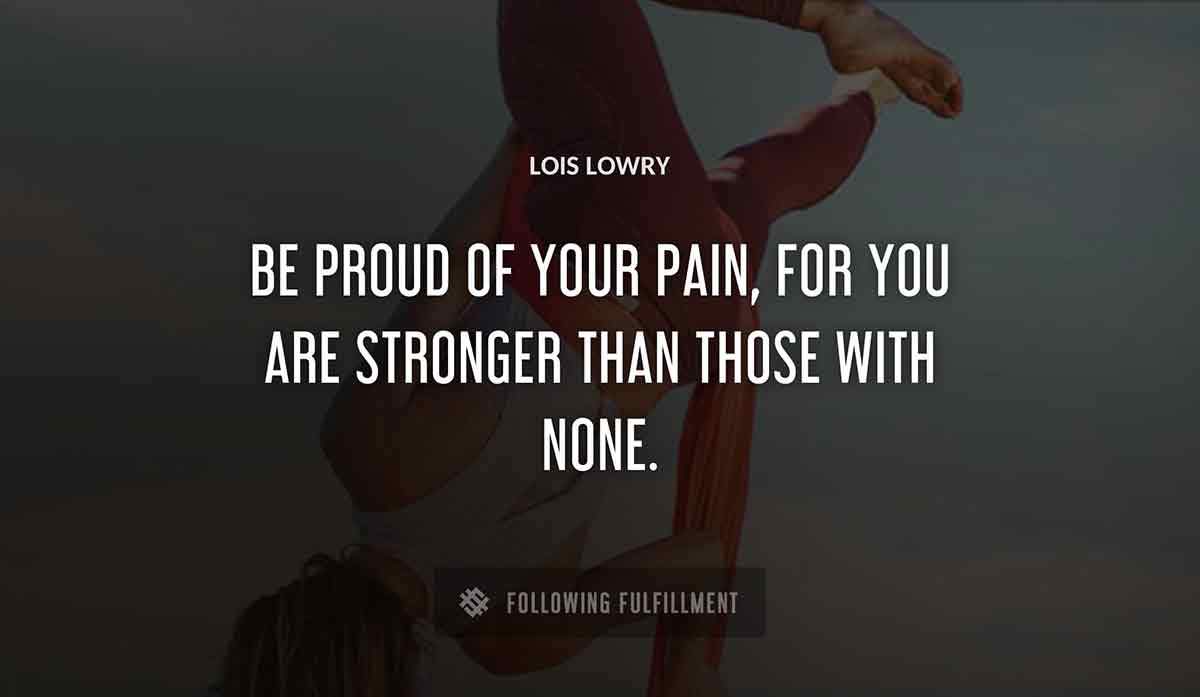 The life where nothing was ever unexpected. Or inconvenient. Or unusual. The life without colour, pain or past. — Lois Lowry
Redundant Thematics
In Lois Lowry Statements
year
parent
world
time
memory
life
book
give
pain
They have never known pain, he thought. The realization made him feel desperately lonely. — Lois Lowry
The worse part of holding the memories is not the pain. It's the loneliness of it. Memories need to be shared. — Lois Lowry
LOIS LOWRY QUOTES ABOUT TIME
When people have the freedom to choose, they choose wrong, every single time. — Lois Lowry
It is so good to have friends who understand how there is a time for crying and a time for laughing, and that sometimes the two are very close together. — Lois Lowry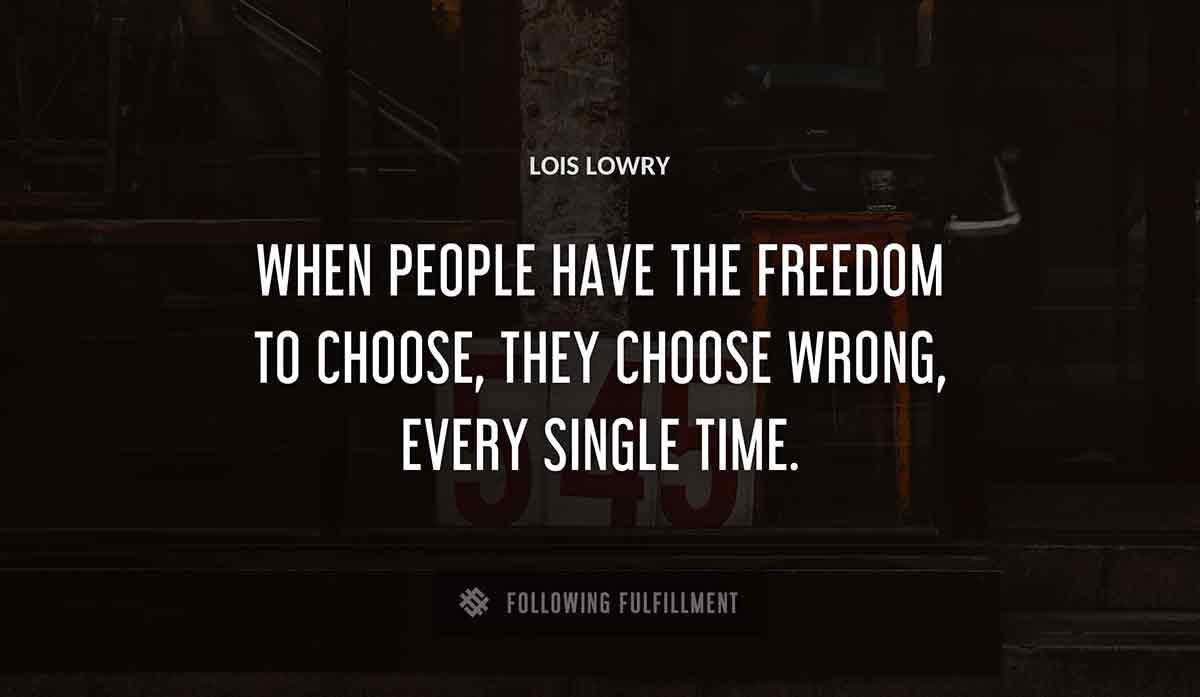 I left home at the correct time but when I was riding along near the hatchery, the crew was separating some salmon, I guess I just got distraught, watching them. — Lois Lowry
It is very risky. But each time a child opens a book, he pushes open the gate that separates him from Elsewhere. — Lois Lowry
Nowadays it seems as though people sit down to write what they know is going to be a trilogy. — Lois Lowry
LOIS LOWRY QUOTES ON LIFE
There are those, I think, who are attracted to the glitz of celebrity life. I am not one of them. — Lois Lowry
What's important is the preparation for adult life, and the training you'll receive in your Assignment. — Lois Lowry
I have been fortunate. I have done so many things and enjoyed so many things and had such a great life, not to imply that it is ending, but that there aren't many things that I feel I have left undone. — Lois Lowry
Oddly, the military world is one of great sameness. There is an orderly quality to life on an army base, and even the children of the military are brought up with that sense of order and sameness. — Lois Lowry
Then I went home to continue my life, which had changed a little, as lives do every day, inching by microspecks forward toward whatever surprises are coming next. — Lois Lowry
They were satisfied with their lives which had none of the vibrance his own was taking on. And he was angry at himself, that he could not change that for them. — Lois Lowry
LOIS LOWRY Quotes Take Away
Lois Lowry is one of my favorite authors. She has a way of capturing the human experience that is both beautiful and harsh. Her words are like mirrors, reflecting back to us what we often try to hide from ourselves. I hope you've found these quotes as inspiring as I have. If you're looking for more writing inspiration, check out our courses. We have something for everyone, regardless of your skill level or experience.