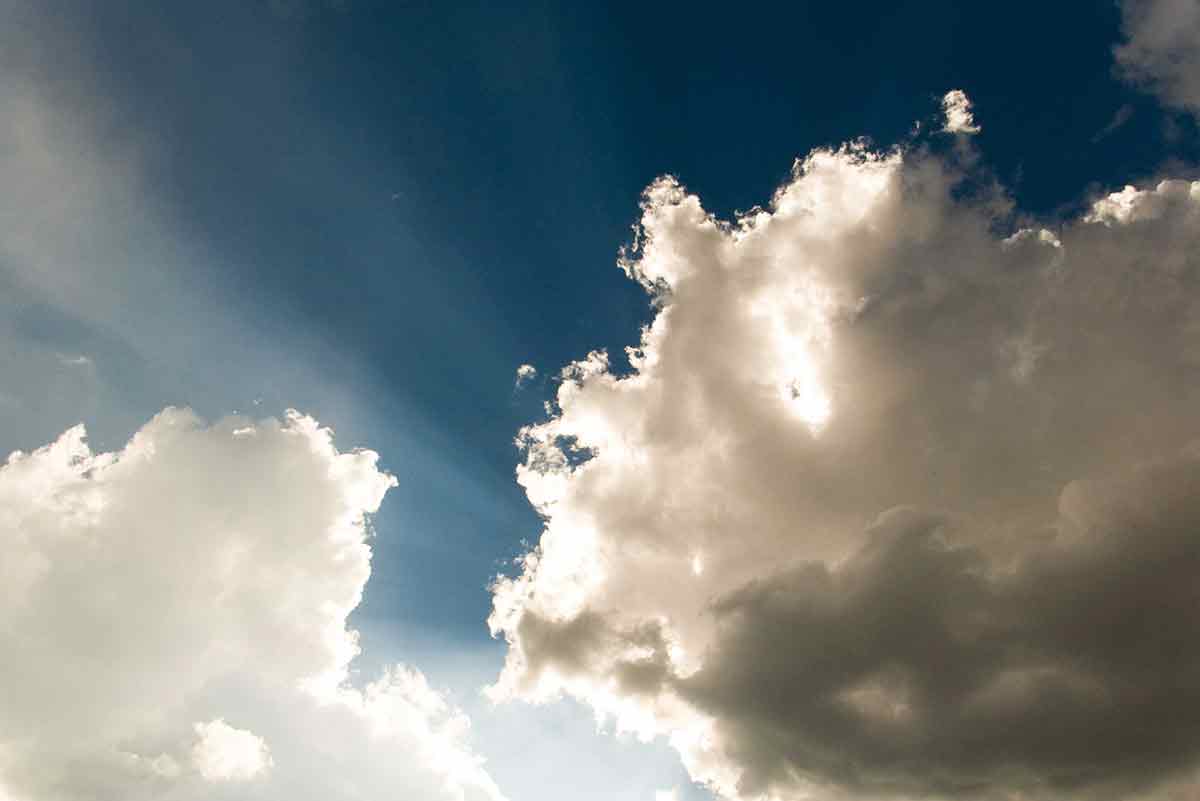 Have you ever wondered how a country boy from Tennessee became one of the biggest stars in country music? Kenny Chesney's story is one of hard work, determination, and perseverance. His journey is full of ups and downs, but ultimately, Chesney has found success by staying true to himself.
Discover the best Music, Love, Feelings, Life quotes from Kenny Chesney, and much more.
Summary
About Kenny Chesney
Born:
March 26, 1968
Genres:
Country, Country Rock, Gulf And Western, Neotraditional Country
Occupation:
Singer, Songwriter, Guitarist, Record Producer, Musician And More.
Instruments:
Vocals, Guitar
Years Active:
1988-Present
Labels:
Capricorn, Bna, Columbia, Warner Nashville, Blue Chair And More.
Associated Acts:
Grace Potter, Jimmy Buffett, Mindy Smith, George Jones, Ziggy Marley, Uncle Kracker And More.
Website:
kennychesney.com
KENNY CHESNEY QUOTES ABOUT LOVE
Live a little, love a lot. — Kenny Chesney
I love you baby goodnight. There goes my life — Kenny Chesney
I'm what I am and I'm what I'm not. And I'm sure happy with what I've got. I live to love and laugh a lot. And that's all I need. — Kenny Chesney
I'm a big sports history buff. I love sports. — Kenny Chesney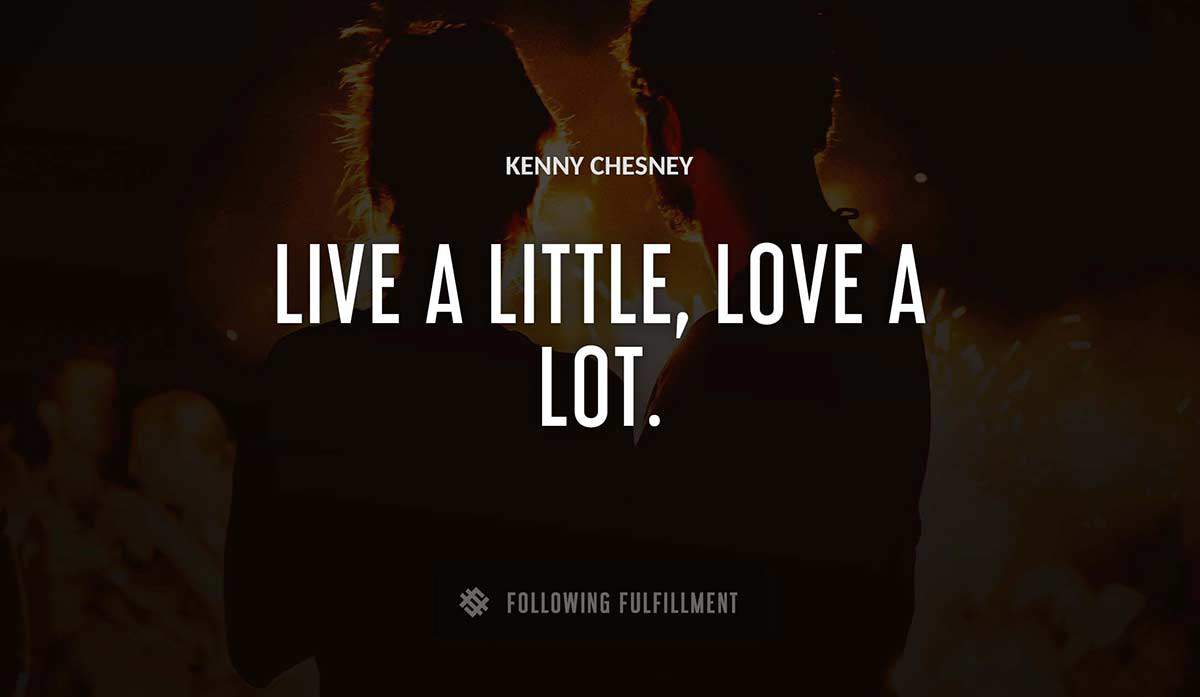 I'm pretty firm in my sexuality and my love for women. — Kenny Chesney
I love the fact that I can go out there on stage with a guitar and sing a song that means something to somebody. — Kenny Chesney
I like to rock and roll, but I'm a mushy guy, too. I want to be the guy that all the girls love and all the guys want to hang out with. — Kenny Chesney
I'm uncomfortable with being famous. I hate it. But I love making music. I love getting paid to do it, and I love getting on my boat after I get paid to do it. — Kenny Chesney
The thing that I love, especially after sound check, is when I'm in that stadium alone. It's complete silence. I love that. — Kenny Chesney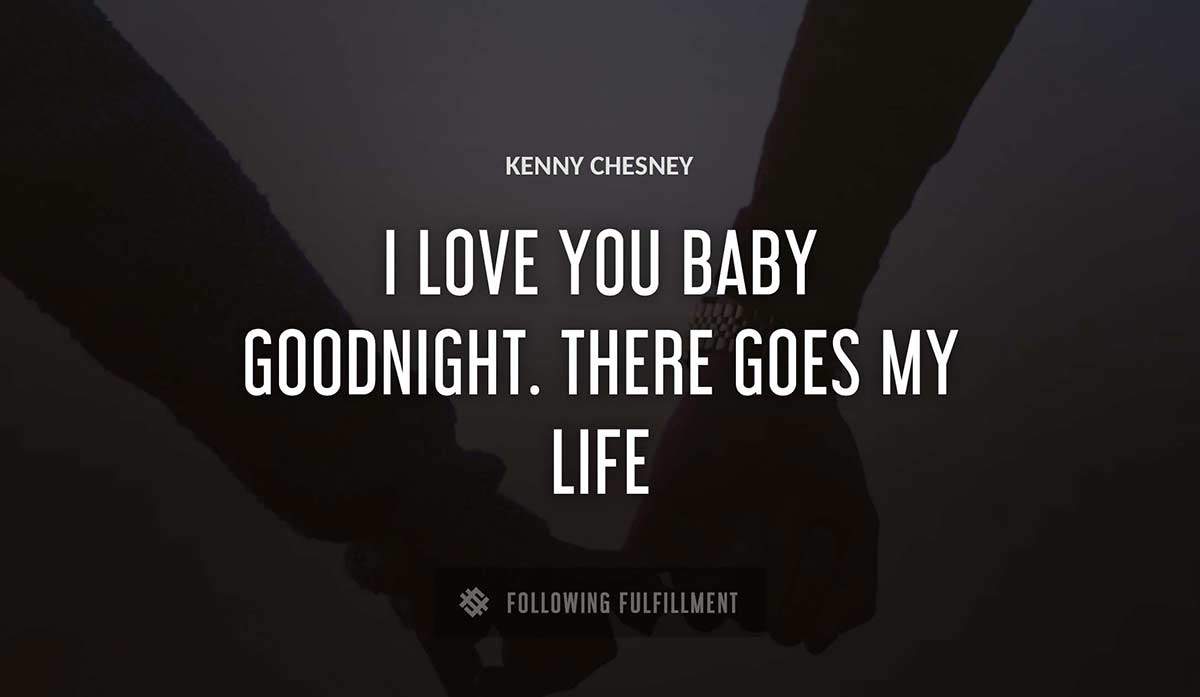 I love living my life in flip–flops. I met a guy in the islands a while ago who told me he hadn't worn a pair of shoes in three years! I thought, 'Man, that's the life!' — Kenny Chesney
KENNY CHESNEY QUOTES ABOUT FEELINGS
When I'm onstage I just want to feel as comfortable as I possibly can. — Kenny Chesney
I don't think I ever feel sexy. I don't think that's for me to decide, if I'm sexy or not. — Kenny Chesney
So many nights I'm up there on stage and I wish everybody out in the audience could see what I see and feel what I feel. — Kenny Chesney
There's this emotion we all feel of being overwhelmed at times, feeling that you can't get ahead. For me it's self–imposed because I'm so driven and I'm always going from project to project. — Kenny Chesney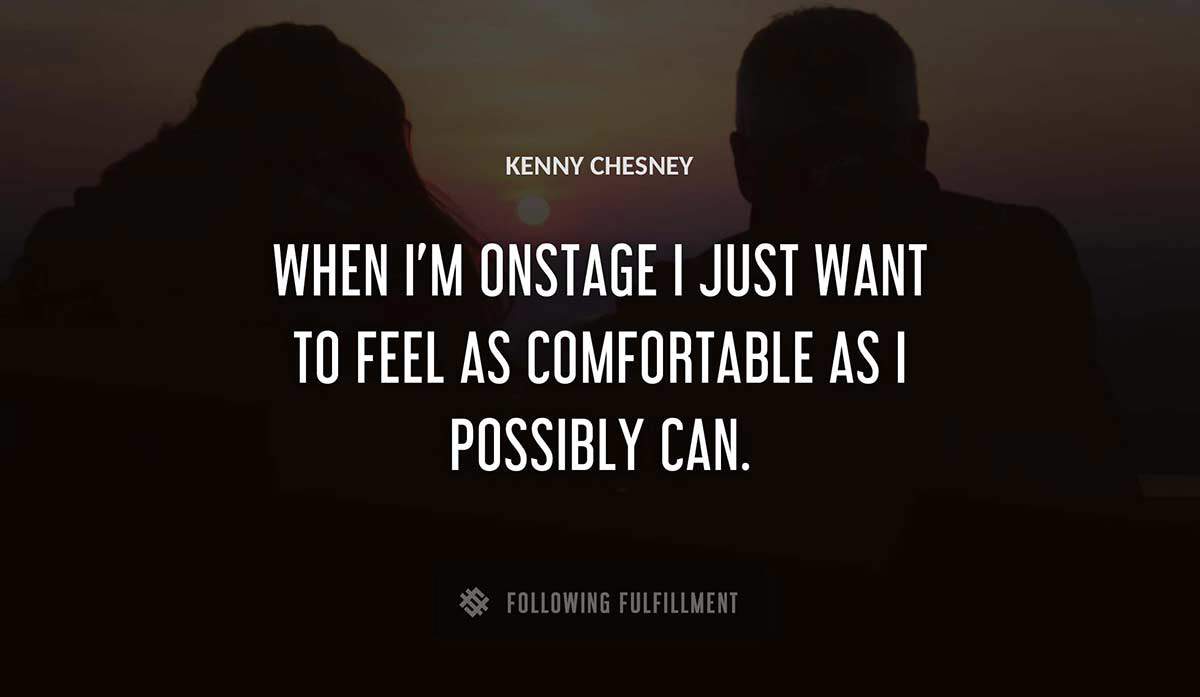 I feel that energy up there on stage. The band, the crew and our road family–the look in their eyes–they're so happy to be back doing what we love to do. — Kenny Chesney
I have friends who have a normal family, kids and a dog, and I think I would blow my brains out. It's fine for them. But I'm such a free spirit, I feel more alive when I've got somewhere to go. — Kenny Chesney
When I'm onstage I feel changed. — Kenny Chesney
First and foremost, I consider myself a songwriter. — Kenny Chesney
KENNY CHESNEY QUOTES ON LIFE
I think there is a part of life that I'm missing. — Kenny Chesney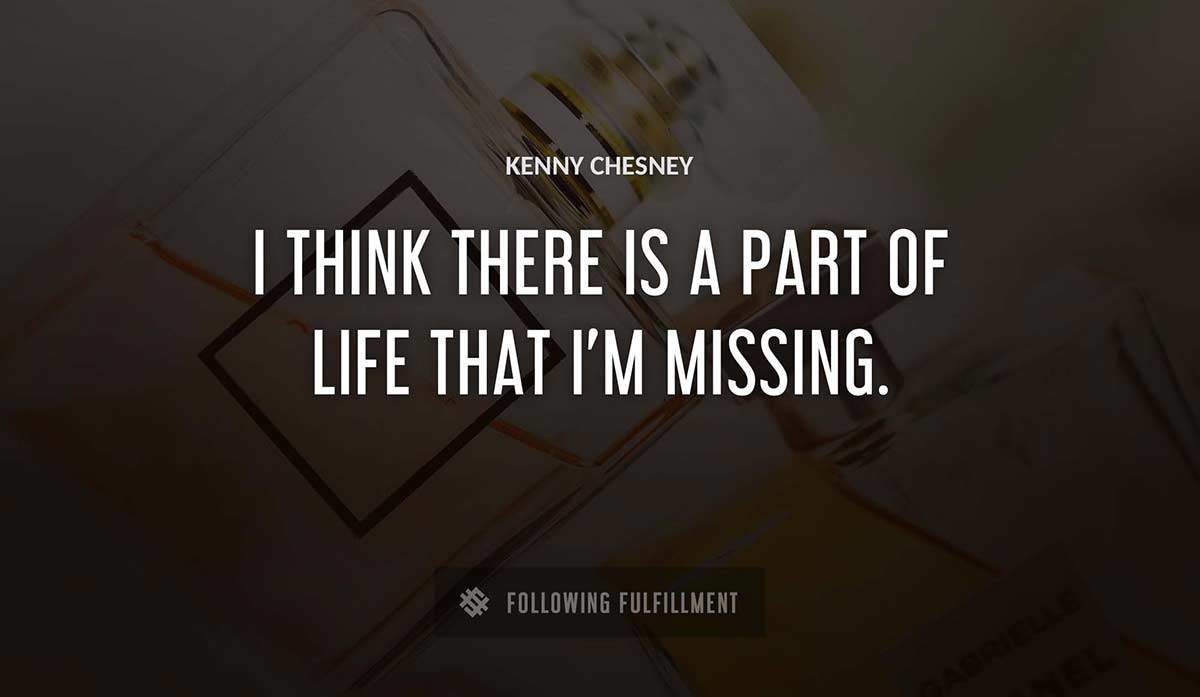 My life can be insanely complicated sometimes, and there's a certain simplicity that I crave. — Kenny Chesney
Nothing positive at all in my life came from my marriage, I can tell you that. — Kenny Chesney
There were [in 21] all those times in my life that I didn't know this was going to happen. I didn't know if anybody was going to care about our music. — Kenny Chesney
Redundant Thematics
In Kenny Chesney Statements
road
sing
year
feel
music
love
time
life
pretty
I learned from my mom that you should always try to enjoy life, no matter what. — Kenny Chesney
When old Bobby does Elvis, you swear it's the real mccoy. Another Friday night in the life of a country boy. — Kenny Chesney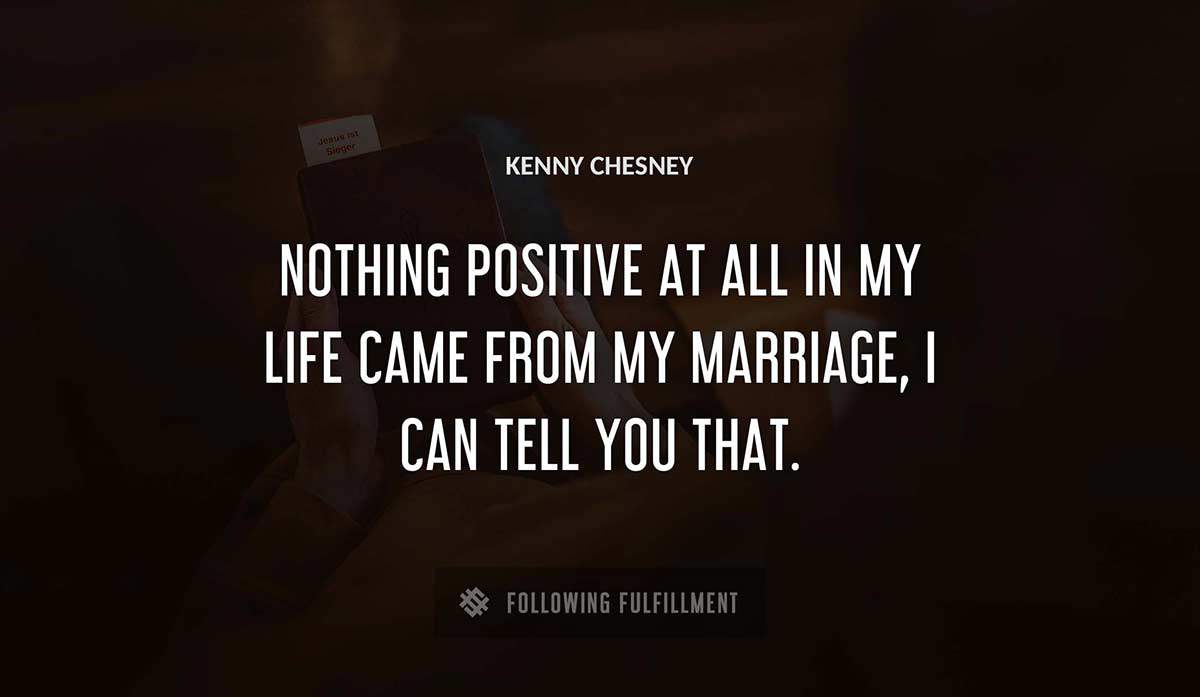 I'm dating a girl who's pretty levelheaded. She's a nurse. She's a real, normal girl. Which is what I need because my life isn't normal. — Kenny Chesney
My mother is a very fun–loving person. She has been through a lot in her life. She has had a couple of divorces. When I was in high school she was a single mother. That's when I learned to do my own laundry. — Kenny Chesney
In 21 years there are a lot of ups and downs. There are melancholy times. There are sad times. There are happy times. There are unsure times. There are life lessons. — Kenny Chesney
I think that in the last four or five years I've constantly struggled with the balance in my life. — Kenny Chesney
One thing that I learned that helped me deal with human behavior is confrontation, and I'm not that great with confrontation at all. But once I started to be O.K. with that, the better everybody's life got. — Kenny Chesney
You'd think I'd have been happiest in my life playing music in front of 50,000 people at Gillette Stadium. But let me tell you, it's an odd feeling to feel alone in the spotlight. — Kenny Chesney
We leaned on family, church, school, friends and sports. That's basically all we had. All those things really shaped my life and shaped me musically. It's why I write the way I do. — Kenny Chesney
I think people need to live their lives the way they want to, but I'm pretty confident in the fact that I love girls. I've got a long line of girls who could testify that I am not gay. — Kenny Chesney
KENNY CHESNEY QUOTES ABOUT MUSIC
I truly believe that music is the most powerful thing we have. — Kenny Chesney
I've been focused for a long time. I've given my life to do music. I've sacrificed everything. — Kenny Chesney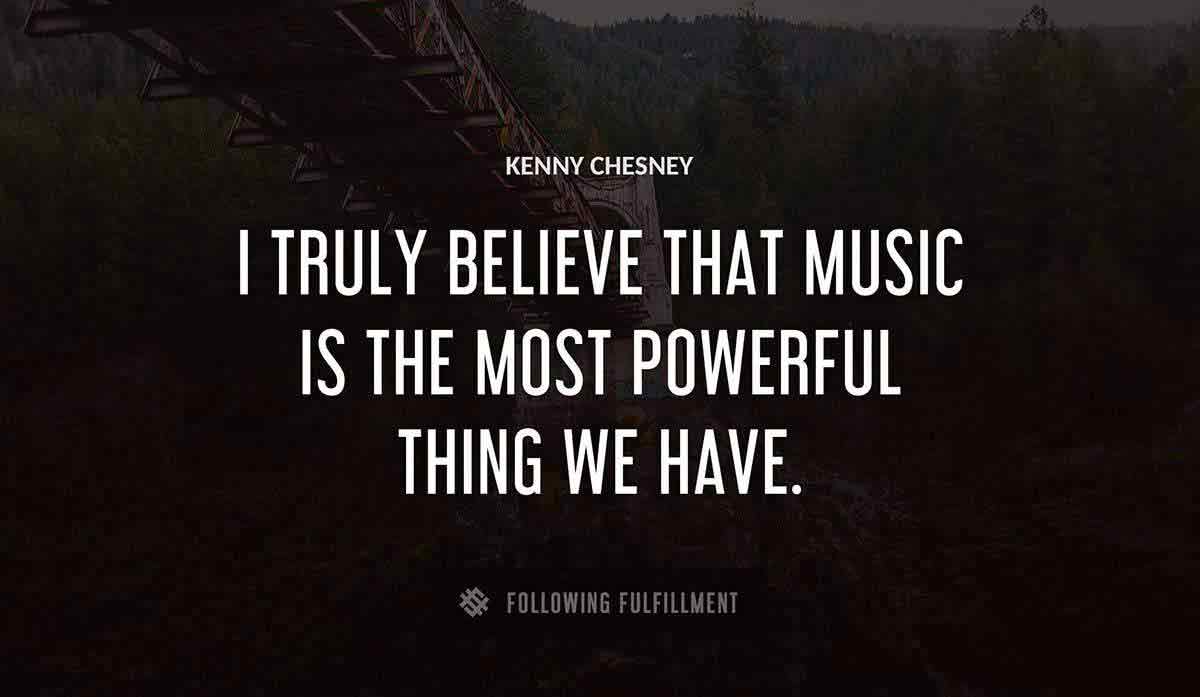 Social topics may hit too close to home for people, but then again, if you pull a heartstring, then that's what country music is. It's not just songs about getting drunk and leaving your girl. — Kenny Chesney
When I try to brush the road dust off of me and untangle all the wires in my head, I'm usually surrounded by music on a boat. But that's not how I wake up every day. — Kenny Chesney
I'm glad I took that time to work really hard on the music. I feel the effects of that now in a positive way with my connection with the audience. — Kenny Chesney
KENNY CHESNEY Quotes Take Away
Kenny Chesney is a country superstar for many reasons, one of which is his ability to inspire others with his words. We hope these quotes have done the same for you and that you're as motivated as we are to learn more about the music industry. If you want to continue your education in the music business, be sure to check out our courses. They'll give you all the knowledge and tools you need to start making your dreams a reality.