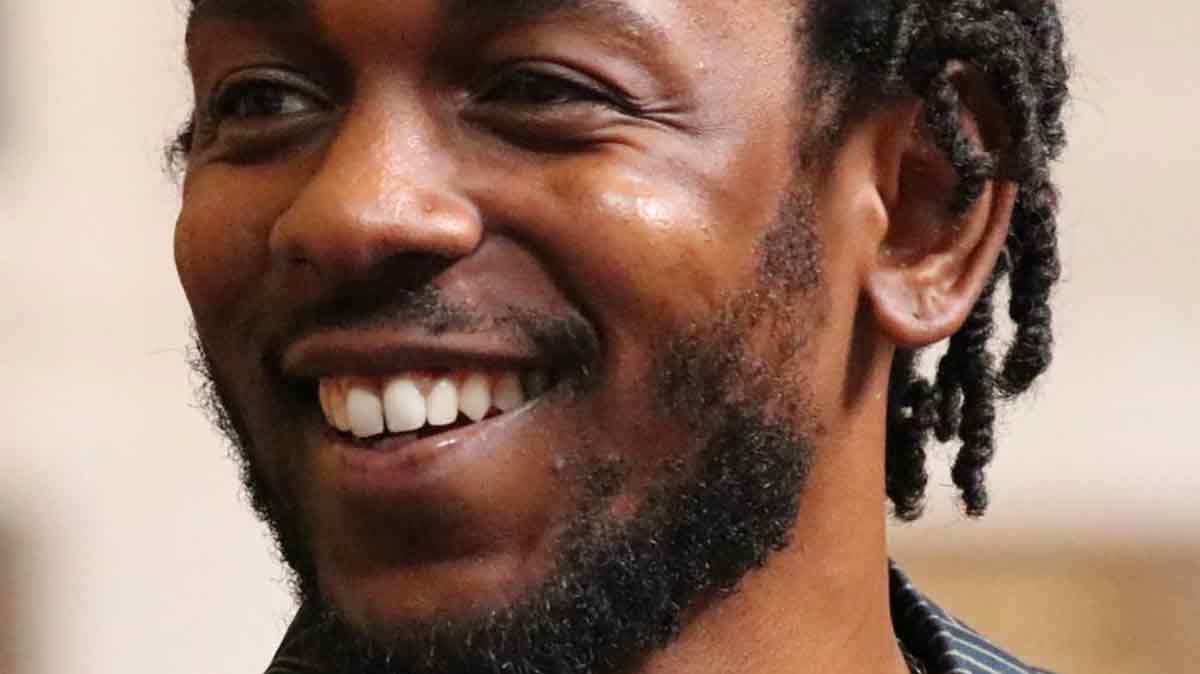 Kendrick Lamar is one of the most influential rappers in today's music industry. He was born in Compton, California and raised by his mother who had to work two jobs just to provide for her son. Despite living surrounded by gangs and violence, Kendrick found solace in hip hop as a child. His upbringing influenced his music tremendously with songs like The Art of Peer Pressure on Section 80 that describes the life he lived growing up: I'm at war with my wrongs so I'mma right them all.
Hip-hop has always been a voice for those who are oppressed and unheard but now more than ever it's reaching new heights with rappers like Kendrick Lamar telling their stories through lyrics.
Discover the best phrases from Kendrick Lamar.
We are glad to present you the deepest Music, Love, Feelings, Time, Life quotes from Kendrick Lamar, and much more.
Summary
About Kendrick Lamar
Born:
June 17, 1987
Education:
Centennial High School
Occupation:
Rapper, Songwriter, Record Producer
Years Active:
2004-Present
Genres:
Hip Hop, Jazz Rap
Instruments:
Vocals
Labels:
Universal, Top Dawg, Aftermath, Interscope
Associated Acts:
Black Hippy, Anna Wise, Ash Riser, Bilal, Dr. Dre, J. Cole And More.
Website:
kendricklamar.com
KENDRICK LAMAR QUOTES ABOUT FEELINGS
I think my worst problem is actually living in the moment and understanding everything that's going on. I feel like I'm in my own bubble. — Kendrick Lamar
The times that we are in, it's something that you can only feel in the air. You don't even have to talk about it. You don't need the news or the Internet to watch it. You can walk outside and just feel it. — Kendrick Lamar
God to me is love. It's the ruler of all things, whether it's with a person or with music or with your TV. I feel like it's this energy. God is energy, love is energy. — Kendrick Lamar
I sit and talk to kids all day, because I feel like they carry the most wisdom. — Kendrick Lamar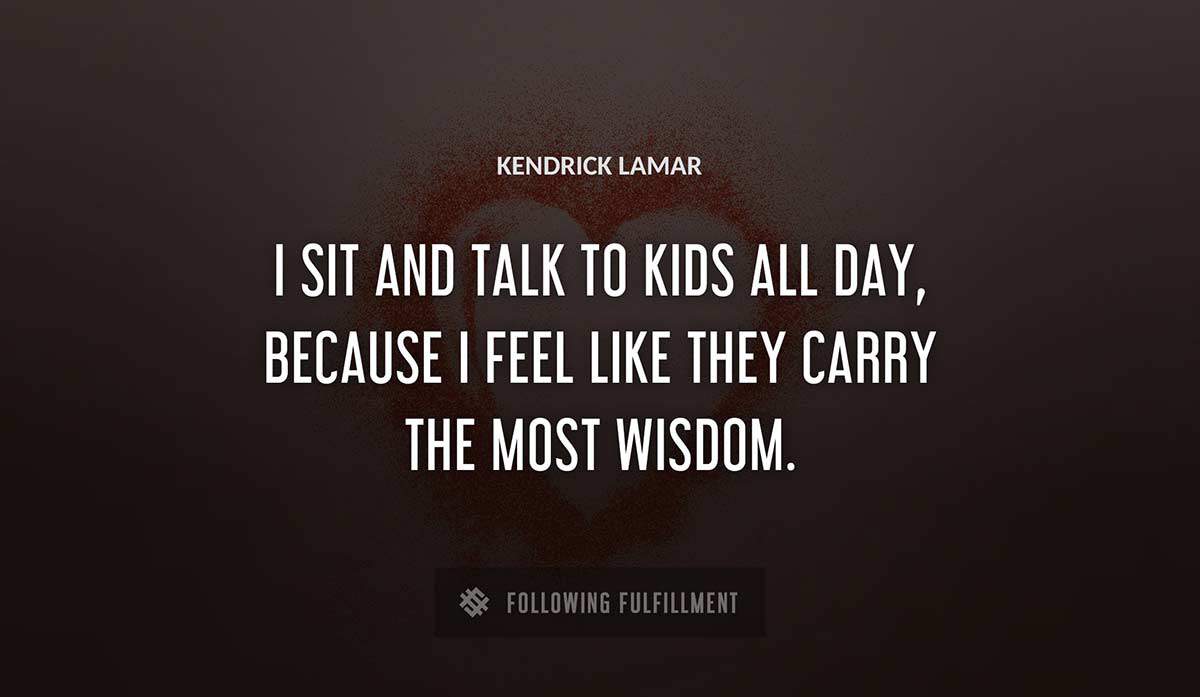 You can have the platinum album, but when you still feel like you haven't quite found your place in the world–it kind of gives a crazy offset. — Kendrick Lamar
It's a great, great experience to finally get the reception that you know you rightfully deserve. — Kendrick Lamar
I'm constantly thinking. — Kendrick Lamar
I'd rather not live like there isn't a God, then die and find out there really is. Think about it. — Kendrick Lamar
KENDRICK LAMAR QUOTES ABOUT LOVE
But what love go to do with it when you don't love yourself? — Kendrick Lamar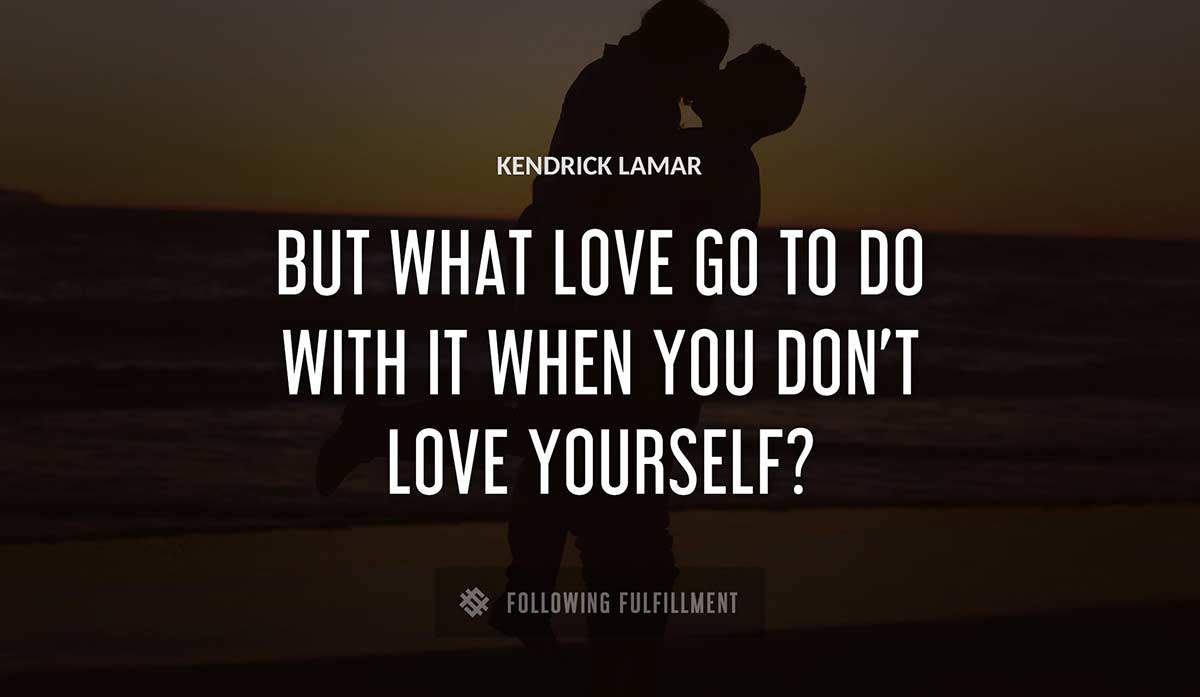 We hurt people that love us, love people that hurt us. — Kendrick Lamar
Love is not just a verb. It's you looking in the mirror. — Kendrick Lamar
Kids don't see hate in their eyes. They see the world, and living in it to the best of their abilities. And that's where love comes from for me. — Kendrick Lamar
From what I remember, I remember always being a big fan of Kardinal Offishall. He just had that different flow and different flavor. He put himself on the record and that's the type of energy that we love. — Kendrick Lamar
The opposite of love? Vice. Temptation. The negative influences that we have. The bad energy that comes around us and makes us do certain things. To me, it's always been a war between the two. — Kendrick Lamar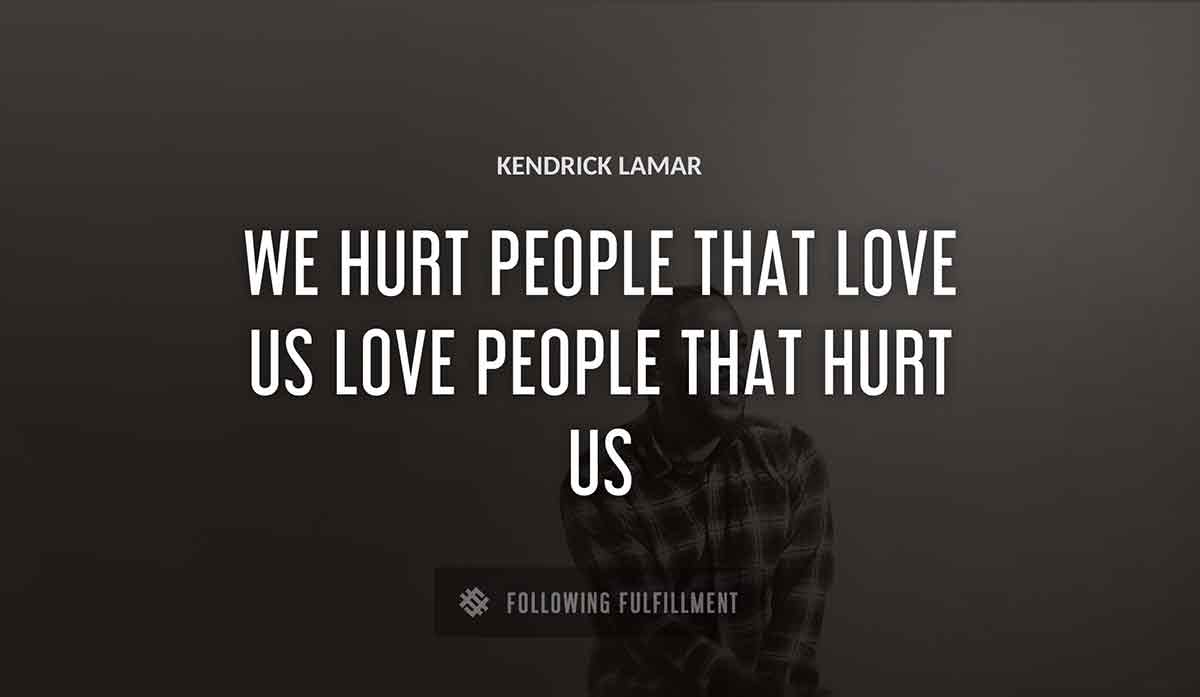 KENDRICK LAMAR QUOTES ON LIFE
I look at where I'm at today and realize that most of my success is owed to the mentors that was in my life. — Kendrick Lamar
Live your life, live it right. Be different, do different things. — Kendrick Lamar
If I can look at a 6–year–old and learn from him, that's life. That's God for me, that's inspiring. — Kendrick Lamar
There's kids out there that have so much life to live. That's a beautiful thing. — Kendrick Lamar
I don't do black music, I don't do white music. I do everyday life music. — Kendrick Lamar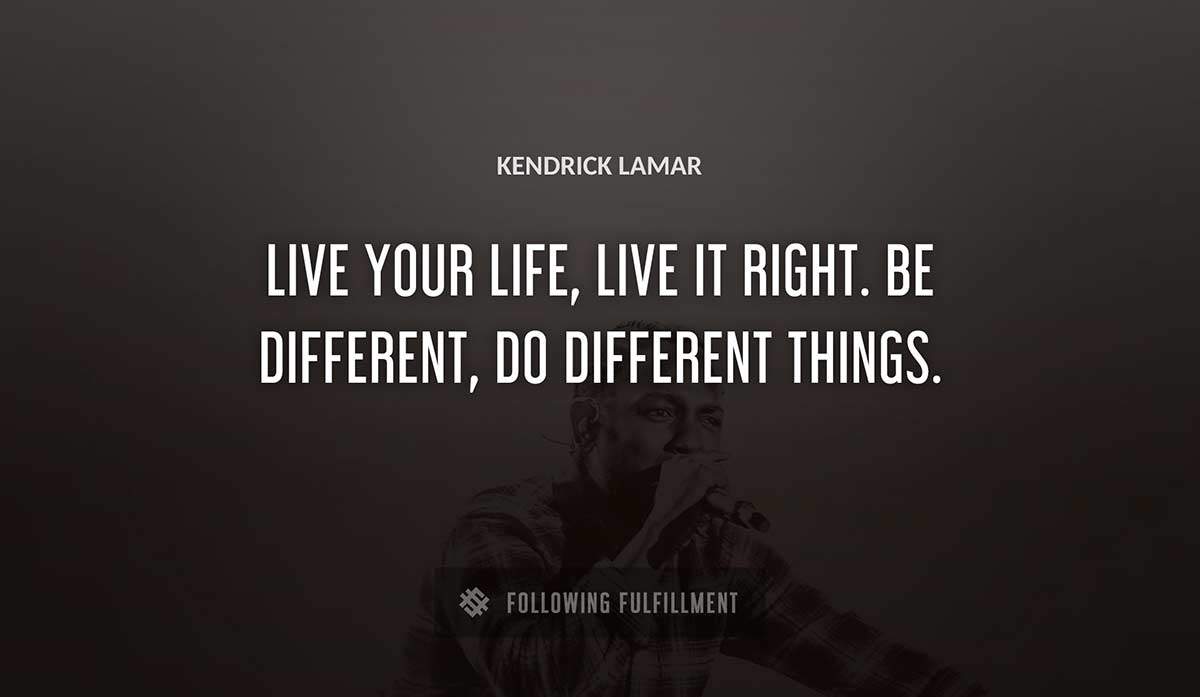 I don't talk about these things if I haven't lived them, and I've hurt people in my life. It's something I still have to think about when I sleep at night. — Kendrick Lamar
I live this life at a pace that anyone can go. Know your place, and dedicate your role …To the faith that you'll die alone — Kendrick Lamar
Life will put many red lights in front of you, but sometimes we must push on the gas and trust God. — Kendrick Lamar
It's only right that i mentor a younger person with the same wisdom that was given to me, if it helps the next kid become a better person in life, i will forever be aware of my influence and pay it forward. — Kendrick Lamar
The limit is the sky, and I live on cloud. And I recognize my nemesis gon try, to put a finish in my shine. But pussy we'll hurt you, life in the power circle. — Kendrick Lamar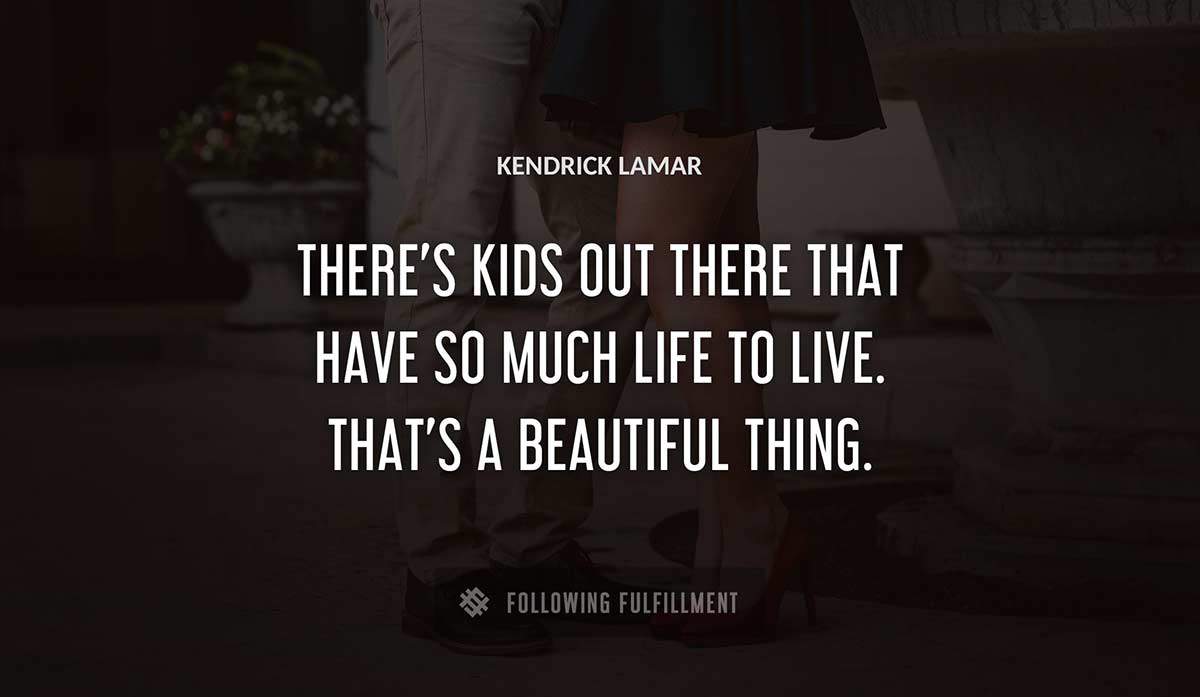 I felt like, what better way for people to understand me by taking the initiative in giving my real name, my name that moms taught me so y'all actually know what's going on in my life and my music. — Kendrick Lamar
You got to bleep one single word though. — Kendrick Lamar
If I'm gonna tell a real story, I'm gonna start with my name. — Kendrick Lamar
KENDRICK LAMAR QUOTES ABOUT MUSIC
You really can't categorize my music, it's human music. — Kendrick Lamar
It's deep–rooted, the music of being young and dumb, It's never muted, in fact, it's much louder where I'm from. — Kendrick Lamar
I don't really believe in the type of pressure that people are wanting to put on the type of music that I make. — Kendrick Lamar
Redundant Thematics
In Kendrick Lamar Statements
feel
music
love
world
time
life
energy
kid
There's a lot of other artists doing things outside of that depth that I enjoy–that music that I can actually have fun to, and not be in depth and think about, then I appreciate that. — Kendrick Lamar
As long as my music is real, it's no limit to how many ears I can grab. — Kendrick Lamar
I started doing music when I was thirteen; I actually started writing my first rhymes. — Kendrick Lamar
The people definitely shape the two, put stamps and classify mainstream and underground music. — Kendrick Lamar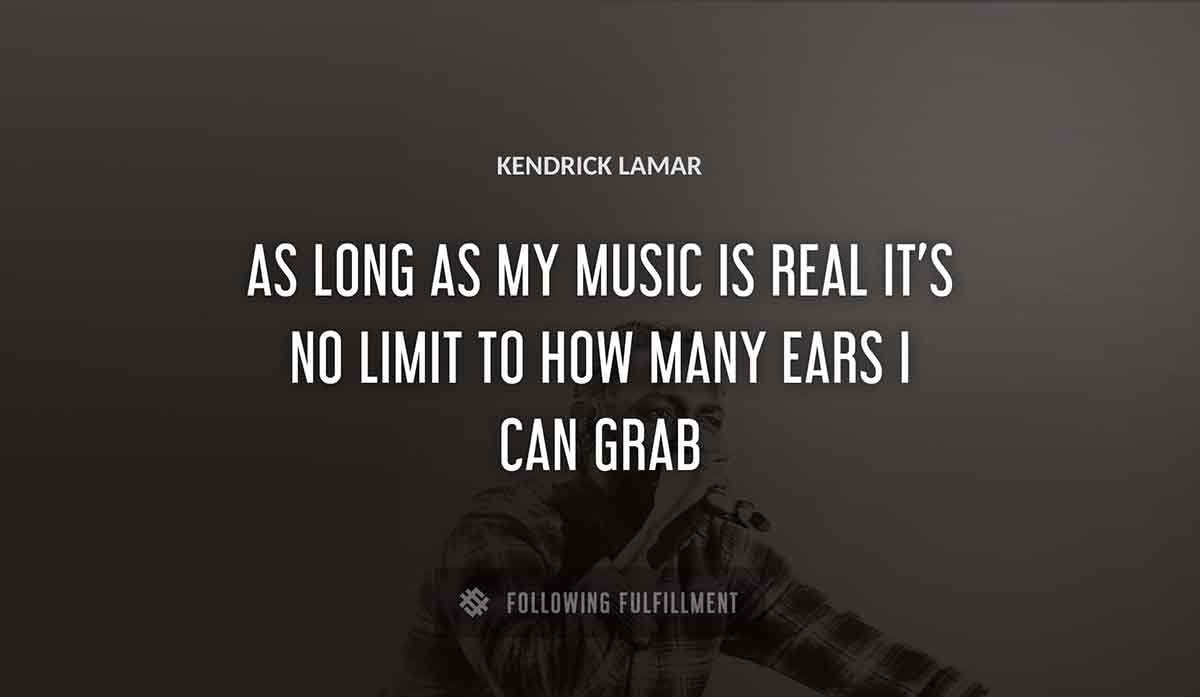 I don't just wanna be a popular person, I want my music to always live because that's what's gonna drive your legacy. — Kendrick Lamar
I'm putting out this free music, constantly putting it out. — Kendrick Lamar
Before finding music, I didn't have too many aspirations. I wanted to hang out, make a little money from whatever I had to do. — Kendrick Lamar
I always felt like there was a certain standard of music that I had to do from the beginning, even when I didn't have the recognition that I have now. — Kendrick Lamar
That's the ultimate thing I want to do in making music–to be able to inspire somebody else. — Kendrick Lamar
People are used to music that justifies street culture but something that's not touched on is why these kids act the way they act, live the way they live. — Kendrick Lamar
I'm just writing, writing, writing. I keep these tablets on me until I'm inspired to go back in and make the music. I never take a break from my pen, because I pride myself on that. — Kendrick Lamar
KENDRICK LAMAR QUOTES ABOUT TIME
I can be calm and reflective from time to time and other times I can have a burst of energy, that's just me. — Kendrick Lamar
I've been called a recluse. There's definitely truth in that. I like to spend time alone. — Kendrick Lamar
Black and brown pride have been taught in my household for a long time. — Kendrick Lamar
So next time you feel like your world is about to end, I hope you studied because He's testing your faith again. — Kendrick Lamar
My pops and my mom started playing Marvin Gaye and the Isley Brothers and all these people, but at the same time, they always had Snoop on right behind it in the same mix. — Kendrick Lamar
Since day one, since the first time I touched the pen, I wanted to be the best at what I do. — Kendrick Lamar
Every time I write these words they become a taboo, Making sure my punctuation curve, every letter here's true, Living my life in the margin, and that metaphor was proof. — Kendrick Lamar
Am I the only one who measures time using songs? 'Oh it only took me 4 songs to get here! that's not to long! — Kendrick Lamar
I probably spent more time listening to albums than writing songs. But I think that gave me all the tricks in terms of wordplay, from how I pronounced my words to the actual delivery. — Kendrick Lamar
How am I influencing so many people on this stage rather than influencing the ones that I have back home? — Kendrick Lamar