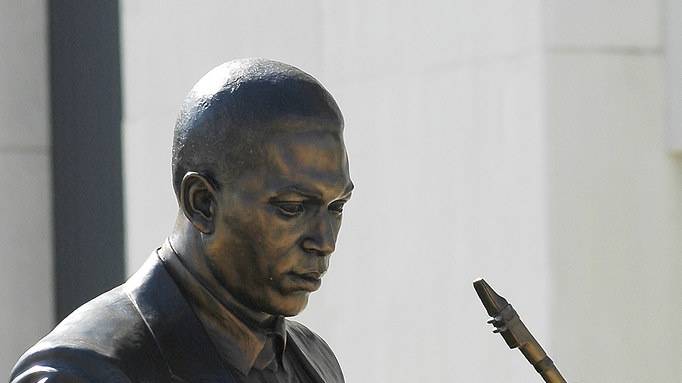 In a world where music is often fleeting and disposable, John Coltrane was a musician who defied trends and epitomized longevity. A giant of jazz, Coltrane's influence is still felt today across all genres of music. His story is one of great personal transformation and unflinching artistic growth. In this blog post, we'll take a look at the life of John Coltrane, from his humble beginnings to his untimely death. We'll explore how his music evolved over time and the lasting impact he has had on the world of music.
Here are the most known Life, Music quotes from John Coltrane, and much more.
Summary
About John Coltrane
Born:
September 23, 1926
Died:
July 17, 1967
Genres:
Hard Bop, Modal Jazz, Free Jazz, Avant-Garde Jazz
Occupation:
Musician, Composer, Bandleader
Instruments:
Tenor Saxophone, Soprano Saxophone, Alto Saxophone, Flute, Bass Clarinet And More.
Years Active:
1945-1967
Labels:
Prestige, Blue Note, Atlantic, Impulse!
Associated Acts:
Dizzy Gillespie, Mccoy Tyner, Elvin Jones, Jimmy Garrison, Miles Davis Quintet, Eric Dolphy And More.
Website:
johncoltrane.com
Allegiance:
United States
Years Of Service:
1945-1946
Rank:
Seaman First Class
Unit:
Naval Station Pearl Harbor Pacific Fleet Ceremonial Band
Battles/Wars:
World War Ii Pacific Theater, Pacific Theater
Awards:
American Campaign Medal Asiatic-Pacific Campaign Medal World War Ii Victory Medal
JOHN COLTRANE QUOTES ABOUT MUSIC
Jazz is a word they use to sell our music, but to me that word does not exist. — John Coltrane
My music is the spiritual expression of what I am: my faith, my knowledge, my being. — John Coltrane
Sometimes I wish I could walk up to my music for the first time, as if I had never heard it before. — John Coltrane
When you begin to see the possibilities of music, you desire to do something good for people, to help humanity free itself from its hang–ups. — John Coltrane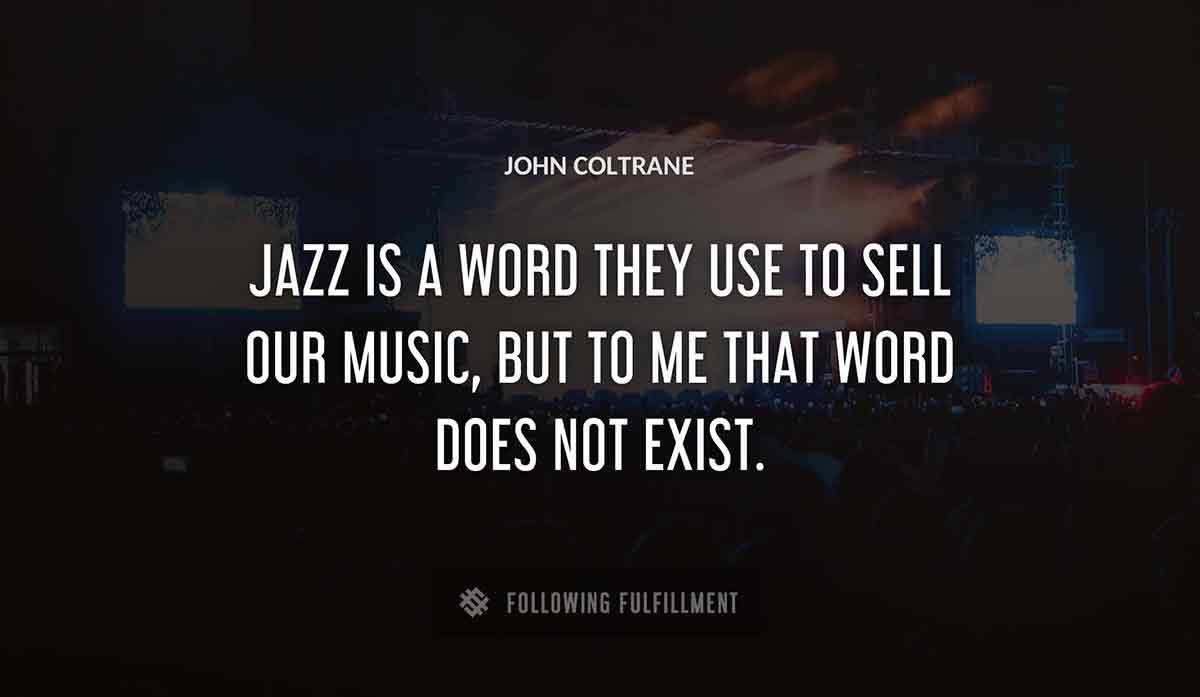 I think that music, being an expression of the human heart, or of the human being itself, does express just what is happening–the whole of human experience at the particular time that it is being expressed. — John Coltrane
Sometimes I think I was making music through the wrong end of a magnifying glass. — John Coltrane
I think I was first awakened to musical exploration by Dizzy Gillespie and Bird. It was through their work that I began to learn about musical structures and the more theoretical aspects of music. — John Coltrane
Change is inevitable in music–things change. — John Coltrane
I think music is an instrument. It can create the initial thought patterns that can change the thinking of people. — John Coltrane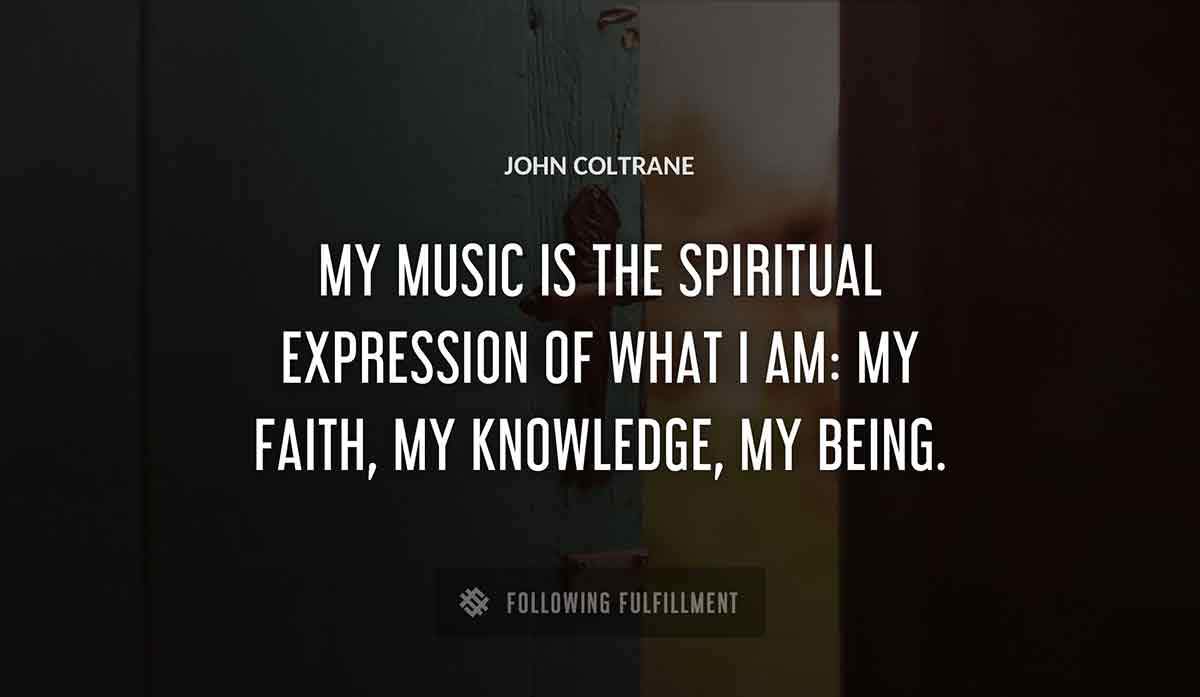 JOHN COLTRANE QUOTES ON LIFE
In the year of 1957, I experienced, by the grace of God, a spiritual awakening, which was to lead me to a richer, fuller, more productive life. — John Coltrane
Whatever I'd say would be an understatement. I can only say my life was made much better by knowing him. He was one of the greatest people I've ever known, as a man, a friend, and a musician. — John Coltrane
My goal is to live the truly religious life and express it through my music. If you can live it, there's no problem about the music, because it's part of the whole thing. — John Coltrane
There are so many things to be considered in making music. The whole question of life itself… I know that I want to produce beautiful music, music that does things to people that they need. — John Coltrane
Inspiring Phrases From John Coltrane
I'm into scales right now. — John Coltrane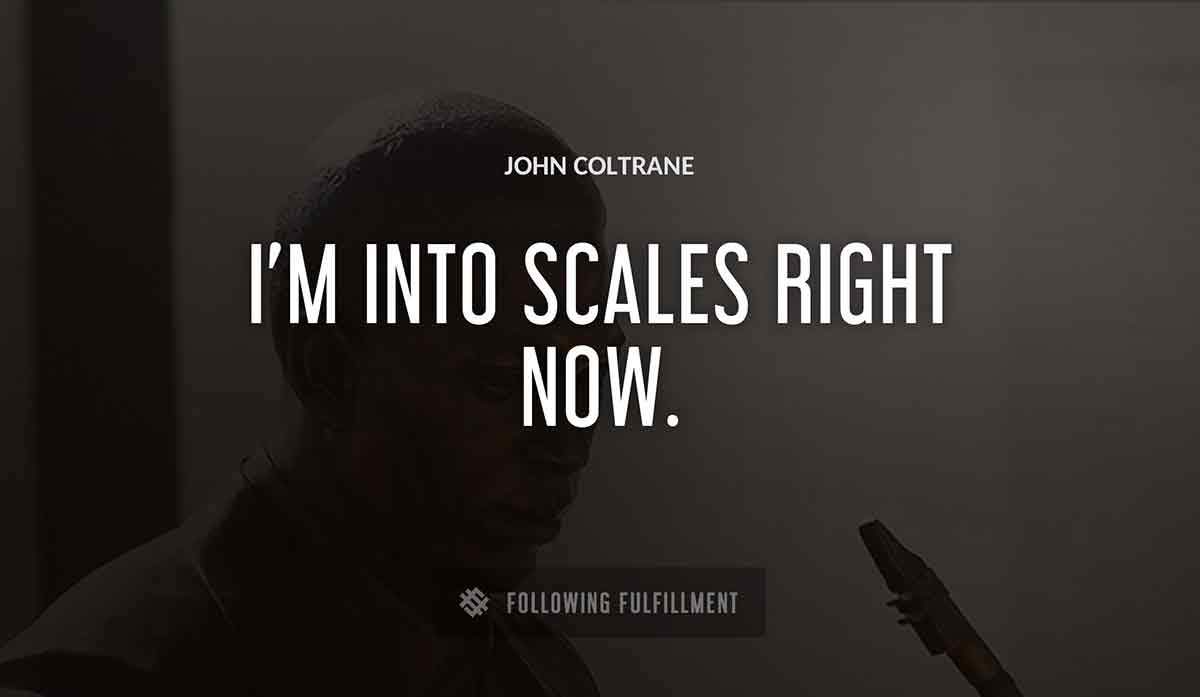 I think the main thing a musician would like to do is give a picture to the listener of the many wonderful things he knows of and senses in the universe. — John Coltrane
The first time I heard Bird play, it hit me right between the eyes. — John Coltrane
Starting in the middle of a musical sentence and moving in both directions at once. — John Coltrane
If you're bourgeois, money is it. It's all the questions and all the answers. Ain't no E–flat or color blue, only $12.98 or $1,000. If it isn't money, it isn't nothing. — John Coltrane
Redundant Thematics
In John Coltrane Statements
Thankfully now, through the merciful hand of God, I do perceive and have been fully reinformed of his omnipotence. It is truly a love supreme. — John Coltrane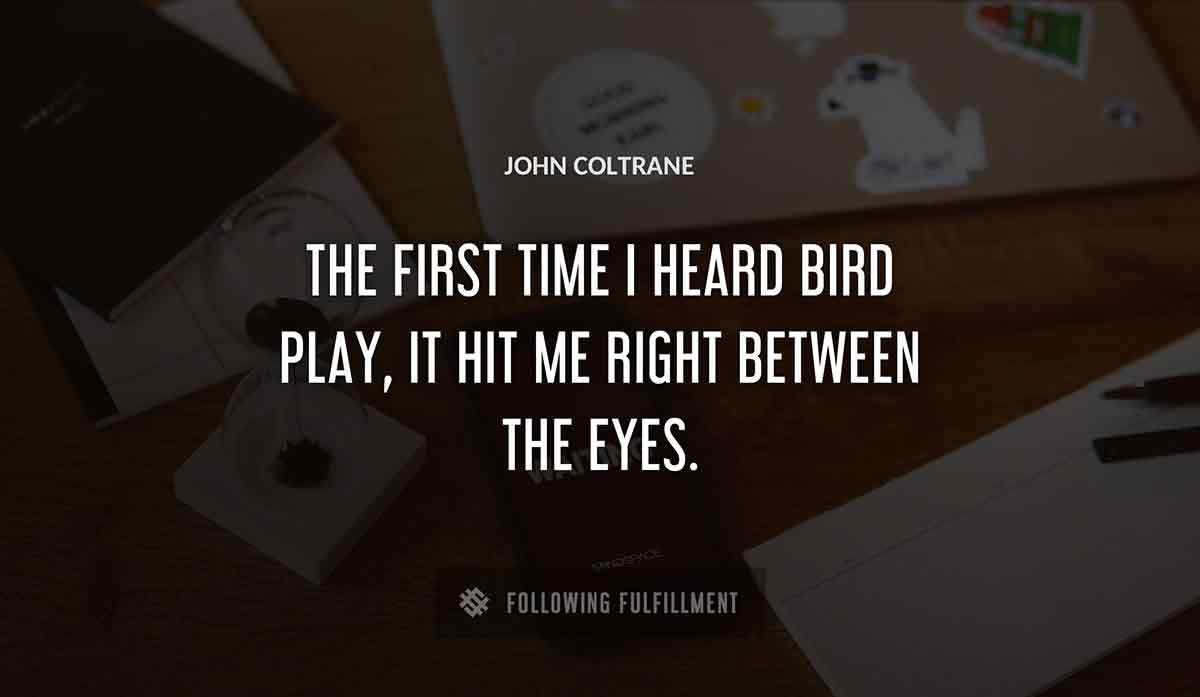 Damn the rules, it's the feeling that counts. — John Coltrane
Various Statements From John Coltrane
You can play a shoestring if you're sincere. — John Coltrane
Any time you play your horn, it helps you. If you get down, you can help yourself even in a rock 'n' roll band. — John Coltrane
I start in the middle of a sentence and move both directions at once. — John Coltrane
I've been devoting quite a bit of my time to harmonic studies on my own, in libraries and places like that. I've found you've got to look back at the old things and see them in a new light. — John Coltrane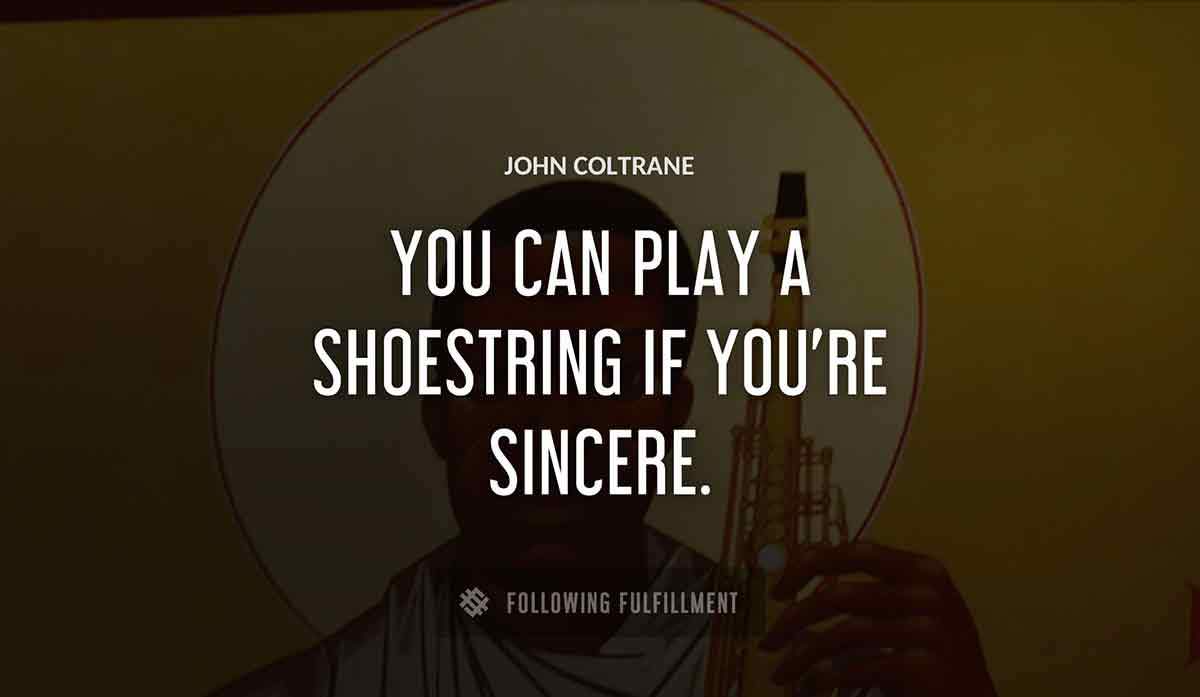 I find it's only when something is trying to come through I really practice. And then, I don't know how many hours. It's all day. — John Coltrane
Don't ever get so big or important that you can not hear and listen to every other person. — John Coltrane
Keep a thing happenin' all throughout. — John Coltrane
JOHN COLTRANE Quotes Take Away
John Coltrane is one of the most iconic musicians in history. His music has inspired people for generations and his words are just as powerful. We hope that these quotes have inspired you to keep chasing your dreams and to never give up on what you love. If you want to learn more about jazz or any other genre, check out our courses. We have something for everyone.