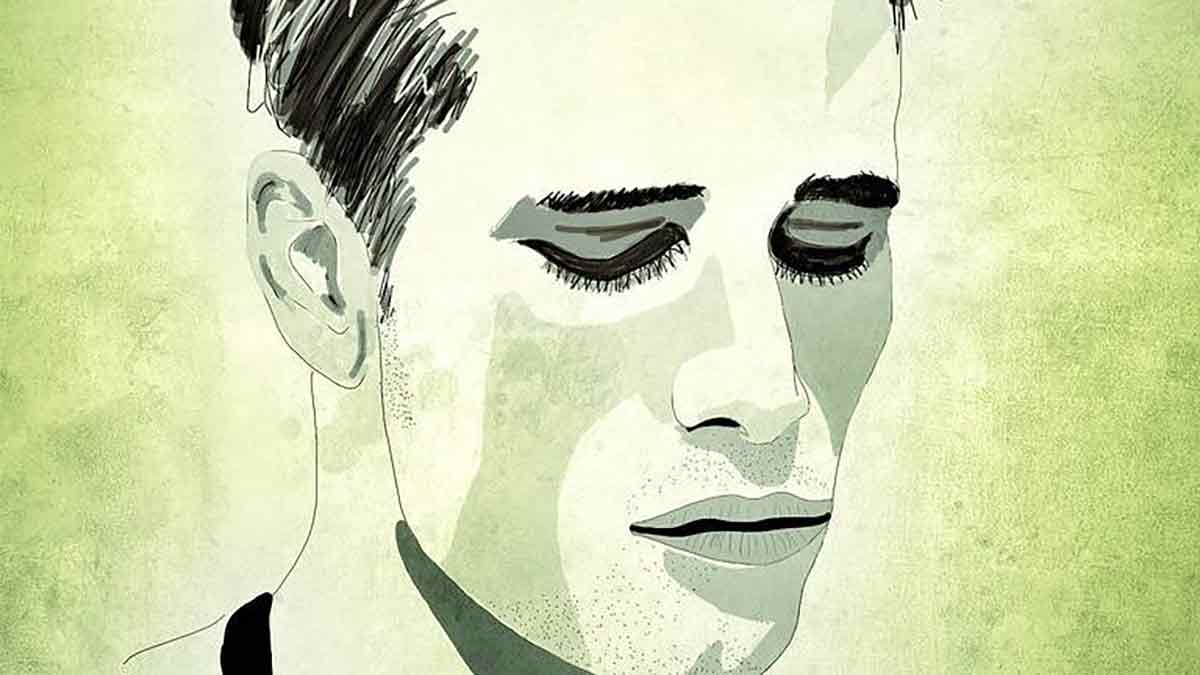 There's no doubt that Jeff Buckley was one of the most unique and talented singer-songwriters of his generation. Though he only released one album in his lifetime, he continues to inspire entrepreneurs and musicians alike. This quotes compilation is a tribute to the life and music of Jeff Buckley, and it's sure to leave you inspired.
Here are the strongest Life, Love, Songs, Time quotes from Jeff Buckley, and much more.
Summary
About Jeff Buckley
Born:
November 17, 1966
Died:
May 29, 1997
Genres:
Alternative Rock, Folk Rock, Blues
Occupation:
Singer, Songwriter, Guitarist
Instruments:
Vocals, Guitar
Years Active:
1990-1997
Labels:
Columbia
Associated Acts:
The A.M., Shinehead, Gods And Monsters, Alim Qasimov, Elizabeth Fraser, Gary Lucas And More.
Website:
jeffbuckley.com
JEFF BUCKLEY QUOTES ABOUT SONGS
I don't choose the songs; the songs choose me. — Jeff Buckley
I don't want my reputation to take me over, I just want to be judged on my songs. I want people to come and see me because they want to, not because fashion dictates it. — Jeff Buckley
The Smiths hasn't been equaled. That goes for the composition of the songs, the lyrics, and the performance. — Jeff Buckley
I've always felt that the quality of the voice is where the real content of a song lies. Words only suggest an experience, but the voice is that experience. — Jeff Buckley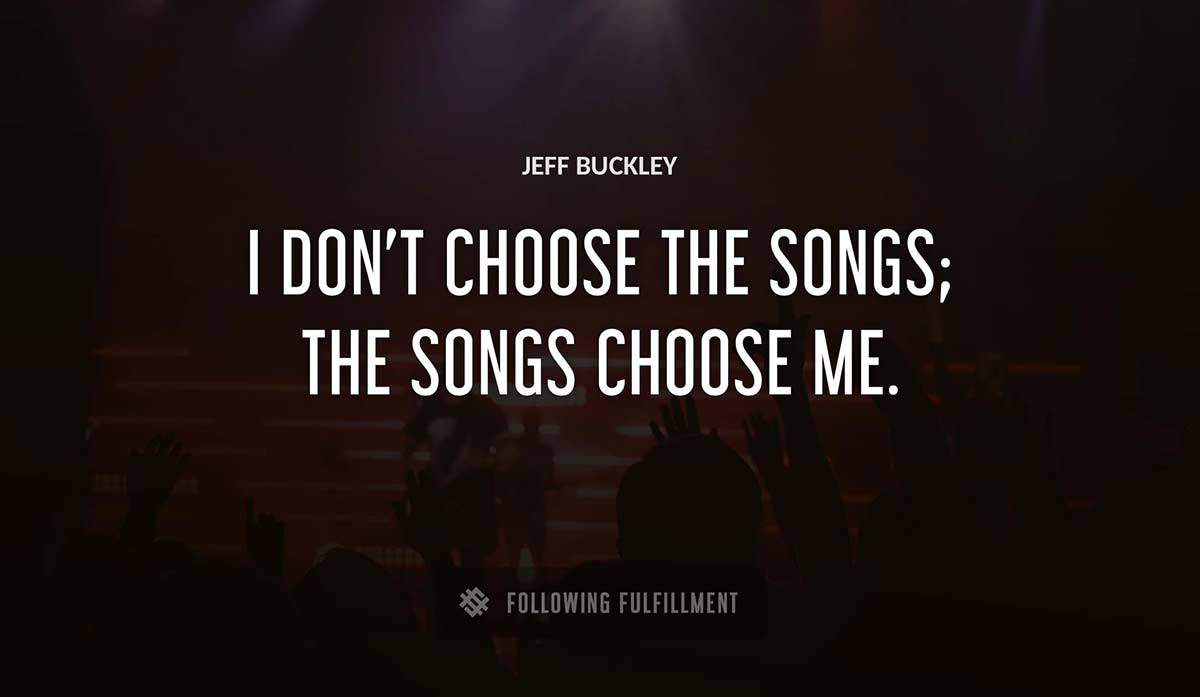 A song just doesn't have verse–chorus–verse. It could just be one line. There are Chinese love songs that you have to learn one melody for a three–minute thing, and nothing ever repeats. I like that. — Jeff Buckley
JEFF BUCKLEY QUOTES ABOUT TIME
To do something that will just fly away is kind of special. Every time somebody tell you they love you, that 'I love you' flies away, and you wait until the next one. — Jeff Buckley
Love heals all wounds and not just time alone. — Jeff Buckley
I don't really go on what people say so much; I go on their voice. I go on their energy at the time. I go on how close their arms are folded into their chest. — Jeff Buckley
There's no time for hatred, only questions. Where is love? Where is happiness? What is life? Where is peace? — Jeff Buckley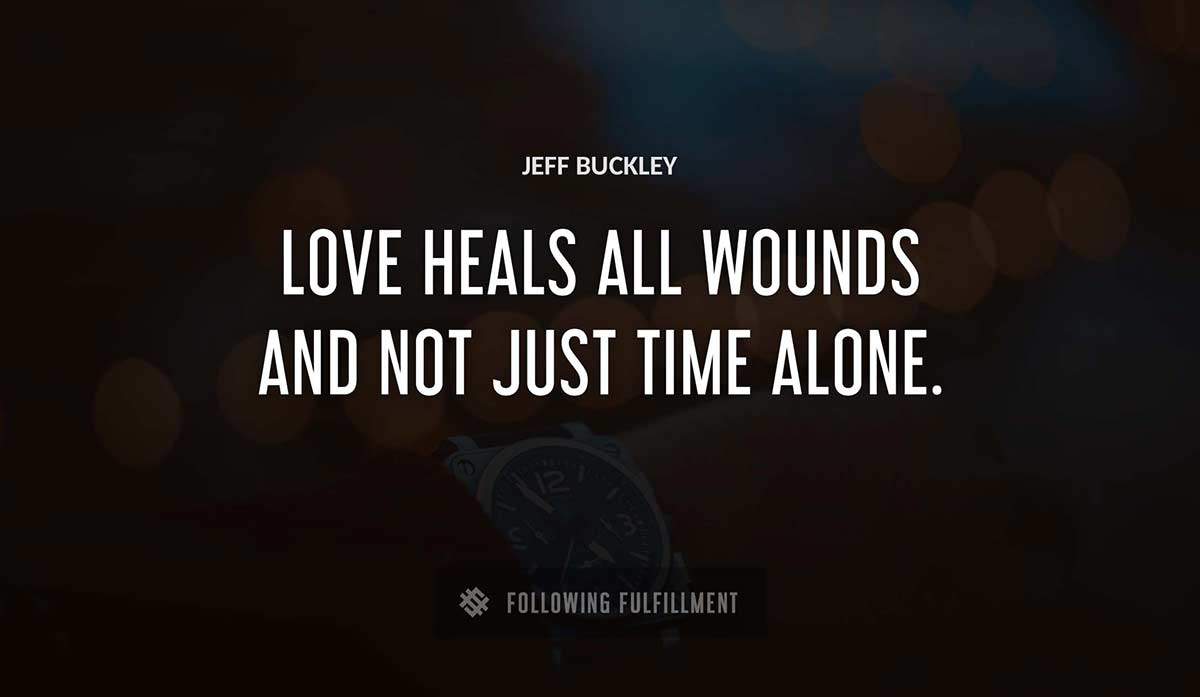 There was a time when I stopped singing, between 16 and 19, but that was done on purpose, maybe as a punishment, maybe as a cure. — Jeff Buckley
All flowers in time bend towards the sun, I know you say there's no one for you, But here is one. — Jeff Buckley
My personal aesthetic is to be affected directly by everything about what you're seeing… I don't mind being dashed on the rocks… My most base act of defiance is to live a long time and still rock. — Jeff Buckley
You can't be, like, smashing guitars against Marshall stacks all the time. As a matter of fact, after a while, it just looks like posing–it never really gets down to any message or any real expression. — Jeff Buckley
Kiss me, please kiss me But kiss me out of desire, babe, and not consolation You know it makes me so angry 'cause i know that in time I'll only make you cry, this is our last goodbye. — Jeff Buckley
I have no advice for anybody; except to, you know, be awake enough to see where you are at any given time, and how that is beautiful, and has poetry inside. Even places you hate. — Jeff Buckley
JEFF BUCKLEY QUOTES ABOUT LOVE
Just like the ocean always in love with the moon. — Jeff Buckley
I love anything that haunts me…and never leaves — Jeff Buckley
Maybe I'm too young to keep good love from going wrong, but tonight you're on my mind, so you never know. — Jeff Buckley
Love, anger, depression, joy and dreams. …And Zeppelin. Totally. — Jeff Buckley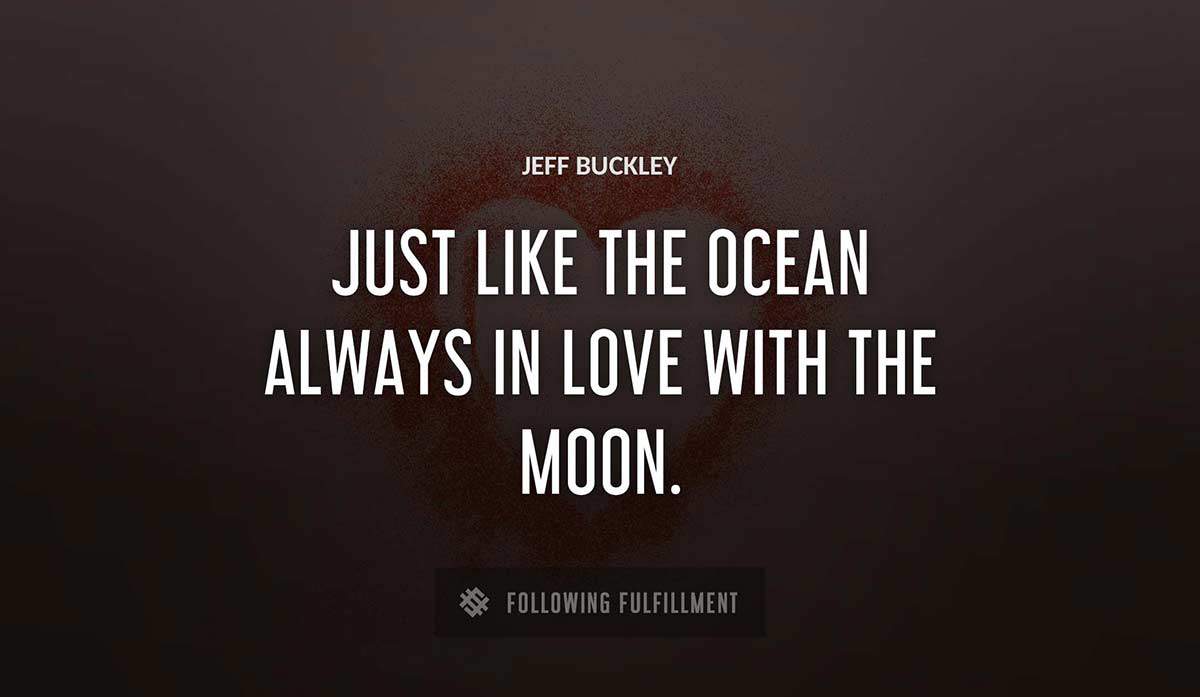 Love is not a victory march, it's a cold and it's a broken hallelujah. — Jeff Buckley
JEFF BUCKLEY QUOTES ON LIFE
I just want to have a completely adventurous, passionate, weird life. — Jeff Buckley
The music comes from within and outside. Within is the big mystery of life; we've all got it. — Jeff Buckley
I was captured by music at a really early age. I was really captured by it. Everything about it. It was my mother… It was my father… It was my play thing. It was my toy. It was the best thing in my life. — Jeff Buckley
If you want to get somewhere in this life, learn to draw beautiful women. — Jeff Buckley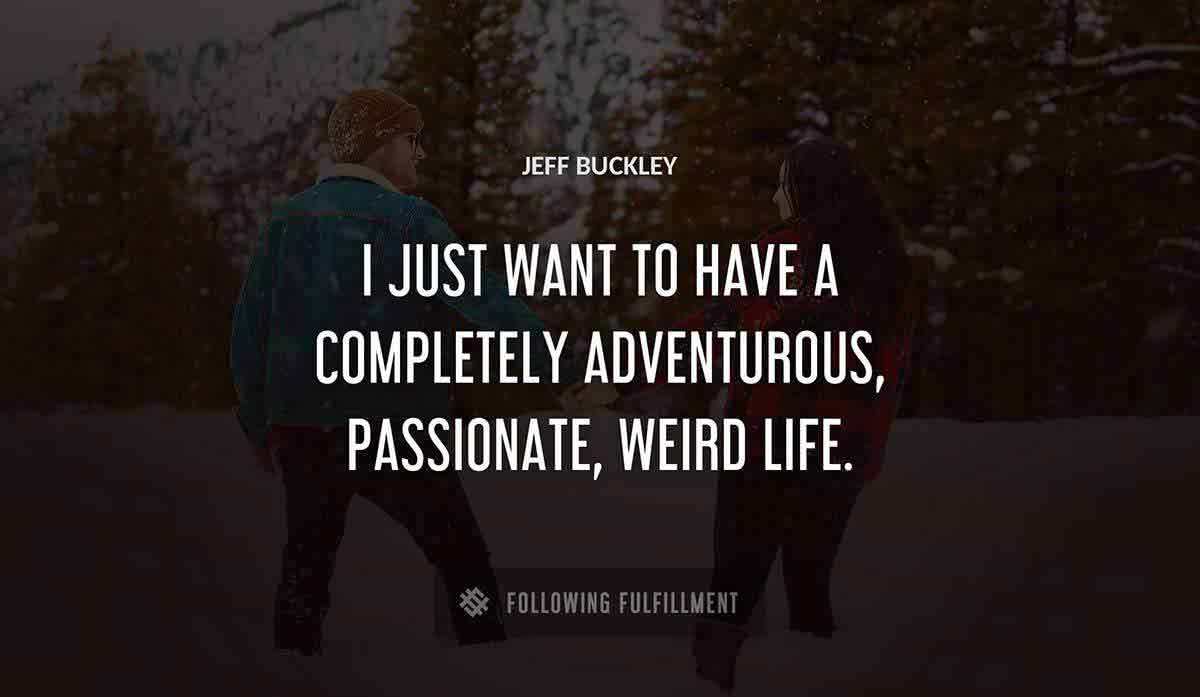 The only goal is in the process. The process is the thing…with little flashes of light here and there. Those are the gigs, those are the live shows. But it's the life in between–that's all I got. — Jeff Buckley
Above all do not give yourself airs. Breaking the moment of past habits is the challenge here: In the life of the spirit you are always at the beginning. — Jeff Buckley
Redundant Thematics
In Jeff Buckley Statements
music
kiss
love
played
time
life
learn
song
Inspiring Phrases From Jeff Buckley
If you do anything regularly for a while, sooner or later the weirdoes will show up. — Jeff Buckley
When all of this music sounds like you know what you want to say, then it will have been of all worth, ever. You will be something complete unto yourself, present and unique. — Jeff Buckley
The music business is the most childish business in the world. Nobody knows what they're selling or why, but they sell it if it works. — Jeff Buckley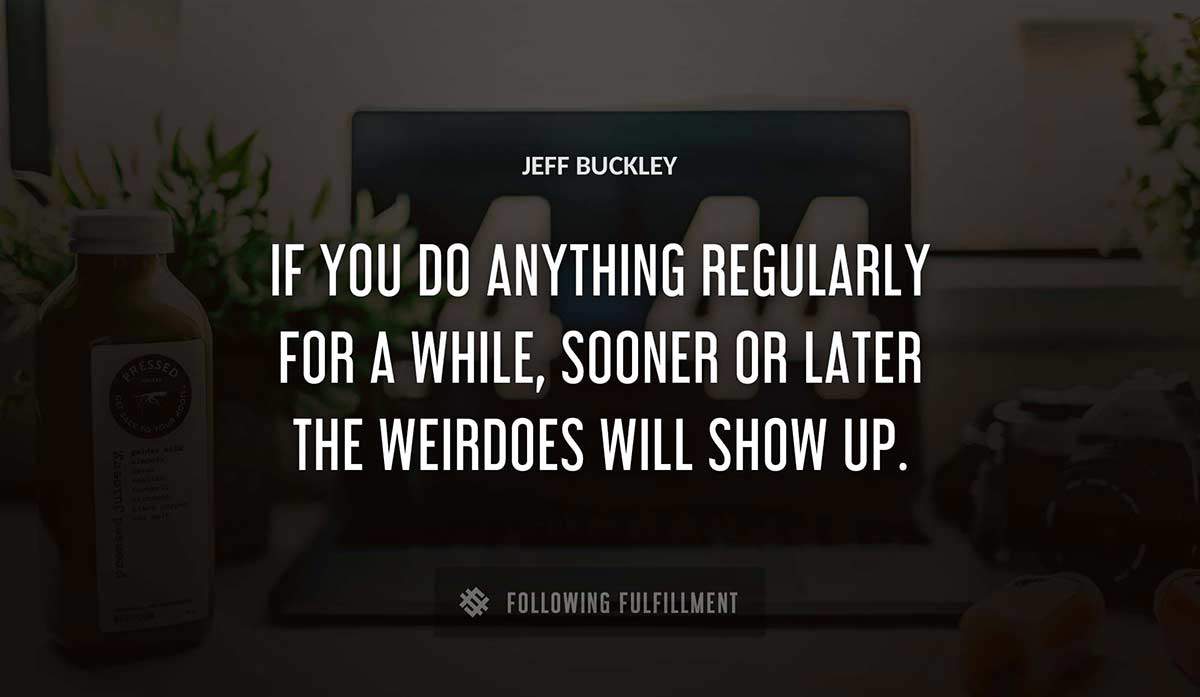 I don't write my music for Sony. I write it for the people who are screaming down the road crying to a full–blast stereo. — Jeff Buckley
I want to be ripped apart by music. — Jeff Buckley
I want to be ripped apart by music. I want it to be something that feeds and replenishes, or that totally sucks the life out of you. I want to be dashed against the rocks. — Jeff Buckley
A tune has to resonate with whatever is happening around it. — Jeff Buckley
Various Statements From Jeff Buckley
Music was like my first real toy. I was an only child for a while, and I was alone a lot of the time–and I liked it. I still like being alone. — Jeff Buckley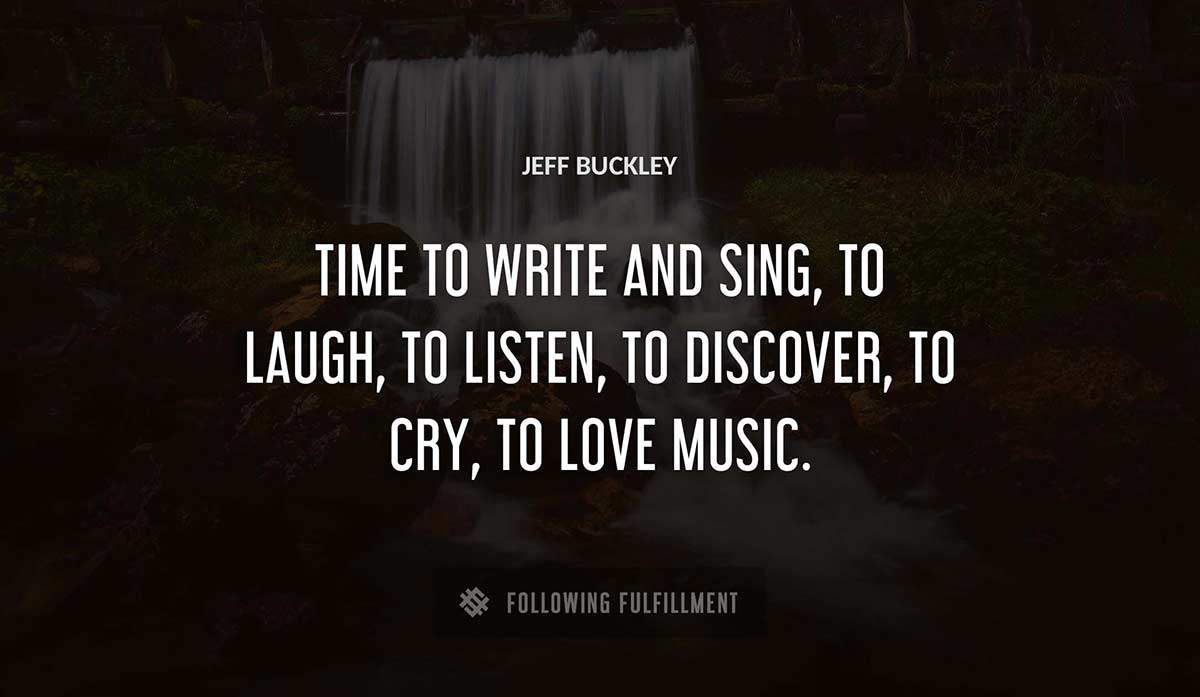 The music can tell people everything they need to know about being human beings. It's not my information, it's not mine. I didn't make it. I just discovered it. — Jeff Buckley
I prefer the band situation. I prefer the relationship. Music is meant to be that way. It's meant to be interdependent. — Jeff Buckley
Music is my mother and my father; it is my work and my rest…my blood…my compass…my love… — Jeff Buckley
Music should be like making love. Sometimes you want it soft and tender, another time you want it hard and aggressive. — Jeff Buckley
They will accuse me of stealing from my father. They already stand in baited judgement, waiting for my first move, waiting to dump their loads of garbage on me. — Jeff Buckley
Time to write and sing, to laugh, to listen, to discover, to cry, to love music. — Jeff Buckley
JEFF BUCKLEY Quotes Take Away
Jeff Buckley is one of the most inspiring and talented musicians of our time. His words are a reminder that we should all strive to be our best selves, and never give up on our dreams. If you're feeling lost or discouraged, take a moment to read some of his quotes and let them empower you to keep moving forward. We hope they inspire you as much as they have inspired us here at Coursera.