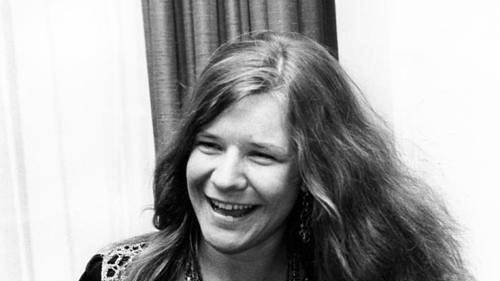 Janis Joplin's life was one of tragic brilliance. A self-destructive artist with a powerful voice, she blazed a trail through the male-dominated world of rock 'n' roll in the 1960s, only to succumb to addiction and an early death at age 27. But her influence continues to be felt today, as she remains one of the most iconic figures in popular music. In this post, we'll take a look at Janis Joplin's life and career, and explore how she became one of the most groundbreaking artists of her generation.
Discover the deepest Love, Feelings, Hold quotes from Janis Joplin, and much more.
Summary
About Janis Joplin
Born:
January 19, 1943
Died:
October 4, 1970
Cause Of Death:
Drug Overdose
Education:
The University Of Texas At Austin, Lamar University
Occupation:
Guitarist, Singer-Songwriter
Awards:
Grammy Lifetime Achievement Award, Grammy Hall Of Fame
Genres:
Psychedelic Rock, Soul, Blues, Blues Rock
Instruments:
Vocals, Guitar
Years Active:
1962-1970
Labels:
Columbia Records
Associated Acts:
Big Brother And The Holding Company, Kozmic Blues Band, Full Tilt Boogie Band, Grateful Dead, Kris Kristofferson And More.
Website:
janisjoplin.com
JANIS JOPLIN QUOTES ABOUT FEELINGS
I have to have the 'umph.' I've got to feel it, because if it's not getting through to me, the audience sure as hell aren't going to feel it either. — Janis Joplin
You can feel all things at once, so why not wear all things at once? — Janis Joplin
I'm not really thinking much… Just sort of, trying to feel. — Janis Joplin
I'm just doing what I wanted to and what feels right and not settling for bullshit and it worked. How can they be mad at that? — Janis Joplin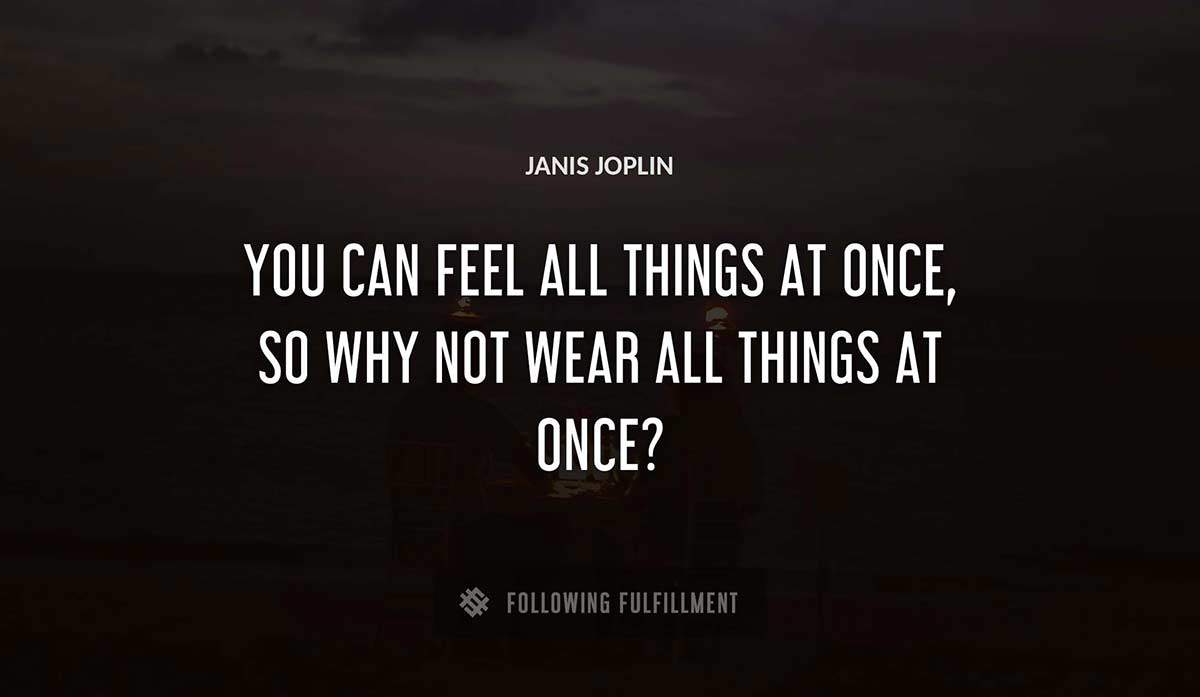 You know you've got it if it makes you feel good. — Janis Joplin
I just want to feel as much as I can, it's what soul is all about. — Janis Joplin
You know why we're stuck with the myth that only black people have soul? Because white people don't let themselves feel things. — Janis Joplin
Don't go looking for Mr. Right. Look for Mr. Right Now. — Janis Joplin
The more you live, the less you die. — Janis Joplin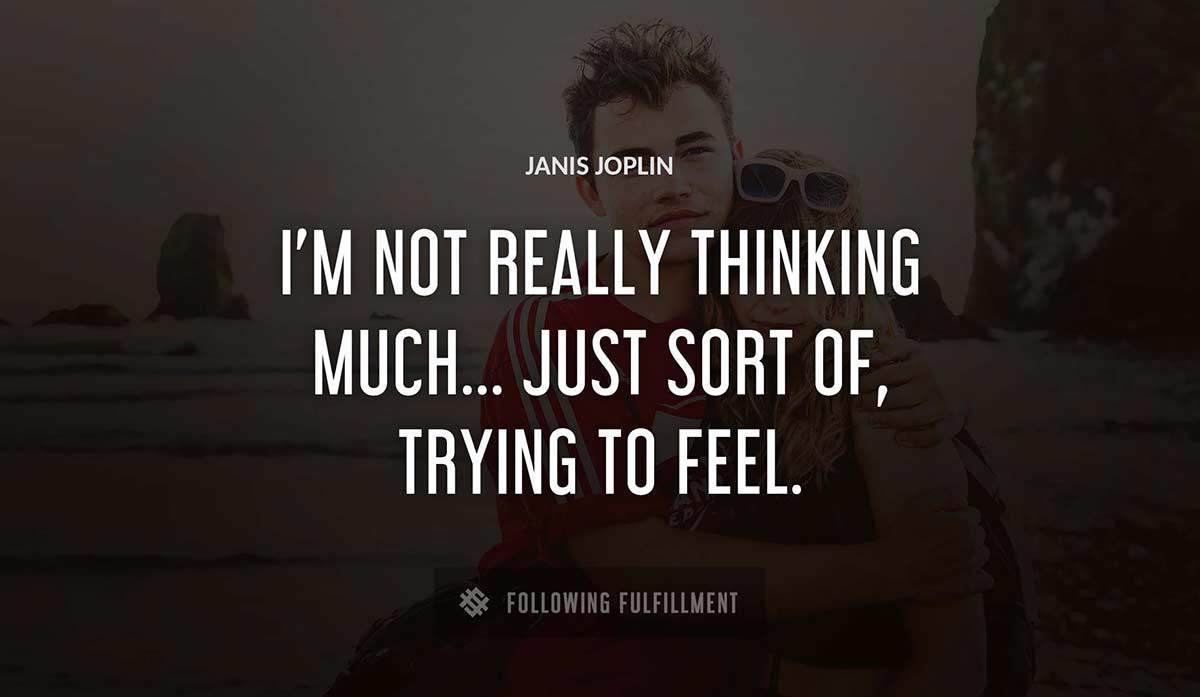 At my concerts most of the chicks are looking for liberation, they think I'm gonna show 'em how to do it. — Janis Joplin
People, whether they know it or not, like their blues singers miserable. They like their blues singers to die afterwards. — Janis Joplin
JANIS JOPLIN QUOTES ABOUT LOVE
I love being a star more than life itself. — Janis Joplin
On stage, i make love to 25,000 people, then i go home alOne. — Janis Joplin
If someone comes along, gonna give you some love and affection, I say get it while you can. — Janis Joplin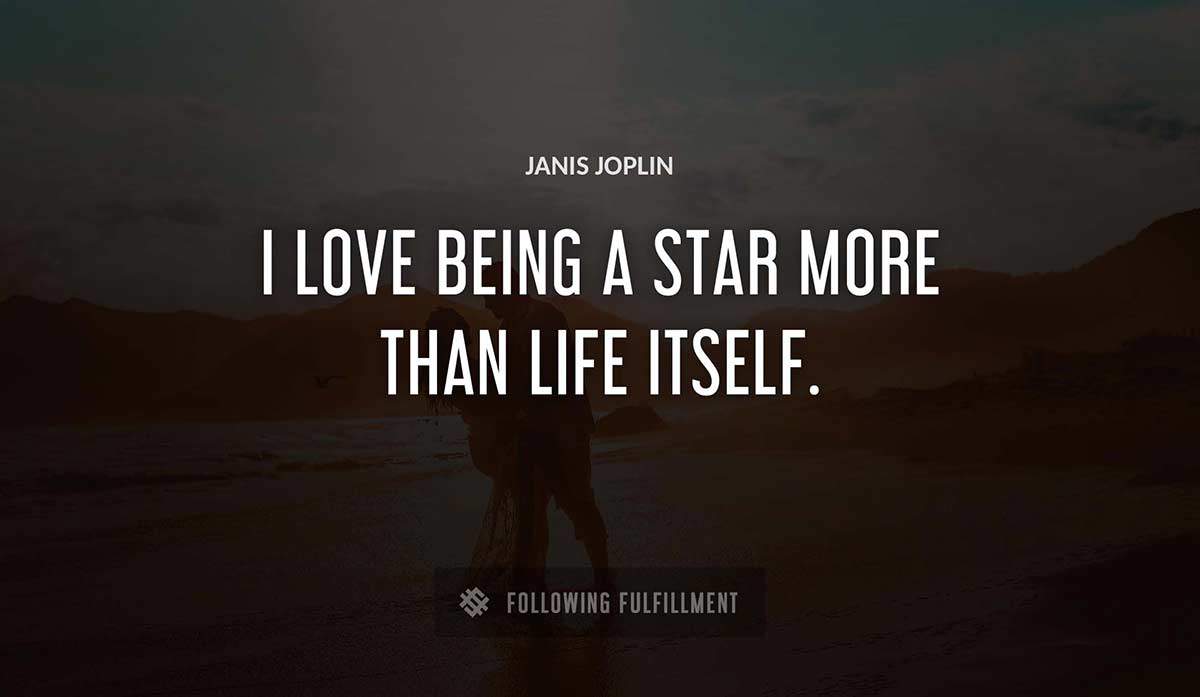 All any girl really wants is just love and a man. But what man can put up with a rock–n–roll star? — Janis Joplin
But she was in love, and love isn't about making sense. — Laura Joplin
I've been looking around, and I noticed something: how much you really need to be loved. Ambition isn't just a desperate quest for positions or money. It's just love–lots of love. — Janis Joplin
My business is to enjoy and have fun. And why not, if in the end everything will end, right? — Janis Joplin
At least we know we tend to be afraid. If you object to my plural noun, I'll retract it. — Janis Joplin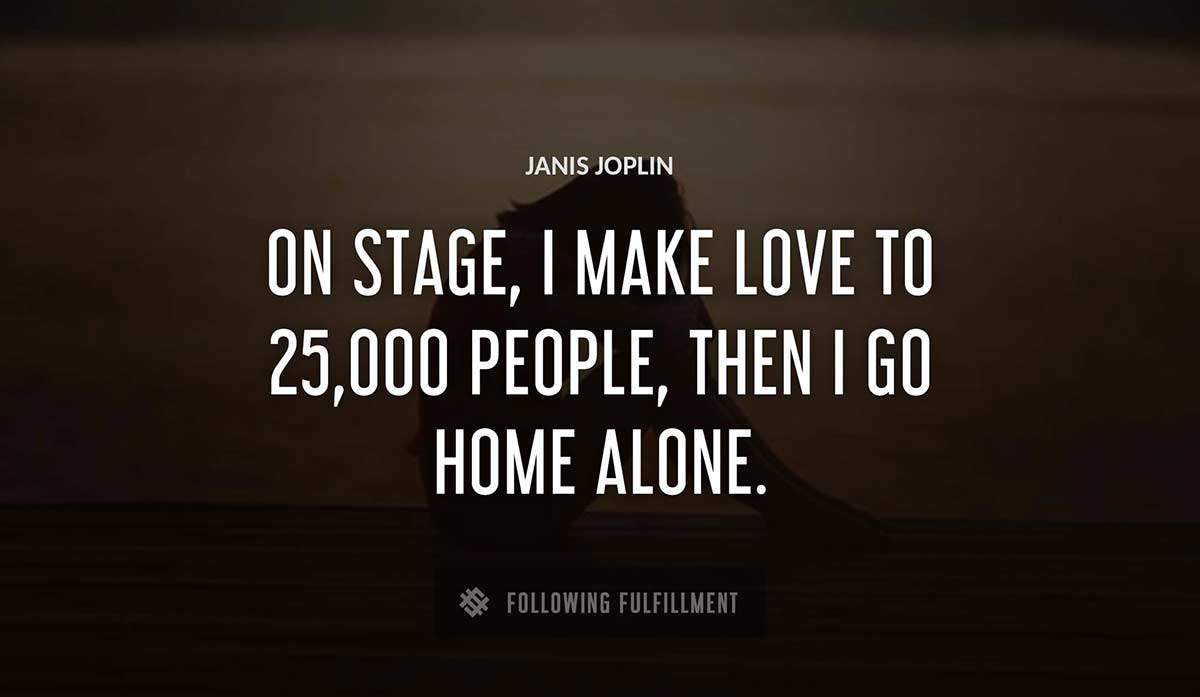 Maybe my audiences can enjoy my music more if they think I'm destroying myself. — Janis Joplin
Singing, it's like loving somebody, it's a supreme emotional and physical experience. — Janis Joplin
Tomorrow never happens. It's all the same fucking day, man. — Janis Joplin
JANIS JOPLIN QUOTES ON HOLD
When you hold somebody, you gotta hold them like it's the last minute of your life. — Janis Joplin
If I hold back, I'm no good. I'm no good. I'd rather be good sometimes, than holding back all the time. — Janis Joplin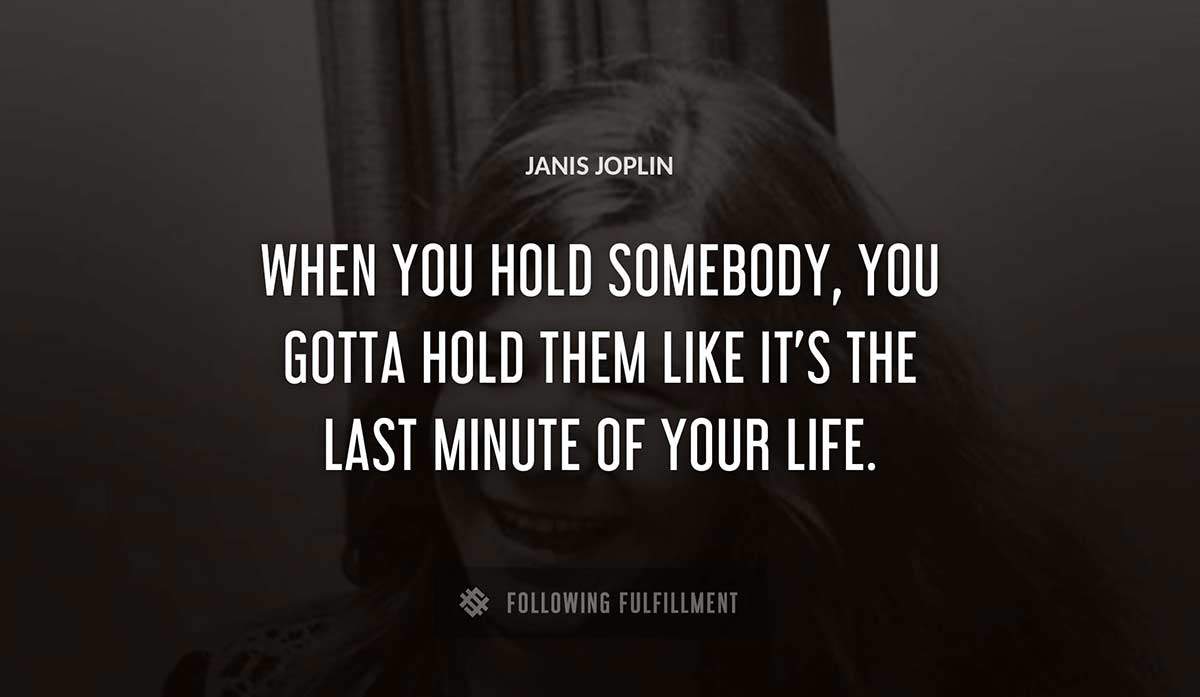 Why should I hold back now and sound mediocre, just so I can sound mediocre twenty years from now. — Janis Joplin
I think I think too much. That's why I drink! — Janis Joplin
Redundant Thematics
In Janis Joplin Statements
My father wouldn't get us a TV, he wouldn't allow a TV in the house. — Janis Joplin
Hippies believe the world could be a better place. Beatniks believe things aren't going to get better and say the hell with it, stay stoned and have a good time. — Janis Joplin
Inspiring Phrases From Janis Joplin
Who you are is what you settle for, you know? — Janis Joplin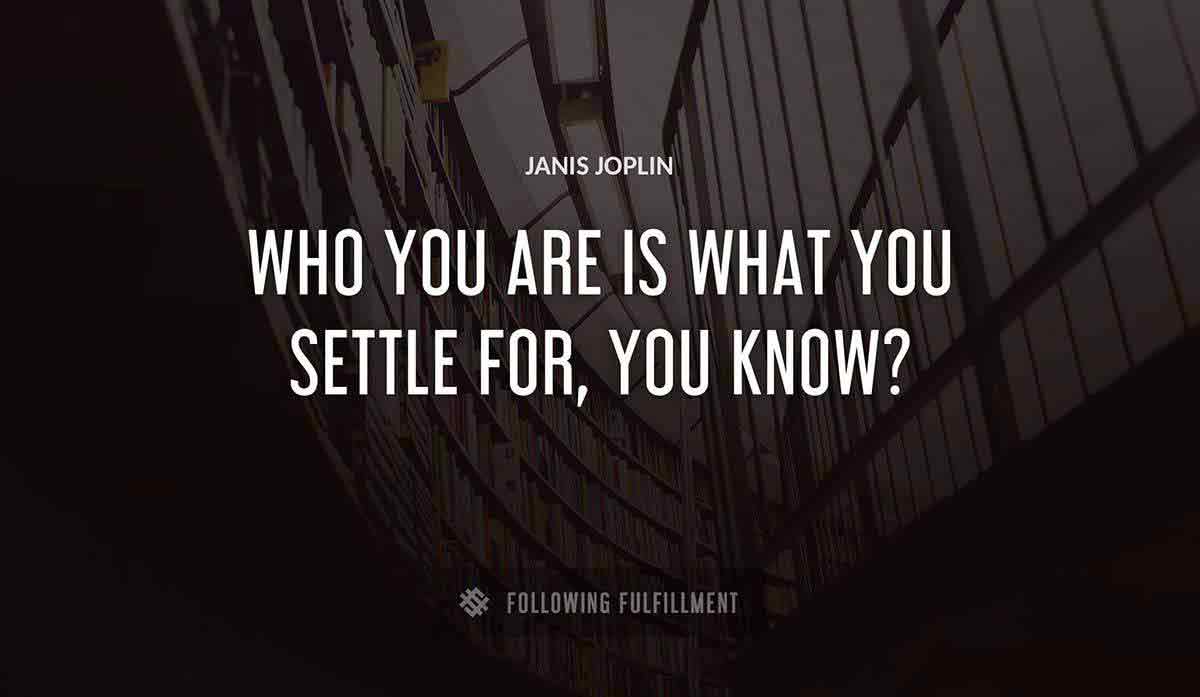 I want a bigger band with higher highs, a bigger ladder. And I want more bottom–I want an incredible amount of bottom. I want more noise. When I do a rock tune I want it to be so HUGE. — Janis Joplin
I can't talk about my singing. I'm inside it. How can you describe something you're inside of? — Janis Joplin
I'd rather not sing than sing quiet. — Janis Joplin
You are what you settle for. You are only as much as you settle for. — Janis Joplin
Like most girls I'm always really self–conscious about do I look fat, if my legs are short, if I'm weird shaped, but when I go on stage, man, it never occurs to me. I think I look beautiful. — Janis Joplin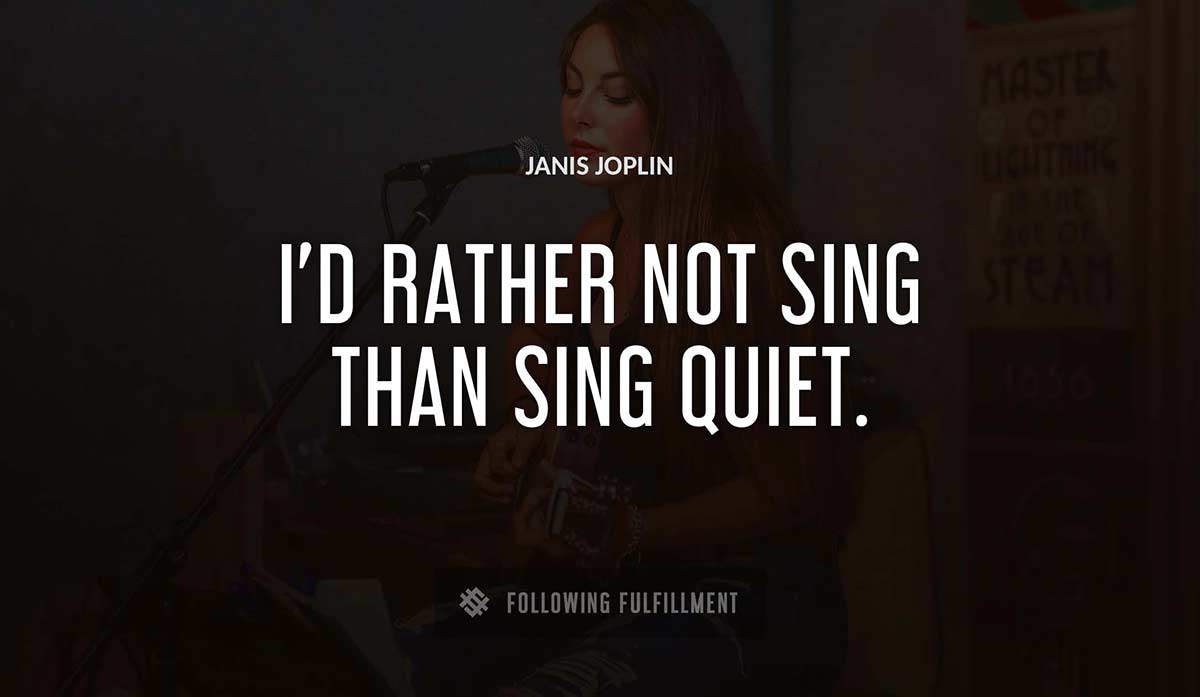 Distance cannot kill this relationship. Time cannot breakdown anything we have. This is a relationship that I am ready to sacrifice and stand up for. — Janis Joplin
Various Statements From Janis Joplin
I would trade all my tomorrow's for one single yesterday. — Janis Joplin
Freedom's just another word for nothing left to lose.'~ — Janis Joplin
Texas is OK if you want to settle down and do your own thing quietly, but it's not for outrageous people, and I was always outrageous. — Janis Joplin
You got to get it while you can. — Janis Joplin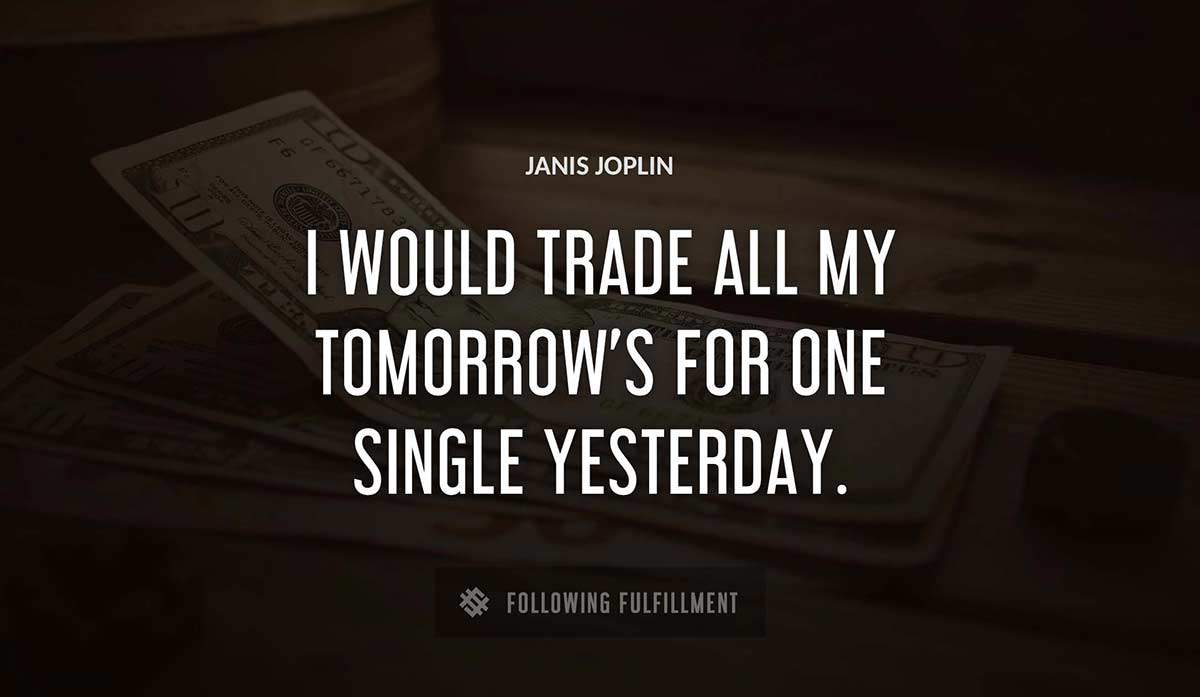 Gimme a pigfoot and a bottle of beer. — Janis Joplin
As it gets closer and more probable, being a star is really losing its meaning. — Janis Joplin
Wait a minute, maybe I can do anything. — Janis Joplin