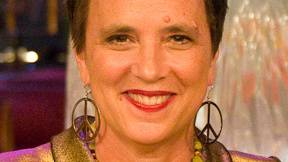 Eve Ensler's passion for the female body and how it is valued has made her a revolutionary voice in modern feminism. Her work The Vagina Monologues premiered in 1996 and has since been translated into 48 languages, performed in more than 140 countries, and created an international movement of women speaking about their bodies. She continues to be a champion for women who are silenced or ignored because of their gender, race, culture or creed. Eve Ensler's story is one that should inspire us all to fight for what we believe in no matter what obstacles stand before us.
We are glad to present you the deepest words from Eve Ensler.
We are glad to present you the strongest Love, Feelings, Body, Women, Time, Cancer, World quotes from Eve Ensler, and much more.
Summary
About Eve Ensler
Born:
May 25, 1953
Occupation:
Playwright, Writer, Performer
Website:
eveensler.org
EVE ENSLER QUOTES ABOUT THE WORLD
Today the United States has the highest prison population in the world, over 2.1 million people. … We lock people up at a rate that is seven to ten times that of any other democracy. — Eve Ensler
Saying the word I was not supposed to say is the thing that gave me a voice in the world. — Eve Ensler
I grew up in a tradition where having ideas and contributing to the community and creating art that had an impact on the world mattered. That's part of the Jewish tradition. — Eve Ensler
I think to be cut off from your heart is the greatest tyranny in the world. — Eve Ensler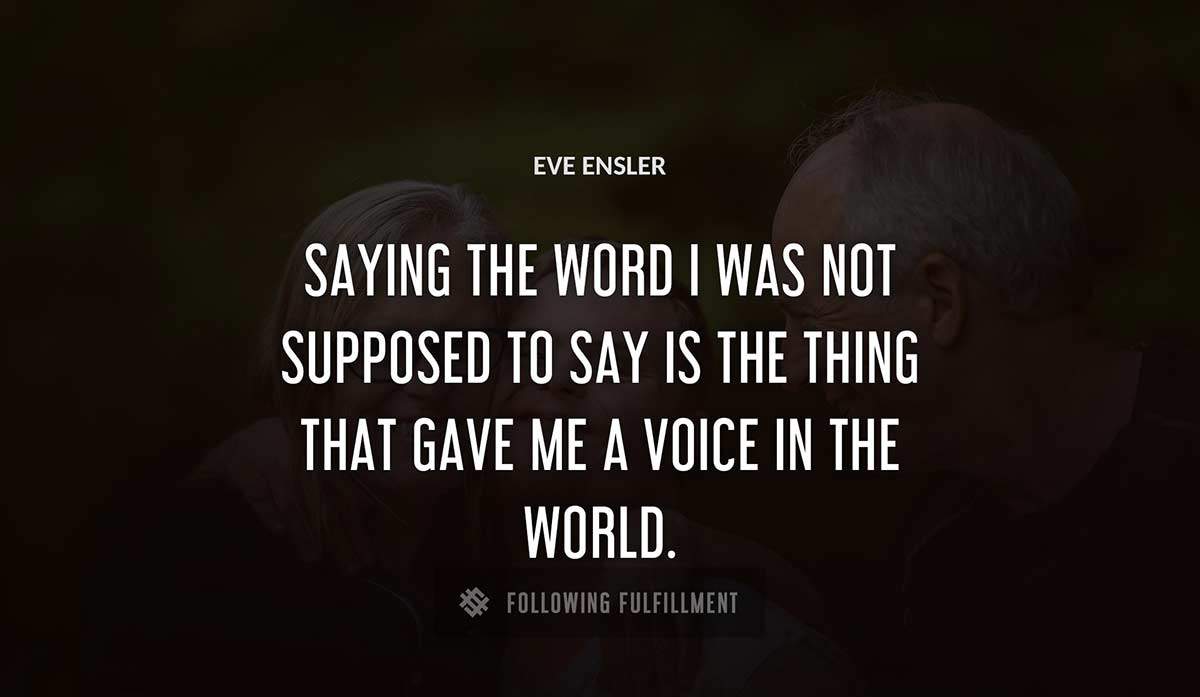 When we give in the world what we want the most, we heal the broken part inside each of us. — Eve Ensler
You have to give to the world the thing that you want the most, in order to fix the broken parts inside you. — Eve Ensler
I think the human species is very suicidal. — Eve Ensler
EVE ENSLER QUOTES ABOUT LOVE
I try not to think about what people think of me. You can't, because then you get hung up in all the people who love you, and you've also got all the people who hate you, because of what you're doing. — Eve Ensler
The love is all around us. I made a life of love. — Eve Ensler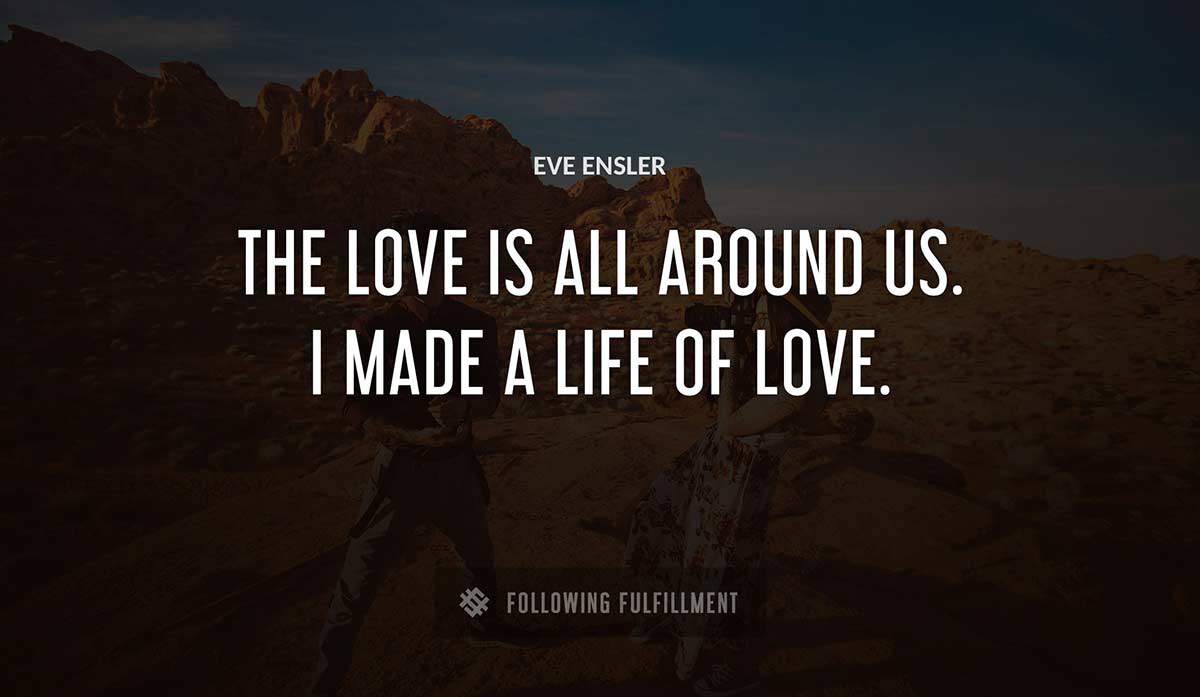 People are more afraid to love than they are to kill. — Eve Ensler
We're in a crisis. We're in a crisis like I don't think America has ever known in my lifetime. But we have to keep joy in our lives, love in our lives, poetry in our lives, dancing in our lives. — Eve Ensler
If you were around in the '60s, you already know that music and art and love are a critical part of the revolution. This is how we fight. — Eve Ensler
Decide whether you want to be liked or admired. — Eve Ensler
EVE ENSLER QUOTES ON WOMEN
We have not yet made violence against women abnormal, extraordinary, unacceptable. We have not yet come to see it as a pathological issue. — Eve Ensler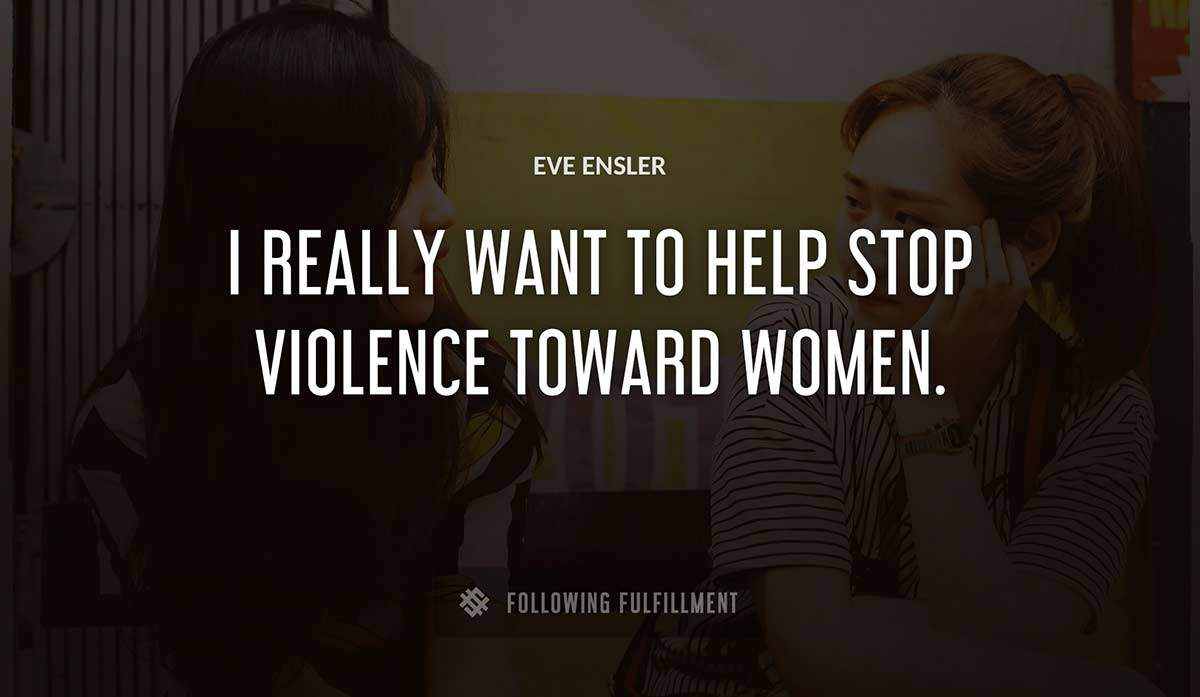 I think violence against women in America has become ordinary–it's been made absolutely acceptable. — Eve Ensler
There is just so much excess in terms of the market for self–remodeling. I think most women are perfectly gorgeous and beautiful the way they are. — Eve Ensler
I really want to help stop violence toward women. — Eve Ensler
The devastation of neoliberalism is so multi–fold, whether it's violence against women or desperate economic inequality or the destruction of the planet. — Eve Ensler
When you destroy a population, once femicide happens, we're going to see the end of humanity, because I don't know how you sustain a future without vitalised women. — Eve Ensler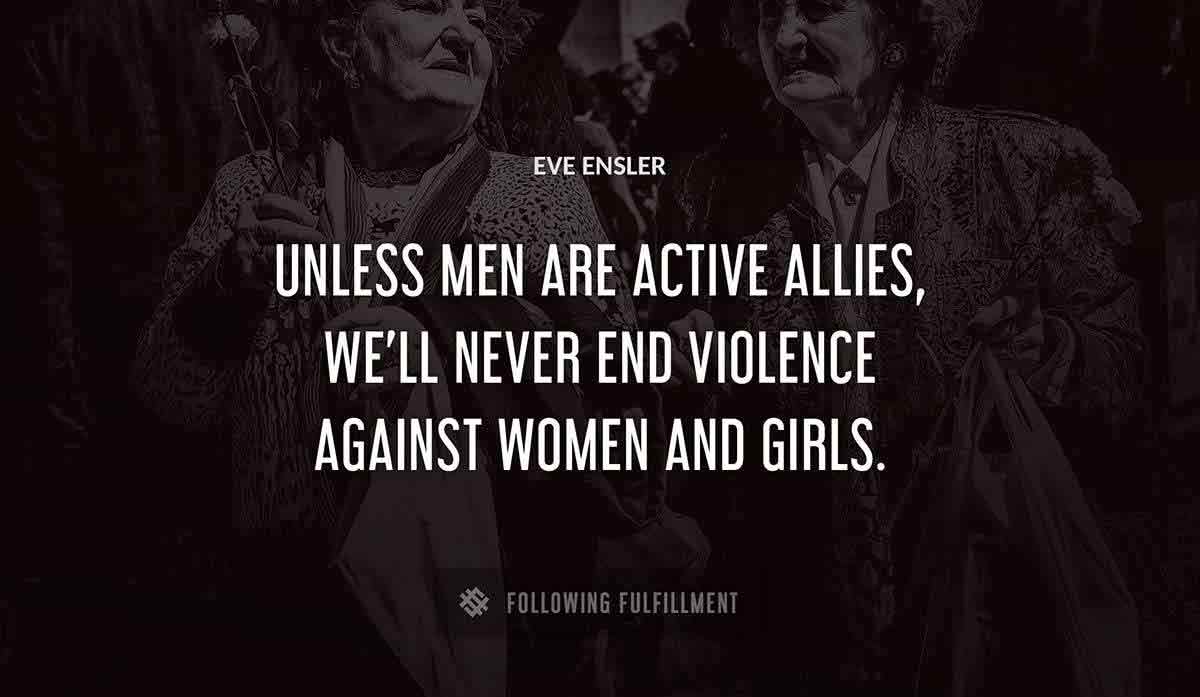 Unless men are active allies, we'll never end violence against women and girls. — Eve Ensler
I honestly never understood how violence against women became a women's issue. 95 percent of the violence men are doing to women. — Eve Ensler
One of the most radical things women can do is to love their body. — Eve Ensler
I think all my work's been about how do women get back into our bodies; how do men get back. We're all disassociated. — Eve Ensler
Why are women immobile? Because so many feel like they're waiting for someone to say, 'You're good, you're pretty, I give you permission. — Eve Ensler
For many years now, I feel like my own body struggle has been linked and connected with women I meet in the world. I think we're in this together. — Eve Ensler
When you rape, beat, maim, mutilate, burn, bury, and terrorize women, you destroy the essential life energy on the planet. — Eve Ensler
I think what all of us have in common is that we've been taught and trained and programmed to focus on fixing and mutilating ourselves. That's a core reason why women do not have power in the world. — Eve Ensler
The mechanism of violence is what destroys women, controls women, diminishes women and keeps women in their so–called place. — Eve Ensler
The desecration of women indicated the failure of human beings to honor and protect life and that this failing would, if we did not correct it, be the end of us all. p. xxxii — Eve Ensler
EVE ENSLER QUOTES ABOUT THE BODY
I have been struggling to find my way back into my body my whole life. — Eve Ensler
Our bodies are critical. If I learned anything from getting really bad cancer seven years ago, it's that your body is what you've got. If you don't take care of it, you're not going to be here. — Eve Ensler
If you are divided from your body, then you are divided from the body of the world. — Eve Ensler
Redundant Thematics
In Eve Ensler Statements
body
love
woman
world
time
violence
cancer
life
tree
The clitoris is pure in purpose. It is the only organ in the body designed purely for pleasure. — Eve Ensler
Stop fixing your bodies and start fixing the world! — Eve Ensler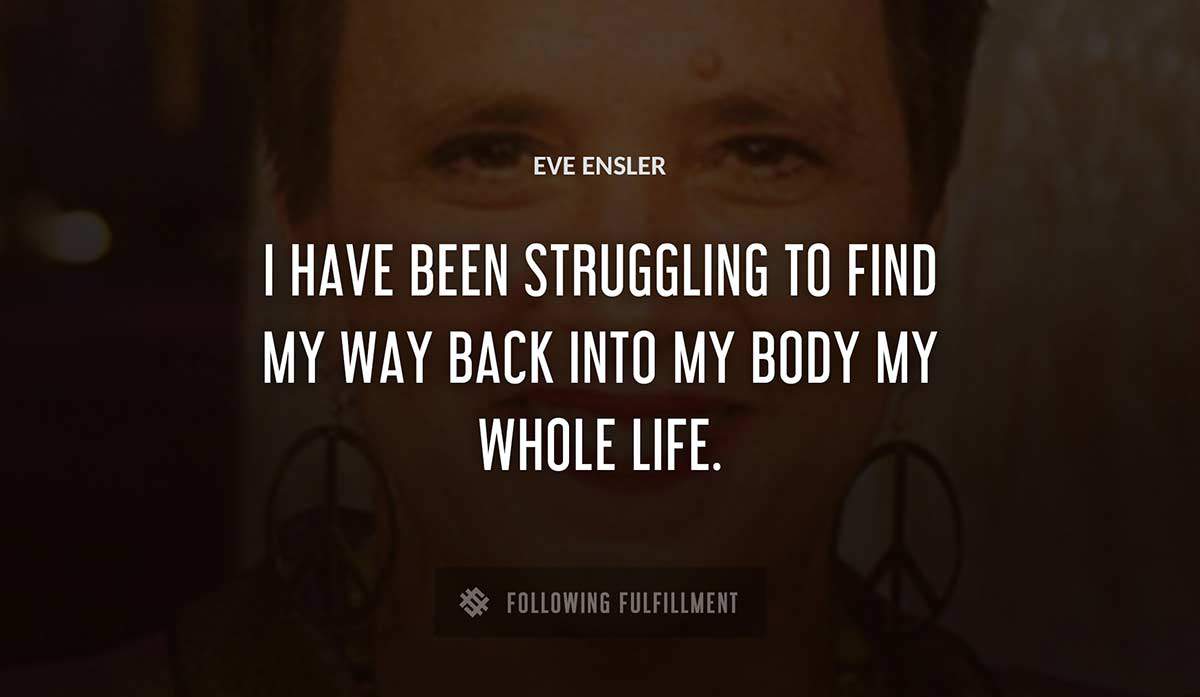 I think many of us get separated from the mothership–our body–early on. I think the mothership is also the Earth, and life itself. Trauma separates us from that and dissociates us from our hearts. — Eve Ensler
There were momentary visitations. I was a visitor, not an inhabitant. I think I say that at the beginning of the book: 'I have made visits to the earth in my body, but it's always been as a visitor. — Eve Ensler
I began to see my body like an iPad or a car. I would drive it and demand things from it. It had no limits. It was invincible. It was to be conquered and mastered like the Earth herself. — Eve Ensler
Stop trying to fix your body. It was never broken. — Eve Ensler
Everything you deny is actually killing you on some level. You see something, you feel something wrong with your body, you pretend it's not happening, it goes on, it grows, it gets worse. — Eve Ensler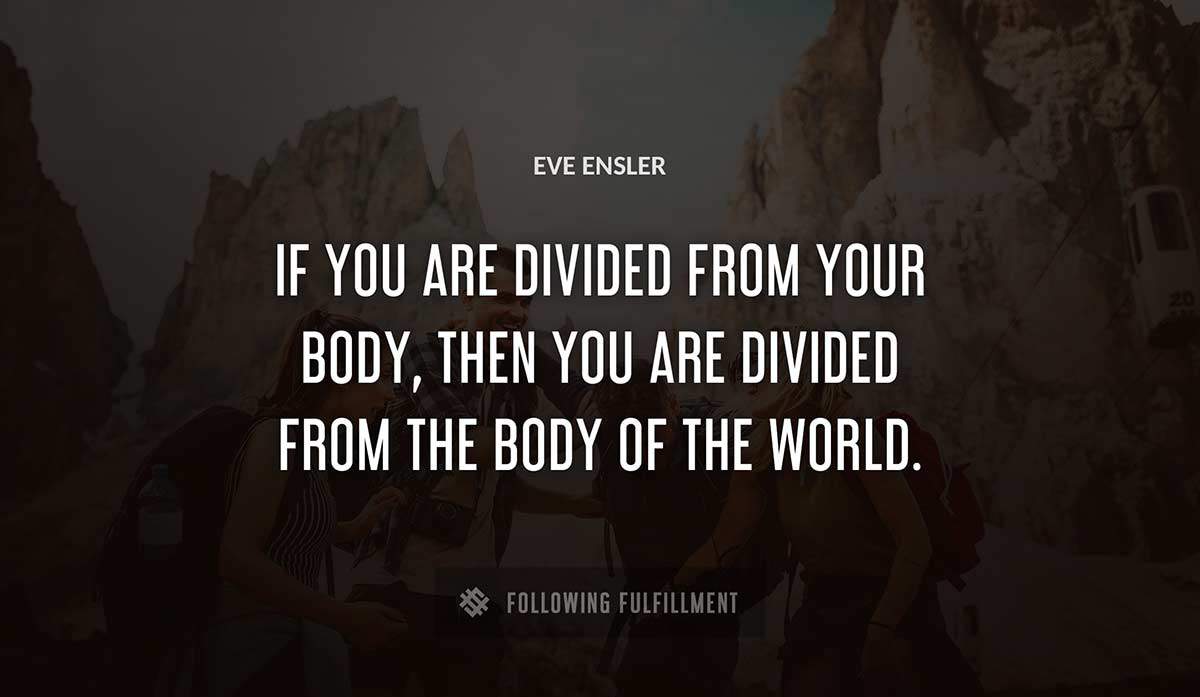 Do you say that tree isn't pretty cause it doesn't look like that tree? We're all trees. You're a tree. I'm a tree. You've got to love your body, Eve. You've got to love your tree. Love your tree. (Leah) — Eve Ensler
I got to a nine–hour surgery, I lost lots of body parts and rearranged, I got really months of infection that I lost 30 pounds. But the idea of pumping poison into my bloodstream just–I couldn't, I couldn't. — Eve Ensler
When I wrote 'The Good Body,' I turned 40 and suddenly had this stomach. It seemed like the end of the world. Because I didn't value my body. I was constantly judging it, but I also didn't live in it. — Eve Ensler
Cancer essentially lives in us and becomes activated at some point, and then cells begin to psychotically divide. Initially, the cancer cell looks like other cells and the body invites it in. — Eve Ensler
EVE ENSLER QUOTES ABOUT FEELINGS
I feel passionate about nurses. I would do anything for nurses. Anything. — Eve Ensler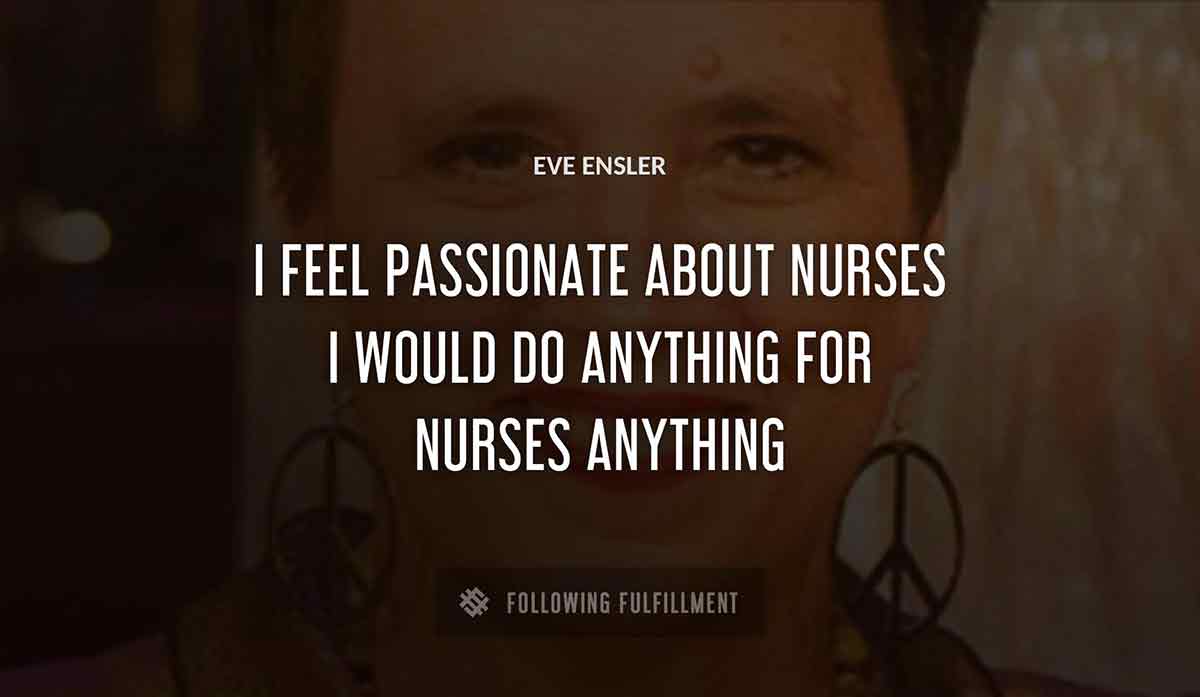 Since cancer, I feel like I have dreams rather than ambitions, visions rather than plans. — Eve Ensler
I'm feeling a kind of liberty to write about what's interesting to me without worrying about what I should be writing about. And that feels good. — Eve Ensler
I feel sometimes with boys that the tyranny of patriarchy has had a much more devastating blow on boys than it has on anyone. Because they have literally been forced to disassociate from their hearts. — Eve Ensler
EVE ENSLER QUOTES ON CANCER
The cancer in me became an awareness of the cancer that is everywhere. The cancer of cruelty, the cancer of carelessness, the cancer of greed. — Eve Ensler
Before cancer, I was obviously disconnected. I had a tumor the size of a mango inside me and didn't do anything about it. It wasn't like I didn't know something was wrong. — Eve Ensler
I'm in good shape. My cancer means I have lost a lot of organs and I'm a lot lighter. I have devoted myself to yoga and I'm doing handstands. — Eve Ensler
The minute someone tells you you have cancer, it's kind of like you die. You really do die. It's like you get that you're mortal. — Eve Ensler
Once you are diagnosed with cancer, time changes. It both speeds up insanely and stops altogether. — Eve Ensler
EVE ENSLER QUOTES ABOUT TIME
I'm a nomad. I have a place in New York in the Flatiron District, and I have a place in Paris in Ile Saint–Louis, and I spend a lot of time in Congo. — Eve Ensler
I think the world is always improving and always not improving. I think that both are simultaneously happening all the time. — Eve Ensler
It seems to me that we spend an inordinate amount of time and attention on fixing ourselves when we could really be directing that out to serving others. — Eve Ensler
I want to touch you in real time not find you on YouTube, I want to walk next to you in the mountains not friend you on Facebook. — Eve Ensler
I was a waitress for nine years, which I don't regret at all. It taught me about discipline. I was always writing; it took a long time to make a career of it. — Eve Ensler