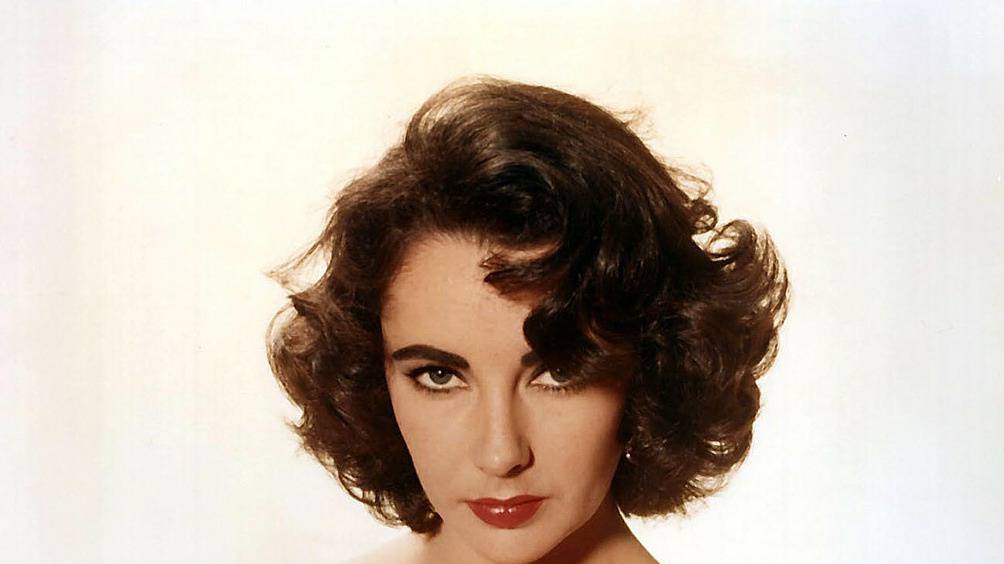 In the early hours of February 27, 1932, a watery sun peeked over the horizon, heralding a new day in London. It would be an important day for one couple in particular, who anxiously awaited the birth of their second child. That child, born later that morning to parents Francis and Sara Taylor, would go on to become one of the most famous actresses in history: Elizabeth Taylor. From her earliest years, it was clear that Liz had a special spark – something that set her apart from other kids her age. She loved performing for anyone who would watch, and she never hesitated to express herself artistically.
Discover the most interesting Love, Life, World, Time quotes from Elizabeth Taylor, and much more.
Summary
About Elizabeth Taylor
Born:
February 27, 1932
Died:
March 23, 2011
Nationality:
United Kingdom, United States
Occupation:
Actress, Businesswoman, Humanitarian
Years Active:
1942-2007
Title:
Dame
Website:
elizabethtaylor.com
ELIZABETH TAYLOR QUOTES ABOUT TIME
My forties are the best time I have ever gone through. — Elizabeth Taylor
Seems like we always spend the best part of our time just saying goodbye. — Elizabeth Taylor
Now is the time for guts and guile. — Elizabeth Taylor
Judaism had absolutely nothing to do with my past marriage to Mike [Todd] or my upcoming marriage to Eddie Fisher, both of whom were Jewish. It was something I had wanted to do for a long time. — Elizabeth Taylor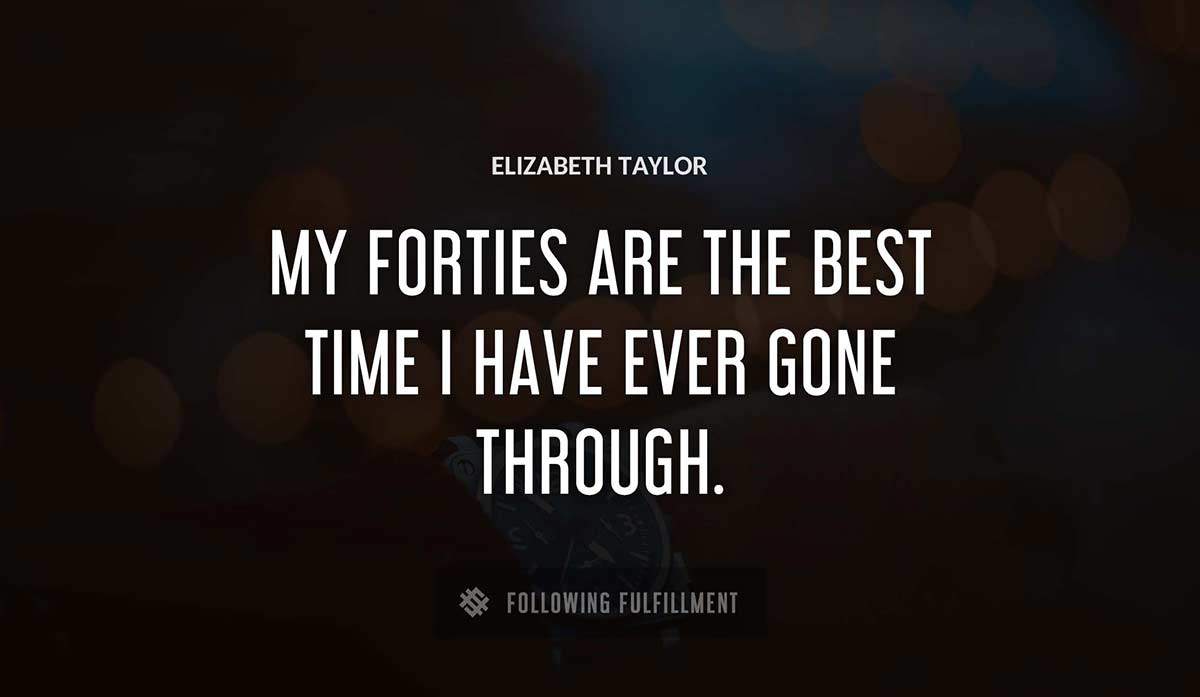 I was so strictly brought up that the only time I could get away would be on my own pony. I could ride wherever I wanted on my godfather's estate in Kent.I wasn't brought up to be afraid of anything. — Elizabeth Taylor
I think I'm finally growing up–and about time. — Elizabeth Taylor
It is very strange that the years teach us patience–that the shorter our time, the greater our capacity for waiting. — Elizabeth Taylor
I love to be casual and comfortable, but I also love the easy glamour of wearing jewelry all the time. — Elizabeth Taylor
I feel like 45. I don't look bad for someone my age, with my history of illnesses and operations and all those anesthetics. When they knock you out, it gives you time to catch up on your beauty sleep. — Elizabeth Taylor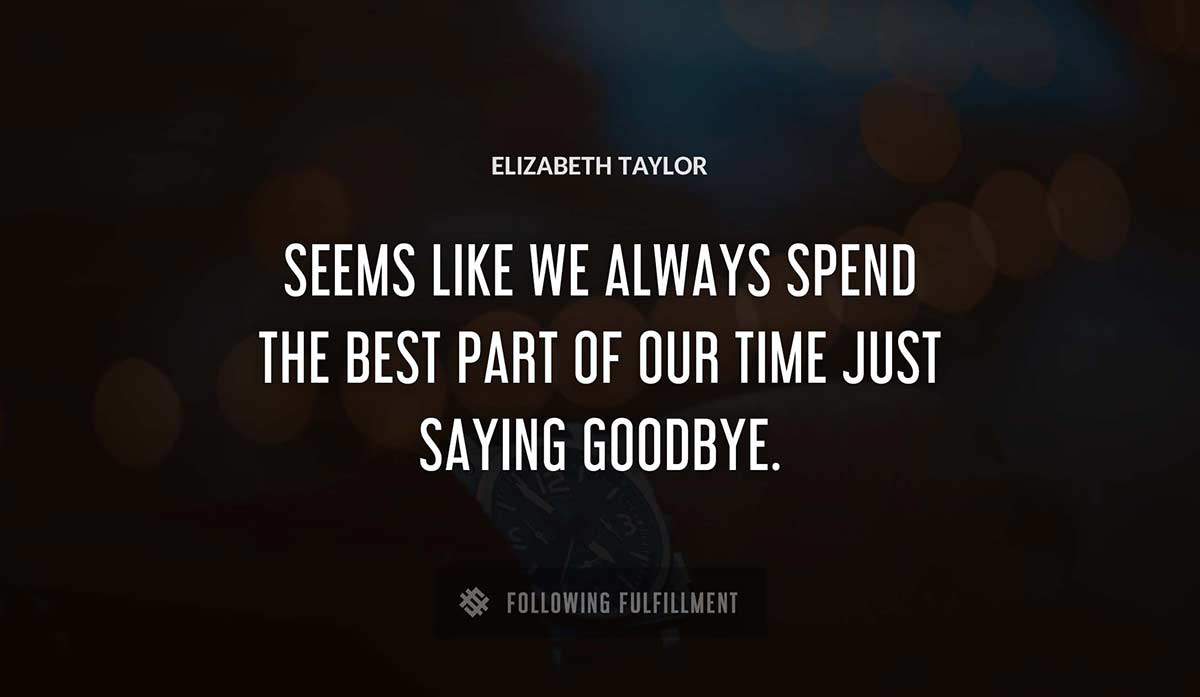 ELIZABETH TAYLOR QUOTES ABOUT LOVE
When I'm not with the one I love, I love the one I'm with. — Elizabeth Taylor
I will love Michael Jackson forever. — Elizabeth Taylor
I love not being me, not being Elizabeth Taylor, but being Richard Burton's wife. — Elizabeth Tayor
If love is a battlefield and we all get scars….These were my reminders…my necessary thorns. — Sabrina Childress
I like the connection with fans and people who have been supportive of me. And I love the idea of real feedback and a two–way street, which is very, very modern. — Elizabeth Taylor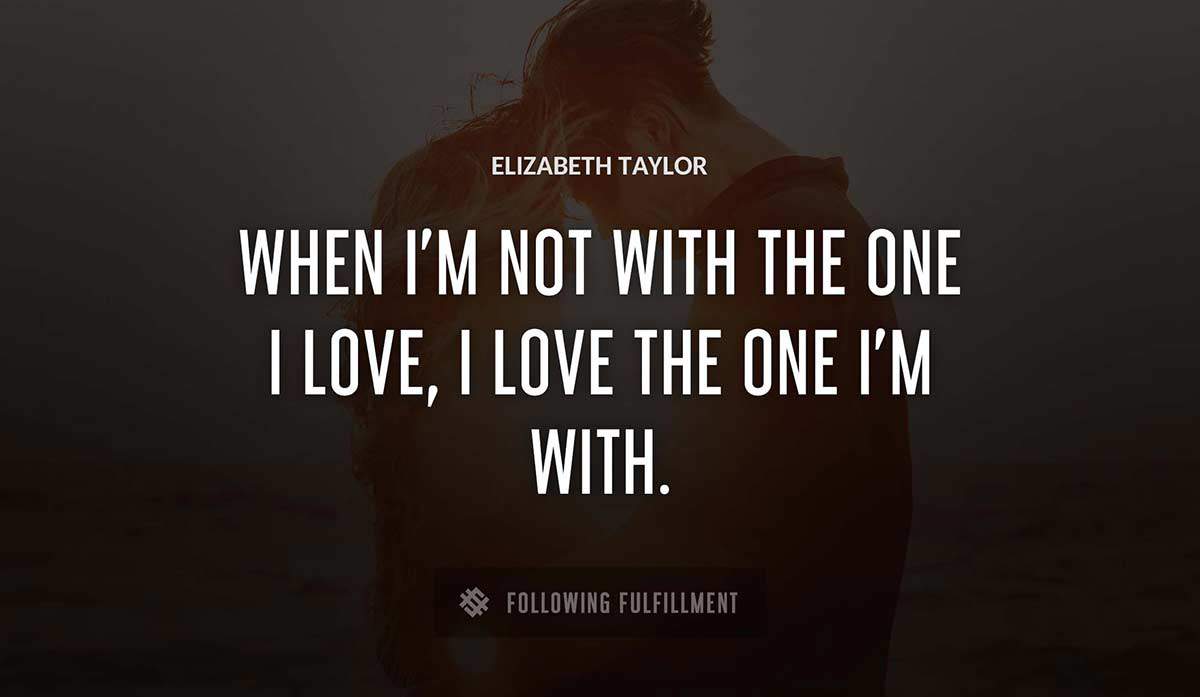 Oh, I love red. I'm very loyal to my colors. I love violet. — Elizabeth Taylor
I've never thought of my jewelry as trophies. I'm here to take care of it and to love it, for we are only temporary custodians of beauty. — Elizabeth Taylor
I don't love acting; I love chocolate. — Elizabeth Taylor
For what movies did Elizabeth Taylor win Oscars?


Elizabeth Taylor won two Academy Awards, one for her performance as a conflicted New York call girl in Butterfield 8 and the second for her performance opposite Burton as the vituperative but vulnerable Martha in Who's Afraid of Virginia Woolf?

Source
I have been supremely lucky in my life in that I have known great love, and of course I am the temporary custodian of some incredible and beautiful things. — Elizabeth Taylor
I hate myself on the screen. I want to die … my voice is either too high or too gravelly. I want to dive under the carpet…. I'd love to be tall and willowy … I'm short. — Elizabeth Taylor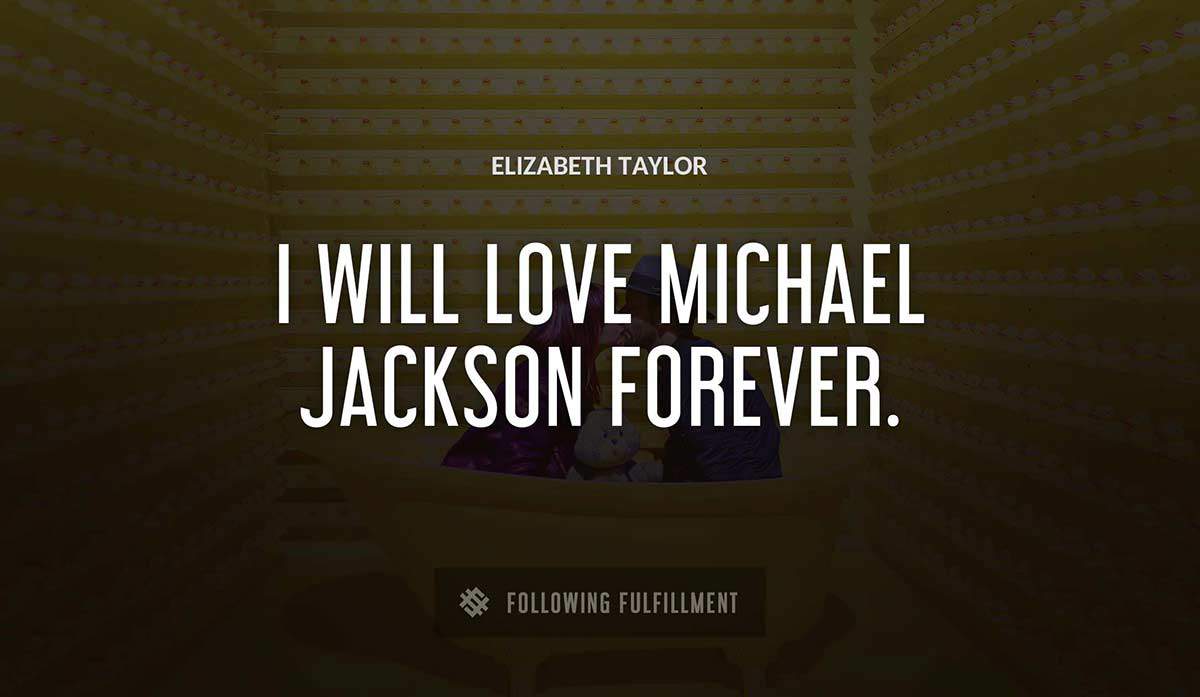 Everything was handed to me–looks, fame, wealth, honour, love. I rarely had to fight for anything — Elizabeth Taylor
I love going to rock concerts, I love to lose myself in that vast wave of rhythm and body heat and get on the same vibe. — Elizabeth Taylor
We should leave our love–making till the dead of night,' she thought. 'And bury it secretly in sleep. — Elizabeth Taylor
I call upon you to draw from the depths of your being–to prove that we are a human race, to prove that our love outweighs our need to hate, that our compassion is more compelling than our need to blame. — Elizabeth Taylor
I prefer rugby to soccer. I enjoy the violence in rugby, except when they start biting each other's ears off. — Elizabeth Taylor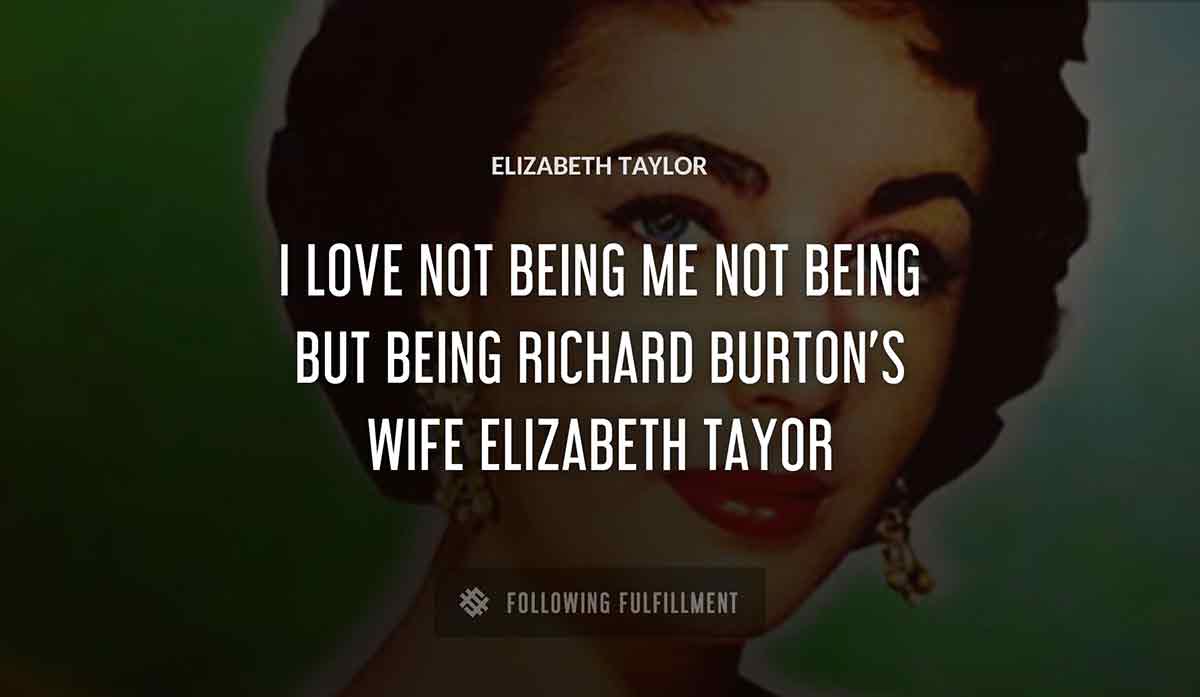 Follow your passions, follow your heart, and the things you need will come. — Elizabeth Taylor
I've always admitted that I'm ruled by my passions. — Elizabeth Taylor
Redundant Thematics
In Elizabeth Taylor Statements
love
woman
world
time
life
marriage
I have a woman's body and a child's emotions. — Elizabeth Taylor
I adore wearing gems, but not because they are mine. You can't possess radiance, you can only admire it. — Elizabeth Taylor
I loved being admired by Richard. It was the kind of admiration that mattered to me. I felt adored, worshipped. — Elizabeth Taylor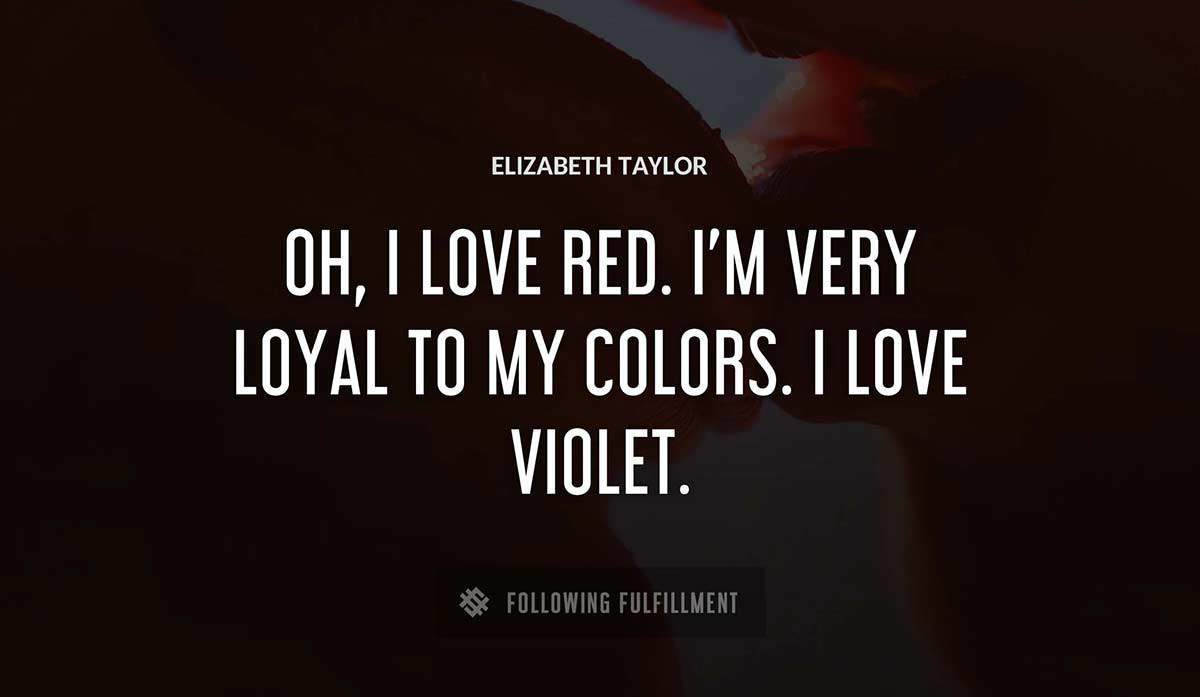 ELIZABETH TAYLOR QUOTES ON LIFE
I'm just an instinctive actress, I've never had a lesson in my life. — Elizabeth Taylor
I'm not afraid. Life is just such an adventure to me. — Elizabeth Taylor
I never planned to acquire a lot of jewels or a lot of husbands. For me, life happened, just as it does for anyone else. — Elizabeth Taylor
I do enjoy life, I really do. Especially if I wake up the next day. — Elizabeth Taylor
My dear girl, you must cultivate a taste for the finer things. Civilized pleasures give meaning to life. — Barbara Taylor Bradford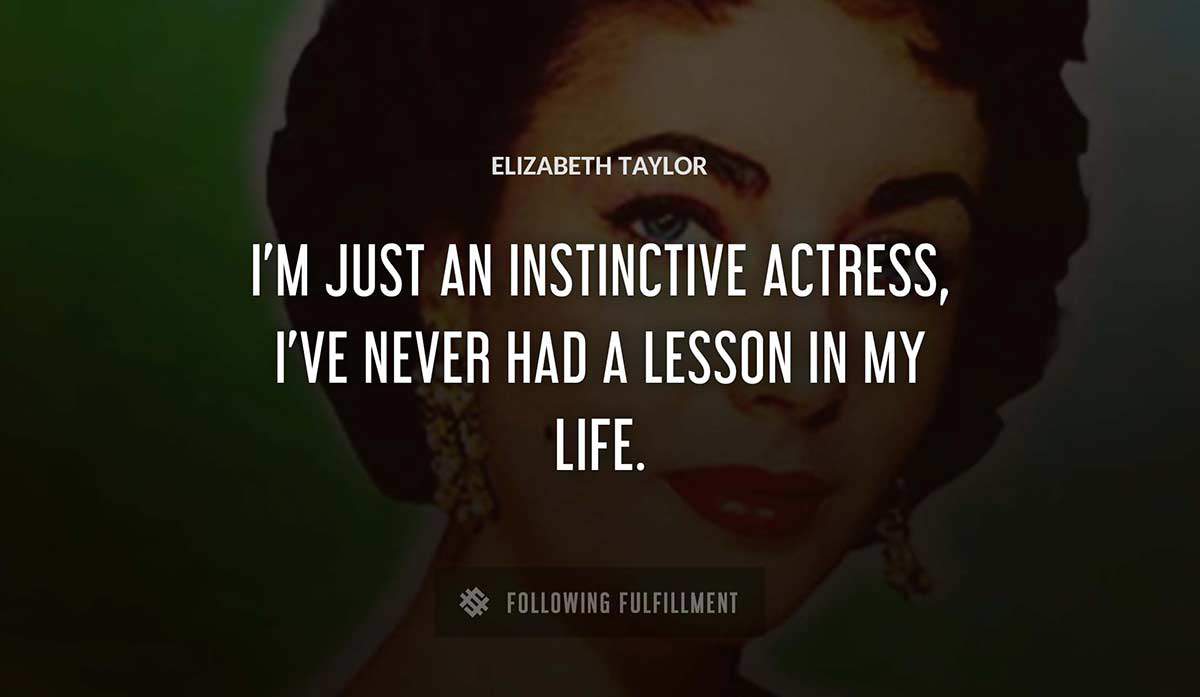 Acting is fun. It's not my whole life. It's not my entire being. It's secondary to my life. My life is primary. I'm running in the primary, as you know. — Elizabeth Taylor
The public library is more than a repository of books. It's a mysterious, wondrous place with the power to change lives. — Elizabeth Taylor
I'm a survivor–a living example of what people can go through and survive. — Elizabeth Taylor
ELIZABETH TAYLOR QUOTES ABOUT THE WORLD
If it is not to make the world better what is money for? — Elizabeth Taylor
Being able to go on location and see the world was the greatest perk of all. — Elizabeth Taylor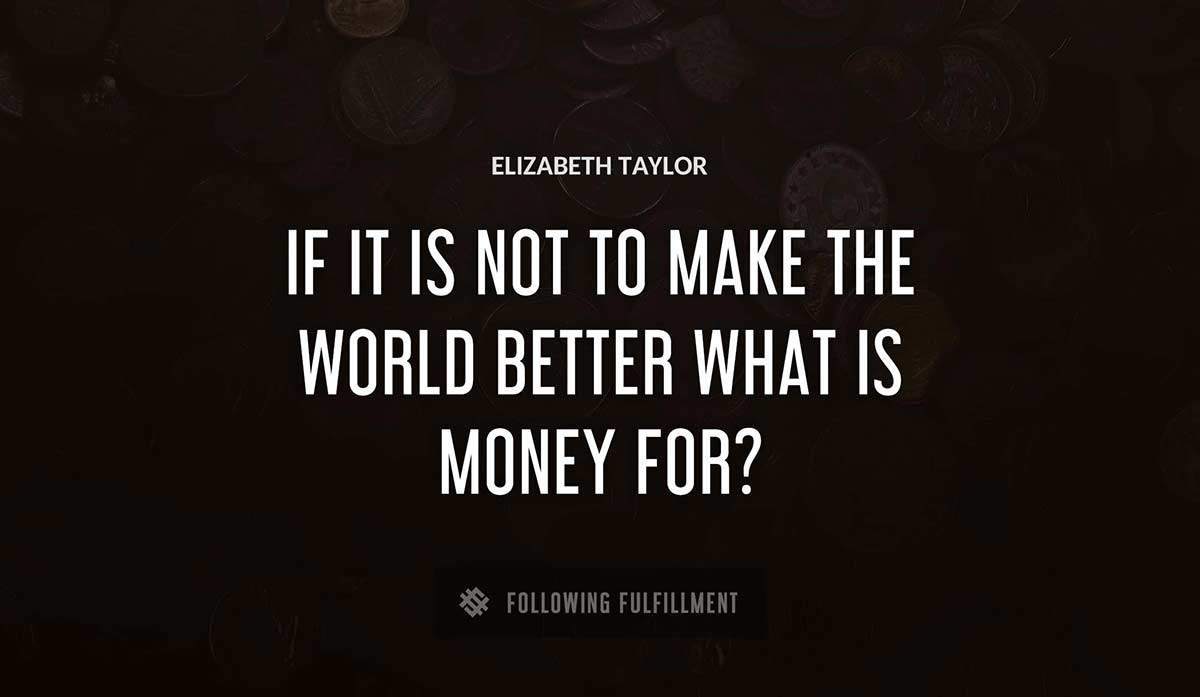 You are who you are. All you can do in this world is help others to be who they are and better themselves. — Elizabeth Taylor
All that she saw and felt tired her, and she longed to shut out the world and be secure in the womb of her imagination. — Elizabeth Taylor
When you're fat, the world is divided into two groups–people who bug you and people who leave you alone. The funny thing is, supporters and saboteurs exist in either camp. — Elizabeth Taylor
I just loved the feeling of flying. I could jump six feet bareback and it was the closest thing to being Pegasus and flying next to God. It's the most liberating freedom–making feeling in the world. — Elizabeth Taylor
A 'name' no longer carries a film. People used to go to the cinema to see a 'John Wayne film.' And you don't have that thing happening now except in the rock world, which has taken the event out of movies. — Elizabeth Taylor