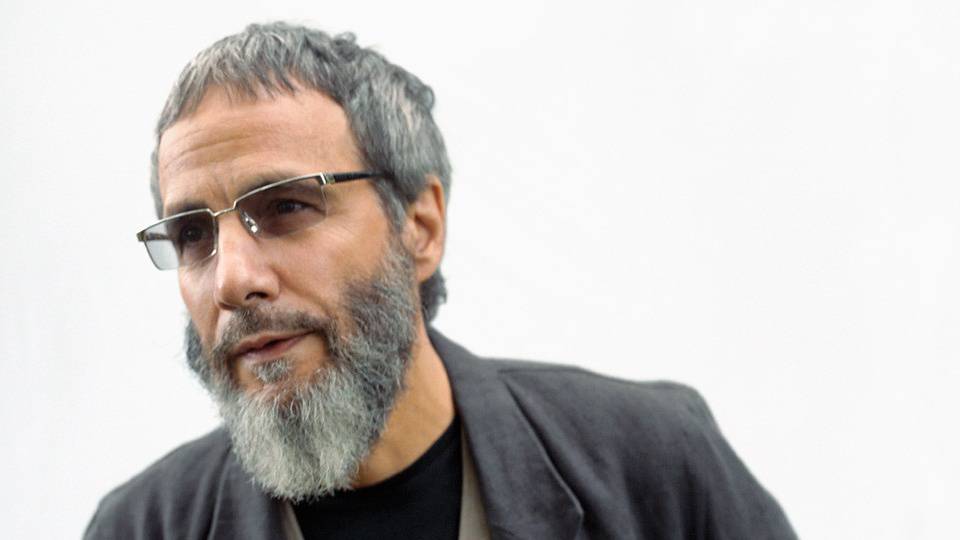 Most people know Cat Stevens as the 1970s soft rock singer-songwriter who had a string of hits like Morning Has Broken and Wild World. But what many people don't know is that Cat Stevens was actually a devout Muslim, and in 1978 he decided to abandon his music career to study under a Sufi sheikh. This left many of his fans wondering what happened to the singer they knew and loved. In this blog post, we'll take a closer look at Cat Stevens' life journey from teenage musician to spiritual seeker. We'll also explore how his experiences shaped the music he created later in life.
Discover the most interesting Music, Love, Religion, Time, Life, World quotes from Cat Stevens, and much more.
Summary
About Cat Stevens
Born:
21 July 1948
Genres:
Folk, Pop, Rock, Islamic
Occupation:
Singer-Songwriter, Musician
Instruments:
Vocals, Guitar, Keyboards
Years Active:
1965-1980
Labels:
Deram, Island, A&M, Mountain Of Light, Jamal, Ya And More.
Associated Acts:
Alun Davies
Website:
catstevens.com
CAT STEVENS QUOTES ON RELIGION
They have hijacked my religion. — Cat Stevens
Islam is not just a religion. Islam is everything. — Cat Stevens
There was no division I could see between the essential teaching of all Prophets and wise men of religion. — Cat Stevens
At Jerusalem, I went to the mosque and sat down. A man asked me what I wanted. I told him I was a Muslim. Now I realize I can get direct contact with God, unlike Christianity or any other religion. — Cat Stevens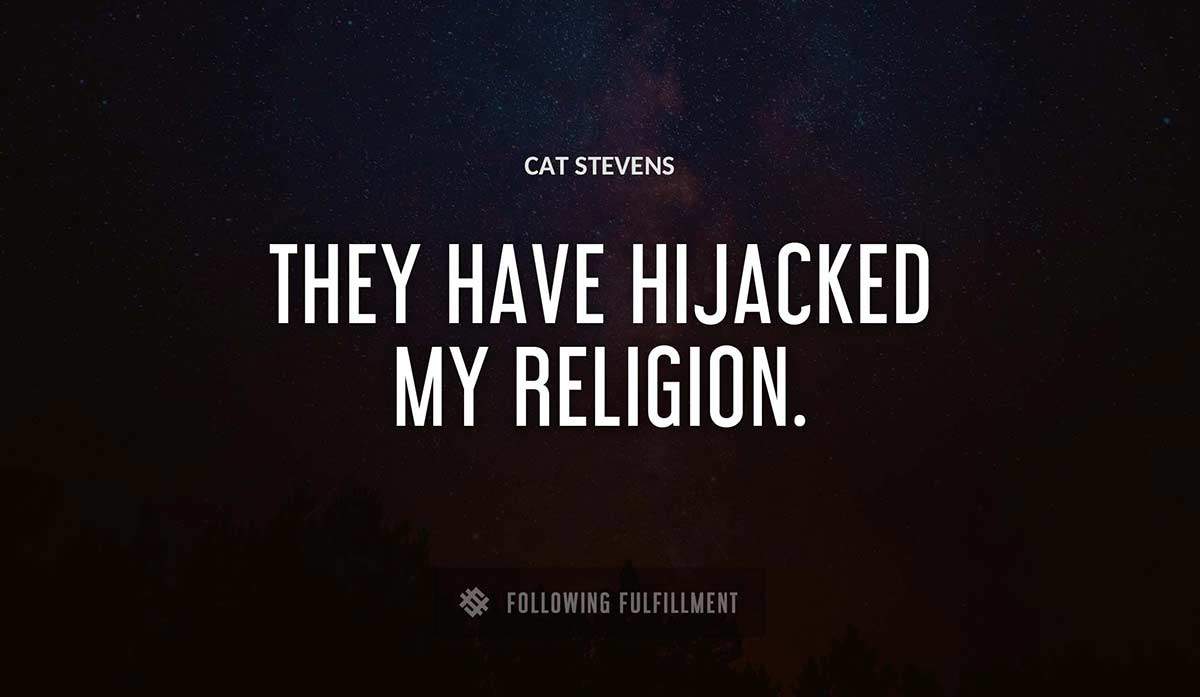 I found a religion that blended scientific reason with spiritual reality in a unifying faith far removed from the headlines of violence, destruction and terrorism. — Cat Stevens
CAT STEVENS QUOTES ABOUT MUSIC
Music is part of God's universe. — Cat Stevens
I let my music take me where my heart wants to go. — Cat Stevens
Music satisfies and nourishes the hunger within ourselves for connection and harmony. — Cat Stevens
I had to learn my faith and look after my family, and I had to make priorities. But now I've done it all and there's a little space for me to fill in the universe of music again. — Cat Stevens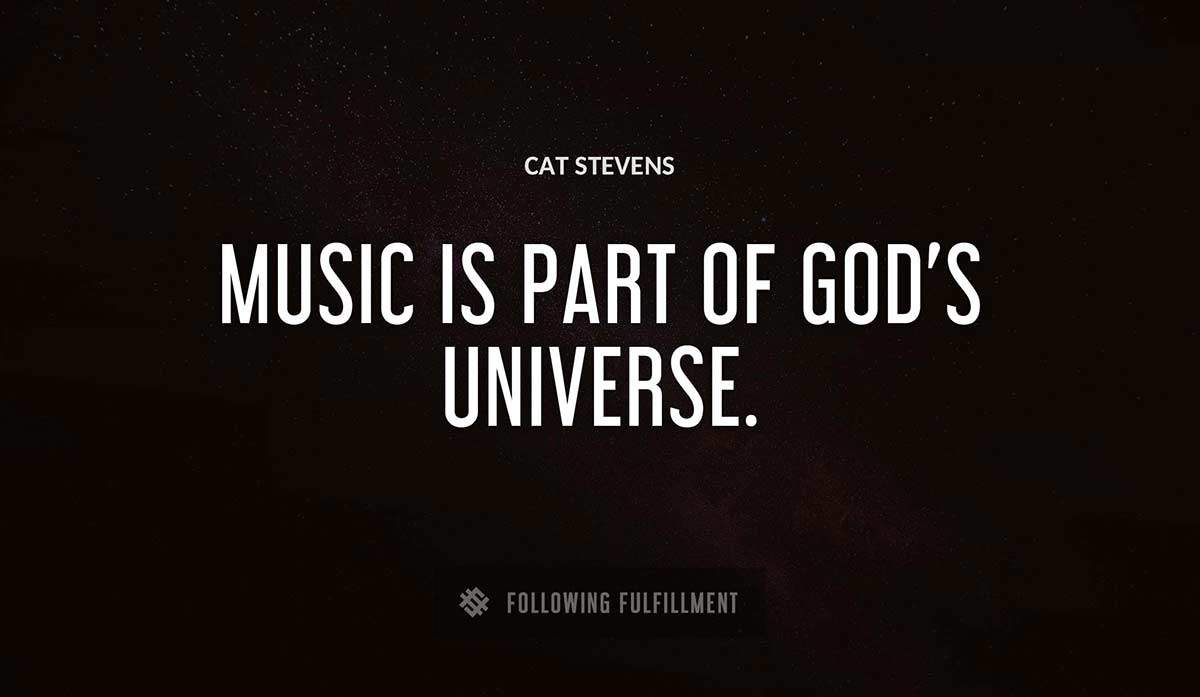 I suppose that by being absent from the music business, it appeared that I just dropped out, but really I never did. I was continuously working and doing various things. — Cat Stevens
Music can be healing, and with my history and my knowledge of both sides of what looks like a gigantic divide in the world, I feel I can point a way forward to our common humanity again. — Cat Stevens
CAT STEVENS QUOTES ABOUT LOVE
Will you carry the words of love with you? — Cat Stevens
Love heats my blood, blood spins my head, and my head falls in love. — Cat Stevens
Music is a lady that I still love because she gives me the air that I breathe. We need all sorts of nourishment. And music satisfies and nourishes the hunger within ourselves for connection and harmony. — Cat Stevens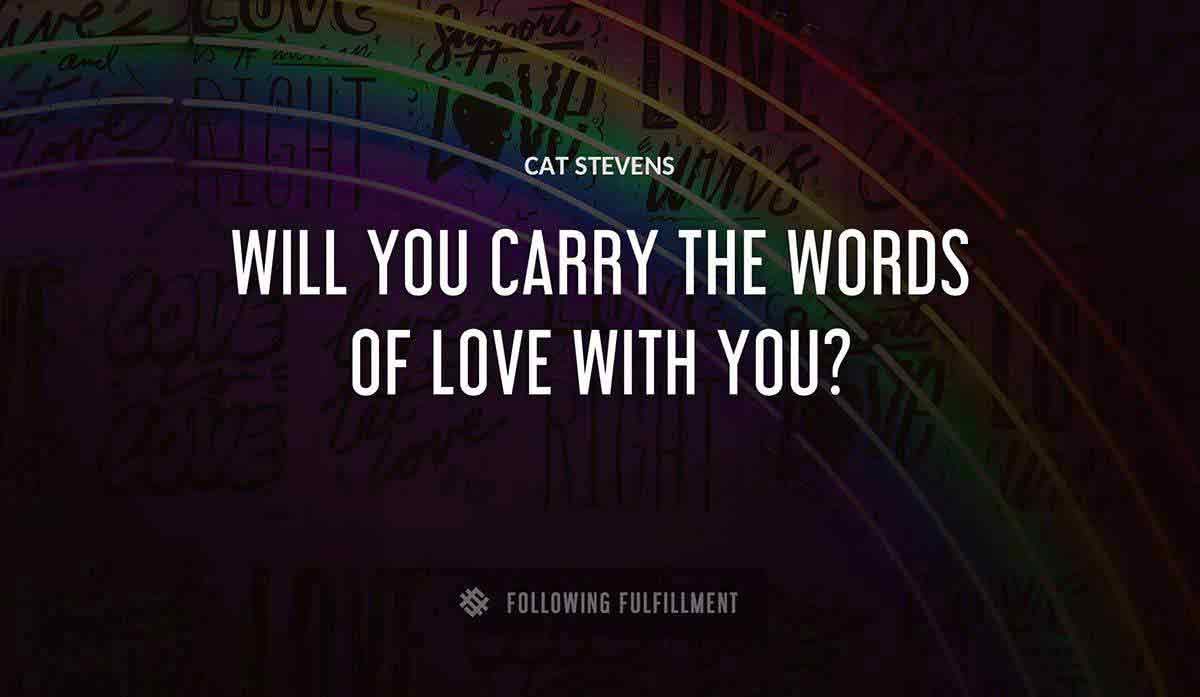 Because I don't play guitar any more, African harmonies and rhythms have been an inspiration to me. I love the raw origin of the sound. It complements my voice and words naturally. — Cat Stevens
Now I'm not making love to anyone's wishes, Only for that light I see 'Cause when I'm dead and lowered low in my grave, That's gonna be the only thing that's left of me. — Cat Stevens
CAT STEVENS QUOTES ABOUT TIME
If I make a mark in time, I can't say the mark is mine. — Cat Stevens
Miles from nowhere. Guess I'll take my time. — Cat Stevens
So on and on I go, the seconds tick the time out There's so much left to know, and I'm on the road to find out. — Cat Stevens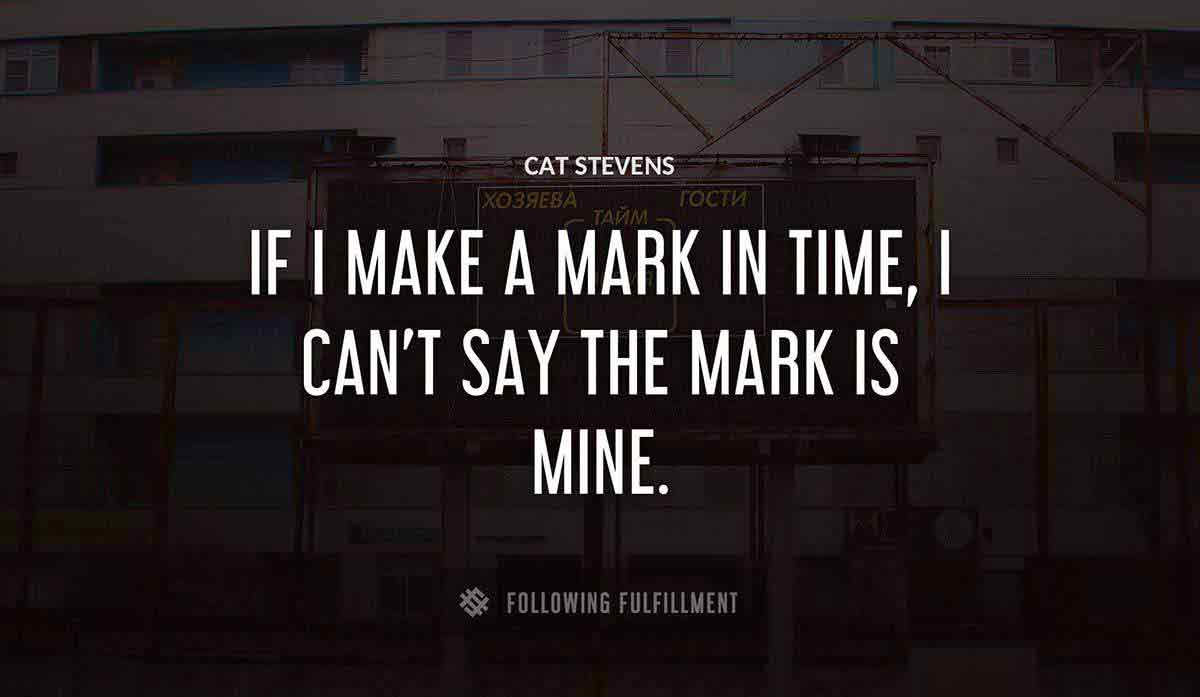 Positive thoughts and prayer have been the best means available, since the beginning of time, to transform darkness to light. — Cat Stevens
Don't you feel a change a coming From another side of time, Breaking down the walls of silence, Lifting shadows from your mind. — Cat Stevens
I'm a little bit out of it, I suppose; I'm more of the golden oldie type. — Cat Stevens
Redundant Thematics
In Cat Stevens Statements
muslim
feel
music
love
religion
world
time
islam
life
wind
CAT STEVENS QUOTES ON LIFE
Communal well–being is central to human life. — Cat Stevens
Life is a journey, you know; and a lot of journeys, you go out, you come back. — Cat Stevens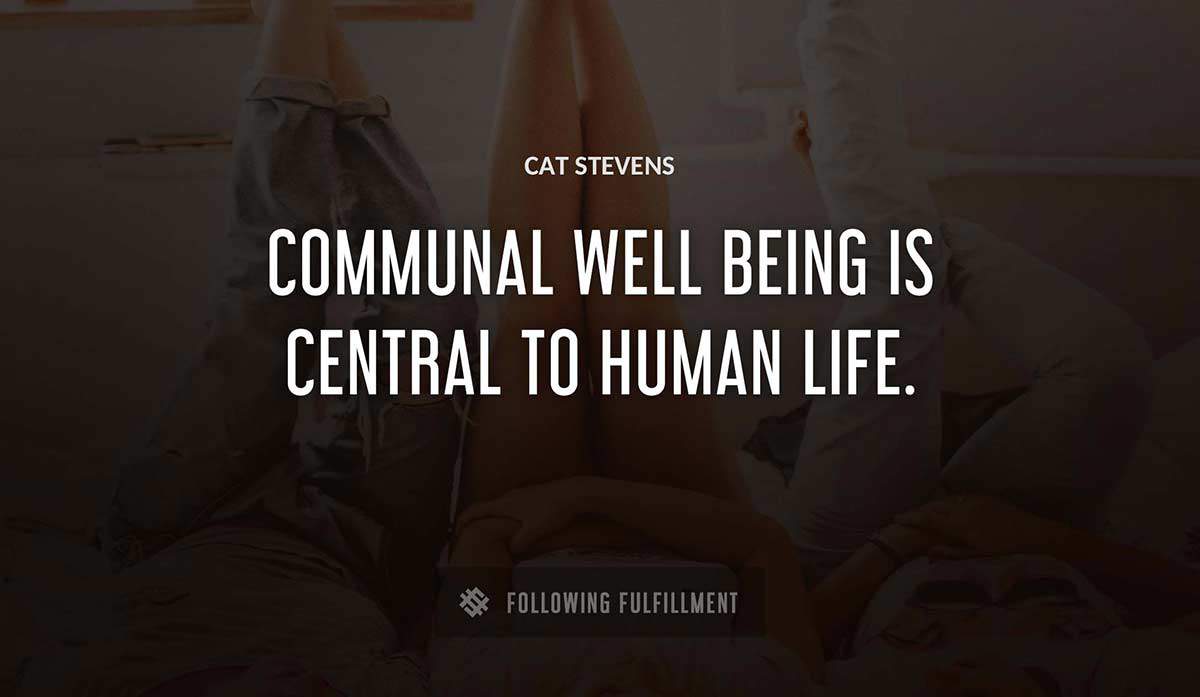 I enjoy life. I think I'll enjoy death even more. Life is too confusing. — Cat Stevens
Do radioactive cats have eighteen half–lives? — Steven Wright
It was important for me to duck out of the fast and furious life I'd been living as a pop star. I was in a different mood. — Cat Stevens
I became very famous, as a teenager, and my name and photo were splashed in all the media. They made me larger than life, so I wanted to live larger than life, and the only way to do that was to be intoxicated. — Cat Stevens
Not only did the terrorists hijack planes and destroy life, but they also hijacked the peaceful religion of Islam and split the brother and sisterhood of mankind. — Cat Stevens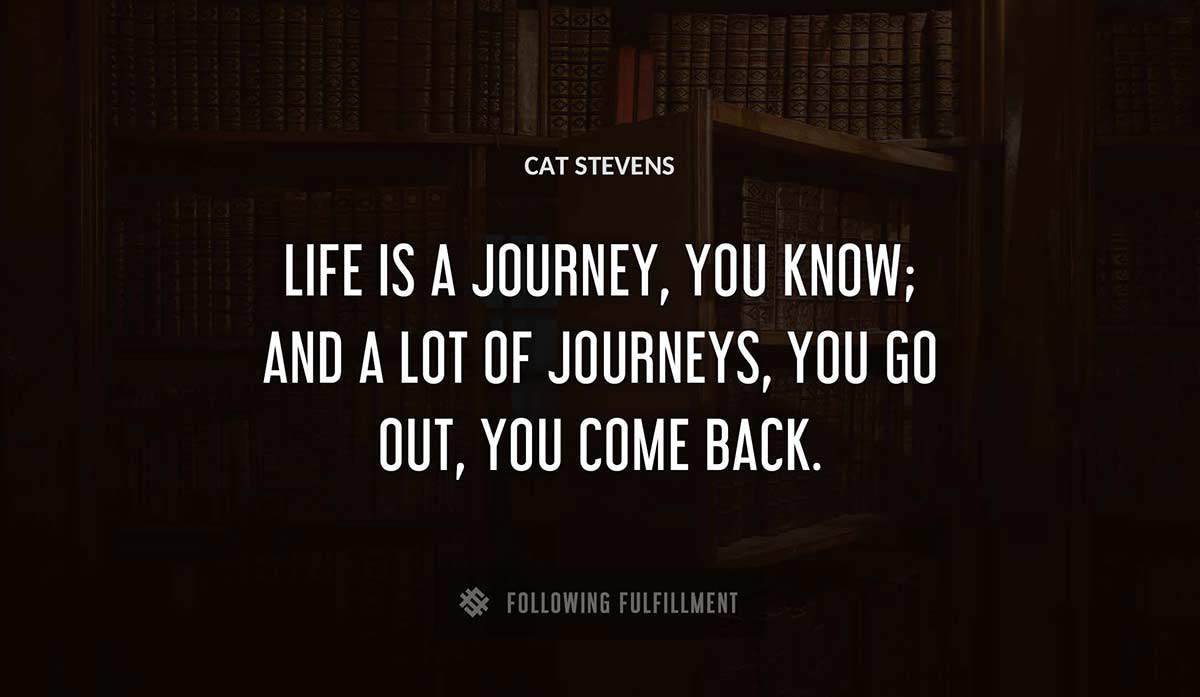 There is a social need within our lives as human beings to have harmony. — Cat Stevens
Man is created to be God's deputy on earth and it is important to realize the obligation to rid ourselves of all illusions and to make our lives a preparation for the next life. — Cat Stevens
CAT STEVENS QUOTES ABOUT THE WORLD
I've been smiling lately, dreaming about the world as one. And I believe it could be someday it's going to come. — Cat Stevens
Ooh baby, baby, it's a wild world, it's hard just to get by upon a smile. — Cat Stevens
I was brought up in the modern world of all the luxury and the highlight of show business. I was born into a Christian home. — Cat Stevens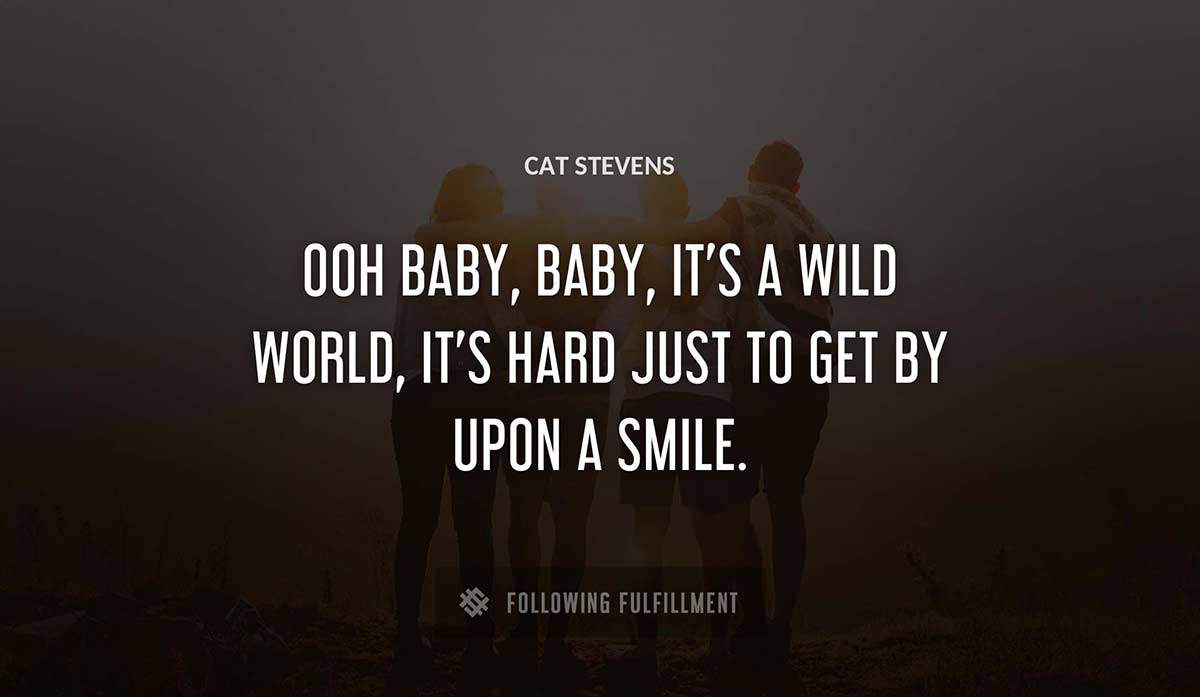 Now I've been crying lately, Thinking about the world as it is. Why must we go on hating? Why can't we live in bliss? — Cat Stevens
After embracing Islam in 1977, I considered the majority of underprivileged dark–skinned people of the so–called Third World brothers and sisters in humanity. — Cat Stevens