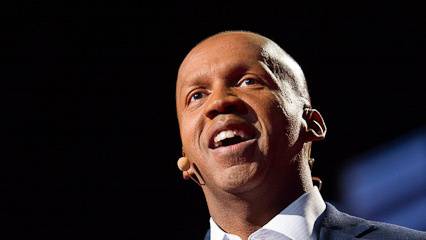 Bryan Stevenson is an American lawyer and social justice advocate who founded the Equal Justice Initiative in Montgomery, Alabama. Bryan has been a public figure for many years because of his work fighting racial discrimination and advocating for those on death row. He was featured as one of TIME magazine's 100 most influential people in 2013. His memoir Just Mercy was published in 2014, which included new stories from clients he had defended over thirty years of practicing law. The book became a New York Times bestseller and won the Carnegie Prize for non-fiction among other awards.
Discover the most inspiring words from Bryan Stevenson.
We are glad to present you the most interesting Slavery, Poverty, Community, Believing, Punishment, Justice quotes from Bryan Stevenson, and much more.
Summary
About Bryan Stevenson
Born:
November 14, 1959
Education:
Eastern University
Occupation:
Director Of Equal Justice Initiative Professor At New York University School Of Law
Known For:
Founding Equal Justice Initiative
Awards:
Right Livelihood Award
Website:
bryanstevenson.com
BRYAN STEVENSON QUOTES ON JUSTICE
I think hopelessness is the enemy of justice. — Bryan Stevenson
The opposite of poverty is not wealth. The opposite of poverty is justice. — Bryan Stevenson
I'm not persuaded that the opposite of poverty is wealth–I've come to believe… that the opposite of poverty is justice. — Bryan Stevenson
If you love your country, then you need to be thinking a lot more critically about what justice. — Bryan Stevenson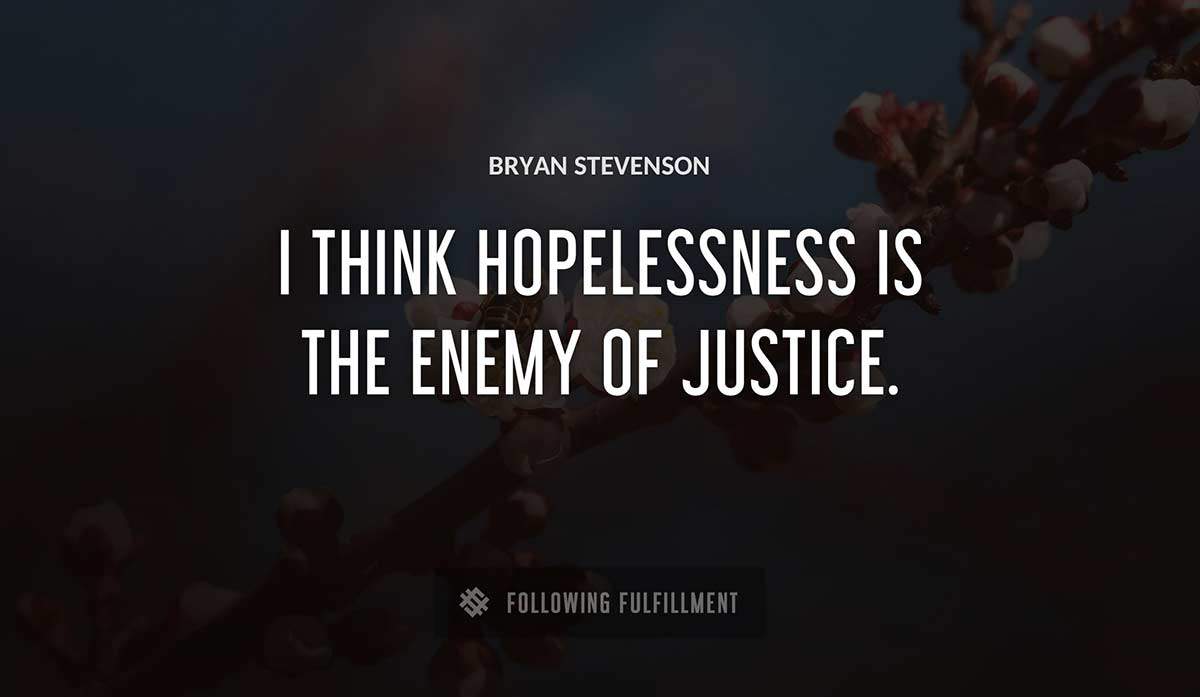 My work with the poor and the incarcerated has persuaded me that the opposite of poverty is not wealth; the opposite of poverty is justice. — Bryan Stevenson
We have a system of justice in [the US] that treats you much better if you're rich and guilty than if you're poor and innocent. Wealth, not culpability, shapes outcomes. — Bryan Stevenson
You can be a career professional as a judge, a prosecutor, sometimes as a defense attorney, and never insist on fairness and justice. That's tragic and that's what we have to change. — Bryan Stevenson
BRYAN STEVENSON QUOTES ABOUT POVERTY
Ray hinton was convicted because Ray hinton was poor. — Bryan Stevenson
We've done a very poor job at really reflecting on our legacy of racial inequality… You see it in the South, but it's everywhere. — Bryan Stevenson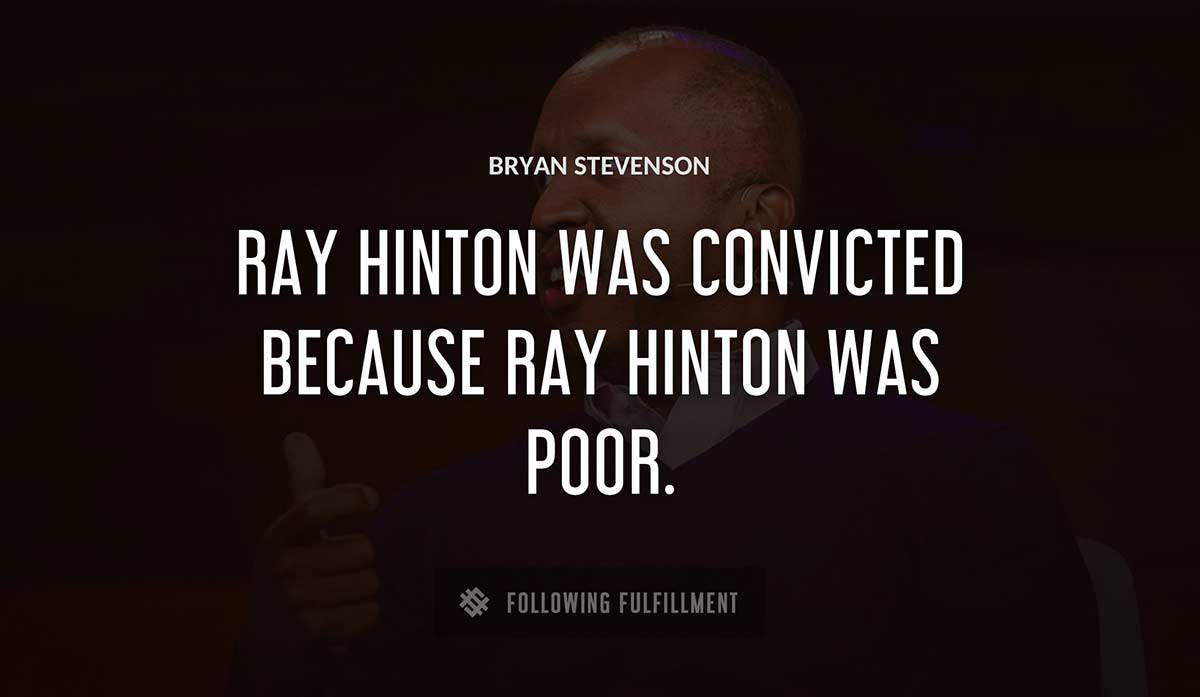 We've all been acculturated into accepting the inevitability of wrongful convictions, unfair sentences, racial bias, and racial disparities and discrimination against the poor. — Bryan Stevenson
He was a poor person who was convicted because He didn't have tHe money to prove his innocence at trial. He was unable to get tHe legal Help He needed for years. He was convicted based on bad science. — Bryan Stevenson
You ultimately judge the civility of a society not by how it treats the rich, the powerful, the protected and the highly esteemed, but by how it treats the poor, the disfavored and the disadvantaged. — Bryan Stevenson
The true measure of our character is how we treat the poor, the disfavored, the accused, the incarcerated, and the condemned. — Bryan Stevenson
BRYAN STEVENSON QUOTES ON PUNISHMENT
Capital punishment means 'them without the capital get the punishment. — Bryan Stevenson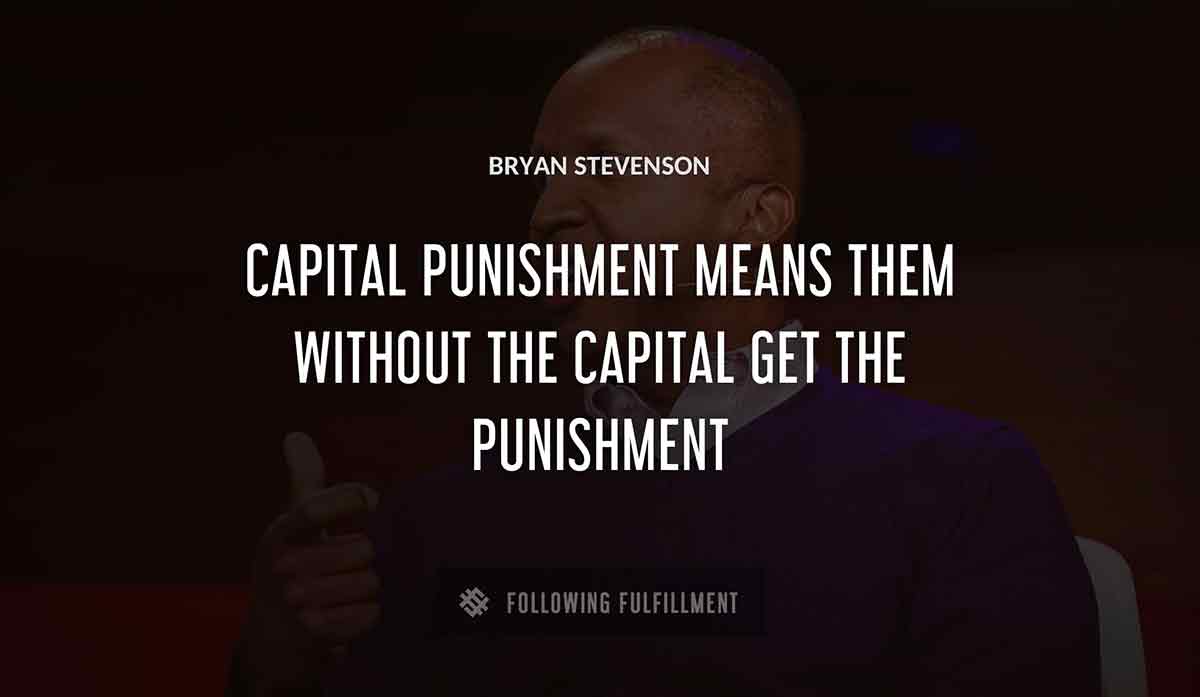 The reality is that capital punishment in America is a lottery. It is a punishment that is shaped by the constraints of poverty, race, geography and local politics. — Bryan Stevenson
The death penalty is not about whether people deserve to die for the crimes they commit. The real question of capital punishment in this country is, Do we deserve to kill? — Bryan Stevenson
Bryan,' he said at some point during our short flight, 'capital punishment means 'them without the capital get the punishment. — Bryan Stevenson
The death penalty symbolizes whom we fear and don't fear, whom we care about and whose lives are not valid. — Bryan Stevenson
BRYAN STEVENSON QUOTES ABOUT BELIEVING
I believe that each person is more than the worst thing they've ever done. — Bryan Stevenson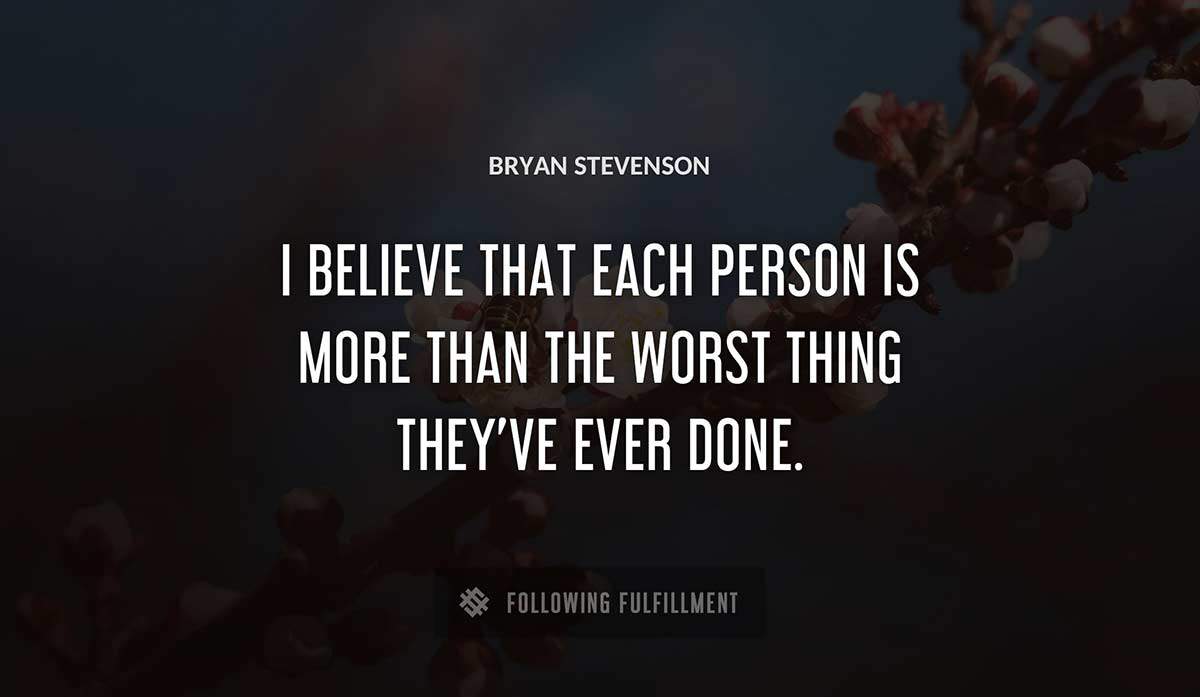 It's that mind–heart connection that I believe compels us to not just be attentive to all the bright and dazzling things but also the dark and difficult things. — Bryan Stevenson
Redundant Thematics
In Bryan Stevenson Statements
slavery
poverty
racial
public
community
believe
poor
punishment
justice
When we create the right kind of identity, we can say things to the world around us that they don't actually believe makes sense. We can get them to do things that they don't think they can do. — Bryan Stevenson
The great evil of American slavery was involuntary servitude or forced labor. I really believe that the true evil of American slavery was the narrative of racial difference that we created to justify it. — Bryan Stevenson
We've been hoping for this. We've believed that this should have happened. — Bryan Stevenson
BRYAN STEVENSON QUOTES ON SLAVERY
It is unevolved to want to celebrate the architects and defenders of slavery. — Bryan Stevenson
There were people in the South who were ardently opposed to slavery. And maybe, if we get into truth and reconciliation, those will be the people we want to name schools and streets after. — Bryan Stevenson
Because my great–grandparents were enslaved people, the legacy of slavery was something that didn't seem impersonal or disconnected. That's what motivated me to get into law. — Bryan Stevenson
The south is littered with monuments for The civil war, but we haven't looked at The great evil of slavery. its aftermath morphed into terrorism of lynching. — Bryan Stevenson
BRYAN STEVENSON QUOTES ON COMMUNITY
If you love your community, then you need to be insisting on justice in all circumstances. — Bryan Stevenson
My parents lived in a poor rural community on the Eastern Shore, and schools were still segregated. And I remember when lawyers came into our community to open up the public schools to black kids. — Bryan Stevenson
We don't need police officers who see themselves as warriors. We need police officers who see themselves as guardians and parts of the community. You can't police a community that you're not a part of. — Bryan Stevenson
I grew up in a segregated community: I couldn't go to the public schools, beaches, certain parts of town. — Bryan Stevenson
Montgomery's unique role in the domestic slave trade was that it was the first community that had a rail line that connected the Deep South to the mid–Atlantic region. — Bryan Stevenson