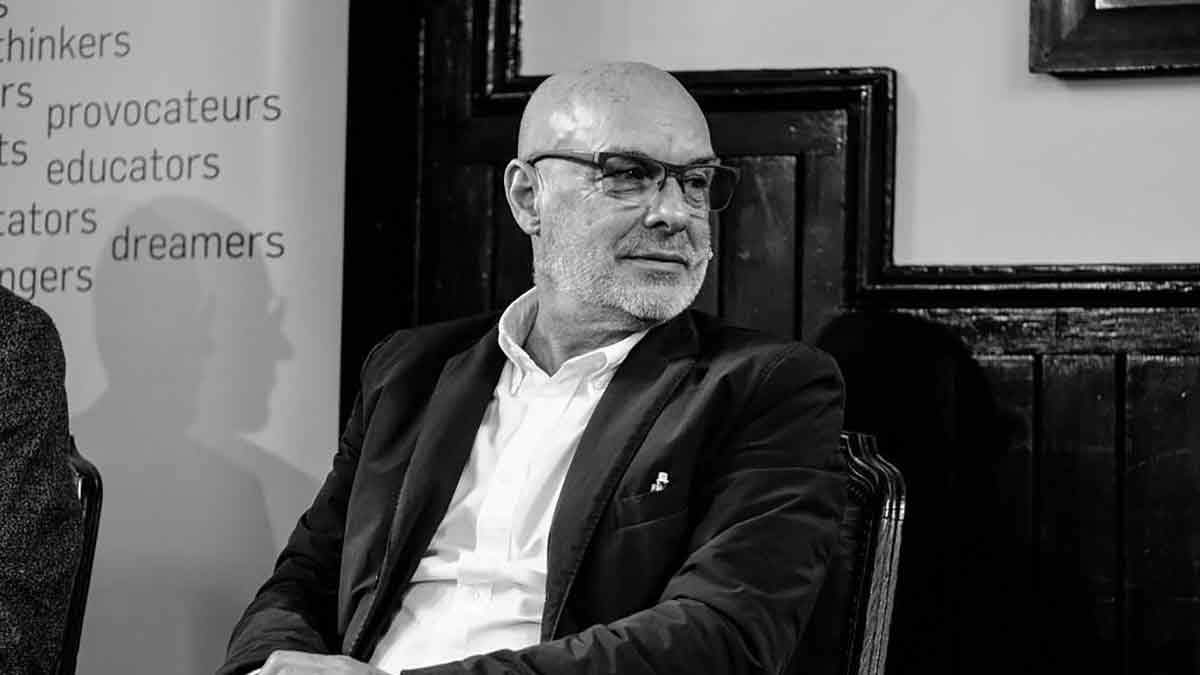 Brian Eno is a music producer, composer, and visual artist who has been influential in the development of several genres of music. He is best known for his work with the band Roxy Music and his solo albums. Eno has also worked extensively with other artists, including David Bowie, U2, and Talking Heads. In recent years, he has focused on producing ambient music. Brian Eno's career has spanned four decades and produced some of the most innovative and influential music of our time. Here is a look at the life and work of this groundbreaking artist.
Discover the most inspiring Work, Music, Time, World, Point, Sound quotes from Brian Eno, and much more.
Summary
About Brian Eno
Born:
15 May 1948
Genres:
Rock, Ambient, Electronic, Experimental
Occupation:
Musician, Producer, Composer, Songwriter, Artist, Sound Designer And More.
Instruments:
Keyboards, Vocals, Guitar, Bass Guitar
Years Active:
1970-Present
Labels:
Island, Polydor, Eg, Obscure, Opal, Virgin And More.
Associated Acts:
Fripp & Eno, Harmonia 76, Portsmouth Sinfonia, Roxy Music, Scratch Orchestra, 801 And More.
Website:
brian-eno.net
BRIAN ENO QUOTES ON SOUND
Most people have no idea what something would sound like if it wasn't an MP3. — Brian Eno
I'm a painter in sound. — Brian Eno
I wanted to use the studio like a microscope for sound, which is what good engineers do. — Brian Eno
As soon as I hear a sound, it always suggests a mood to me. — Brian Eno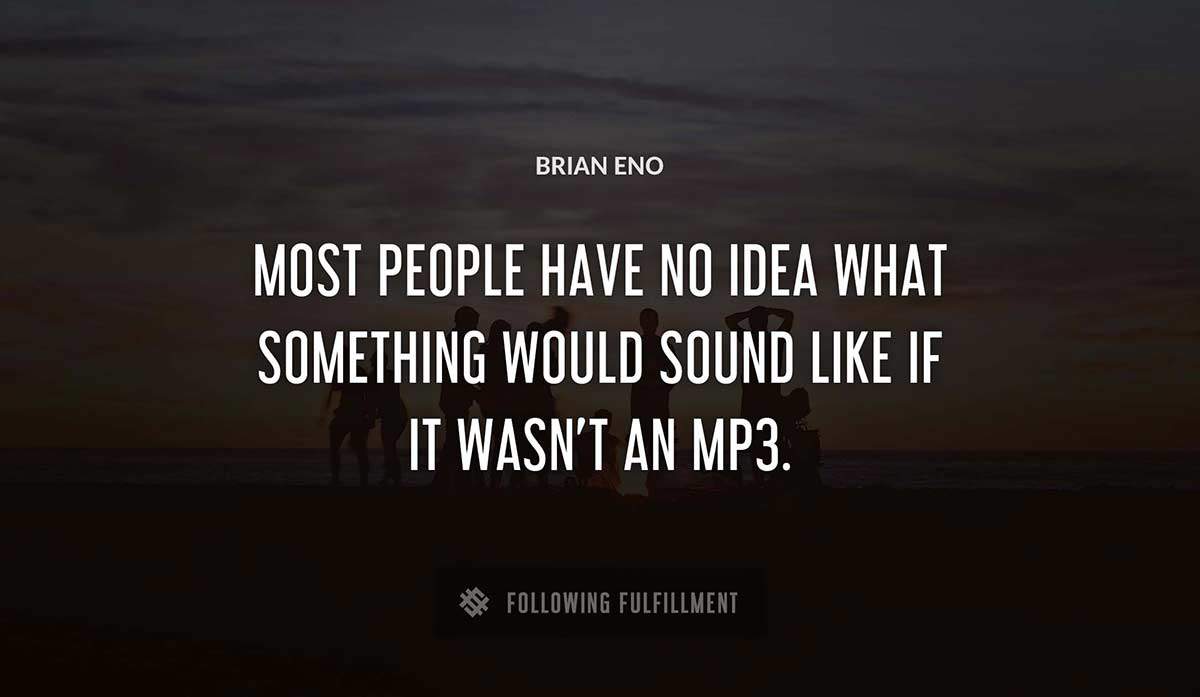 If I had a stock of fabulous sounds I would just always use them. I wouldn't bother to find new ones. — Brian Eno
For me it's always contingent on getting a sound–the sound always suggests what kind of melody it should be. So it's always sound first and then the line afterwards. — Brian Eno
Some people say Bowie is all surface style and second–hand ideas, but that sounds like a definition of pop to me. — Brian Eno
I enjoy working with complicated equipment. A lot of my things started just with a rhythm box, but I feed it through so many things that what comes out sounds very complex and rich. — Brian Eno
The Marshall guitar amplifier doesn't just get louder when you turn it up. It distorts the sound to produce a whole range of new harmonics, effectively turning a plucked string instrument into a bowed one. — Brian Eno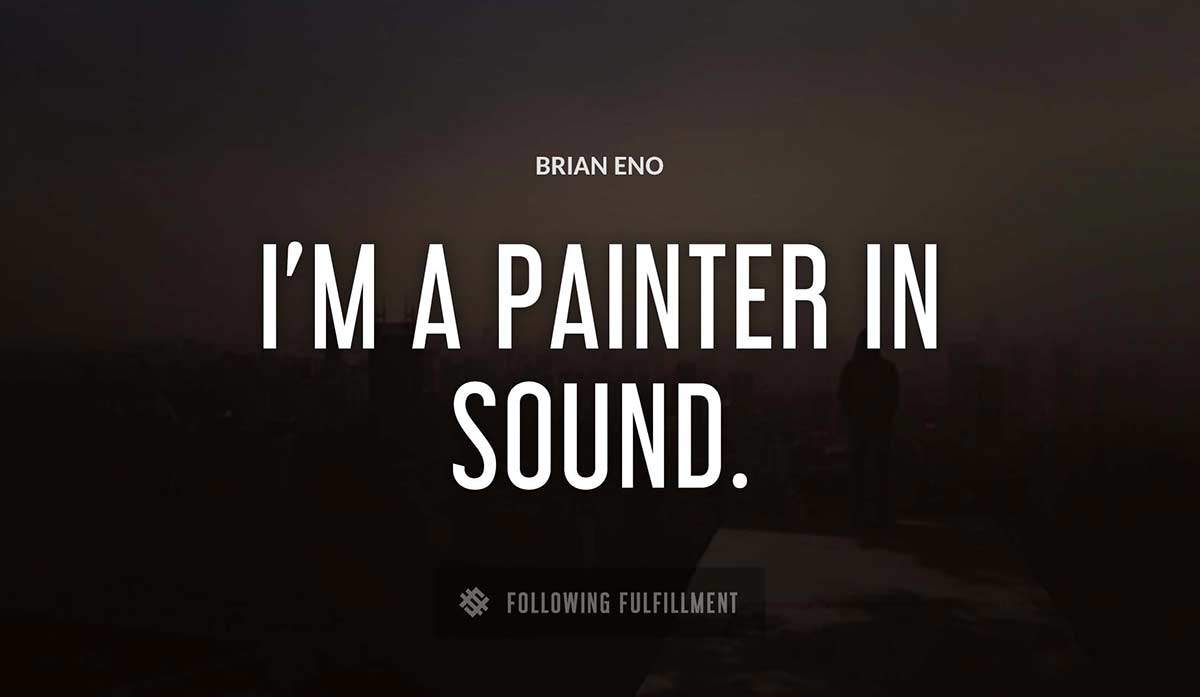 I take sounds and change them into words. — Brian Eno
I never wanted to write the sort of song that said, 'Look at how abnormal and crazy and out there I am, man!' — Brian Eno
BRIAN ENO QUOTES REGARDING WORK
I often work by avoidance. — Brian Eno
It's easy to forget that your best work is done when your attention is fully engaged. — Brian Eno
I'm fascinated by musicians who don't completely understand their territory; that's when you do your best work. — Brian Eno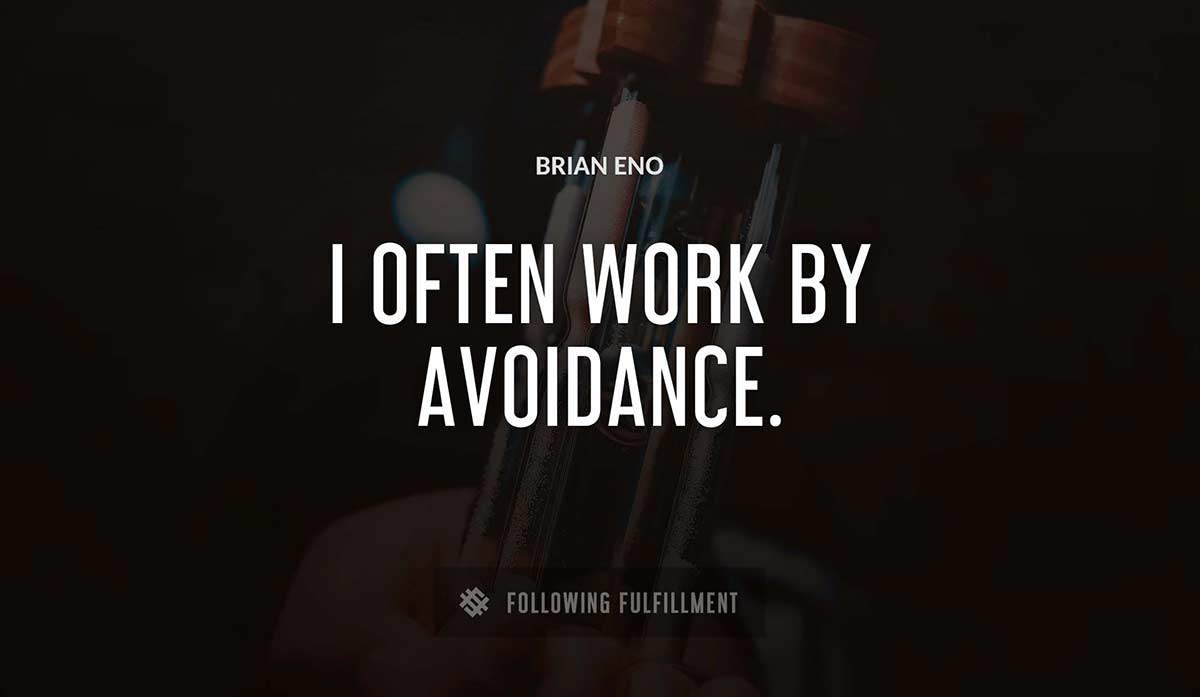 The artists of the past who impressed me were the ones who really focused their work. — Brian Eno
W]hat makes a work of art 'good' for you is not something that is already 'inside' it, but something that happens inside you. — Brian Eno
Stop thinking about art works as objects, and start thinking about them as triggers for experiences. — Brian Eno
I think generally playing live is a crap idea. So much of stage work is the presentation of personality, and I've never been interested in that. — Brian Eno
The basis of computer work is predicated on The idea that only The brain makes decisions and only The index finger does The work. — Brian Eno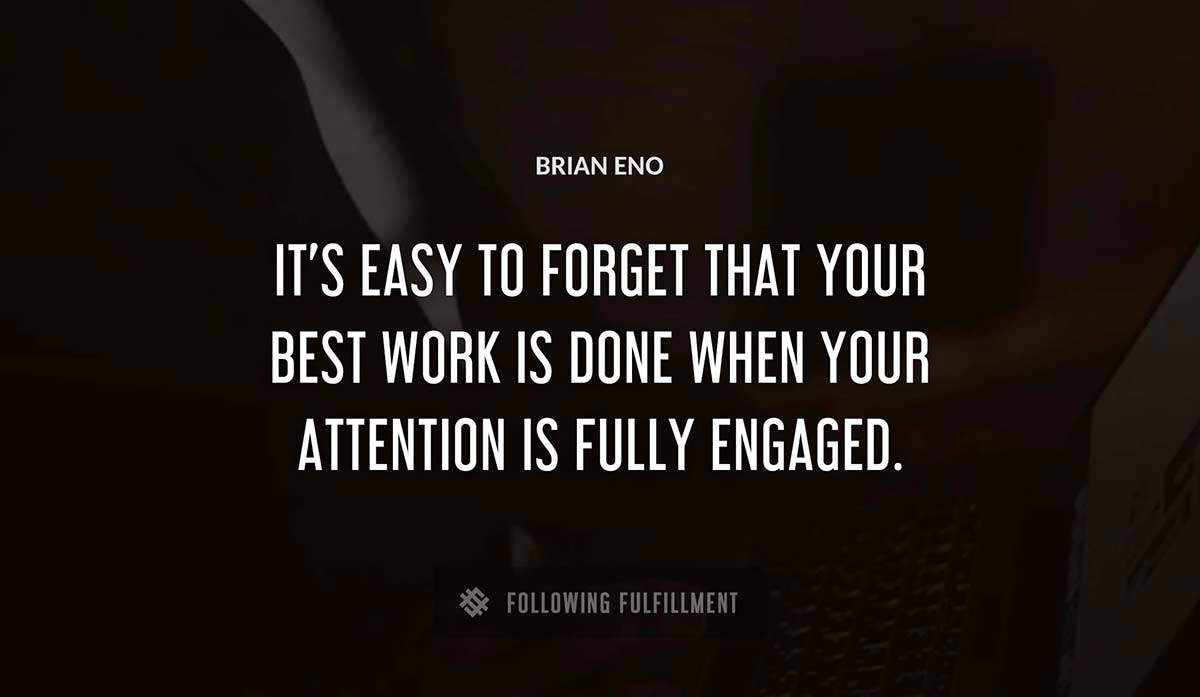 There are certain sounds that I've found work well in nearly any context. Their function is not so much musical as spatial: they define the edges of the territory of the music. — Brian Eno
Part of me likes a more ragged, jagged guitar sound or performance, but our work might not have been as innovative had we followed in the footsteps of what came before. We were very proud of what we had hit on. — Brian Eno
I think most artists would be happy to have bigger audiences rather than smaller ones. It doesn't mean that they are going to change their work in order necessarily to get it, but they're happy if they do get it. — Brian Eno
Everything good proceeds from enthusiasm. — Brian Eno
I do love being in my studio. Especially at night. — Brian Eno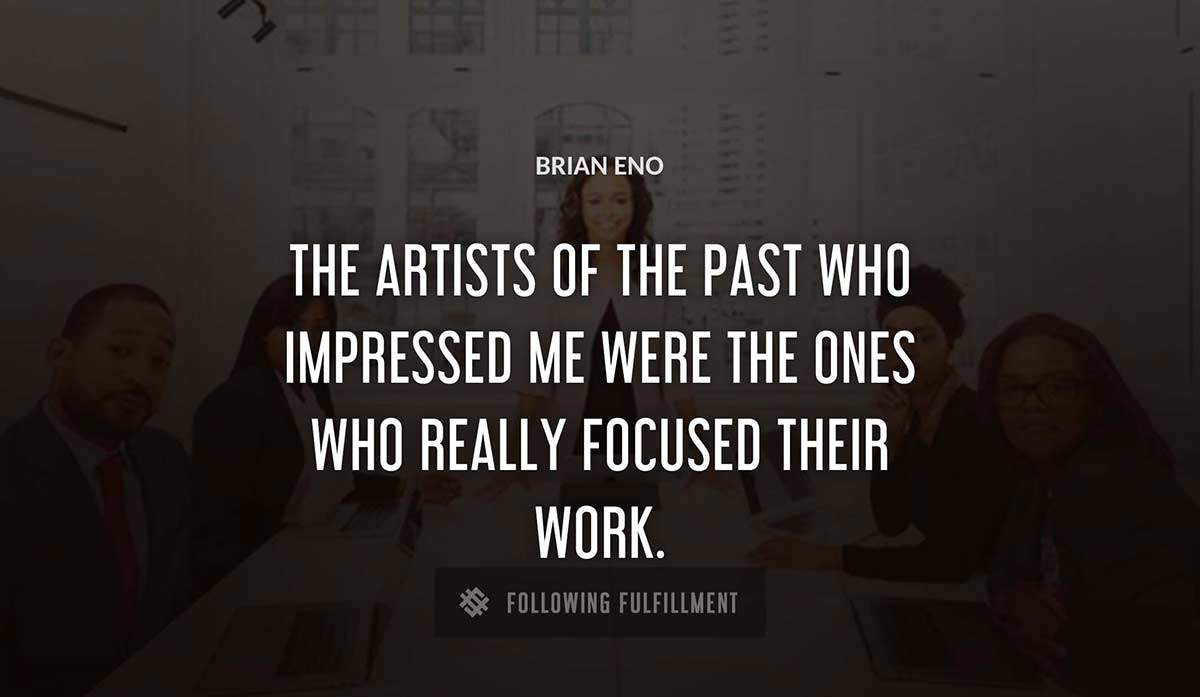 Every collaboration helps you grow. — Brian Eno
The computer brings out the worst in some people. — Brian Eno
BRIAN ENO QUOTES ABOUT TIME
I'm often accused of being ahead of my time, but it's simply not true. The truth is that everybody else is behind. — Brian Eno
For the world to be interesting, you have to be manipulating it all the time. — Brian Eno
You talk to me as if from a distance And I reply with impressions chosen from another time. — Brian Eno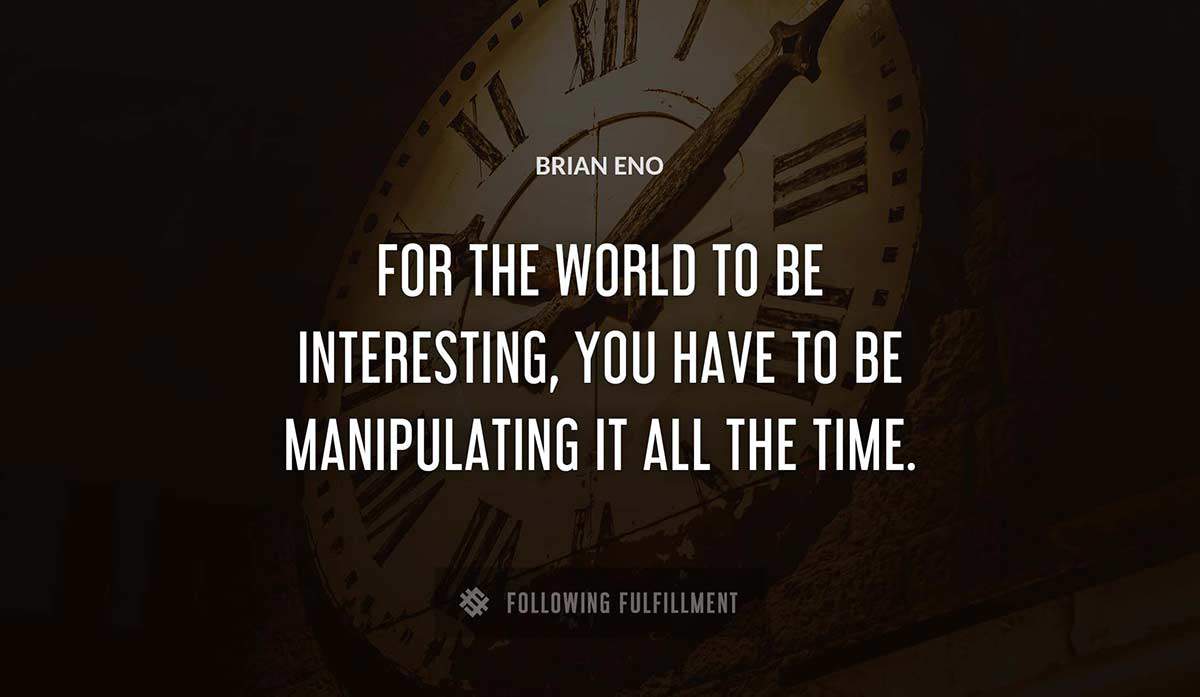 Every increase in your knowledge is a simultaneous decrease. You learn and you unlearn at the same time. A new certainty is a new doubt as well. — Brian Eno
Every collaboration helps you grow. With Bowie, it's different every time. I know how to create settings, unusual aural environments. That inspires him. He's very quick. — Brian Eno
If you've spent a long time developing a skill and techniques, and now some 14 year–old upstart can get exactly the same result, you might feel a bit miffed I suppose, but that has happened forever. — Brian Eno
All cultures have these feelings about non–functional areas of activity. And the more time people have on their hands, the more they commit it to those areas. — Brian Eno
If something is good, you must torture it mercilessly until it is either dead or great. — Brian Eno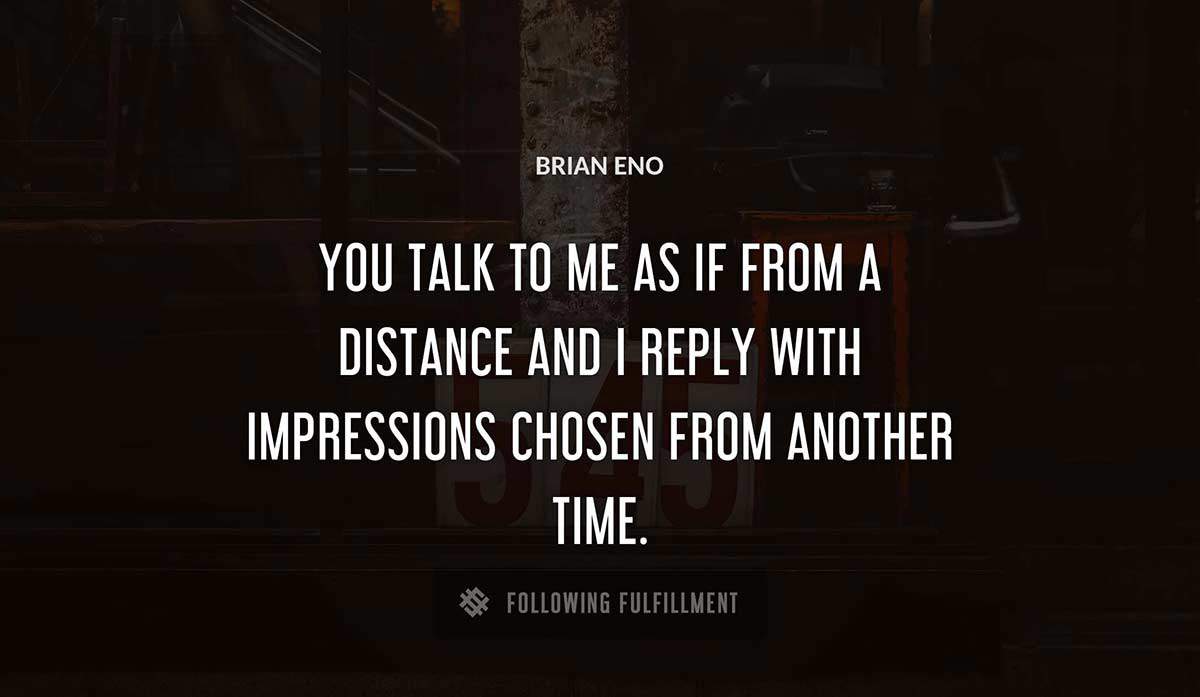 I've never used a PC in my life; I don't like them. — Brian Eno
In my normal life I'm a very unadventurous person. — Brian Eno
Being an artist is a job for life. — Brian Eno
BRIAN ENO QUOTES ABOUT MUSIC
It's nice, I think, when people use your music for things you didn't think of. — Brian Eno
Ambient music must be as ignorable as it is interesting. — Brian Eno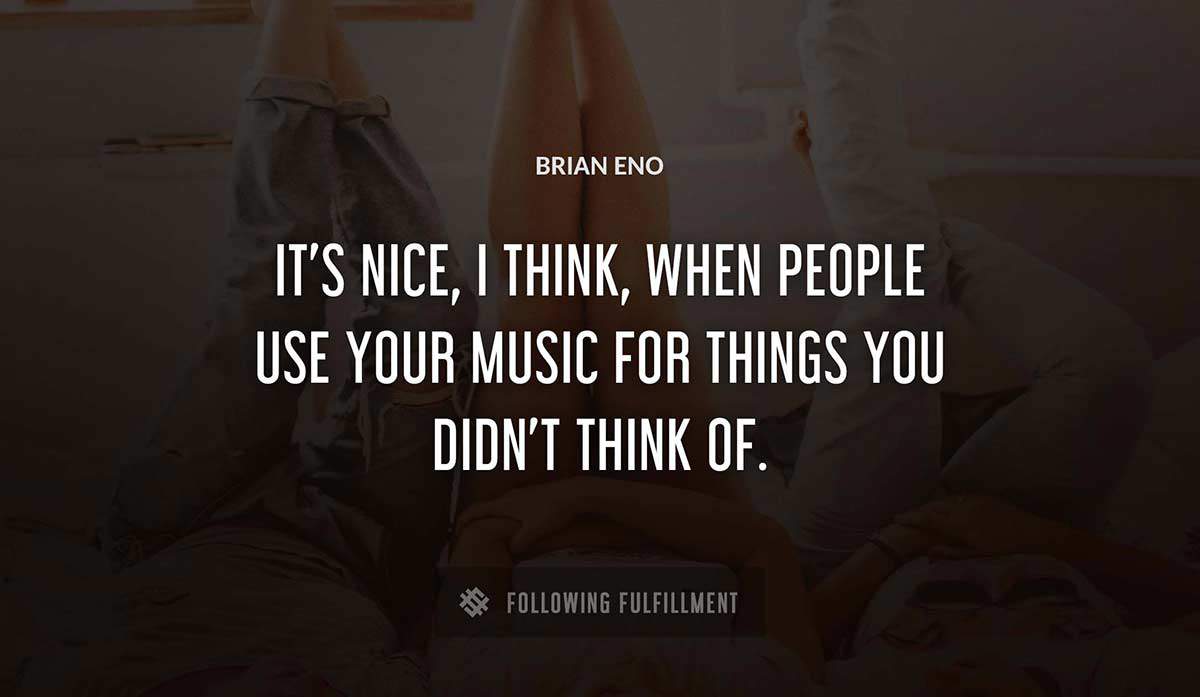 Lyrics are the only thing to do with music that haven't been made easier technically. — Brian Eno
I don't like headphones very much, and I rarely listen to music on headphones. — Brian Eno
Lyrics are always misleading because they make people think that that's what the music is about. — Brian Eno
The lyrics are constructed as empirically as the music. I don't set out to say anything very important. — Brian Eno
All music has political dimensions because it suggests a way of being. — Brian Eno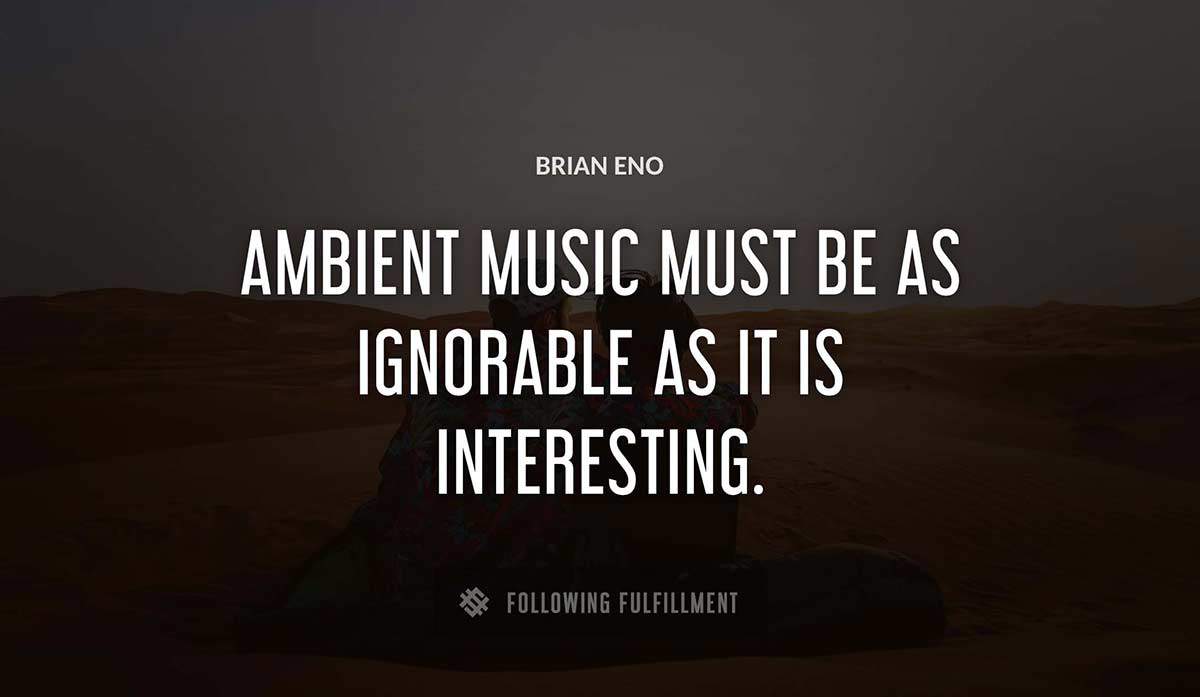 Avant–garde music is sort of research music. You're glad someone's done it but you don't necessarily want to listen to it. — Brian Eno
Redundant Thematics
In Brian Eno Statements
work
ambient
music
world
time
life
point
idea
sound
You can't really imagine music without technology. — Brian Eno
Gospel music is never pessimistic, it's never 'oh my god, its all going down the tubes', like the blues often is. — Brian Eno
Perhaps when music has been shouting for so long, a quieter voice seems attractive. — Brian Eno
Most game music is based on loops effectively. — Brian Eno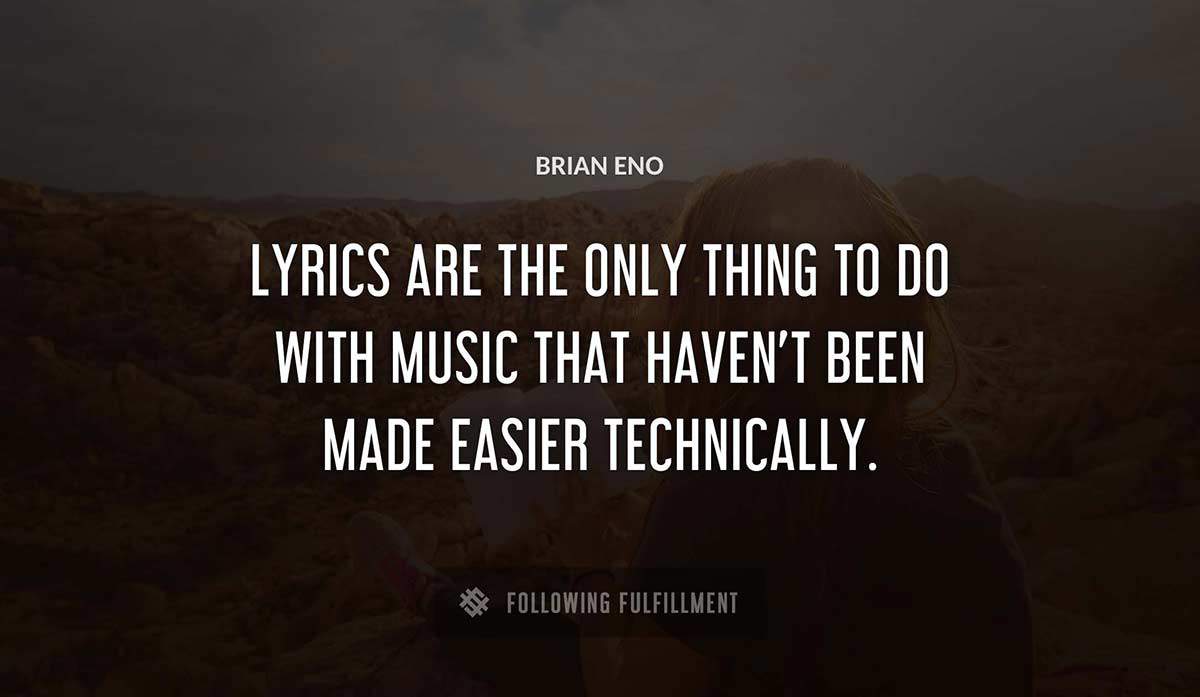 The trouble with New Age music is that there's no evil in it. — Brian Eno
I hate talking about music, to tell you the truth. — Brian Eno
I wanted to get rid of the element that had been considered essential in pop music: the voice. — Brian Eno
Ambient music is intended to induce calm and a space to think. — Brian Eno
Agressive music can only shock you once. Afterwards its impact declines. It's inevitable. — Brian Eno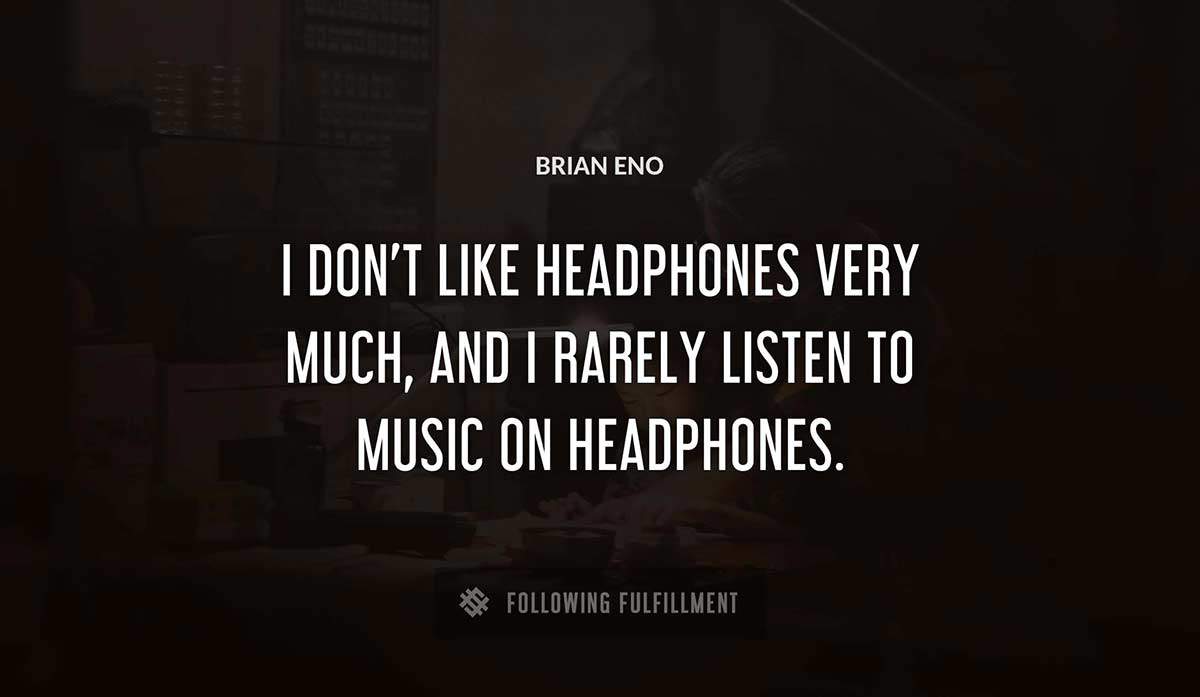 I hate the rock music tradition. I can't bear it! — Brian Eno
I've got a feeling that music might not be the most interesting place to be in the world of things. — Brian Eno
John Cage made you realise that there wasn't a thing called noise, it was just music you hadn't appreciated. — Brian Eno
I make a lot of pieces of music that I never release as CDs. — Brian Eno
People do dismiss ambient music, don't they? They call it 'easy listening,' as if to suggest that it should be hard to listen to. — Brian Eno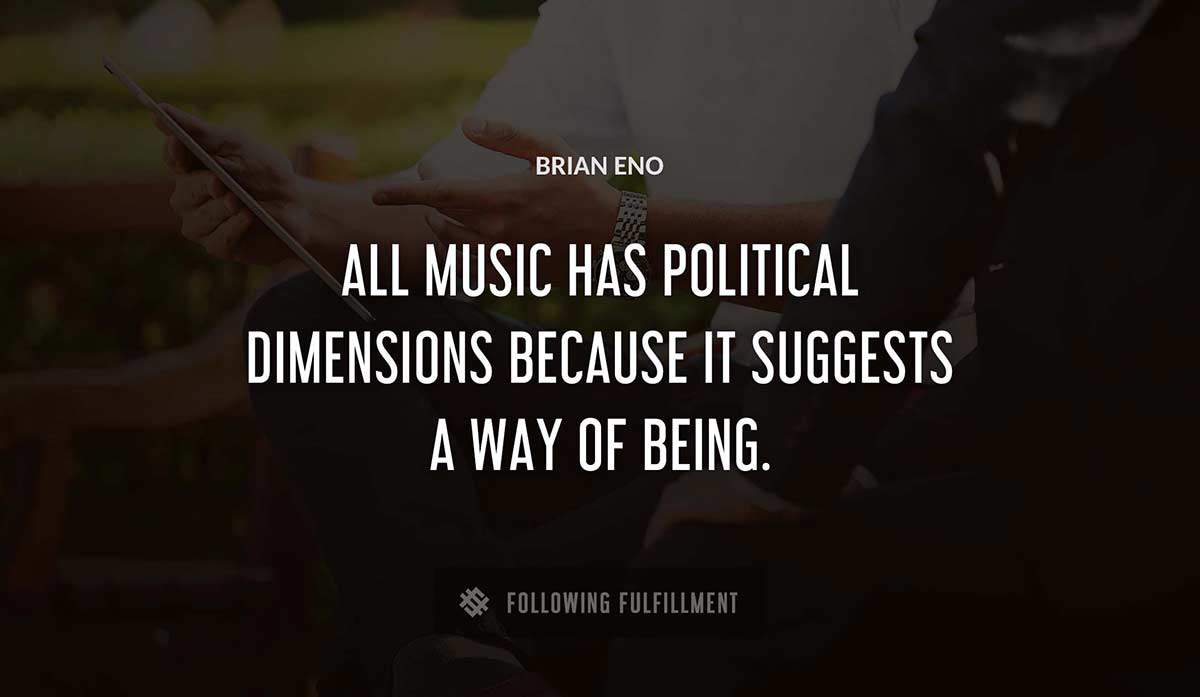 I'd love it if American kids were listening to Muslim music. — Brian Eno
I think we're about ready for a new feeling to enter music. I think that will come from the Arabic world. — Brian Eno
One often makes music to supplement one's world. — Brian Eno
BRIAN ENO QUOTES ON POINT
The most important thing in a piece of music is to seduce people to the point where they start searching. — Brian Eno
I felt extremely uncomfortable as the focal point, in the spotlight. I really like the behind the scenes role, because all my freedom is there. — Brian Eno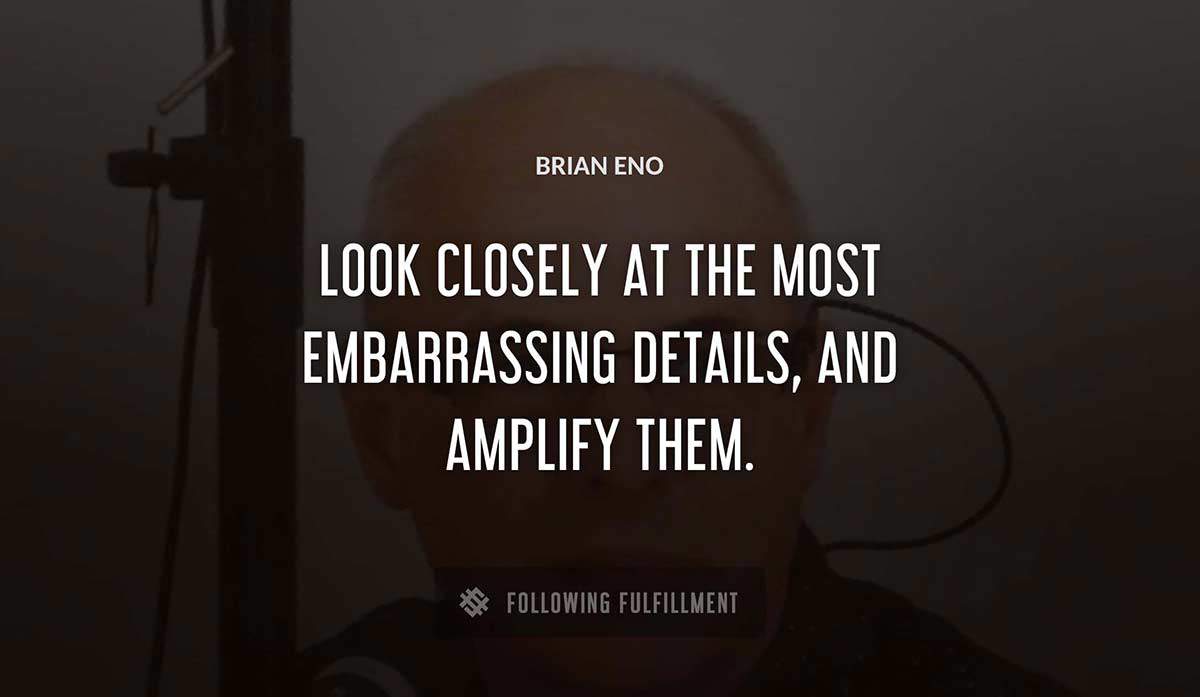 I don't live in the past at all; I'm always wanting to do something new. I make a point of constantly trying to forget and get things out of my mind. — Brian Eno
Also something that you don't have to listen to from beginning to end–you can enter at any point and leave at any point. — Brian Eno
Music in itself carries a whole set of messages which are very, very rich and complex, and the words either serve to exclude certain ones or point up certain others. — Brian Eno
I had a lot of trouble with engineers, because their whole background is learning from a functional point of view, and then learning how to perform that function. — Brian Eno
The point about melody and beat and lyric is that they exist to engage you in a very particular way. They want to occupy your attention. — Brian Eno
The point about working is not to produce great stuff all the time, but to remain ready for when you can. — Brian Eno
Look closely at the most embarrassing details, and amplify them. — Brian Eno
Nothing so dates an era as its conception of the future. — Brian Eno
BRIAN ENO QUOTES ABOUT THE WORLD
With all fashion, what we do is play at being somebody else. We play at inhabiting another kind of world. — Brian Eno
The smart thing in the art world is to have one good idea and never have another. — Brian Eno
If there is a new fascism, it won't come from skinheads and punks; it will come from people who eat granola and think they know how the world should be. — Brian Eno
The philosophical idea that there are no more distances, that we are all just one world, that we are all brothers, is such a drag! I like differences. — Brian Eno
If I tried to make a commercial album, it would be a complete flop. I have no idea what the world at large likes. — Brian Eno
Rationality is what we do to organize the world, to make it possible to predict. Art is the rehearsal for the inapplicability and failure of that process. — Brian Eno
I would like to see a future where artists think that they have a right to contemplate things like global warming. — Brian Eno
The thing that obsesses me more than anything is waste–the waste of human intelligence and creativity. — Brian Eno