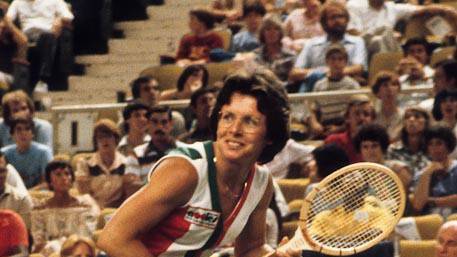 In her early years, Billie Jean King was regularly brought to tennis matches by her father. She would watch the players and dream of one day being out there on the court. Her parents didn't have much money, so she had to work hard and excel in school in order to receive a tennis scholarship to college. Once she began playing professionally, she quickly became one of the best in the world. She is a four-time winner of Wimbledon and a six-time US Open champion. But her greatest achievement may be her advocacy for gender equality in sports. In 1973, she famously beat Bobby Riggs in the Battle of the Sexes match, which helped break down barriers for women athletes everywhere.
We are glad to present you the best Sport, Tennis, World, Women quotes from Billie Jean King, and much more.
Summary
BILLIE JEAN KING QUOTES ON SPORT
Sports are a microcosm of society. — Billie Jean King
I always wanted to help make tennis a team sport. — Billie Jean King
Women's sports is still in its infancy. The beginning of women's sports in the United States started in 1972, with the passage of Title 9 for girls to finally get athletic scholarships. — Billie Jean King
There is no life for girls in team sports past Little League. I got into tennis when I realized this, and because I thought golf would be too slow for me, and I was too scared to swim. — Billie Jean King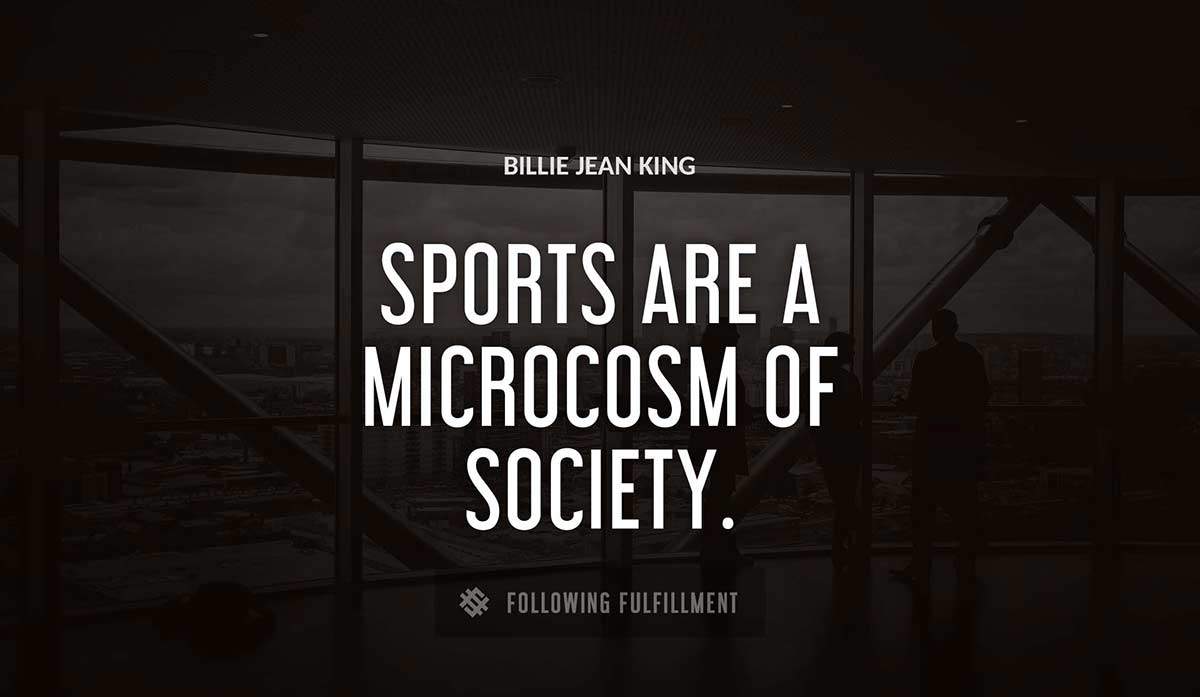 Sports teaches you character, it teaches you to play by the rules, it teaches you to know what it feels like to win and lose–it teaches you about life. — Billie Jean King
I love to promote our sport. I love grass–roots tennis. I love coaching. I love all parts of the sport. I love the business side. — Billie Jean King
I wanted to use sports for social change. — Billie Jean King
Ever since that day when I was 11 years old, and I wasn't allowed in a photo because I wasn't wearing a tennis skirt, I knew that I wanted to change the sport. — Billie Jean King
BILLIE JEAN KING QUOTES ABOUT THE WORLD
I was always in the tennis business–from 1968. I was in tournaments and also on World Team Tennis teams as well. — Billie Jean King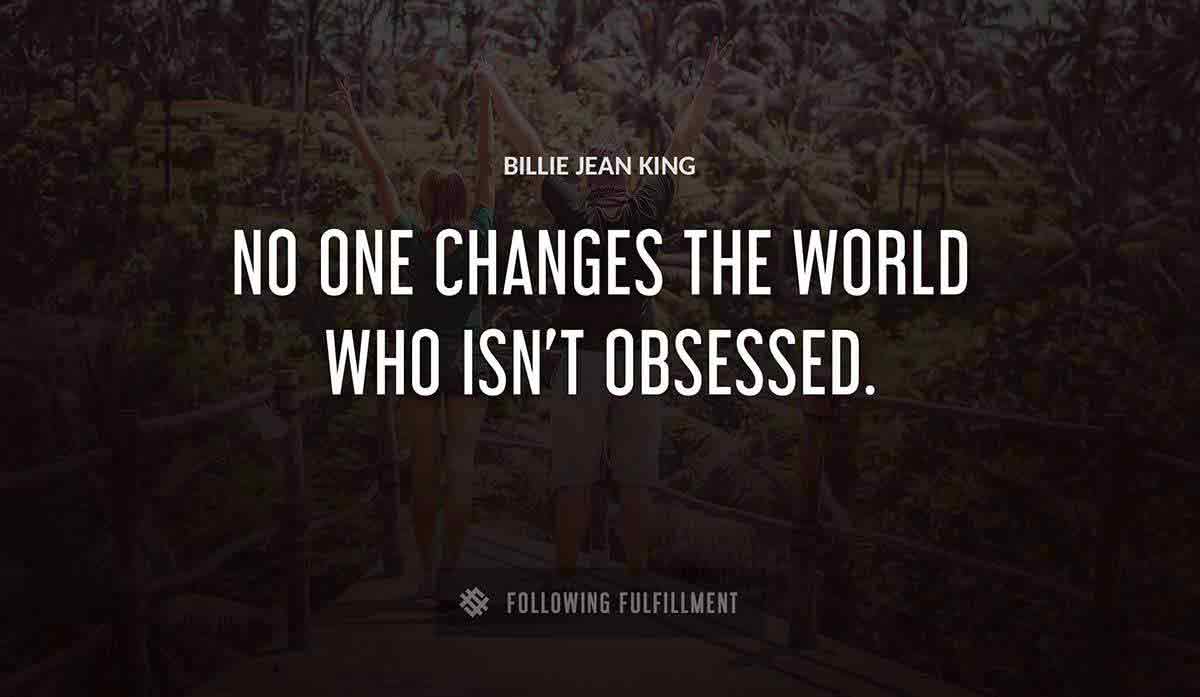 It's fun to meet people from throughout the world who you don't have to explain yourself to. — Billie Jean King
I think younger players probably just think they are who they are–they don't think about coming out. Unless you're number one in the world, nobody cares, usually. — Billie Jean King
No one changes the world who isn't obsessed. — Billie Jean King
BILLIE JEAN KING QUOTES ON TENNIS
For me, losing a tennis match isn't failure, it's research. — Billie Jean King
I used to be told if I talked about my sexuality in any way that we wouldn't have a tennis tour. — Billie Jean King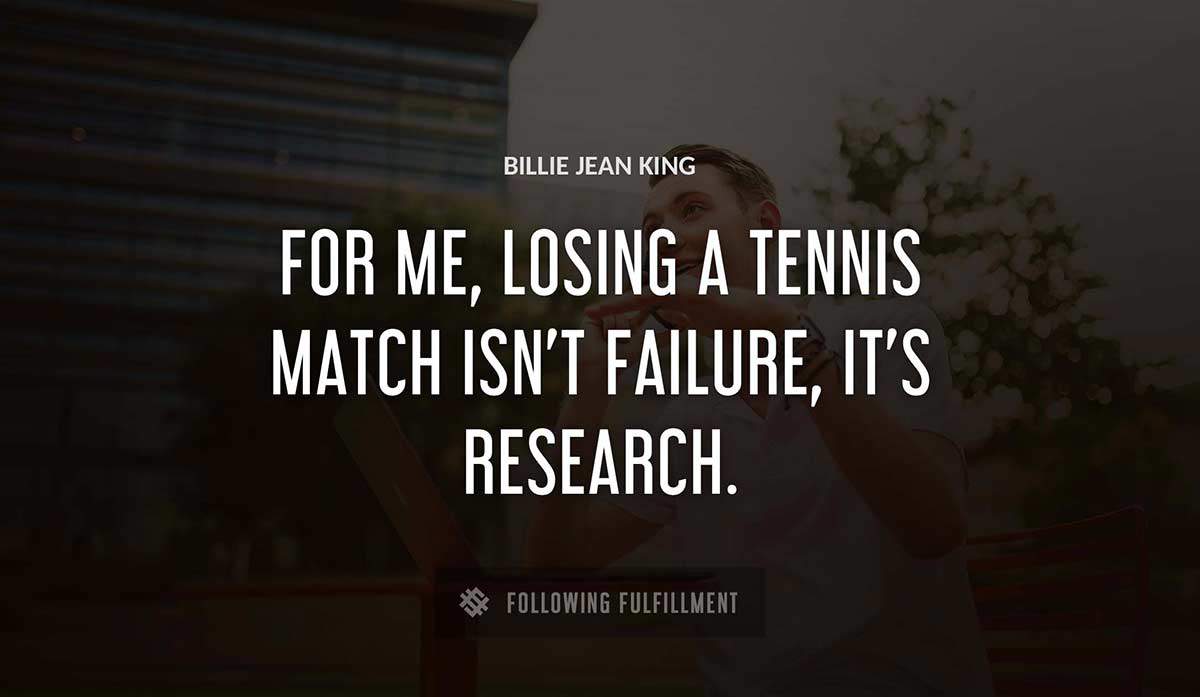 Tennis is a perfect combination of violent action taking place in an atmosphere of total tranquility. — Billie Jean King
I have a lot to say, and if I'm not No. 1, I can't say it. — Billie Jean King
BILLIE JEAN KING QUOTES ON WOMEN
Women get the attention when we get into the men's arena, and that's sad. — Billie Jean King
When they take surveys of women in business, of the Fortune 500, the successful women, 80% of them, say they were in sports as a young woman. — Billie Jean King
Redundant Thematics
In Billie Jean King Statements
love
woman
money
world
team
tennis
life
sport
In 1973, women got 59 cents on the dollar; now we are getting 74 cents on the dollar. In the area of finance and business, we are at 68 cents on the dollar. — Billie Jean King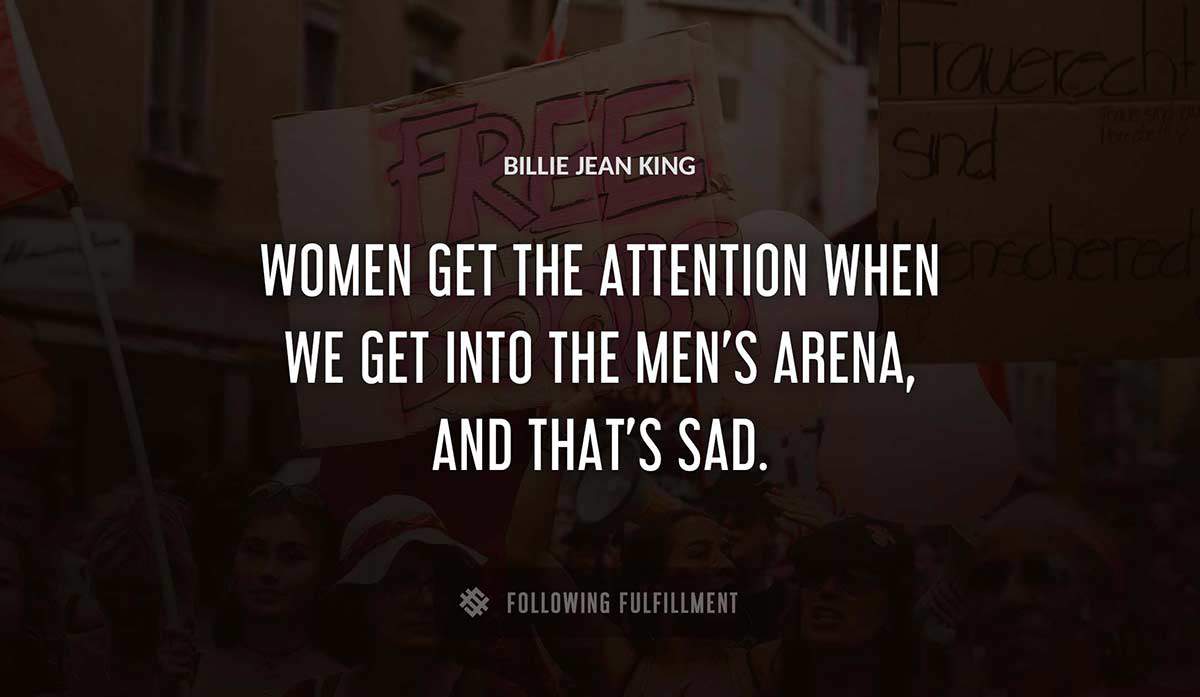 In 1973, a woman could not get a credit card without her husband or father or a male signing off on it. — Billie Jean King
I always liked co–ed events best so we have two men and two women on each team. — Billie Jean King
In the seventies we had to make it acceptable for people to accept girls and women as athletes. We had to make it okay for them to be active. Those were much scarier times for females in sports. — Billie Jean King
Men can have a huge turnover of sponsorship and still survive a lot better than the women. But the women's ratings are better, at least at home in the United States than in the men's tennis. — Billie Jean King
The pursuit of equality is a marathon not a sprint, and this lawsuit has generated a meaningful conversation about The treatment of women in sports, one ruling does not diminish its impact. — Billie Jean King
The old boy network is still very strong and very true. Just look at the stock exchange and how many men and women are there. It is still very much run by men. — Billie Jean King
When we reach the point where the women athletes are getting their pick of dates just as easily as the men athletes, then we've really and truly arrived. Parity at last! — Billie Jean King
A girl didn't get an athletic scholarship until the fall of 1972 for the very first time. — Billie Jean King
BILLIE JEAN KING Quotes Take Away
Billie Jean King is one of the most inspiring and successful athletes in history. Her words remind us that it's not always about winning or losing, but how we approach the game (or life in general). These quotes are a great reminder to keep pushing forward, no matter what obstacles stand in our way. If you need a little push to get started on your own tennis journey, be sure to check out our courses. We can help you achieve your goals and become the best player you can be.