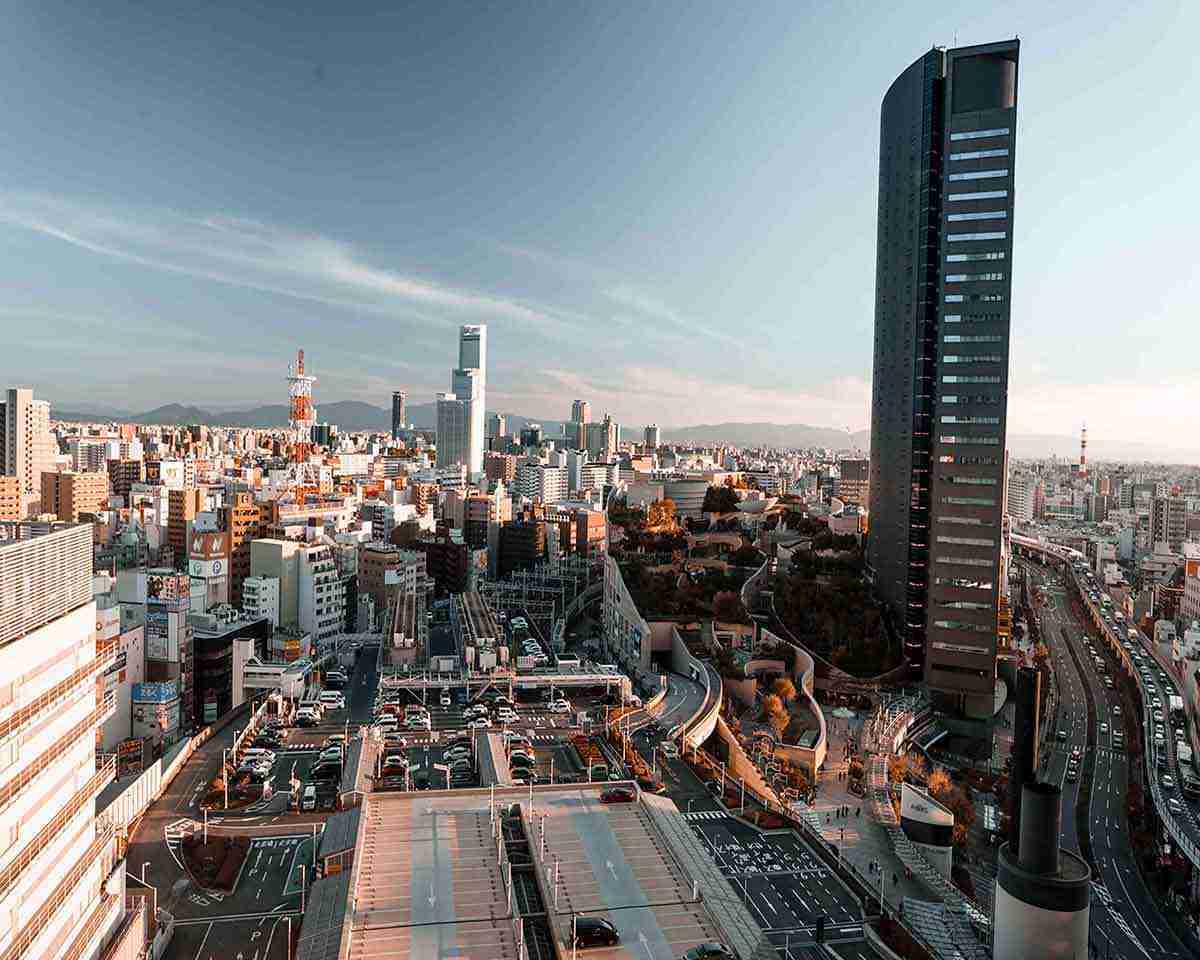 Born in 1972, Christopher George Latore Wallace was a New York rapper who found fame with his debut album Ready To Die. Wallace's life is an example of the many challenges that face kids growing up in poverty stricken neighborhoods. He overcame all odds to become one of the most influential rappers in history and has since inspired countless people to follow their dreams and never give up on themselves.
We are glad to present you the strongest phrases from Biggie Smalls.
Here are the strongest Trying, Playing quotes from Biggie Smalls, and much more.
Summary
About Biggie Smalls
Born:
May 21, 1972
Died:
March 9, 1997
Cause Of Death:
Drive-By Homicide
Occupation:
Rapper, Songwriter
Years Active:
1992-1997
Genres:
Hip Hop, Gangsta Rap, East Coast Hip Hop
Labels:
Atlantic, Arista, Bad Boy, Uptown
Associated Acts:
Junior M.A.F.I.A., The Commission, Faith Evans, Mister Cee, Puff Daddy And More.
BIGGIE SMALLS QUOTES ON TRYING
I'm trying to get other niggas off the streets. — Biggie Smalls
If you got a little something you know how to do, progress at it, keep trying, you know God knows what could happen. — Biggie Smalls
I found something I was good at, I'm just trying to flip it, keep it going. I ain't trying to slack at all. — Biggie Smalls
Keep trying. Persistence and consistency is the best thing. As long as you keeping it real, and you keep trying, keep banging that wall and it will fall. — Biggie Smalls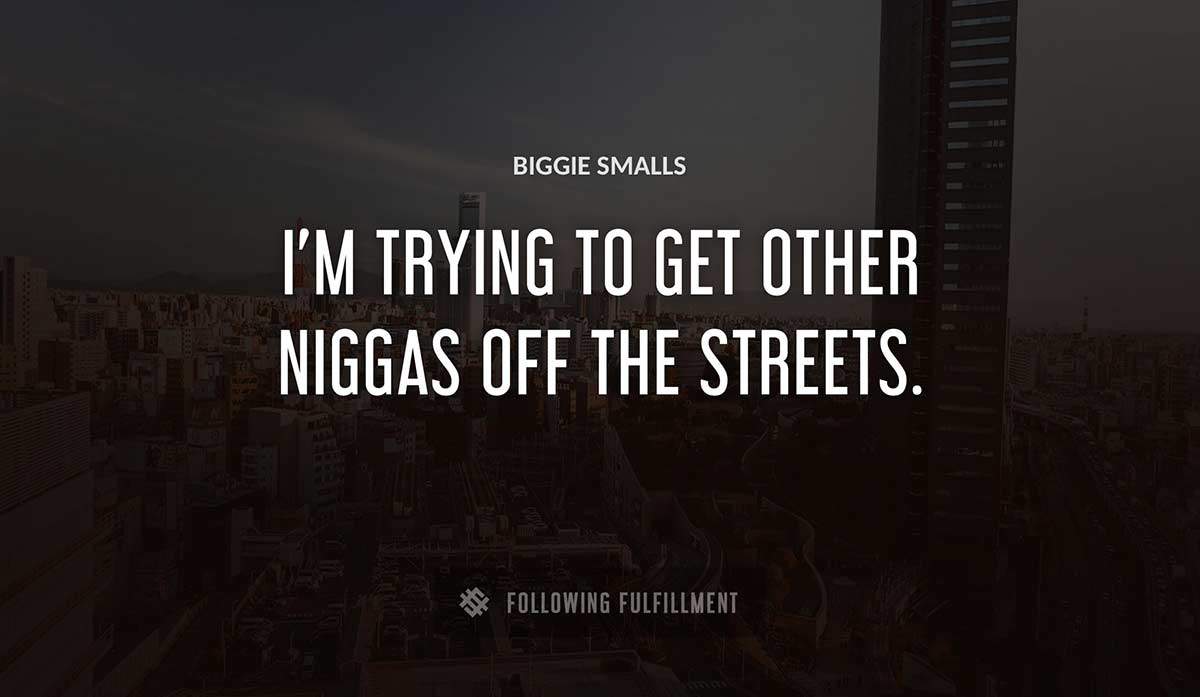 BIGGIE SMALLS QUOTES ON PLAYING
We aint' trying to fail in this game. We trying to succeed. — Biggie Smalls
I wanted to get in the game and get the big house and the cars, and with the pool. I wanted to do all that. — Biggie Smalls
If the game shakes me or breaks me, I hope it makes me a better man. — Biggie Smalls
As I open my eyes and realizing I changed. Not the same deranged child stuck up in the game. — Biggie Smalls
Yes it's me, the B.I.G / Competition ripper ever since 13″ — Biggie Smalls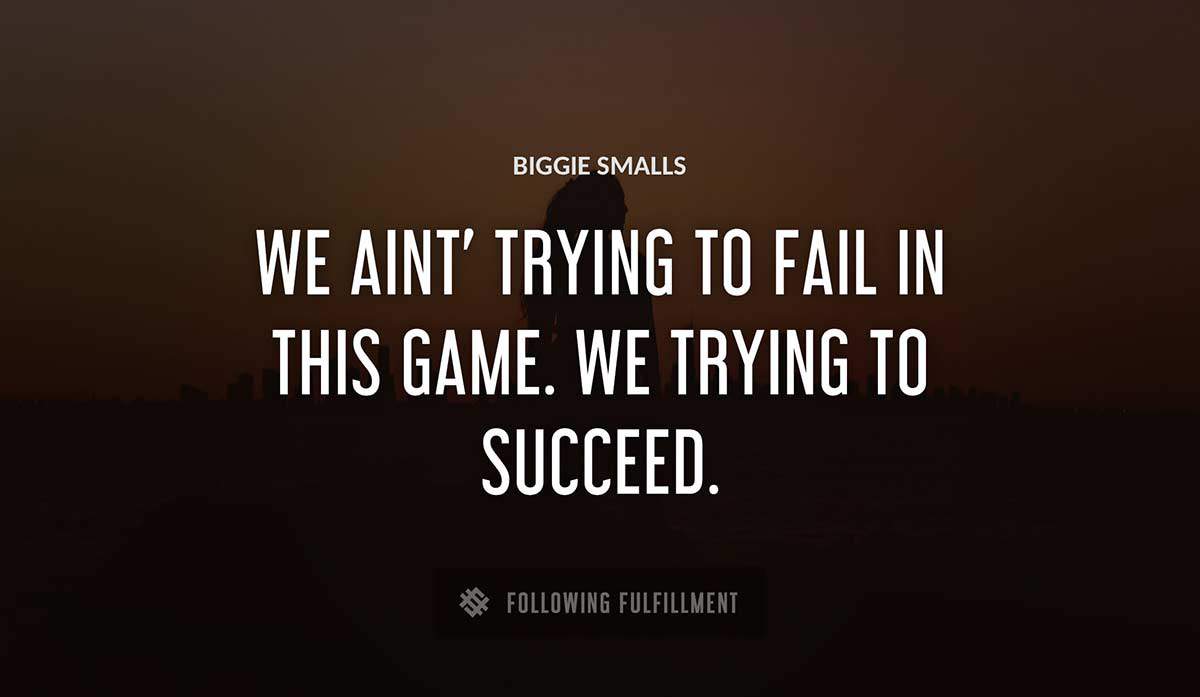 Inspiring Phrases From Biggie Smalls
All I know is gold and platinum, and I want to be platinum. — Biggie Smalls
If Faith had twins, she'd probably have two Pacs, Get it, Tu–Pac's? — Biggie Smalls
Relax and take notes while I take tokes of the marijuana smoke — The Notorious B.I.G.
My real life helped me sell a lot of records. — Biggie Smalls
I got a lawyer to watch my lawyer. — Biggie Smalls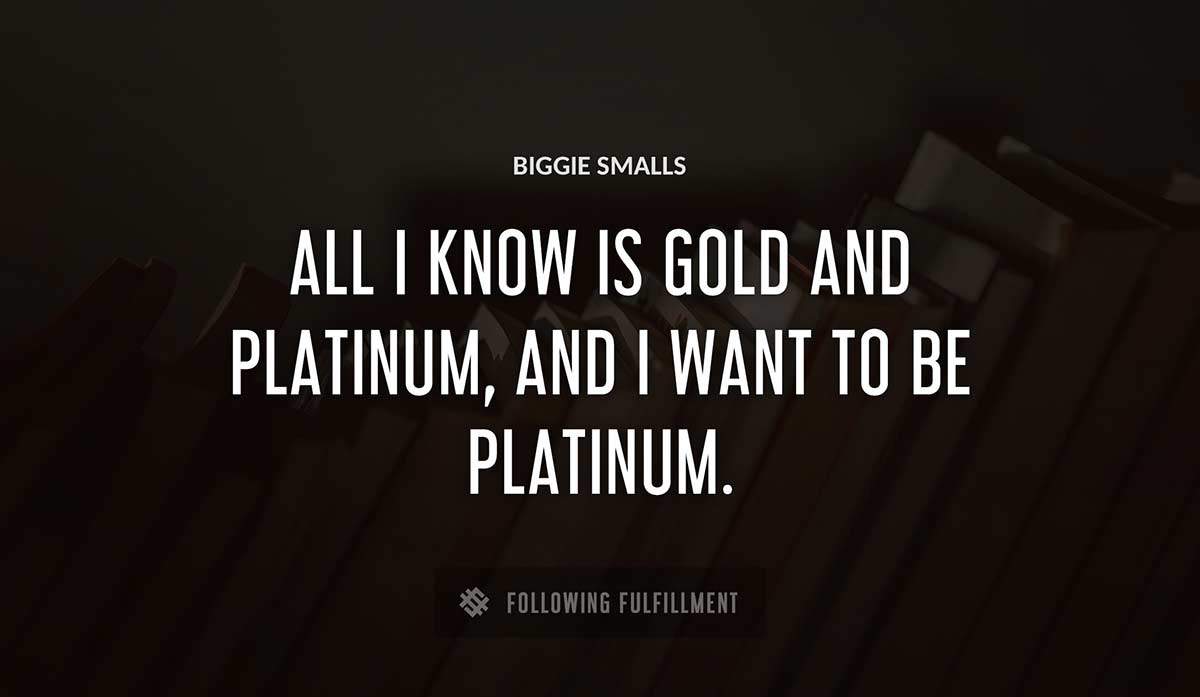 Basically, I wake up at nine o'clock in the morning, go to different record stores, go to the studio, think up different ideas for songs. Just workin'. — Biggie Smalls
I can't even say Puff and me are like brothers, 'cause we closer than that. — Biggie Smalls
Various Statements From Biggie Smalls
Old school new school need to learn though I burn baby, burn like Disco Inferno Burn slow like blunts with ya–yo Peel more skins than Idaho potato — The Notorious B.I.G.
Excellence is my presence, never tense, never hesitant. — Biggie Smalls
I'm definitely a writer. I don't even know how to freestyle. — Biggie Smalls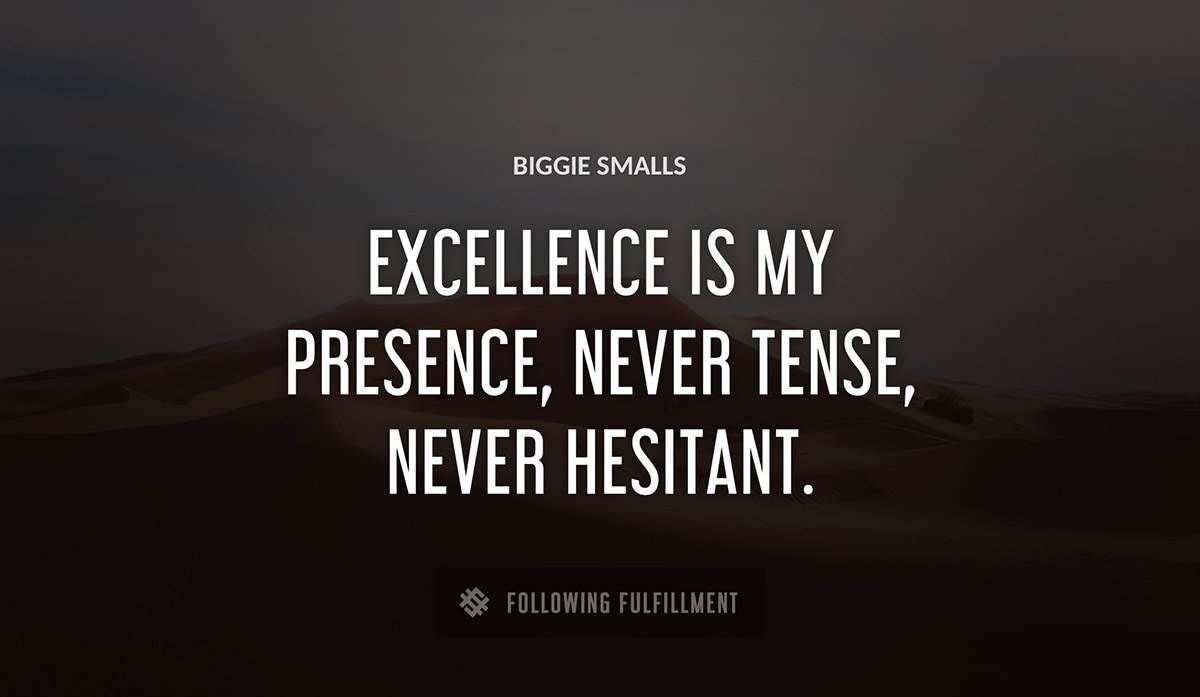 Pac get busy. People can't take nothing from him. On the lyrics, he get busy, straight up. — Biggie Smalls
Redundant Thematics
In Biggie Smalls Statements
Birthdays was the worst days. Now we sip champagne when we thirstay. — Biggie Smalls
Learn to treat life to the best, put stress to rest. — Biggie Smalls
The second time I went to jail, I was like, 'okay, this is not the move.' — Biggie Smalls
More Phrases From Biggie Smalls
And if you don't know, now you know. — Biggie Smalls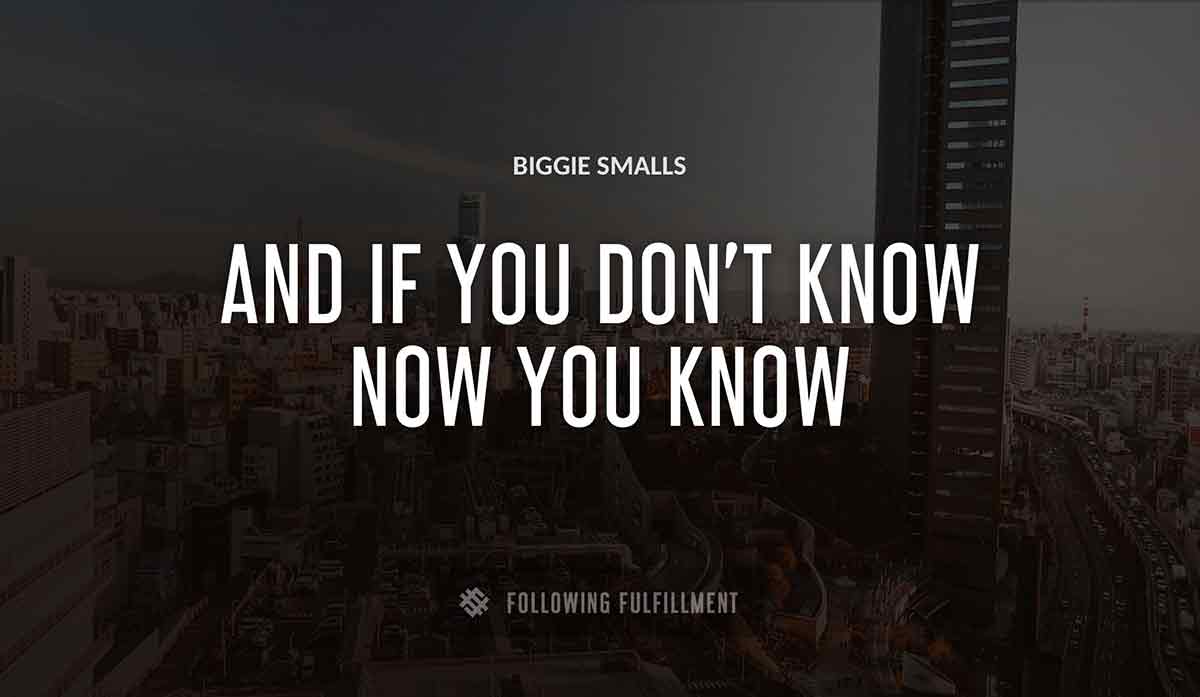 I never wish death on nobody, cause there ain't coming back from that. — Biggie Smalls
Who wants to be a shadow for the rest of their life? — Biggie Smalls
I can't even see me wasting my time or my talent to disrespect another black man. — Biggie Smalls
It's all good baby, baby. — Biggie Smalls
Damn right I like the life I live, because I went from negative to positive. — Biggie Smalls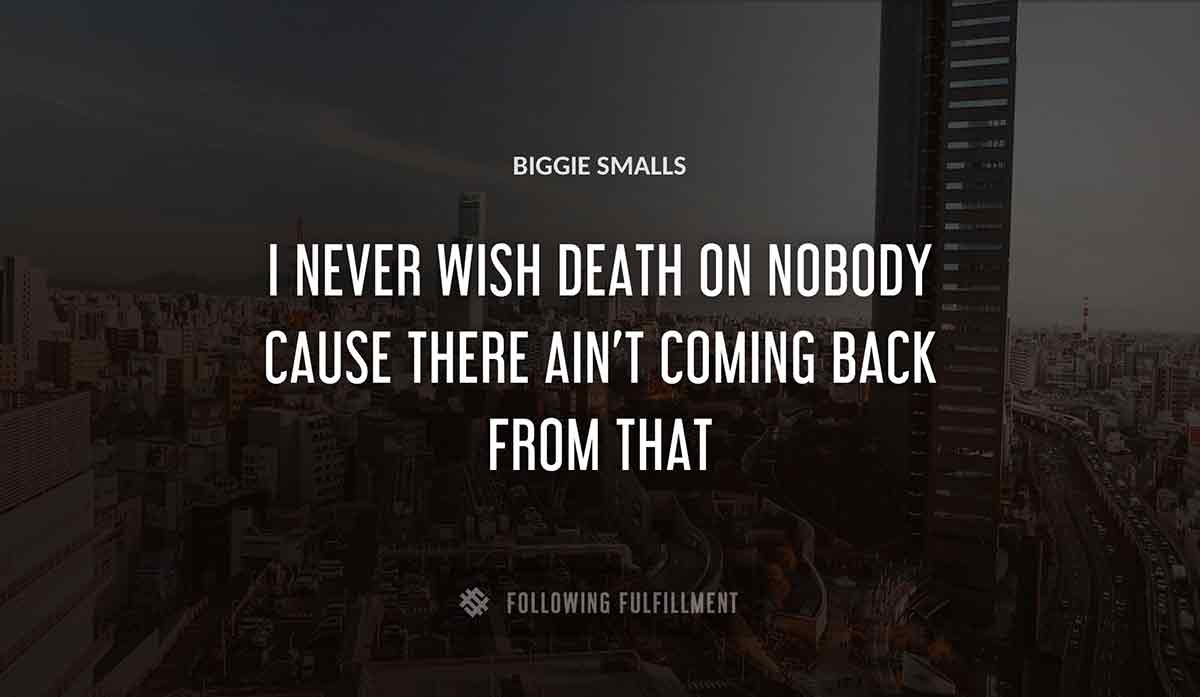 If you didn't know, now you now. — Biggie Smalls