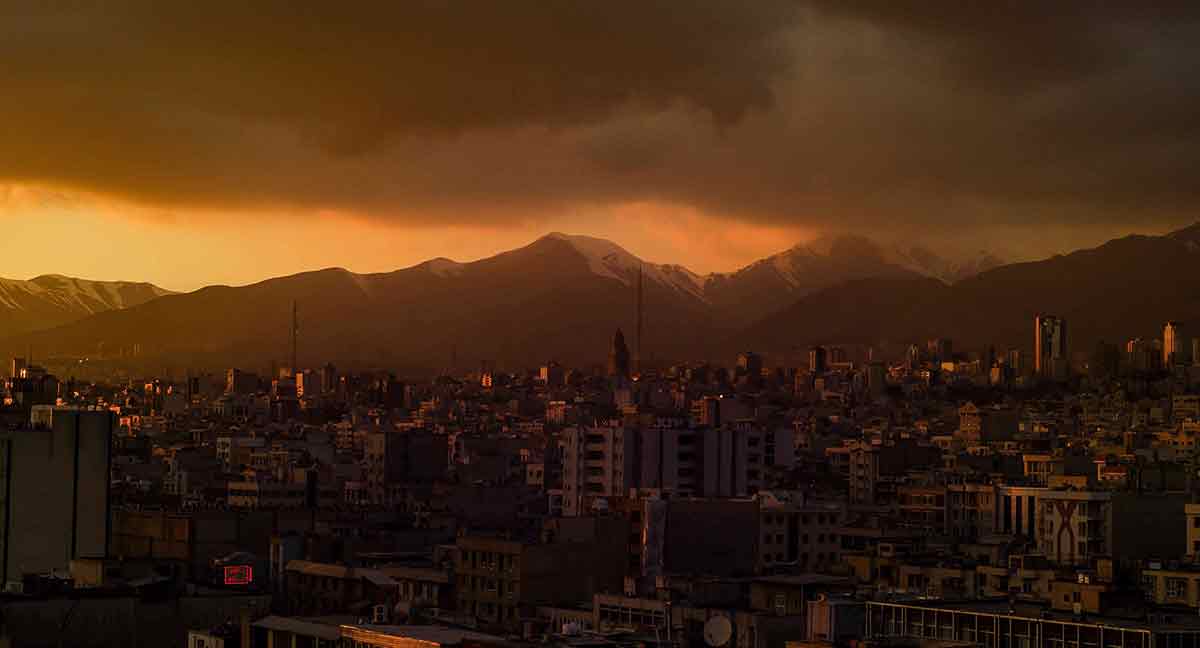 I am writing this blog post to introduce you to the life of Annie Dillard. She is a bestselling author and Pulitzer Prize-winning essayist, who has taught at various universities including Harvard and Princeton. Her work reflects on topics such as nature, art, religion, philosophy and history.
Here are the best sentences from Annie Dillard.
Here are the best Beauty, Writers, Love, Time, Life, Mind quotes from Annie Dillard, and much more.
Summary
About Annie Dillard
Born:
April 30, 1945
Occupation:
Writer
Nationality:
American
Period:
1974-Present
Genre:
Nonfiction, Fiction, Poetry
Notable Works:
Pilgrim At Tinker Creek, Holy The Firm, For The Time Being, An American Childhood, The Maytrees And More.
Notable Awards:
Pulitzer Prize For General Nonfiction 1975 – Pilgrim At Tinker Creek
ANNIE DILLARD QUOTES ON BEAUTY
We wake, if we ever wake at all, to mystery, rumors of death, beauty, violence… — Annie Dillard
We are here to bring to consciousness the beauty and power that are around us and to praise the people who are here with us. — Annie Dillard
Beauty and grace are performed whether or not we sense them. — Annie Dillard
The answer must be, I think, that beauty and grace are performed whether or not we will or sense them. The least we can do is try to be there. — Annie Dillard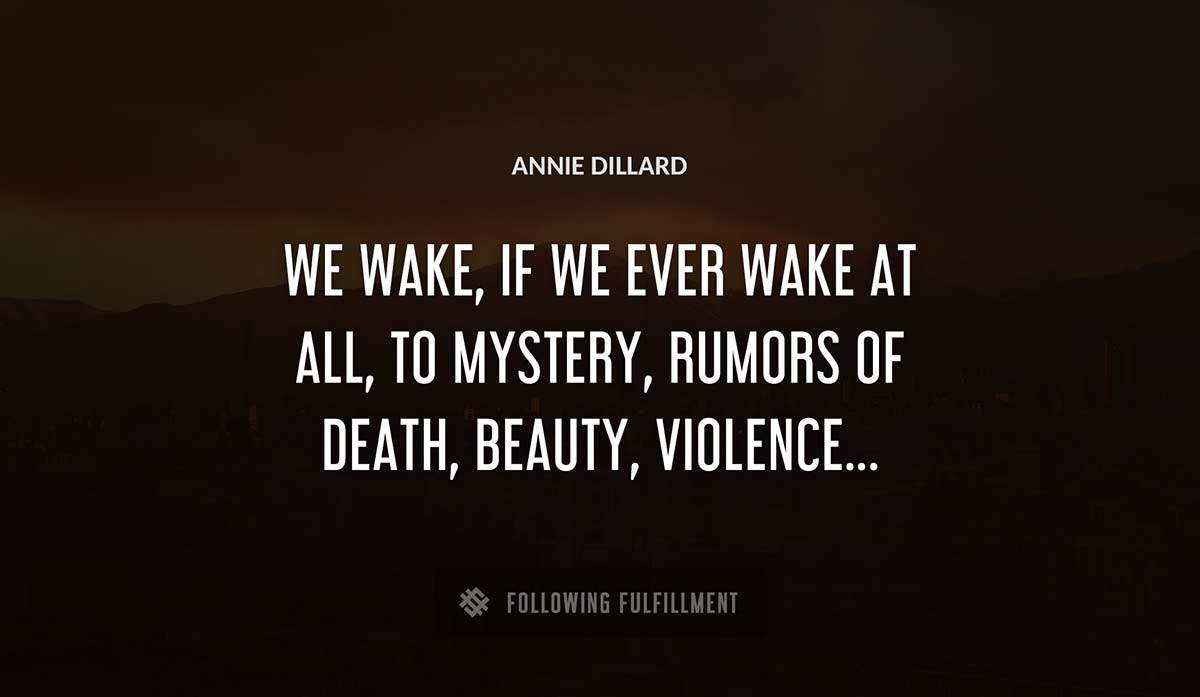 The notion of the infinite variety of detail and the multiplicity of forms is a pleasing one; in complexity are the fringes of beauty, and in variety are generosity and exuberance. — Annie Dillard
Unless all ages and races of men have been deluded by the same mass hypnotist (who?), there seems to be such a thing as beauty, a grace wholly gratuitous. — Annie Dillard
I couldn't unpeach the peaches. — Annie Dillard
ANNIE DILLARD QUOTES ON LIFE
The interior life is often stupid. — Annie Dillard
Our life seems cursed to be a wiggle merely, and a wandering without end. — Annie Dillard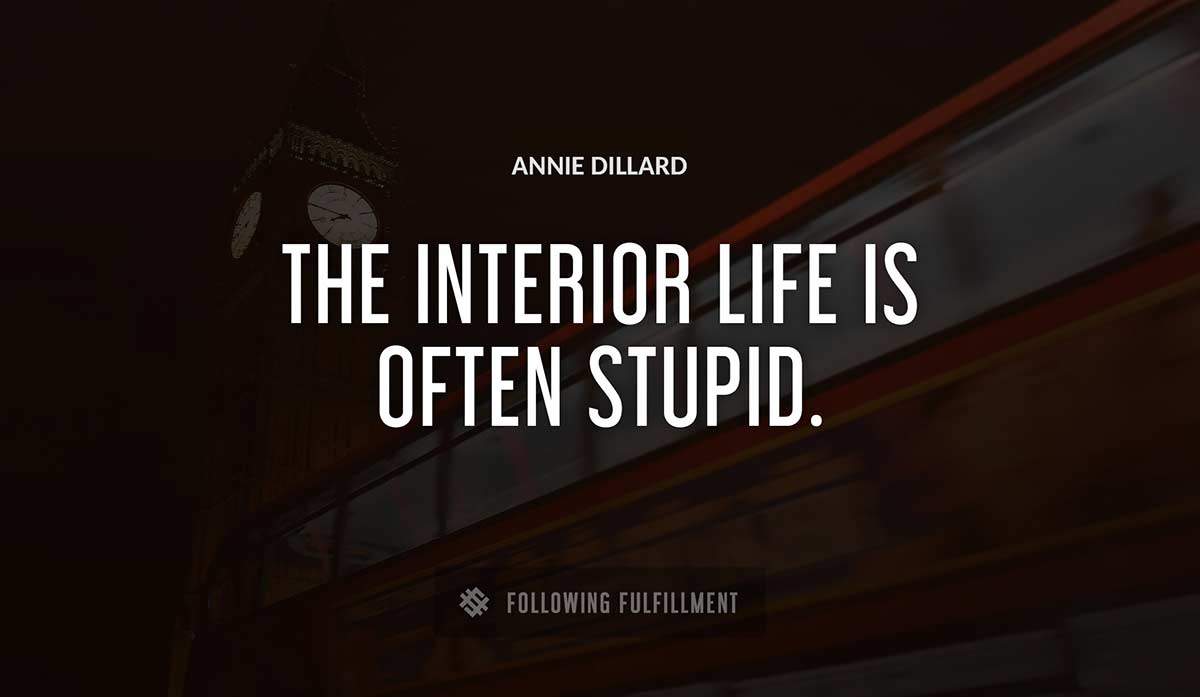 How you spend your days is how you spend your life. — Annie Dillard
There is no shortage of good days. It is good lives that are hard to come by. — Annie Dillard
Much has been written about the life of the mind. — Annie Dillard
The life of sensation is the life of greed; it requires more and more. The life of the spirit requires less and less. — Annie Dillard
The way you live your days is the way you live your life. — Annie Dillard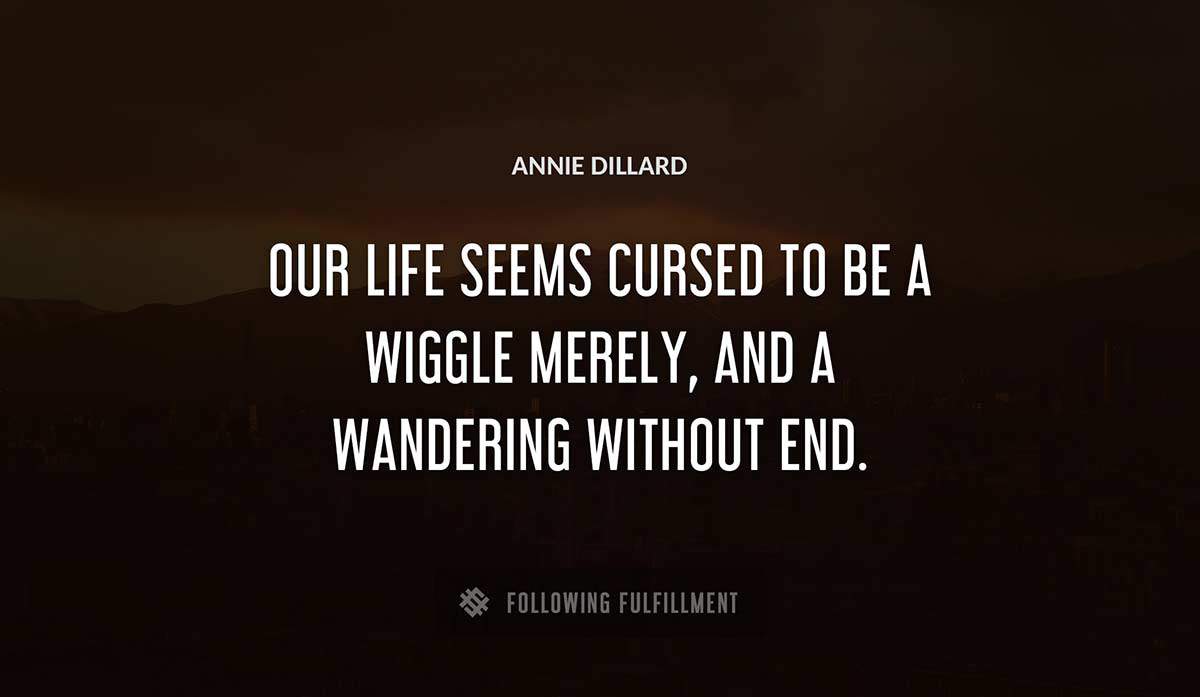 When I teach, I preach. I thump the Bible. I exhort my students morally. I talk to them about the dedicated life. — Annie Dillard
Our life is a faint tracing on the surface of mystery. — Annie Dillard
Are you living just a little and calling that life? — Annie Dillard
I worked so hard all my life, and all I want to do now is read. — Annie Dillard
We live half our waking lives and all of our sleeping lives in some private, useless, and insensible waters we never mention or recall. — Annie Dillard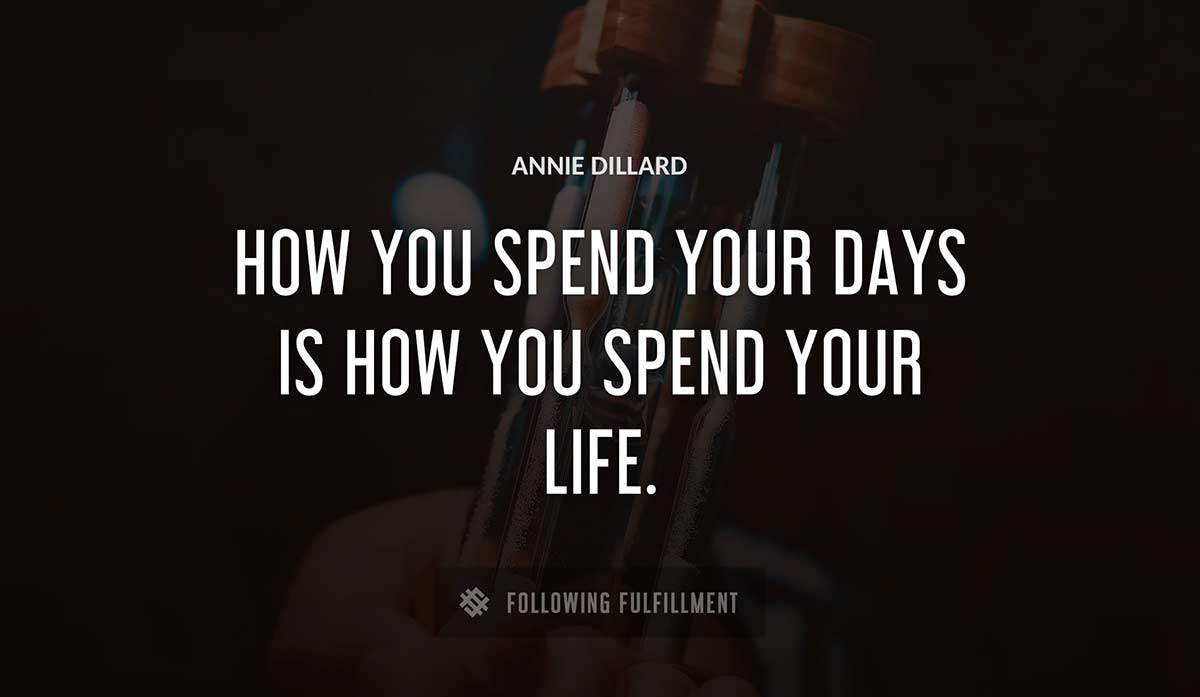 Why are we reading, if not in hope of beauty laid bare, life heightened and its deepest mystery probed? — Annie Dillard
The dedicated life is worth living. You must give with your whole heart. — Annie Dillard
I had been my whole life a bell, and never knew it until at that moment I was lifted and struck. — Annie Dillard
For writing a first draft requires from the writer a peculiar internal state which ordinary life does not induce. … how to set yourself spinning? — Annie Dillard
As a life's work, I would remember everything–everything, against loss. I would go through life like a plankton net. — Annie Dillard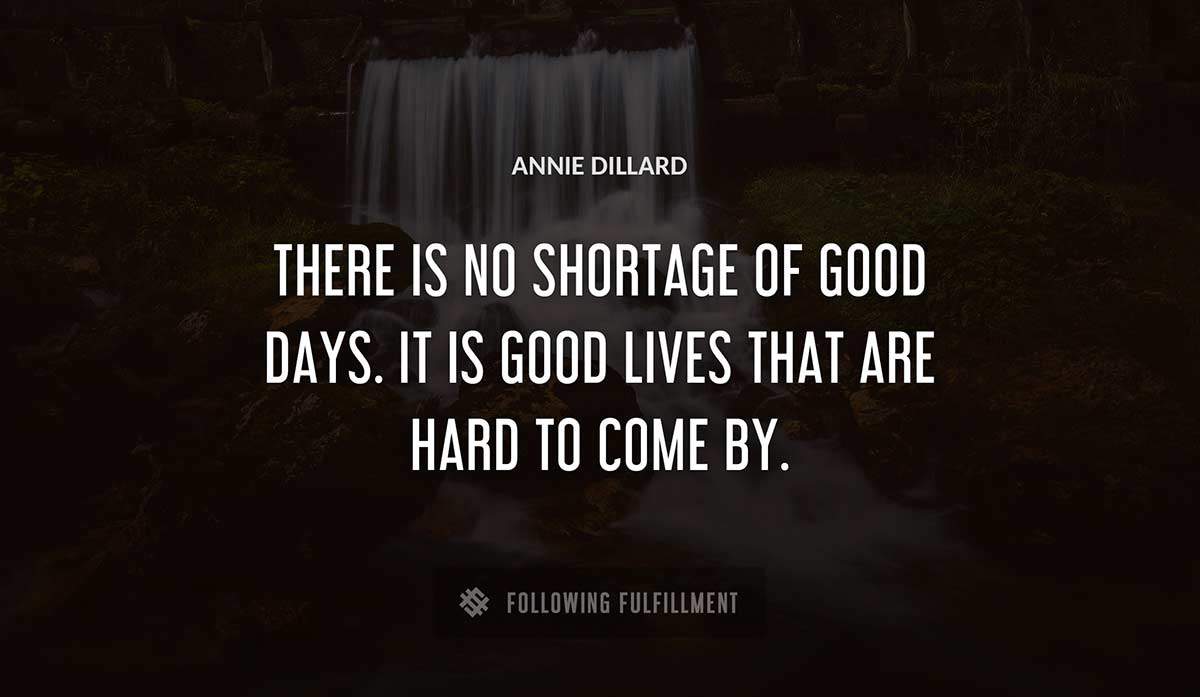 It should surprise no one that the life of the writer–such as it is–is colorless to the point of sensory deprivation. Many writers do little else but sit in small rooms recalling the real world. — Annie Dillard
We teach our children one thing only, as we were taught: to wake up. We teach our children to look alive there, to join by words and activities the life of human culture on the planet — Annie Dillard
What is important is the moment of opening a life and feeling it touch––with an electric hiss and cry––this speckled mineral sphere, our present world. — Annie Dillard
Private life, book life, took place where words met imagination without passing through the world. — Annie Dillard
ANNIE DILLARD QUOTES ABOUT TIME
I'm a housewife: I spend far more time on housework than anything else. — Annie Dillard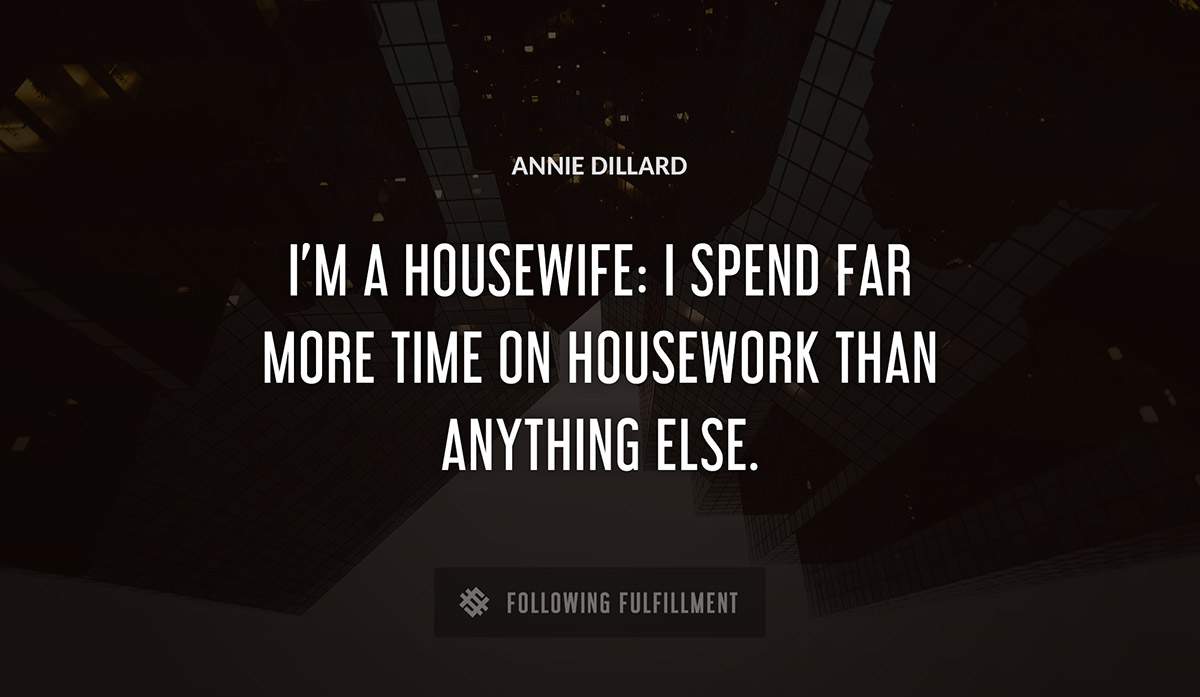 You've got to jump off cliffs all the time and build your wings on the way down. — Annie Dillard
You are wrong if you think that you can in any way take the vision and tame it to the page. The page is jealous and tyrannical; the page is made of time and matter; the page always wins. — Annie Dillard
Time is the warp and matter the weft of the woven texture of beauty in space, and death is the hurling shuttle. — Annie Dillard
It was less like seeing than like being for the first time seen, knocked breathless by a powerful glance. — Annie Dillard
Every day is a god, each day is a god, and holiness holds forth in time. — Annie Dillard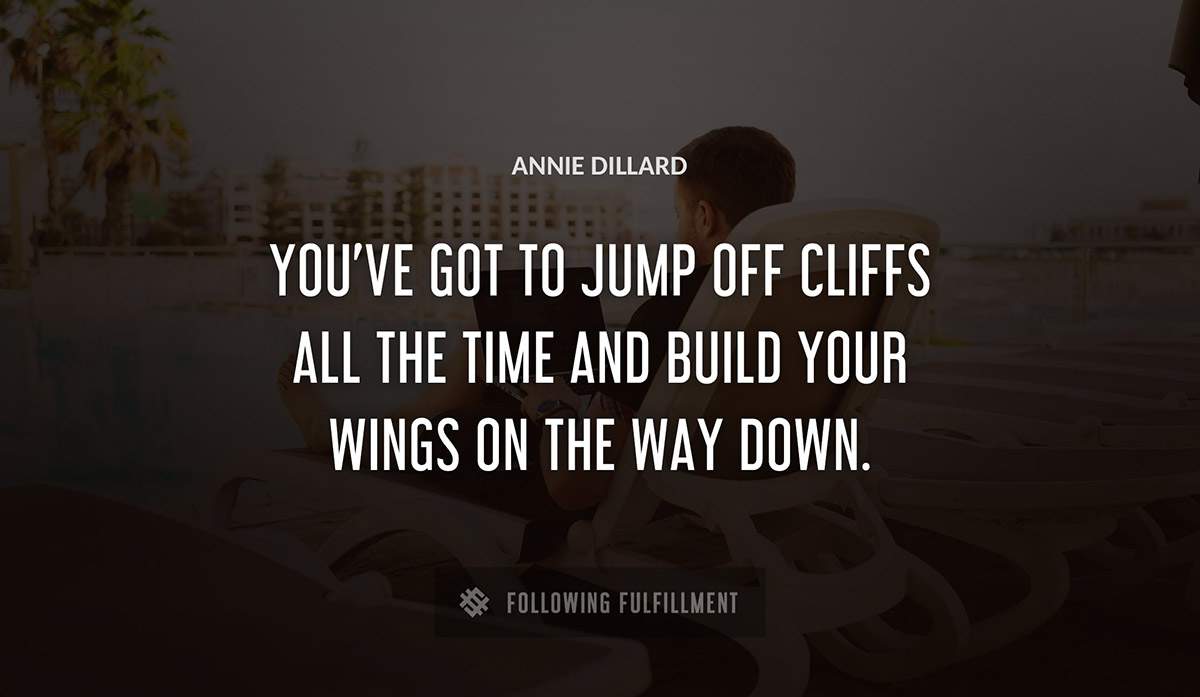 Time is the continuous loop, the snakeskin with scales endlessly overlapping without beginning or end, or time is an ascending spiral if you will, like a child's toy Slinky. — Annie Dillard
I would like to live. . . open to time and death painlessly, noticing everything, remembering nothing, choosing the given with a fierce and pointed will. — Annie Dillard
One of the few things I know about writing is this: spend it all, shoot it, play it, lose it, all, right away, every time…give it, give it all, give it now. — Annie Dillard
Redundant Thematics
In Annie Dillard Statements
beauty
love
writer
mind
world
time
alone
life
Landscape consists in the multiple, overlapping intricacies and forms that exist in a given space at a moment in time. — Annie Dillard
Knowing you are alive is watching on every side your generation's short time falling away as fast as rivers drop through air, and feeling it hit. — Annie Dillard
No, the point is not only does time fly and do we die, but that in these reckless conditions we live at all, and are vouchsafed, for the duration of certain inexplicable moments, to know it. — Annie Dillard
It is no less difficult to write a sentence in a recipe than sentences in Moby Dick. So you might as well write Moby Dick. — Annie Dillard
A schedule defends from chAos And whim. — Annie Dillard
ANNIE DILLARD QUOTES ON WRITERS
Writers serve as the memory of a people. They chew over our public past. — Annie Dillard
The writer studies literature, not the world. — Annie Dillard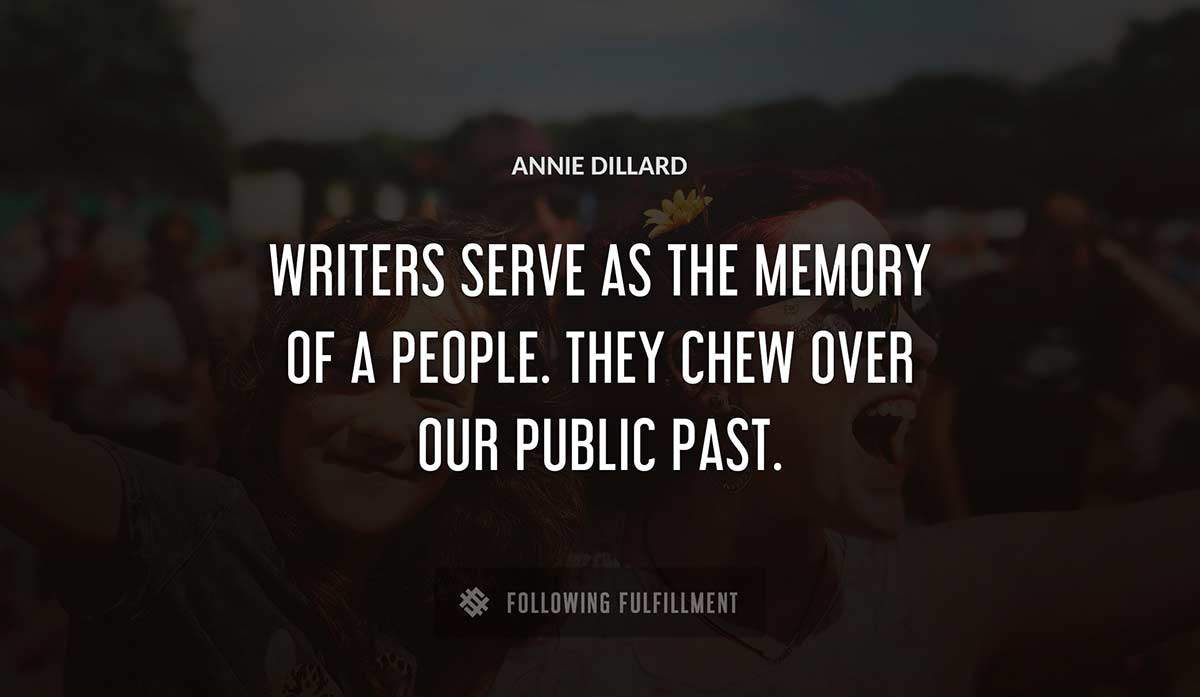 Every book has an intrinsic impossibility, which its writer discovers as soon as his first excitement dwindles. — Annie Dillard
The writer studies literature, not the world. He is careful of what he reads, for that is what he will write. — Annie Dillard
Many writers do little else but sit in small rooms recalling the real world. — Annie Dillard
On plenty of days the writer can write three or four pages, and on plenty of other days he concludes he must throw them away. — Annie Dillard
The body of literature, with its limits and edges, exists outside some people and inside others. Only after the writer lets literature shape her can she perhaps shape literature. — Annie Dillard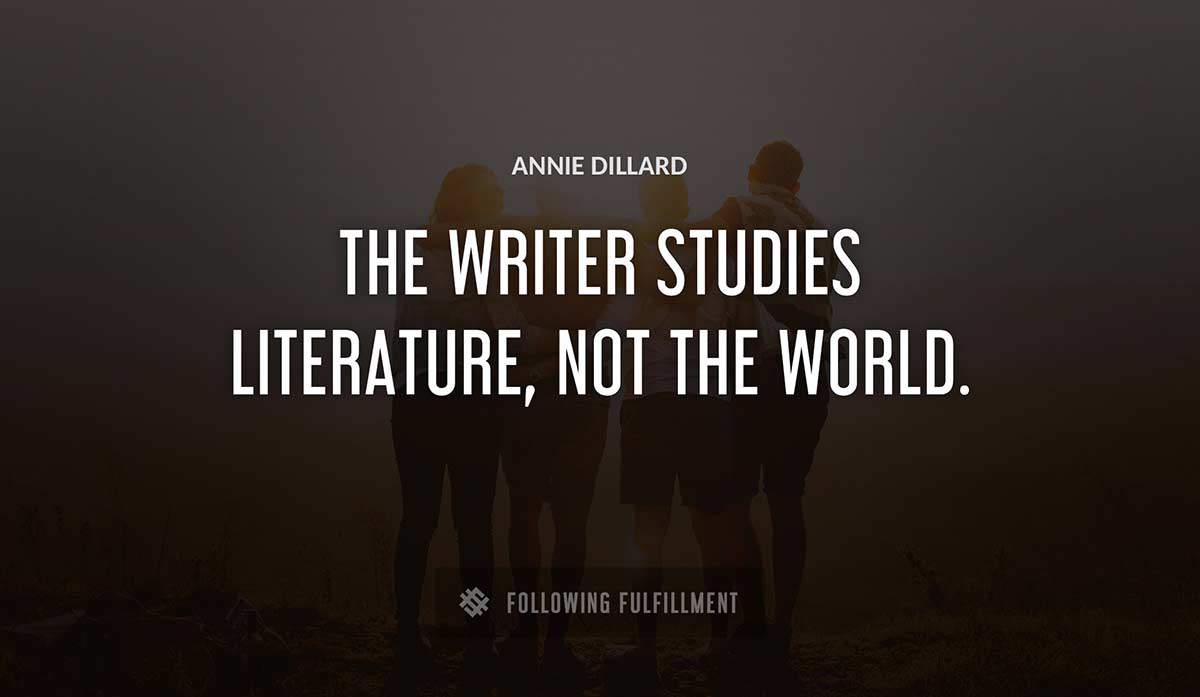 ANNIE DILLARD QUOTES ABOUT THE MIND
Like everyone in his right mind, I feared Santa Claus. — Annie Dillard
Novels written with film contracts in mind have a faint but unmistakable, and ruinous, odor. — Annie Dillard
The mind itself is an art object … The mind is a blue guitar on which we improvise the song of the world. — Annie Dillard
The mind of the writer does indeed do something before it dies, and so does its owner, but I would be hard put to call it living. — Annie Dillard
I never met a man who was shaken by a field of identical blades of grass. An acre of poppies and a forest of spruce boggle no one's mind. — Annie Dillard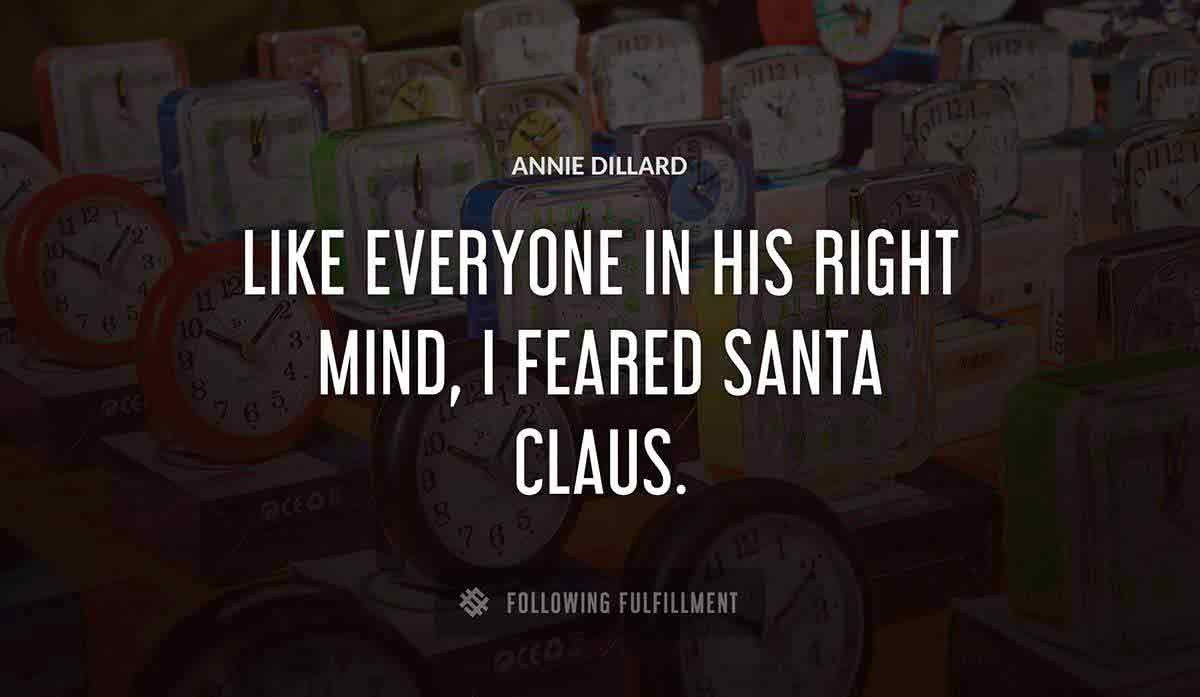 Almost all of my many passionate interests, and my many changes of mind, came through books. Books prompted the many vows I made to myself. — Annie Dillard
ANNIE DILLARD QUOTES ABOUT LOVE
You do what you do out of your private love of the thing itself. — Annie Dillard
The secret is not to write about what you love best, but about what you, alone, love at all. — Annie Dillard
Evolution loves death more than it loves you or me. This is easy to write, easy to read, and hard to believe. — Annie Dillard
The mind wants the world to return its love, or its awareness; the mind wants to know all the world, and all eternity, and God. — Annie Dillard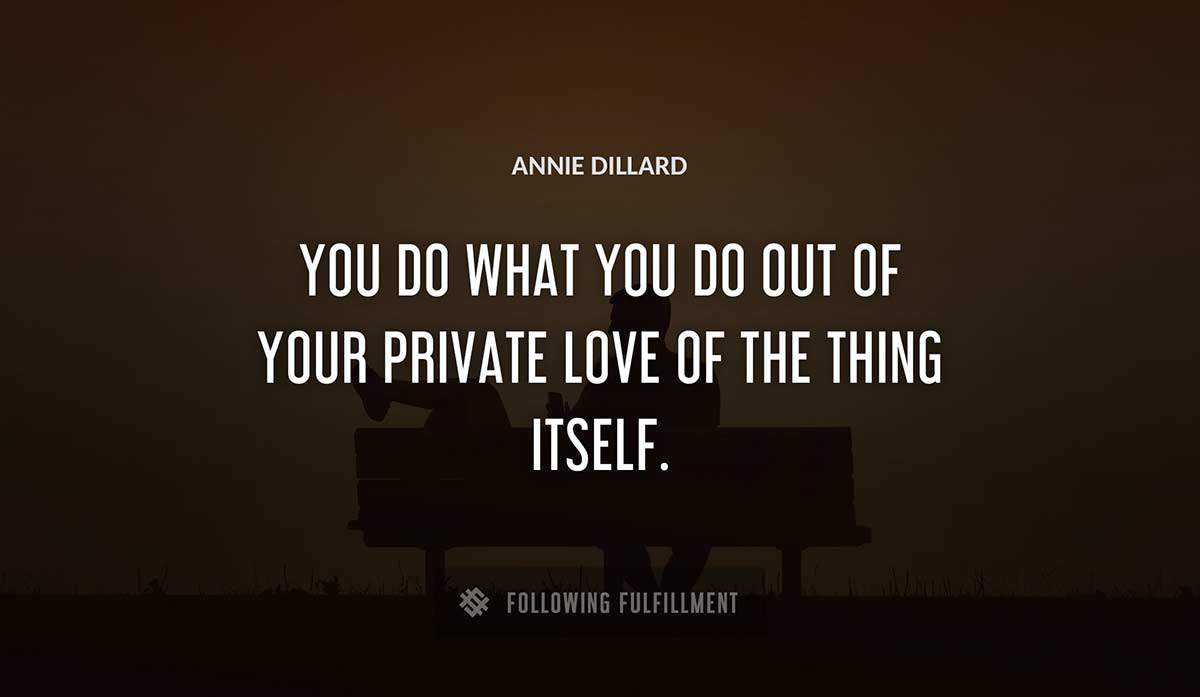 As soon as beauty is sought not from religion and love, but for pleasure, it degrades the seeker. — Annie Dillard
If we listened to our intellect, we'd never have a love affair… or go into business. You've got to jump off cliffs and build your wings on the way down. — Annie Dillard
A writer looking for subjects inquires not after what he loves best, but after what he alone loves at all. — Annie Dillard
People love pretty much the same things best. A writer looking for subjects inquires not after what he loves best, but after what he alone loves at all. — Annie Dillard
The sensation of writing a book is the sensation of spinning, blinded by love and daring. — Annie Dillard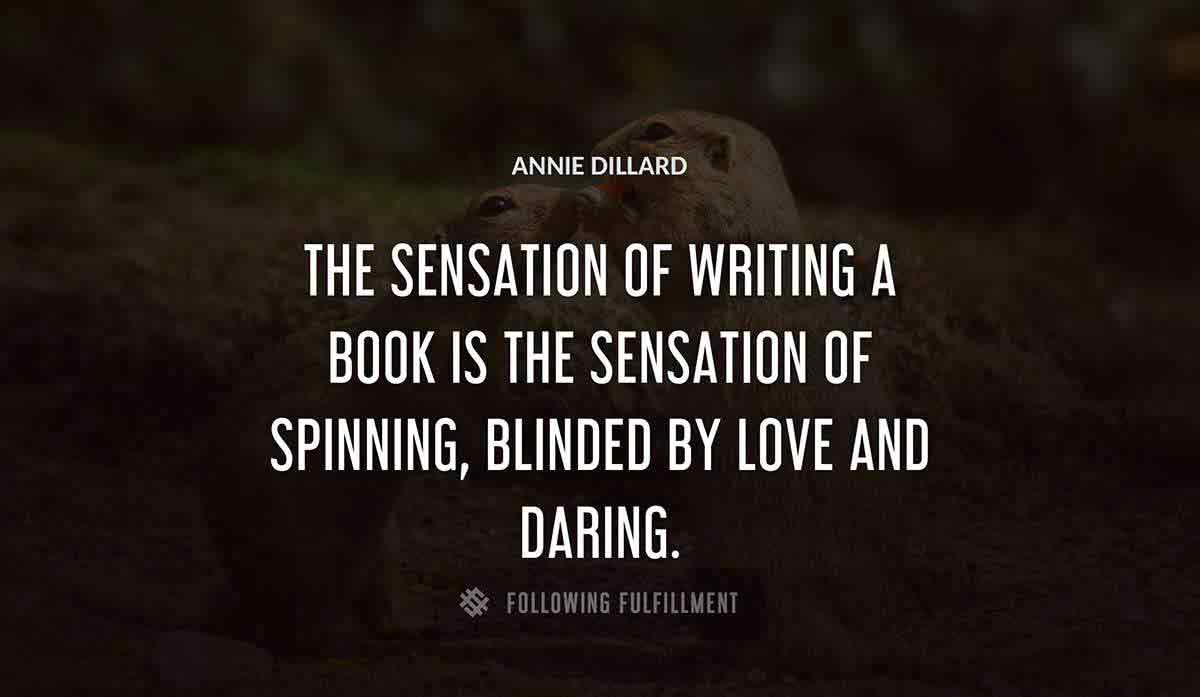 There are no events but thoughts and the heart's hard turning, the heart's slow learning where to love and whom. The rest is merely gossip, and tales for other times. — Annie Dillard
Nothing moves a woman so deeply as the boyhood of the man she loves. — Annie Dillard