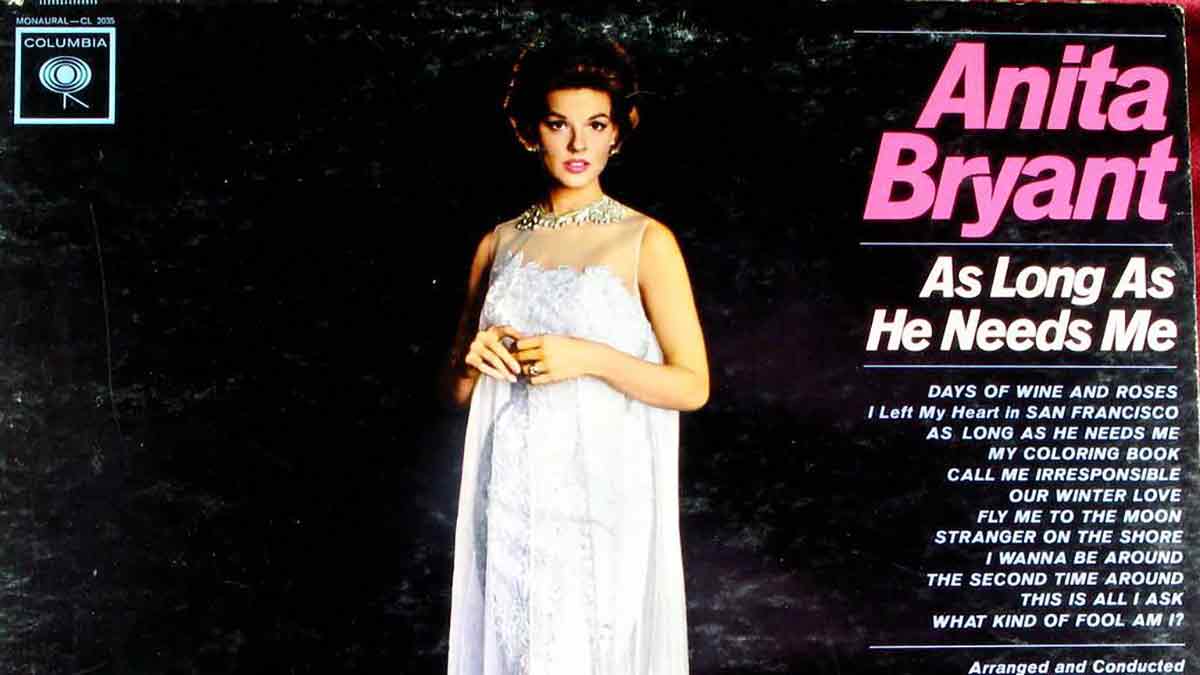 Anita Bryant was an American singer, actress, and politician who became a spokesperson for the anti-gay movement in the 1970s. She started her career as a Miss America contestant and went on to become a popular singer in the early 1960s. In 1977, she became involved in a heated battle against Miami-Dade County's ordinance that prohibited discrimination against gay people. Bryant successfully campaigned to have the ordinance repealed, but she ultimately lost favor with many Americans after stating that homosexuals were immoral and selfish. Her reputation never recovered, and she eventually retired from public life. Despite her controversial views on homosexuality, Bryant is often remembered as a successful businesswoman and entertainer.
Here are the most inspiring Homosexuality, Life, Time quotes from Anita Bryant, and much more.
Summary
ANITA BRYANT QUOTES ON HOMOSEXUALITY
Homosexuality is an abomination to the Lord. — Anita Bryant
On homosexuality:] I'm more inclined [now] to say live and let live. — Anita Bryant
I don't hate homosexuals. I love homosexuals. It's the sin of homosexuality I hate. — Anita Bryant
If homosexuality were normal, God would have created Adam and Bruce. — Anita Bryant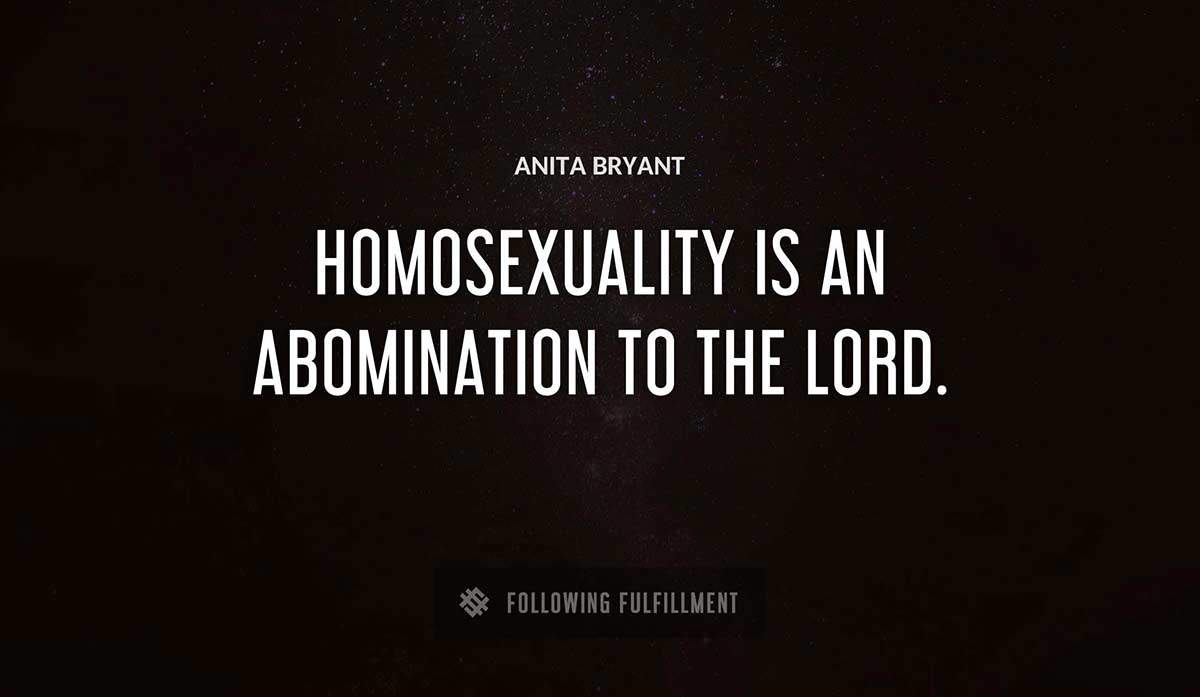 ANITA BRYANT QUOTES ABOUT TIME
People that come to the fair have a certain freedom you don't find in the nightclubs. They come to have a good time. — Anita Bryant
I use my 'woman–ness' all the time, and it's not illegal. — Anita Bryant
If you're looking for a wonderful way to spend time, take up fishing. — Anita Bryant
I dont feel qualified or that I really have time to be involved with the Southern Baptist Convention. — Anita Bryant
I am seeking the will of God, living one day at a time. — Anita Bryant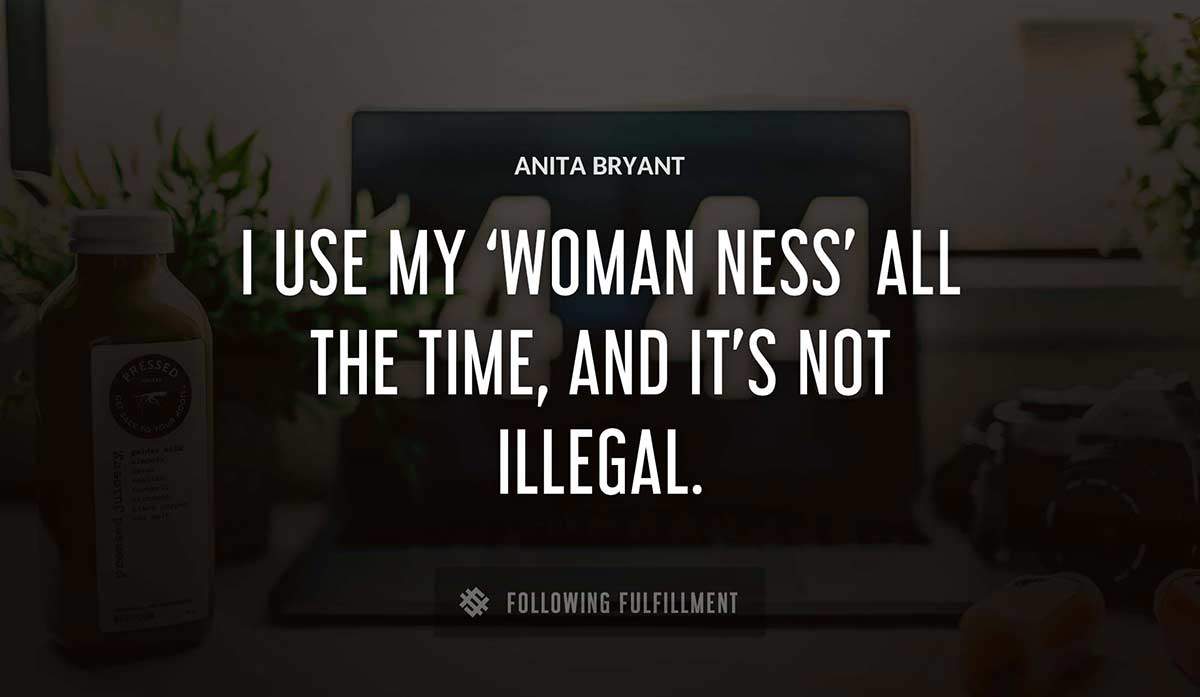 At one time, no one would touch me with a 10–foot pole. — Anita Bryant
I was singing from the time I was 6 years old–at banquets and school shows back in Oklahoma. — Anita Bryant
Any time you water down the law, it just makes it easier for immorality to be tolerated. — Anita Bryant
Breakfast without orange juice is like a day without sunshine. — Anita Bryant
ANITA BRYANT QUOTES ON LIFE
I guess when there's a real void in your life and your marriage has become rotten, you fantasize a lot of things. — Anita Bryant
I'd like to live a normal life. I'd like to be able to go out and play some tennis. I'd like to be able to water ski–do a lot of things. — Anita Bryant
Twice a year we film the orange juice commercials and at home in our daily life I try to involve the children as much as possible even in preparing meals. — Anita Bryant
Redundant Thematics
In Anita Bryant Statements
child
time
homosexuality
life
I think there is something special about living in a small town. Everyone knows your business and there is an intimacy you don't get in a large town. — Anita Bryant
Some pastors are so hard–nosed about submission and insensitive to their wives' needs that they don't recognize the frustration even hatred within their own households. — Anita Bryant
Inspiring Phrases From Anita Bryant
As a mother, I know that homosexuals cannot biologically reproduce children; therefore, they must recruit our children. — Anita Bryant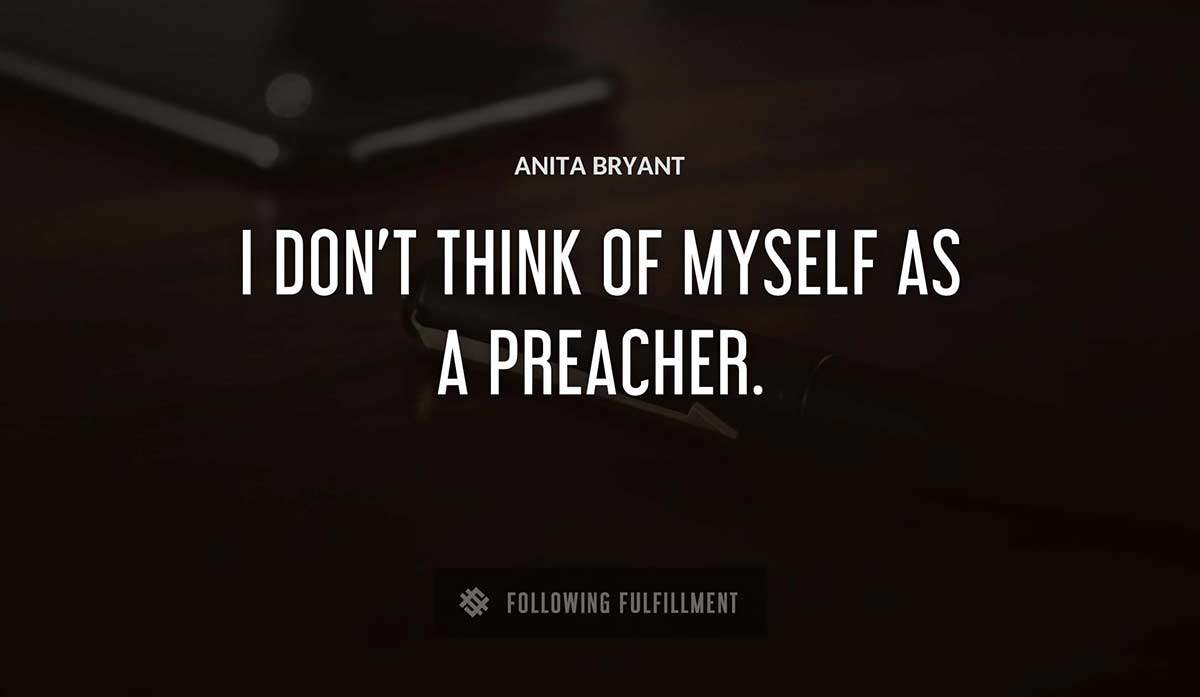 As children, we dug for worms or we used crawdads for bait. We caught catfish, or crappies, a delicous fish. — Anita Bryant
I don't care who you are, if you don't stand opposed to immoral issues, then you will suffer. — Anita Bryant
In this business I meet so many people. They are all trying to be healthy, but without an inner source they fail. They are not happy with themselves. — Anita Bryant
I would give my life if necessary to protect my children. I'm concerned with giving them the right food and clothes to wear… If they're exposed to homosexuality I might as well feed them garbage. — Anita Bryant
I don't think of myself as a preacher. — Anita Bryant
As the world is waxing worse, people are turning back to the basics of God. — Anita Bryant
ANITA BRYANT Quotes Take Away
Anita Bryant was a powerful voice for change in the 1970s. She is remembered today for her work as an LGBT activist, but she also left behind a wealth of quotes that are inspiring and insightful. We've collected some of our favorites here, and we hope you take the time to read through them all. As you do, think about how you can apply these principles to your own life and work. Are there any quotes that particularly speak to you? Share them with us in the comments below! And if you want to learn more about how to live your best life, check out our courses page—we have something for everyone.