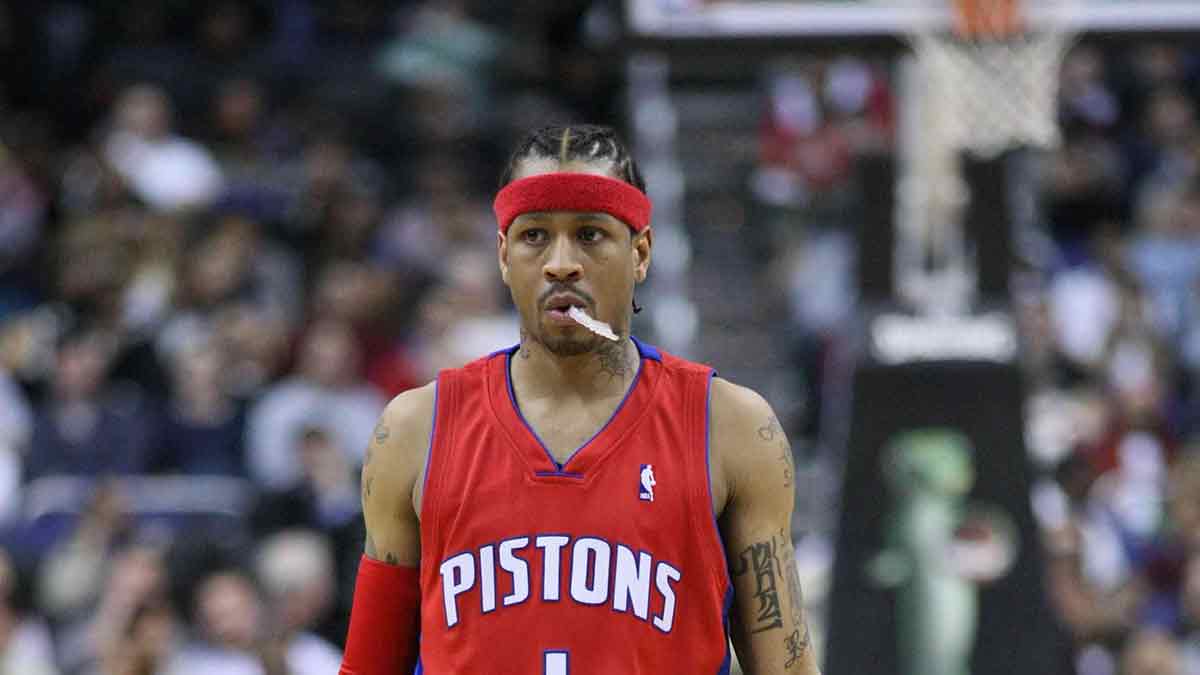 Allen Iverson is an American retired professional basketball player who played for 14 seasons in the National Basketball Association. He was known as a prolific scorer and one of the most entertaining players in NBA history, despite his small stature (6'0). His physicality, relentless style of play, and signature crossover dribble made him one of the league's most feared players both on and off the court. A star at Georgetown University for two years under John Thompson Jr., he left college to enter the 1996 NBA Draft.
We are glad to present you the most inspiring phrases from Allen Iverson.
Discover the most interesting Guy, Playing, Life, Practice, Basketball, Career quotes from Allen Iverson, and much more.
Summary
ALLEN IVERSON QUOTES ON PRACTICE
We talkin' about practice? — Allen Iverson
Believe me, I am not even that brave enough to miss that many practices. — Allen Iverson
As far as how I expressed 'practice, practice, practice' over and over again, I wouldn't take that back because, obviously, that sound bite is great for the media and for the fans, because they love it. — Allen Iverson
I thought we'd be discussing about me not leaving Philadelphia and they just kept asking me about the practice, so I lost it. — Allen Iverson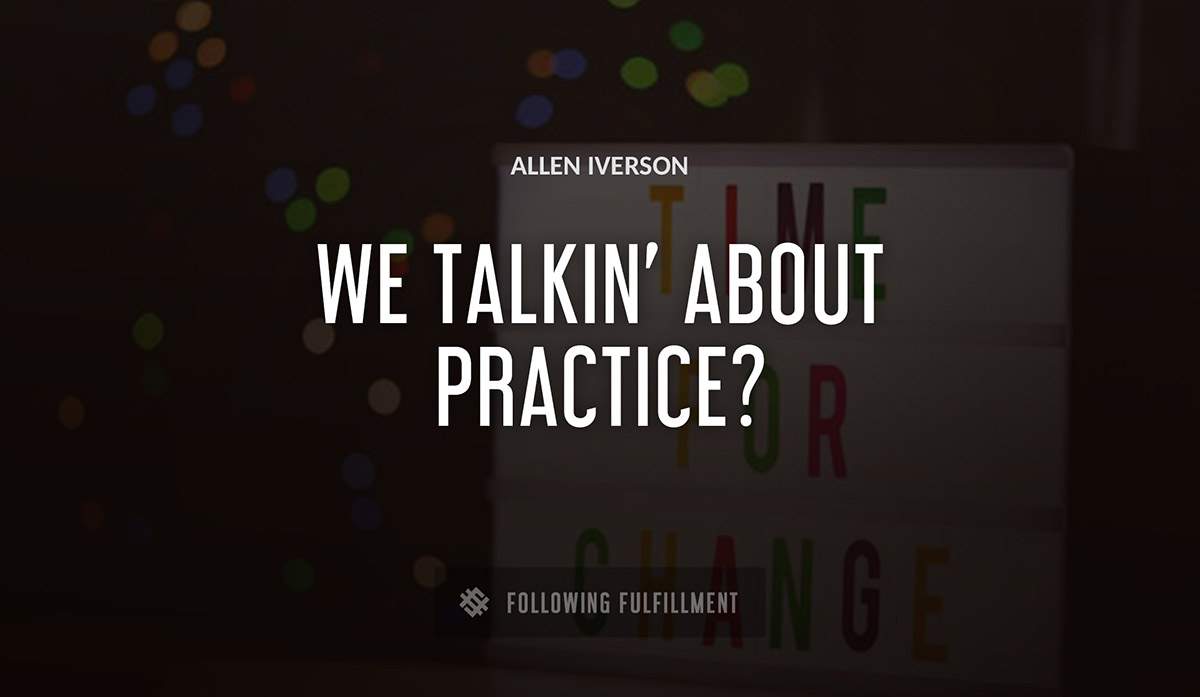 When you are not practicing, someone else is getting better. — Allen Iverson
How the hell can I make my teammates better by practicing?! — Allen Iverson
You think I can be the MVP without practicing? — Allen Iverson
I made a lot of mistakes, a lot of things I'm not proud of. But it's only for other people to learn from. — Allen Iverson
ALLEN IVERSON QUOTES ON BASKETBALL
I want to play basketball so bad. — Allen Iverson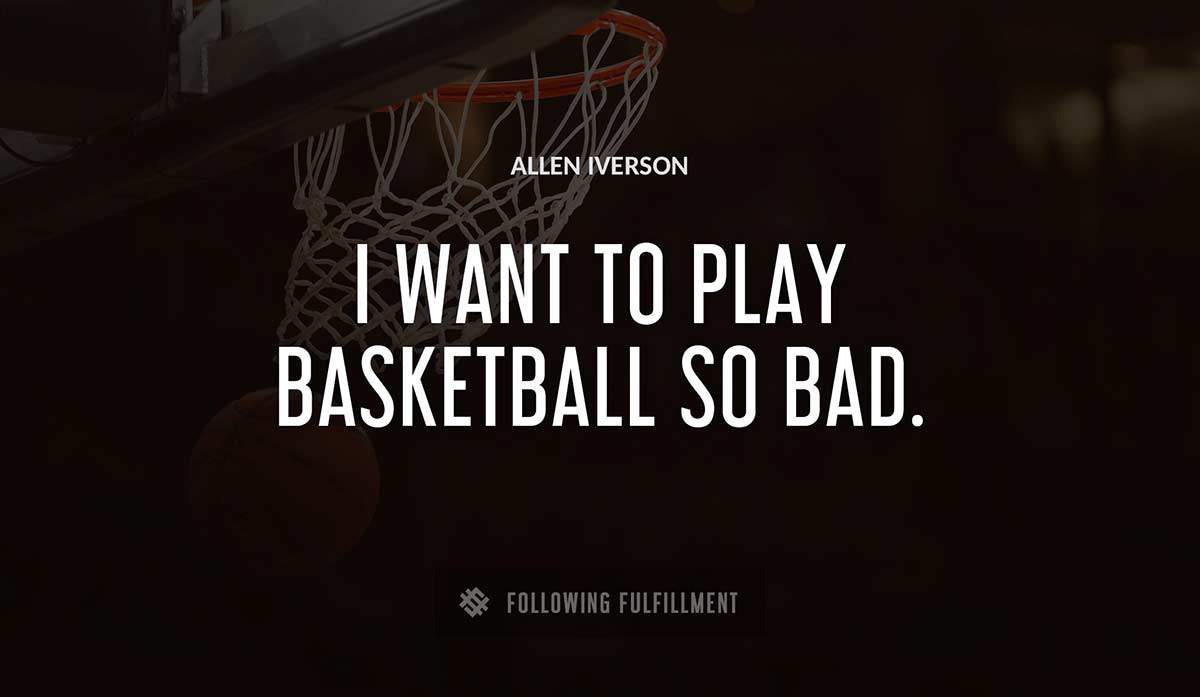 I don't watch college basketball. — Allen Iverson
When I was young, everyone laughed at me when I said that I wanted to be a professional basketball player…now it's my turn to laugh. — Allen Iverson
I gave everything I had to basketball. The passion is still there but the desire to play is not. It was a great ride. — Allen Iverson
If you're struggling with your shooting, then do other things on the basketball court. Get steals, get assists, get rebounds–do anything on the court to help the team win. — Allen Iverson
ALLEN IVERSON QUOTES ON PLAYING
It was a blessing just to play one NBA basketball game. — Allen Iverson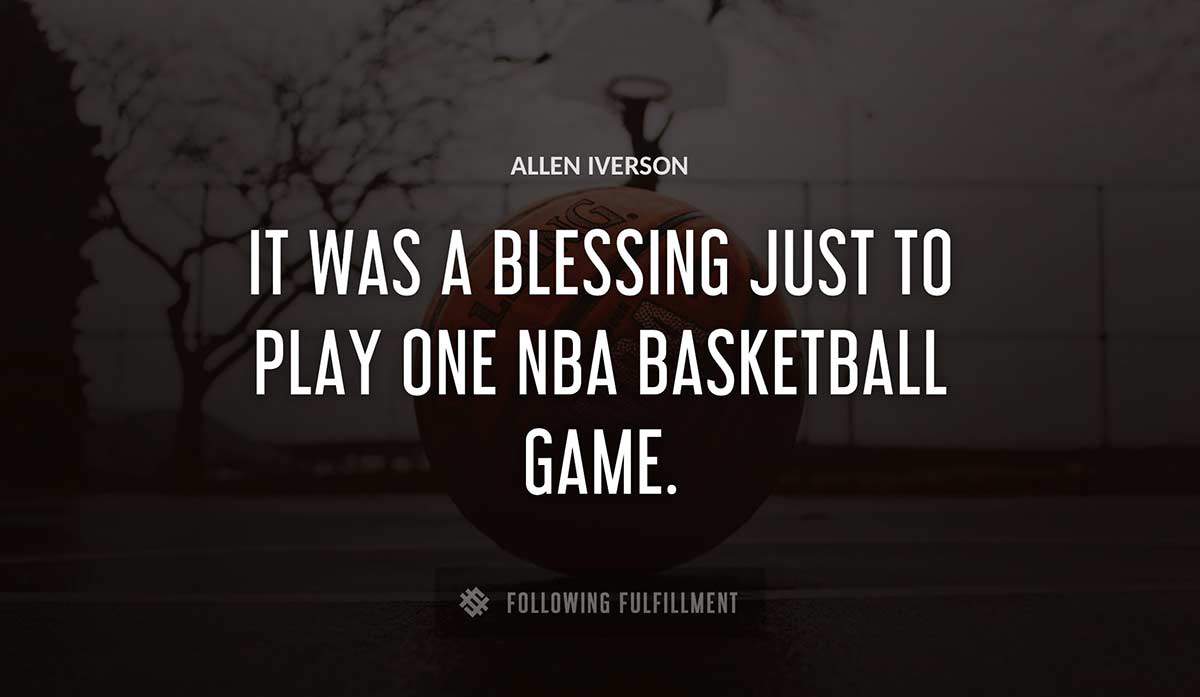 I play every game like it's my last game. All that matters is that you go out there and play every game as if it was your last. — Allen Iverson
I take everything I learned from the streets and put it in my NBA game. — Allen Iverson
Not a game, not a game… practice. — Allen Iverson
If we lose games, and I don't score a lot, they gonna say I'm not scoring enough. — Allen Iverson
I just want kids all over the world to know you have to practice to be any good in this game; it's too hard. — Allen Iverson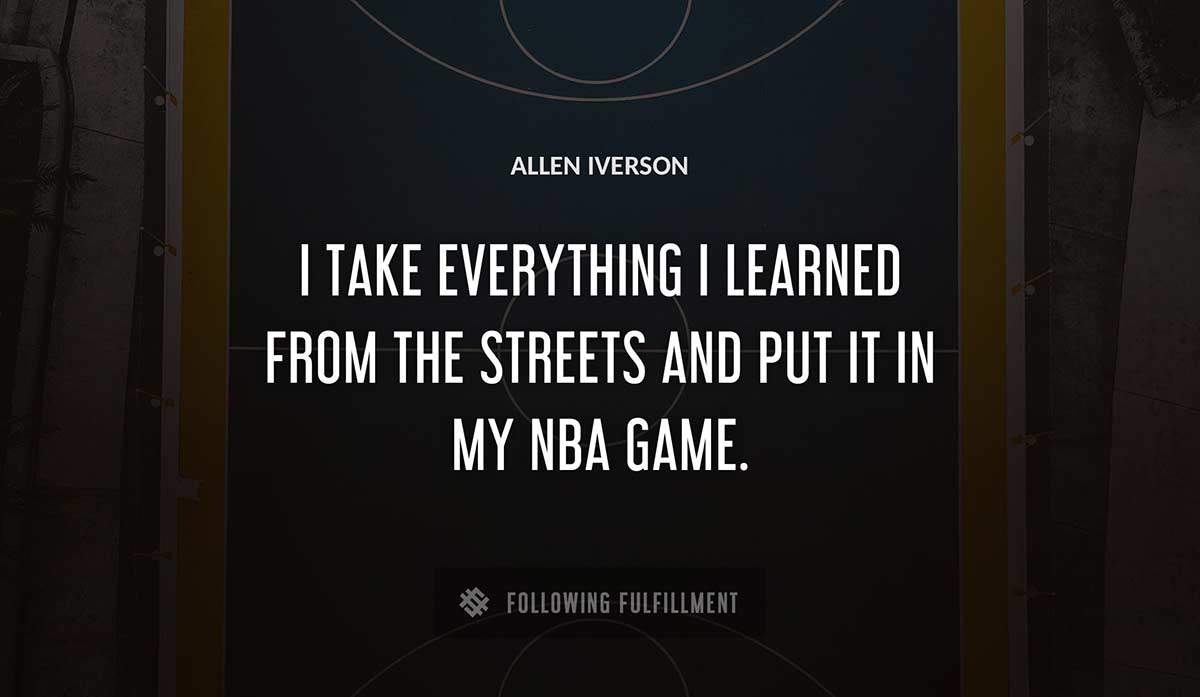 I never took the game for granted as far as not having to work on what I needed to do to accomplish all of the things that I wanted to accomplish. — Allen Iverson
ALLEN IVERSON QUOTES ON LIFE
Life is short. Im gonna be happy with mine. — Allen Iverson
Being older, I can't imagine a parent not wanting to be in their kid's life. I will just never understand it. To me, it's priceless. — Allen Iverson
My dream was bigger than anything else. My fight and me wanting to fulfill what I wanted to be in life. That was enough to keep me strong enough to endure anything. — Allen Iverson
Redundant Thematics
In Allen Iverson Statements
feel
love
believe
guy
life
practice
basketball
game
career
I want to thank coach Thompson… for saving my life. For giving me the opportunity. — Allen Iverson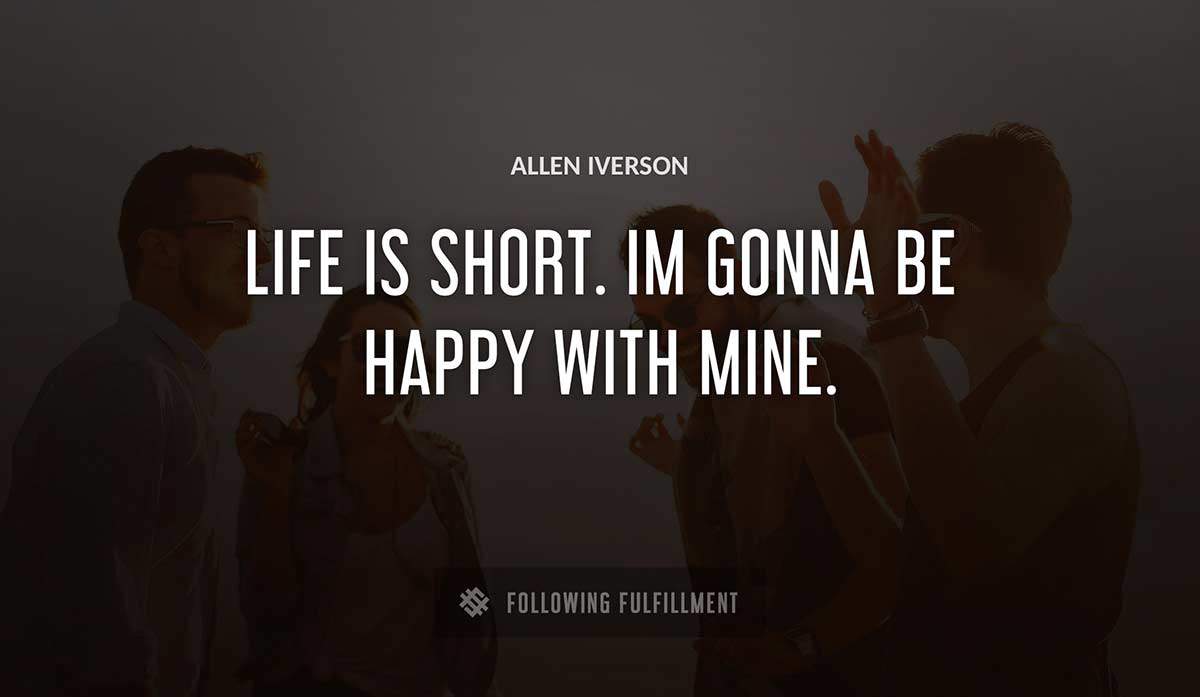 You hit road blocks in life, but I'm living proof that you can overcome those road blocks and become what you want to become. — Allen Iverson
Being in a fishbowl, everybody looking at every move you make, talking about everything you do–it's just a hard life to live. — Allen Iverson
ALLEN IVERSON QUOTES ON CAREER
God chose Memphis as the place that I will continue my career. — Allen Iverson
I always wanted to be a Sixer… I always wanted to finish my career as a Sixer. — Allen Iverson
I don't want to be another Jordan, Magic, or Isiah. When my career is over, I want to be able to look in the mirror and say 'I did it my way'. — Allen Iverson
I always wanted to be a Sixer. My dad was a Sixers' fan. I never wanted to leave. I wanted to start my career in Philly and finish it here. — Allen Iverson
I wanna thank Biggie Smalls, Redman, Jadakiss, Tupac and Michael Jackson for being my theme music throughout my career. — Allen Iverson
He's helped me do so much in my career, helped me be the player that I am. If there's no Larry Brown, then there's no MVP, Allen Iverson. — Allen Iverson
ALLEN IVERSON QUOTES ON GUY
Just because you put a guy in a tuxedo doesn't make him a good guy. — Allen Iverson
I wasn't a bad guy. I just wanted God to give me a second chance. — Allen Iverson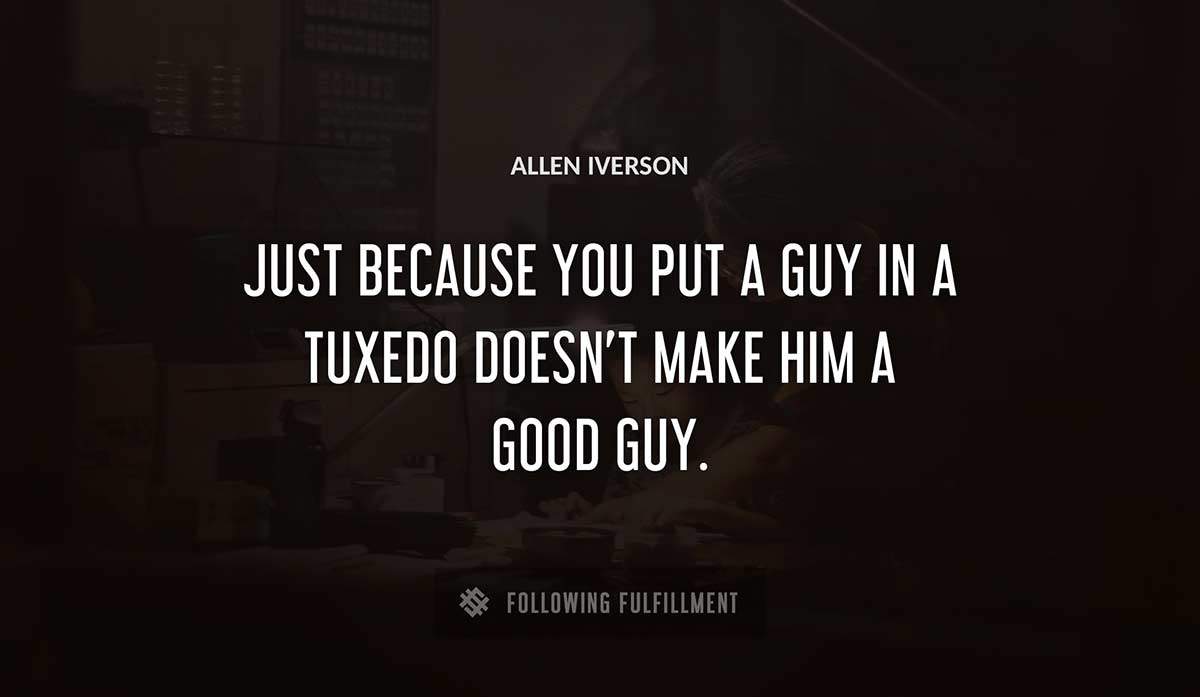 Tattoos, cornrows, headbands, hip–hop. I never meant to start any trends. I got my butt kicked, but if that meant that the guys who came after me could be themselves, then it was worth it. — Allen Iverson
I don't have any problems with what these guys wear because they got their own style and their own originality. That's the way it's supposed to be, man. — Allen Iverson
I dressed like the guys who I grew up with. I looked like the guys I grew up with. — Allen Iverson
I owe all of this to the guys I've played with and all the coaches that have helped me get to where I'm at right now. I'm honored to be here. — Allen Iverson