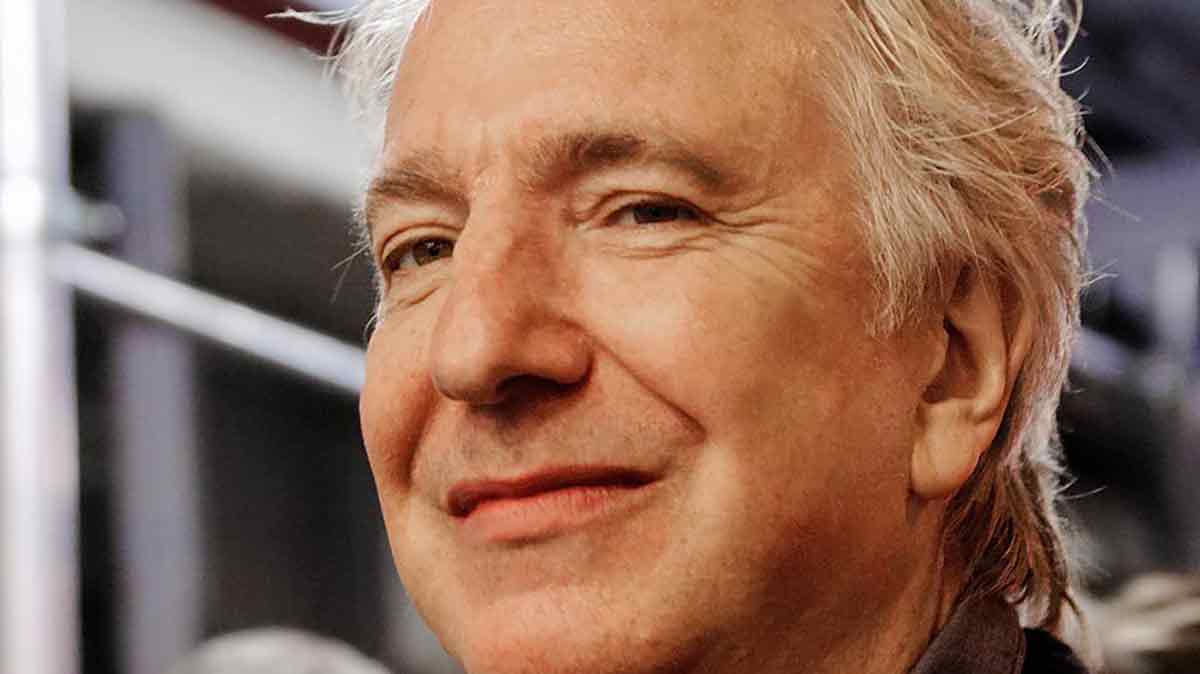 Alan Rickman was born in London on February 21, 1946. He was born to a working-class family, and his parents were both teachers. From an early age, Rickman showed a talent for acting and singing. He attended the Royal Academy of Dramatic Art, where he studied performing arts. After graduating from RADA, Rickman began working in theater productions. He soon gained attention for his skilled performances on stage and screen. Over the years, Rickman has starred in many well-known movies and TV shows. In addition to his work as an actor, Rickman also directed several theater productions. He passed away from cancer on January 14, 2016 at the age of 69.
We are glad to present you the strongest Films, Feelings, Time, Life, Character, Ater quotes from Alan Rickman, and much more.
Summary
ALAN RICKMAN QUOTES ON THEATER
My parents certainly didn't have anything to do with the theater. I'm some kind of accident. — Alan Rickman
I love working in New York theater. — Alan Rickman
In theater, you've got to be aware of your whole body because it involves stamina. It involves two–and–a–half hours and a sustained release of energy, maybe for six months. — Alan Rickman
You know, London is so sprawling, and you can sometimes forget that anybody else is on a stage anywhere else. — Alan Rickman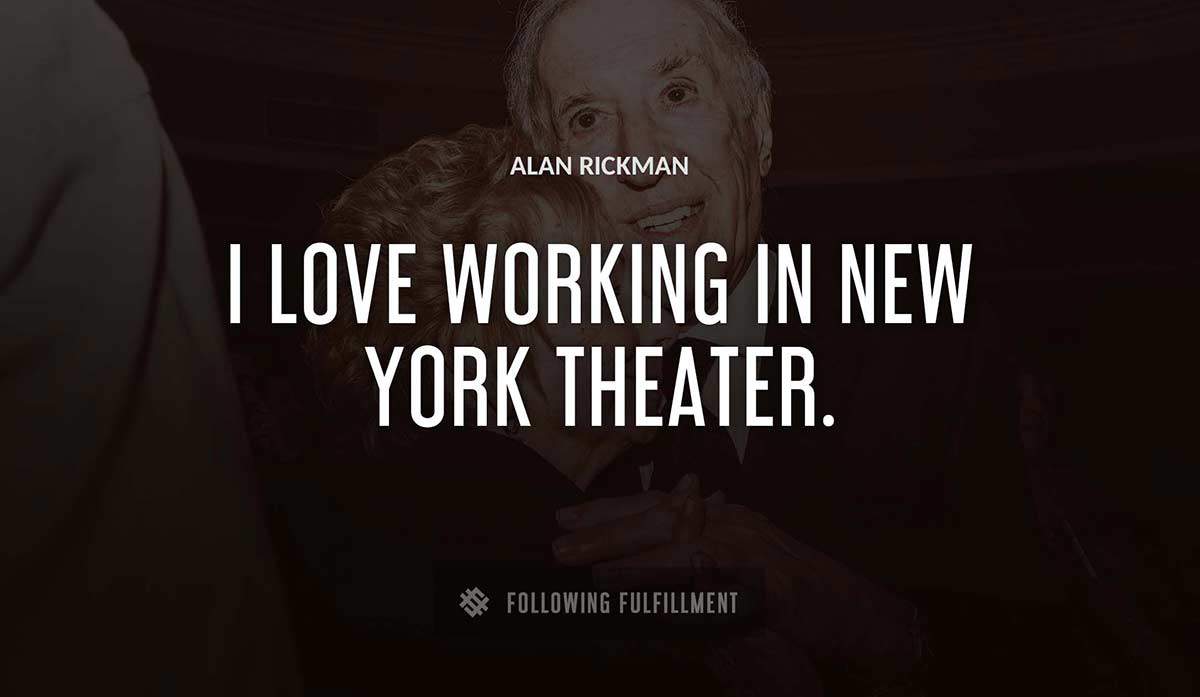 ALAN RICKMAN QUOTES ON LIFE
I've never been able to plan my life. I just lurch from indecision to indecision. — Alan Rickman
It was a punctuation mark in my life every year, because i would be doing other things but always come back to that, and i was always aware of my place in the story even as others around me were not. — Alan Rickman
If only life could be a little more tender and art a little more robust. — Alan Rickman
I'm still living the life where you get home and open the fridge and there's half a pot of yogurt and a half a can of flat Coca–Cola. — Alan Rickman
Originally, theater was my life. It was what I assumed I'd spend my working life doing–if I was lucky. Then along came movies. — Alan Rickman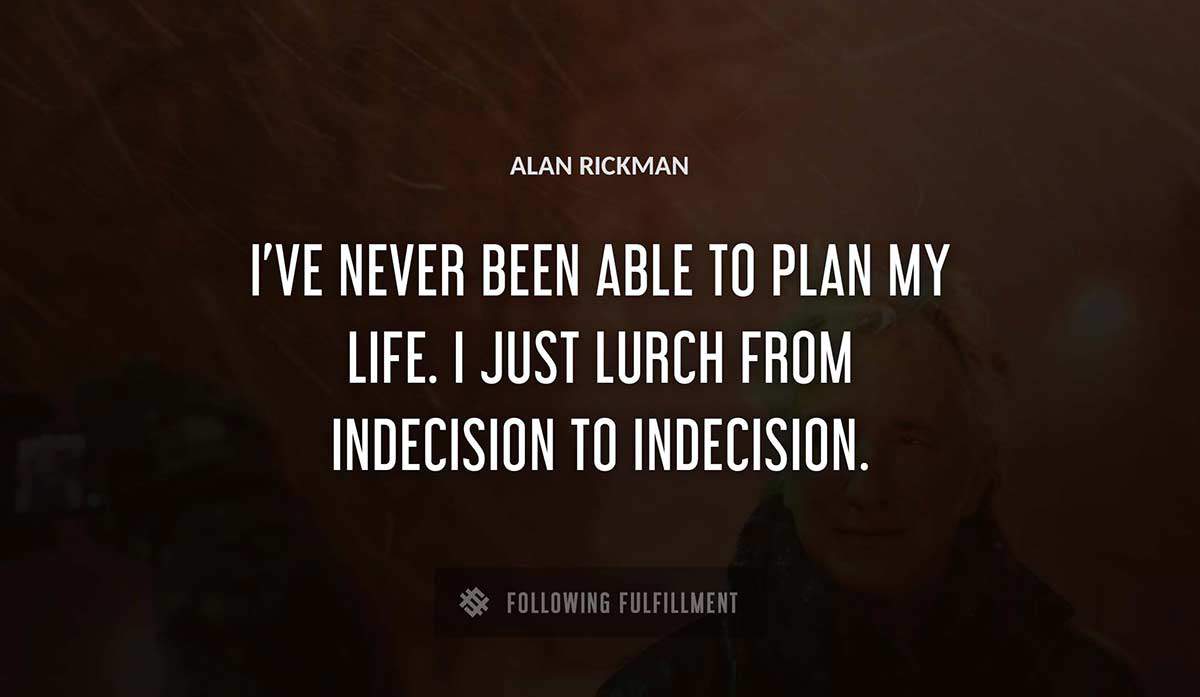 I like it when stories are left open. — Alan Rickman
We're dead as a species if we don't tell stories, because then we don't know who we are. — Alan Rickman
England in the '60s and the '70s was everything that history has said; it was phenomenally exciting, musically. — Alan Rickman
ALAN RICKMAN QUOTES ON CHARACTER
I am the character you are not supposed to like. — Alan Rickman
If you judge the character, you cant play it. — Alan Rickman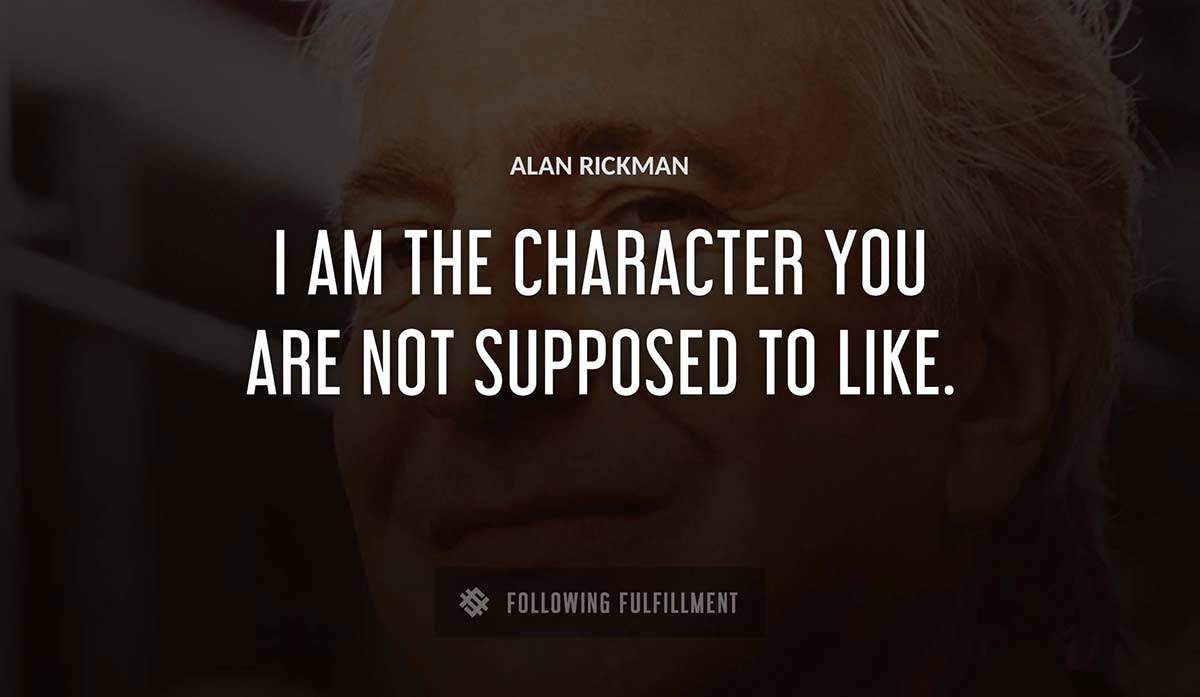 I suppose with any good writing and interesting characters, you can have that awfully overused word […]–a jouuuuuurney. — Alan Rickman
So you can't judge the character you're playing ever. — Alan Rickman
Each character I play has different dimensions. I'm not interested in words that pull them together. — Alan Rickman
What is Hollywood?
Hollywood is a district within the city of Los Angeles, whose name is synonymous with the American film industry. It is also called Tinseltown.
Source
Any actor who judges his character is a fool–for every role you play you've got to absorb that character's motives and justifications. — Alan Rickman
ALAN RICKMAN QUOTES ABOUT TIME
If you spend any time in Los Angeles, there's only one topic of conversation. — Alan Rickman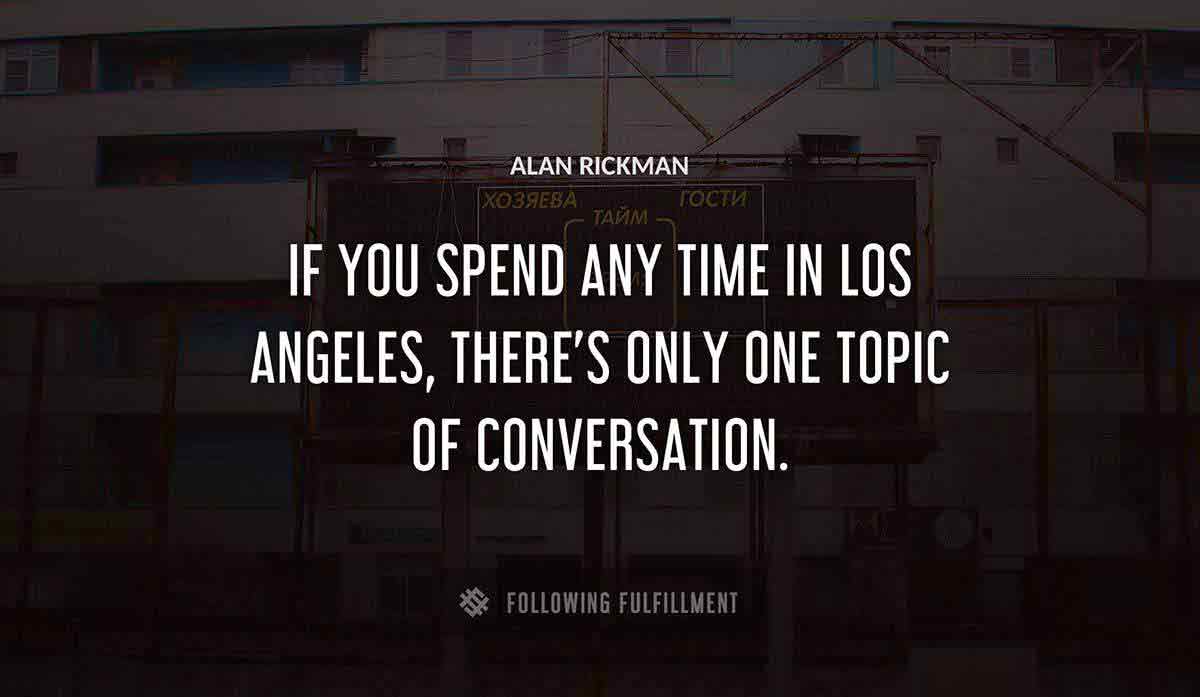 A lot of the time I hate the theater. You think, 'I have to climb Mount Everest, again, tonight.' Oh, the theater is a scary place to be. — Alan Rickman
I have just returned from the dubbing studio where I spoke into a microphone as Severus Snape for absolutely the last time. — Alan Rickman
I'm very aware that when one is acting in the theater, you do become kind of animal about it. And you're reliant on instincts rather than tact a lot of the time. — Alan Rickman
When I'm 80 years old and sitting in my rocking chair, I'll be reading Harry Potter. And my family will say to me, 'After all this time?' And I will say, 'Always. — Alan Rickman
Mellow doesn't describe me. I'm hungry every day. — Alan Rickman
ALAN RICKMAN QUOTES ABOUT FEELINGS
I'm always aware of the camera and it feels like that's the audience. — Alan Rickman
When I get off the plane in England I always feel about two inches shorter. — Alan Rickman
Redundant Thematics
In Alan Rickman Statements
film
aware
character
feel
time
life
theater
actor
The audience should feel like voyeurs. Their response is absolutely crucial. — Alan Rickman
I do feel more myself in America. I can regress there, and they have roller–coaster parks. — Alan Rickman
I always feel that when I come to Edinburgh, in many ways I am coming home. — Alan Rickman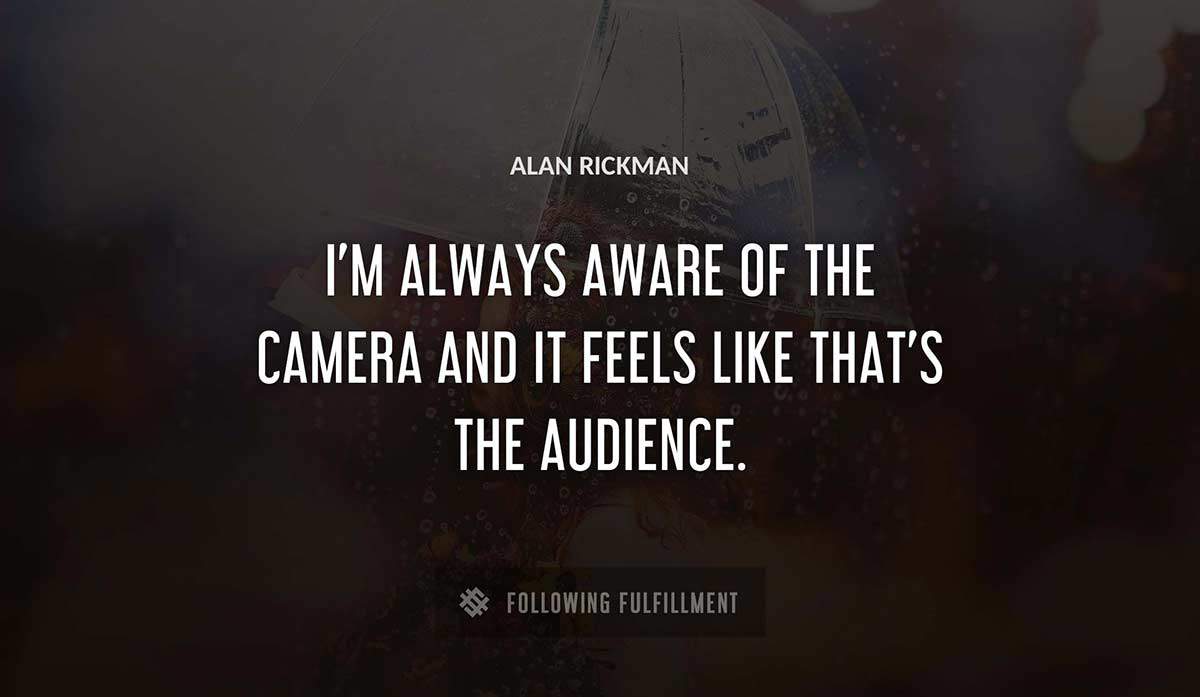 Being on the stage in New York is always exciting because you feel like you're part of the life of the city. — Alan Rickman
One longs for a director with a sense of imagination. — Alan Rickman
ALAN RICKMAN QUOTES ON FILMS
On film you put all your energies into a single glance. — Alan Rickman
It's a nightmare to sit and watch a film that I'm in. There's a horrible inescapability to it. — Alan Rickman
Every single black character in that film is positive and highly intelligent, so, 28 years ago, that's quite revolutionary, and quietly so. — Alan Rickman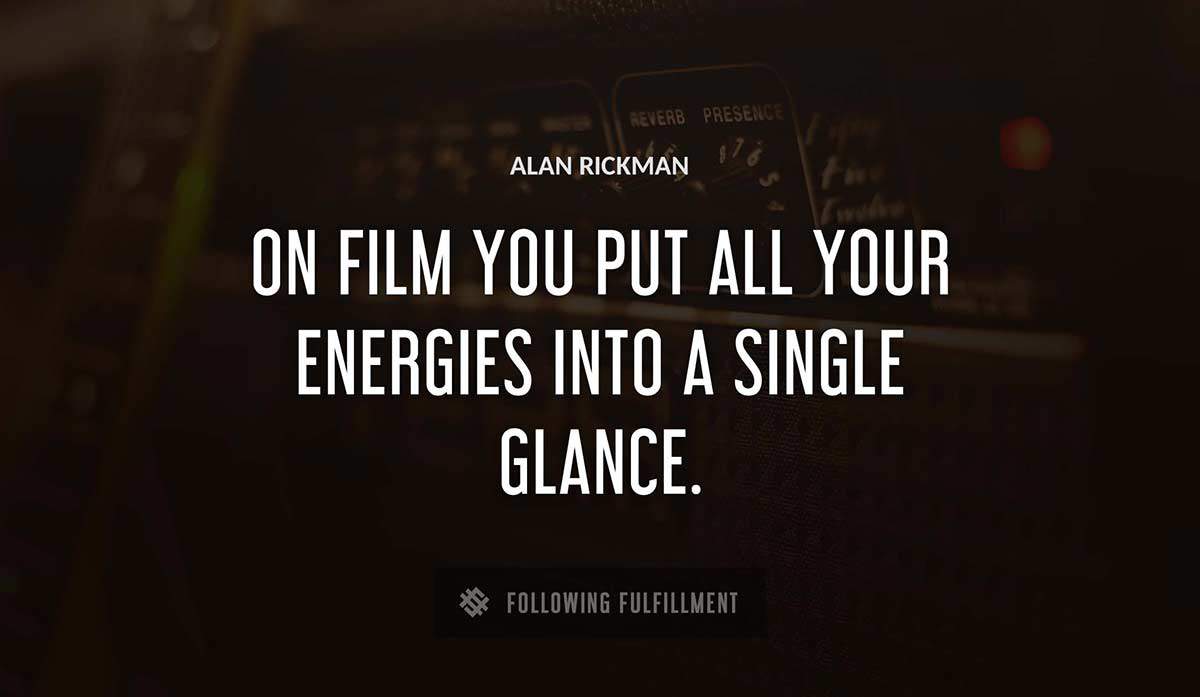 Market forces impose certain rules before a film can actually get made. — Alan Rickman
A film, a piece of theatre, a piece of music, or a book can make a difference. It can change the world. — Alan Rickman
Actors are agents of change. A film, a piece of theater, a piece of music, or a book can make a difference. It can change the world. — Alan Rickman
Inspiring Phrases From Alan Rickman
What is it about actors? God knows I get bored with actors talking about themselves. — Alan Rickman
Actors are actually very supportive of each other. — Alan Rickman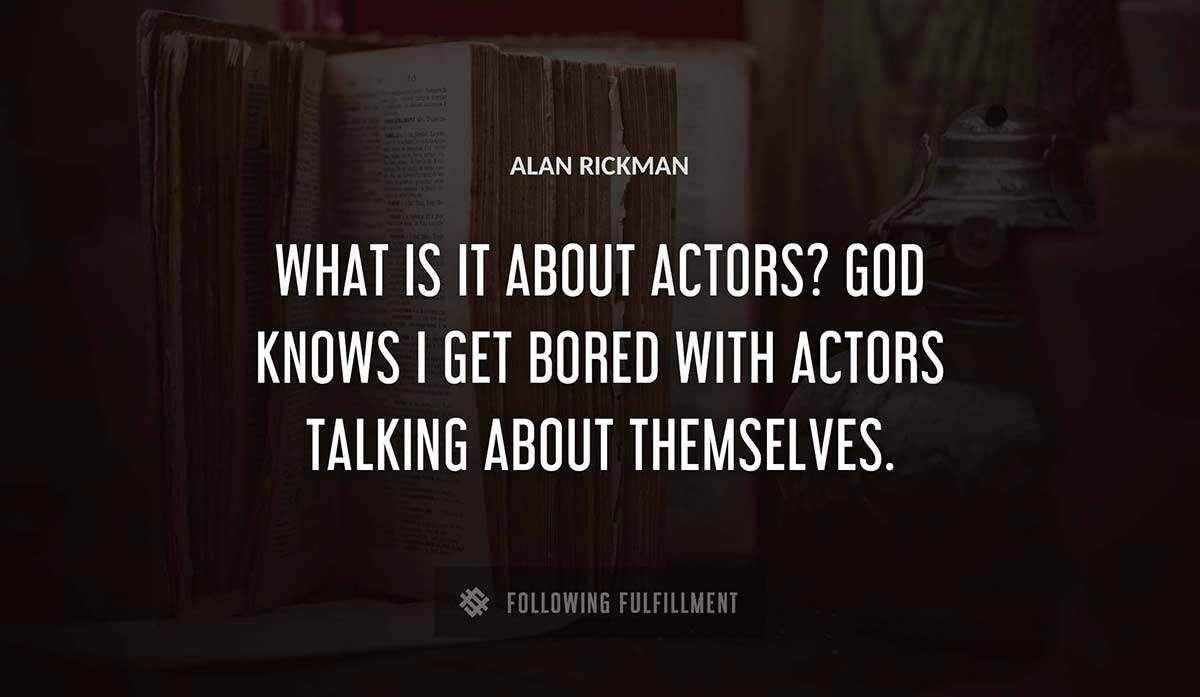 The difference between being an actor and a director is simple. The director has to hide his panic; the actor doesn't. — Alan Rickman
All I want to see from an actor is the intensity and accuracy of their listening. — Alan Rickman
I don't think it's right that everybody knows everything about me. — Alan Rickman
Parts win prizes, not actors. — Alan Rickman
I think every English actor is nervous of a Newcastle accent. — Alan Rickman